March 25th, 2013
State of Maine enters anti-bullying legislative fight with HP 845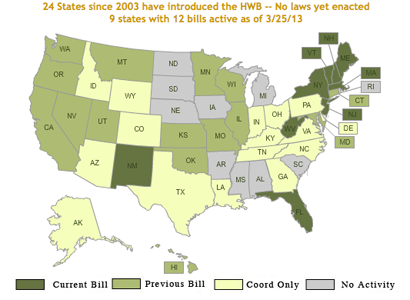 Maine State House Representative Sara Gideon introduced HP 845 today. The "Act to Protect Employees from Abusive Work Environments" has 7 House co-sponsors and 2 Senate co-sponsors. Maine becomes the 24th state to ever introduce this legislation. To date, no state has yet passed the bill into law.
HP 845 is the 12th version of the WBI anti-bullying Healthy Workplace Bill introduced in 2013. A total of 9 states have currently active bills.
The bill is our attempt to get U.S. employers to take repeated, health-harming abusive misconduct as seriously as they currently must address illegal forms of discriminatory misconduct.
In the U.S., workplace bullying is still legal. Among the western industrialized nations, the U.S. lags far behind in (1) admitting the epidemic rates of bullying, and (2) passing laws to address it.
Tags: Healthy Workplace Bill, HP 845, Maine, Sara Gideon
This entry was posted on Monday, March 25th, 2013 at 3:15 pm and is filed under Healthy Workplace Bill (U.S. campaign), Workplace Bullying Laws. You can follow any responses to this entry through the RSS 2.0 feed. You can leave a response, or trackback from your own site.