July 31st, 2013
Henry Ford: Living wage advocate
In 1914, Henry Ford doubled wages for his Detroit workers. Gus Lubin writing for Business Insider on the 150th anniversary of Ford's birthday discovered Ford's rationale for paying a living wage.
It's morally right
What good is industry if it be so unskillfully managed as not to return a living to everyone concerned? No question is more important than that of wages — most of the people of the country live on wages. The scale of their living — the rate of their wages — determines the prosperity of the country.
High wages support a good market
If we can distribute high wages, then that money is going to be spent and it will serve to make storekeepers and distributors and manufacturers and workers in other lines more prosperous and their prosperity will be reflected in our sales. Country-wide high wages spell country-wide prosperity, provided, however, the higher wages are paid for higher production.
High wages lead to good products
The kind of workman who gives the business the best that is in him is the best kind of workman a business can have. …[I]f a man feels that his day's work is not only supplying his basic need, but is also giving him a margin of comfort and enabling him to give his boys and girls their opportunity and his wife some pleasure in life, then his job looks good to him and he is free to give it of his best. This is a good thing for him and a good thing for the business.
Wages should keep rising just as dividends to investors rise
What do we mean by high wages, anyway? We mean a higher wage than was paid ten months or ten years ago. We do not mean a higher wage than ought to be paid. Our high wages of to-day may be low wages ten years from now. If it is right for the manager of a business to try to make it pay larger dividends, it is quite as right that he should try to make it pay higher wages.
Thanks to research by the St. Louis Federal Reserve we see graphically how corporate profits relative to the gross domestic profit (blue line) have soared while employee wages have plummeted (blue line). The U.S. median income in 2012 has fallen to 1995 levels.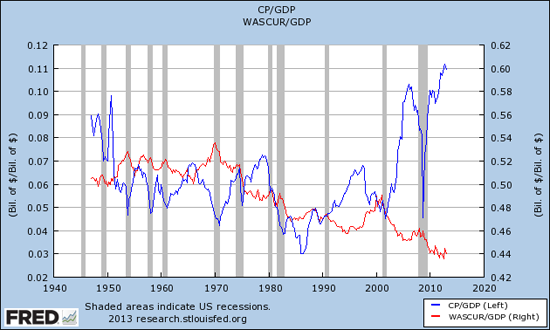 It's time for workers to reject the mainstream notion that to earn a living wage is greedy. To pay a living wage will not kill jobs or employers. The refusal by lawmakers to raise the minimum wage to a level that allow people to live decently on wages from a single job reflects the heartlessness of the lawmakers, not the greediness of the workers.
Employers' refusal to share the wealth with workers connotes disrespect for the work people that enriches owners and investors. Who said America is "class-free"? There clearly are two Americas. Doesn't that bother you?
Tags: corporate profits, employee compensation, Fordism, Henry Ford, high wage, justice, living wage
This entry was posted on Wednesday, July 31st, 2013 at 9:51 am and is filed under Employers Gone Wild: Doing Bad Things. You can follow any responses to this entry through the RSS 2.0 feed. You can leave a response, or trackback from your own site.