September 13th, 2013
Parallel attacks on teachers in Mexico and U.S.
UPDATED Sept. 16, 2013
Because school teachers comprise such a large group of targets bullied in the workplace, we at WBI care very much about the systemic government assaults on public schools in the name of education "reform." Elsewhere, we've shown readers how the U.S. "Common Core" curriculum is destructive to education rather than positive as advertised under the label of "reform."
The Mexican government under President Enrique Pena Nieto (PRI party) is conducting raids of the Mexican education system similar to those in the U.S. The Mexican Constitution was written after the revolution of 1910-1920.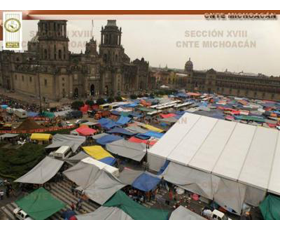 Article 3 established free, public, secular education. Nieto amended Article 3 to mandate teacher evaluation based on student test scores (sound familiar?). Changes included standardization of the responsibilities and salaries of school principals and other supervisors.
The Mexican Teachers Union (SNTE) has been run by a president (Elba Esther Gordillo) who has wielded power for 30 years. Within SNTE a militant caucus called the National Coordinating Committee (CNTE) has taken action on behalf of teacher members. CNTE organized protests in 13 states. Teachers have occupied public buildings, blocked the Mexico City international airport for several hours, and seized highway toll booths. For several days 30,000 have sat in at Mexico City's main square. Tens of thousands have camped out in Mexico City's main square (pictured here by CNTE).
Oaxaca elementary school teacher José Alfredo Martinez said:
We are demanding and are in agreement with an evaluation, but an evaluation that is not standardized or punitive, an evaluation that takes into account the social context in which we develop our educational practices. It is not possible that a student from the mountains of Oaxaca or Guerrero will receive the same standardized test as a child who lives in a large city like Monterrey or Guadalajara.
As in the U.S., education "reform" masks union busting, one of its principal goals. Rubén Núñez Ginés of SNTE Local 22 in Oaxaca (as quoted in Labor Notes Report) said:
We consider the educational reform, and especially any changes to Article 3 of the Constitution, to be an attack on the Mexican people… The project hides its real objective: the labor issue… It is an attempt to do away with collective bargaining in education and to institute instead individual contracts based on evaluations with a punitive character, in order to justify firings.
Nieto is a privatization zealot on behalf of private corporations. He is ready to sell off publicly owned services, namely PEMEX, the national oil company that will be available again to private (read U.S.) oil companies that used to dominate Mexican oil.
UPDATE
Violent destruction of encampments and attacks on teachers by police Sept. 15, 2013
Tags: CNTE, education reform, Mexico, Nieto, SNTE, teachers, workplace bullying
This entry was posted on Friday, September 13th, 2013 at 10:03 am and is filed under Employers Gone Wild: Doing Bad Things, Tutorials About Bullying, Unions. You can follow any responses to this entry through the RSS 2.0 feed. You can leave a response, or trackback from your own site.