April 15th, 2014
Workplace Bullying: U.S. Workforce & Population Affected

AMERICANS AFFECTED BY BULLYING
We begin with the frequencies reported for each of the bullying experience categories from the Survey previously discussed — the two classes of direct experience with bullying, the two witnessing classes, and the self-described perpetrators, and the three classes of individuals with no personal bullying experience (believers and disbelievers who were both aware of bullying, and those who claim to be not aware of bullying).
The Survey was conducted at a time when the U.S. non-farm labor force was approximately 137,499,000. We are able to estimate the equivalent number of working Americans that correspond to each bullying experience category. The estimates appear in the middle column in the table below.
Then, we estimate the adult (over age 18) U.S. population, 76.5% of the total, to be 240,113,369 (in 2012). We apply the bullying experience category frequencies to that total and arrive at the values in the right column in the table below.
| | | |
| --- | --- | --- |
| Experience Category | In Workforce | In U.S. Population |
| | | |
| Currently bullied | 9.8 million | 17.1 million |
| Been bullied | 27 million | 47.2 million |
| Witnessed bullying | 28.7 million | 50.1 million |
| Confessed Perpetrators | 74,249 | 1.3 million |
| No Experience – Aware | 32 million | 55.8 million |
| No Experience – Unaware | 39.1 million | 67.6 million |
Number of bullied American workers: 36.8 million
Number of American workers who witness the bullying of others: 28.7 million
Research finds that witnesses suffer nearly as much emotional damage as do targets of direct bullying. Therefore, workers who are AFFECTED by bullying is the sum of those with direct and indirect, vicarious, experience with bullying.
Number of American workers affected by bullying: 65.6 million
To visualize how many Americans that 65.6 million represents, consider the total population of the central 15 states in the U.S. That is the equivalent number of people affected.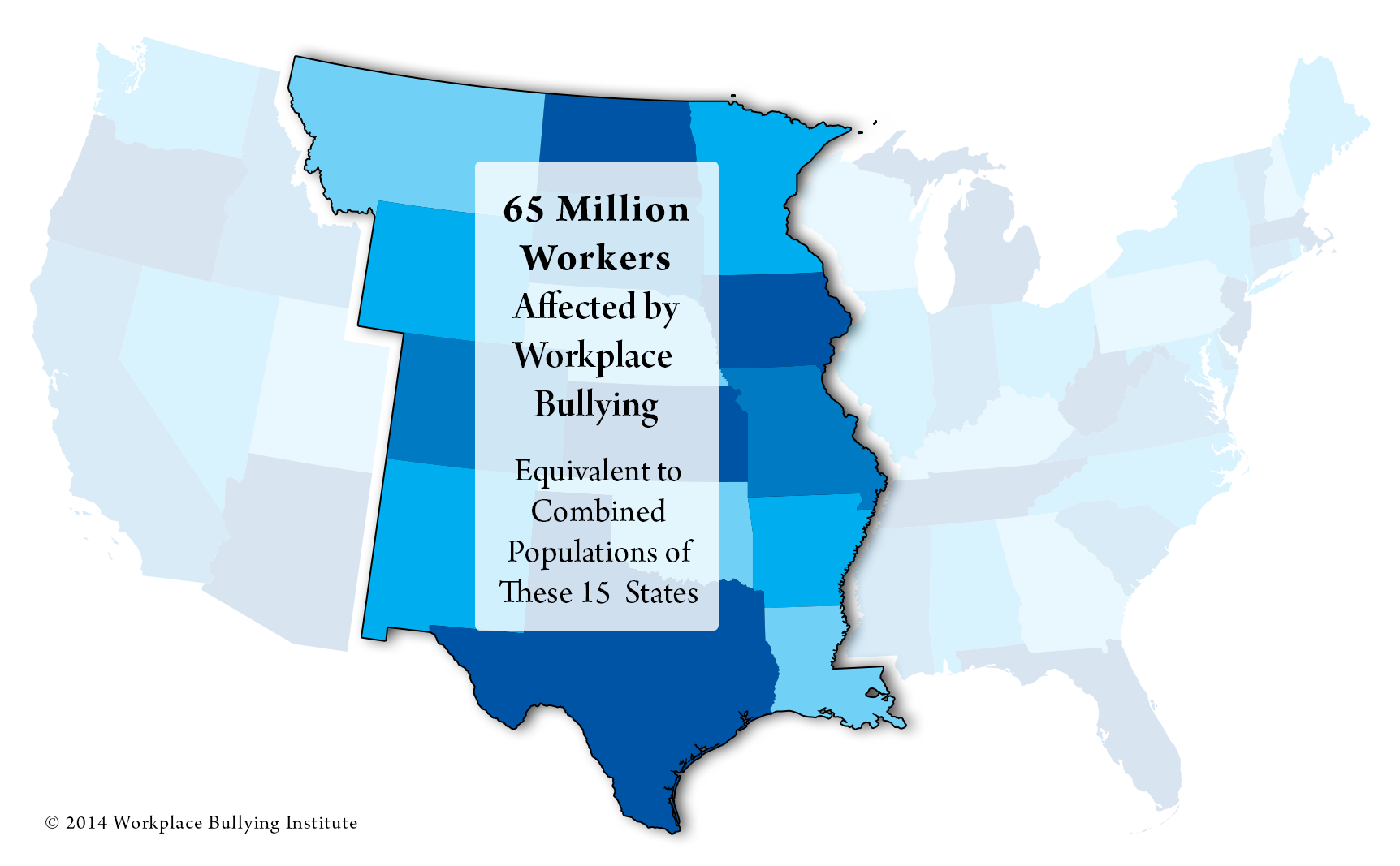 Download the Workforce & Population Affected mini-Report
###
Gary Namie, PhD, Research Director
Research Assistants: Daniel Christensen & David Phillips
© 2014, Workplace Bullying Institute, All Rights Reserved
Download the complete Report | Access individual sections of the Report

Tags: 2014 WBI U.S. Workplace Bullying Survey, bullying statistics, Daniel Christensen, David Phillips, Gary Namie, people affected, population statistics, workers affected, Workplace Bullying Institute
This entry was posted on Tuesday, April 15th, 2014 at 4:45 am and is filed under WBI Education, WBI Surveys & Studies. You can follow any responses to this entry through the RSS 2.0 feed. You can leave a response, or trackback from your own site.