May 8th, 2017
Thanks to the bully at work, targets have pre-existing conditions
Writing this from the hospital bedside of Dr. Ruth whose bullying case launched the U.S. Workplace Bullying movement. It's tough enough to recover from complicated surgery late in life. To also have to consider how to pay the outrageous expenses is unthinkable. [If you believe people should not receive care if they cannot afford it, stop reading the rest of this article. You won't understand or care.]
Without Medicare, Ruth would be dead. Simple as that. It is the U.S. Government honoring its promise to relieve older Americans of the astronomical financial burden of healthcare. It is not Medicare's fault costs are high. Medicare adds only a 3% overhead for administrative costs compared to the 30-40% overhead added by for-profit insurance companies.
Medicare contracts directly with providers through the Centers for Medicare & Medicaid Services (CMS) is part of the Department of Health and Human Services (HHS) now headed by Tom Price, a Trump appointee. No third-party insurance company interference occurs. Medicare was conceived by the Kennedy administration and realized by Johnson after the JFK assassination. Its original goal was to provide universal health coverage for all Americans. But politicians whittled it down to helping older Americans as part of the haggling process. For the disabled and poor, regardless of age, they crafted Medicaid. The authors of the original law intended the limited protections to be revisited and expanded.
Remember, in all other industrialized nations, citizens enjoy national health insurance similar to Medicare and Medicaid but extended to everyone cradle to grave. In some countries, private insurance can supplement the government plans. The U.S. is aberrant, the lone stubborn holdout unable to elect legislators who think it part of their job to provide government services for their taxpaying constituents. Only in the U.S. can a family lose their home and go bankrupt for their inability to pay medical expenses (accounting for the highest proportion of all bankruptcies).
Rather than expand the limits of government-provided health insurance to all citizens (a Medicare-for-all universal health plan or a single-payer (gov't) plan), the next attempt to revise insurance was the Affordable Care Act (dubbed Obamacare). Critics tried to call it a government plan. In fact, it was written almost entirely by an insurance industry lobbyist, Liz Fowler, working with then-Sen. Max Baucus. Private insurers retained their power. The government, however, did mandate that insurers could not refuse coverage based on pre-existing conditions, had to maintain coverage for children up to age 26, and had to offer a host of basic services (e.g., maternity care).
About half of private health insurance is contracted through employers for employees. Over the years, employees' share of costs have risen. Then with Obamacare, millions of previously uninsured or uninsurable (those with pre-existing conditions) individuals were able to afford insurance with the help of subsidies paid by the federal government to states. For instance, a $1,300 monthly premium could be reduced to $400 with a $900 subsidy based on the person's income. The funds for that subsidy came from a 3.8% tax applied to the lesser of either your net investment income (rentals, capital gains, stock dividends) or the amount by which the modified adjusted gross income exceeds a threshold amount ($200,000 for individuals or $250,000 for married couples). Additionally, those exceeding the threshold limits also paid more in Medicare payroll tax (2.35% vs. 1.45%). It was a deliberate redistribution of income from the very rich to the poor and lower middle class. The program was debated publicly for 17 months. No Republicans voted for it. Obamacare reflected American values that Republicans did not share.
Finally, Republicans in the House of Representatives were able to offer and pass out of the House their alternative to the ACA/Obamacare — the American Health Care Act.
The AHCA is a cruel and sadistic proposed law. First, it eliminates the 3.8% tax on the wealthy and ends the payroll tax supplement in 2023. It increases the size of tax-deductible Health Savings Accounts that only the rich can afford. Thus, it reverses the income redistribution of Obamacare. By cutting $800 billion in Medicaid funding, the AHCA gives the wealthy over $600 billion in tax cuts. Who pays for those gifts to the wealthiest among us? The poor, disabled and the aged. Quite a statement about our values.
The AHCA puts Americans in harm's way (again) by giving states the right to allow health insurance companies to deny coverage for pre-existing conditions. Look at this list:
AIDS/HIV, acid reflux, acne, ADD, addiction, Alzheimer's/dementia, anemia, aneurysm, angioplasty, anorexia, anxiety, arrhythmia, arthritis, asthma, atrial fibrillation, autism, bariatric surgery, basal cell carcinoma, bipolar disorder, blood clot, breast cancer, bulimia, bypass surgery, celiac disease, cerebral aneurysm, cerebral embolism, cerebral palsy, cerebral thrombosis, cervical cancer, colon cancer, colon polyps, congestive heart failure, COPD, Crohn's disease, cystic fibrosis, DMD, depression, diabetes, disabilities, Down syndrome, eating disorder, enlarged prostate, epilepsy, glaucoma, gout, heart disease, heart murmur, heartburn, hemophilia, hepatitis C, herpes, high cholesterol, hypertension, hysterectomy, kidney disease, kidney stones, kidney transplant, leukemia, lung cancer, lupus, lymphoma, mental health issues, migraines, MS, muscular dystrophy, narcolepsy, nasal polyps, obesity, OCD, organ transplant, osteoporosis, pacemaker, panic disorder, paralysis, paraplegia, Parkinson's disease, pregnancy, restless leg syndrome, schizophrenia, seasonal affective disorder, seizures, sickle cell disease, skin cancer, sleep apnea, sleep disorders, stent, stroke, thyroid issues, tooth disease, tuberculosis, ulcers
Really? Denial for acne? For kidney stones? For seasonal affective disorder? For blood clot?
What a heartless cynical political ploy which, if it ever becomes law, would deprive millions (24 million was the estimate of affected by the CBO) of health insurance. Without access to treatment and medications, people will die. They will die unnecessarily
Where's our oft-cited American morality as a model for the world? Is it now, or has it always been, only a myth? How can we turn our backs on our needy.
Politicians show greater allegiance to capitalist principles. Because health care is now dominated by the for-profit corporate model, people don't matter. Principles of equality are cast aside. Is needed treatment for diseases an American right or available only for those who can afford the market price?
The AHCA and Workplace Bullying
Targets of bullying endure a range of stress-related health complications. At the very least, they suffer anxiety from the surprising psychological assault that contradicts the targets' perceptions of themselves, their core identities. When the frequency of incidents increase and the exposure period is prolonged, greater harm results.
Effects on targets include clinical depression, trauma-like symptoms (thought intrusions, avoidance behaviors, negative affect, arousal and hypervigilance) and an increased risk of suicidal ideation. In addition, there is adverse impact on gastrointestinal, immunological and musculoskelatal systems. In other words, diagnosable physiological diseases. Look again at the above list of conditions that would allow insurers to preclude coverage.
The sad reality is that once bullied, individuals are a walking cluster of pre-existing conditions.
Furthermore, with the reduced (or lost) income following bullying, it is likely targets would be eligible for Medicaid assistance. Under the AHCA, there will be less access to Medicaid itself or the program benefits will be so inadequate that treatment for the effects of bullying will be nonexistent.
Call your U.S. Senators and Member of Congress to tell them to not support the AHCA for your sake!
And remember who did this to you …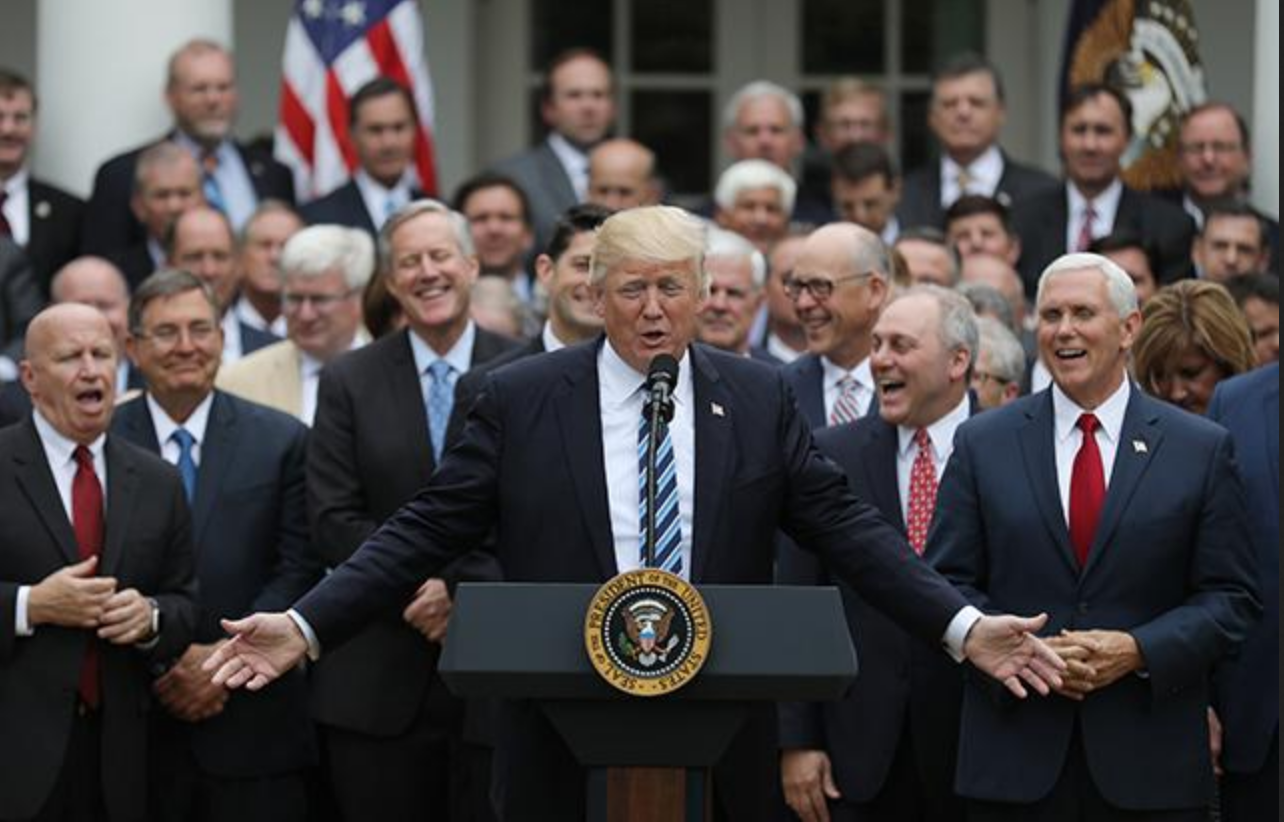 This entry was posted on Monday, May 8th, 2017 at 6:02 pm and is filed under Commentary by G. Namie, The New America. You can follow any responses to this entry through the RSS 2.0 feed. You can leave a response, or trackback from your own site.