July 16th, 2014
South Florida Workplace Bullying event July 24
If you are anywhere near Deerfield Beach, FL, you owe it to yourself to attend the Broward Crime Commission Workplace Bullying event. Come meet Dr. Gary Namie (WBI Director, co-author, The Bully At Work), Dr. Maureen Duffy (co-author, Overcoming Mobbing), law professor Kerri Stone, and Jonathan Martin attorney David Cornwell.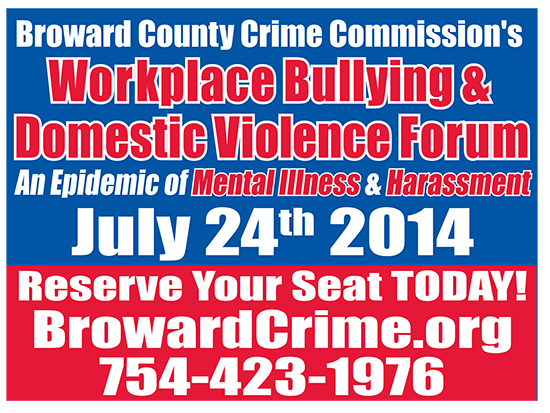 Tags: adult bullying, Broward Crime Commission, David Cornwell, Gary Namie, Kerri Stone, Maureen Duffy, workplace bullying
This entry was posted on Wednesday, July 16th, 2014 at 9:53 am and is filed under Hear Ye! Hear Ye! 2, NFL: Jonathan Martin. You can follow any responses to this entry through the RSS 2.0 feed. You can leave a response, or trackback from your own site.