April 28th, 2014
Live in Norfolk, VA? Vote for Bethel Tues. May 6
Jane Bethel is the Virginia State Coordinator to enact the Healthy Workplace Bill, WBI Affiliate and union activist. She is running for Mayor of Norfolk, Virginia. Vote May 6!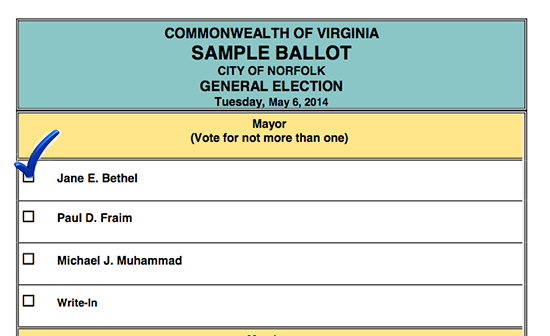 Tags: Healthy Workplace Bill, Jane E. Bethel, mayor, Norfolk
This entry was posted on Monday, April 28th, 2014 at 12:43 pm and is filed under Healthy Workplace Bill (U.S. campaign), Hear Ye! Hear Ye! 2, Workplace Bullying Laws. You can follow any responses to this entry through the RSS 2.0 feed. You can leave a response, or trackback from your own site.