Archive for the 'WBI in the News' Category
Friday, October 17th, 2014
County Declares No Tolerance for Workplace Bullying
By Lyn Jerde, Portage (WI) Daily Register, Oct. 16, 2014
Andy Ross made it clear at the outset: Nobody is saying that there are bullies working for Columbia County.
But, in urging the County Board Wednesday to approve a resolution proclaiming Freedom from Workplace Bullies Week, Ross said the county's top governing body should reiterate the importance of a bully-free workplace.
Ross is a member of the County Board's Human Resources Committee, which offered the resolution, which the County Board approved unanimously.
The Workplace Bullying Institute, based in Bellingham, Washington, started largely because one of the founders, Ruth Namie, once had a "boss from hell," according to information on the Workplace Bullying Institute's website. In the 1990s, she wrote, there was little legal recourse for victims of workplace harassment if the harassment wasn't overtly racist or sexist.
The Institute has declared next week, Oct. 19 to 25, as Freedom from Workplace Bullies Week.
The Institute defines workplace bullying as "a systematic campaign of interpersonal destruction that jeopardizes your health, your career, the job you once loved." This kind of bullying usually doesn't entail physical threats, but rather deliberate emotional and psychological abuse.
Ross told the County Board that the resolution puts the county on record that such behavior won't be tolerated in any Columbia County department.
"This is one of those topics that we wish we didn't have to address," he said.
The topic is being addressed, Ross noted, in ongoing management and leadership training that has been provided, first to county department heads and later to lower-level managers in county departments. The training, offered through Madison Area Technical College, will focus this fall on how managers can avoid bullying behavior.
"Depending on how old you are," Ross said, "it may be something that was acceptable, and pretty common, years ago. But we can't tolerate it anymore."
Tags: Andy Ross, Columbia County, Freedom from workplace bullies week, Portage Wisconsin, proclamation, resolution, workplace bullying
Posted in Freedom Week, Good News, Media About Bullying, Print: News, Blogs, Magazines, WBI Education, WBI in the News | No Archived Comments | Post A Comment () »
Friday, October 17th, 2014
By Amy Gallo, Harvard Business Review, October 16, 2014
When a colleague is mean to you, it can be hard to know how to respond. Some people are tempted to let aggressive behavior slide in the hopes that the person will stop. Others find themselves fighting back. When you're being treated poorly by a coworker how can you change the dynamic? And if the behavior persists or worsens, how do you know when you're dealing with a true bully?
What the Experts Say

"When it comes to bad behavior at work, there's a broad spectrum," with outright bullies on one end and people who are simply rude on the other, says Michele Woodward, an executive coach and host of HBR's recent webinar: "Bullies, Jerks, and Other Annoyances" You may not know which end of the spectrum you're dealing with until you actually address the behavior. If it's a bully, it can be difficult ­— if not impossible — to get the person to change, says Gary Namie, the founder of the Workplace Bullying Institute and author of The Bully at Work. But in most cases, you can ­— and should ­— take action. "Know that you have a solution, you're not powerless," says Woodward. Here are some tactics to consider when dealing with an aggressive colleague.
(more…)
Tags: Amy Gallo, cruel bosses, Gary Namie, Harvard Business Review, mean bosses, workplace bullying, Workplace Bullying Institute
Posted in Media About Bullying, Print: News, Blogs, Magazines, Tutorials About Bullying, WBI Education, WBI in the News | 1 Archived Comment | Post A Comment () »
Wednesday, October 15th, 2014
Robert Greer delivers proclamation to WV Healthy Workplace Advocate Pam Schade at Bridgeport, WV City Council meeting. The event was captured by WBOY-TV, Clarksburg, WV.
West Virginia has been active with Healthy Workplace Bill legislation. New legislation will be introduced for the 2015-16 session.
Celebrate WBI's Freedom from Workplace Bullies Week October 19-25, 2014
Tags: Bridgeport, Freedom from workplace bullies week, Pam Schrade, Robert Greer, West Virginia, Workplace Bullying Institute
Posted in Freedom Week, Healthy Workplace Bill (U.S. campaign), WBI Education, WBI in the News | No Archived Comments | Post A Comment () »
Wednesday, October 15th, 2014
The Association of Registered Nurses made the cessation of bullying among their members (lateral violence) and against their members (bullying & abusive conduct) a priority. The project was launched at a 1-day conference in Charlottetown on Oct. 10. Speakers included Gary Namie, Director of the Workplace Bullying Institute and Vicki Foley, Nursing Professor at the University of Prince Edward Island. Both speakers appeared on CBC-PEI radio show Island Morning promoting the event.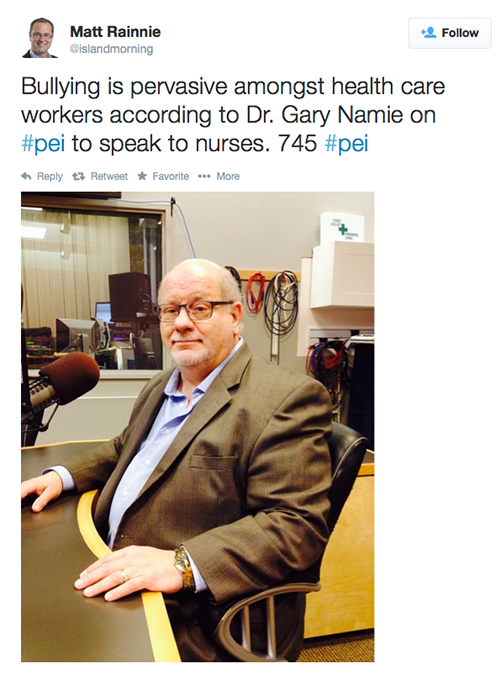 Tags: ARN, Gary Namie, nurses, PEI, RNs, Vicki Foley, workplace bullying
Posted in WBI in the News | No Archived Comments | Post A Comment () »
Tuesday, October 14th, 2014
The international reach of WBI …
By Timi Trieska Dara – 14 Oktober 2014, MetroTVNews, Jakarta, Indonesia
Intimidasi (bullying) di tempat kerja bukan hal baru. Sebagian besar korban bullying adalah perempuan. Survei yang dilakukan Workplace Bullying Institute Amerika Serikat mencatat sekitar 37 persen pekerja menjadi korban bullying.
Penulis sebuah penelitian, Karan Smith, mengatakan sekitar 40 persen dari pelaku bully di tempat kerja di AS adalah perempuan. Korban bullying sebagian besar adalah perempuan. Selain itu, pria pelaku bully juga sering memilih perempuan sebagai korbannya.
Berikut beberapa hasil pengamatan terkait bullying di tempat kerja:
1. Bullying memiliki banyak bentuk
"Taktik bully dari yang bersifat keras–berteriak, membanting pintu, dan ngomel–hingga yang halus, misalnya karyawan yang dibully tidak diikutsertakan dalam pertemuan penting atau ditugaskan tanpa sumber daya yang memadai untuk menyelesaikan pekerjaan rekannya. Rekan kerjanya bisa direkrut dalam ekspedisi untuk mengisolasinya. Di belakang korban, pengganggu melancarkan aksinya, meskipun bos sendiri sering menjadi penyebabnya," kata Karan.
2. Pelaku bully memilih karyawan yang baik sebagai korban
"Karyawan yang diserang sering kompeten, berkomitmen pada satu prinsip, dipilih untuk kekuatannya, bukan kelemahannya," ujarnya.
3. Ikan membusuk dari kepala
"Bullying biasanya terjadi dalam kepemimpinan yang buruk," kata Karan.
4. Bullying menciptakan penyakit
Korban bully akan sering mengalami tekanan darah tinggi, depresi, diabetes, dan bahkan masalah di tempat kerja seperti gangguan pasca-trauma stres.
Cara terbaik untuk mencegah bullying, baik pria maupun wanita, adalah mempertimbangkan alasan sosial yang mendasar mengapa hal itu terjadi di tempat pertama.
Tags: Indonesia, Timi Trieska Dara, workplace bullying
Posted in Broadcasts: Video, TV, radio, webinars, Media About Bullying, WBI in the News | No Archived Comments | Post A Comment () »
Tuesday, October 7th, 2014
Tags: 2014 U.S. Workplace Bullying Survey, CBS Chicago, workplace bullying
Posted in WBI in the News | No Archived Comments | Post A Comment () »
Friday, September 19th, 2014
by Karima Mariama-Arthur, Esq., Black Enterprise, Sept. 1, 2014
If you thought bullying was over after elementary school, think again. No longer confined to boundaries of the schoolyard, the new face of bullying is far more sophisticated and adult! Workplace bullying is a growing epidemic that has prompted numerous groups to press Congress on legislation that would outlaw it. With more than one-third of the U.S. workforce being bullied, it's a shocking truth deserving of significantly more exposure. The Boston Globe discussed the topic late last month, shedding light on what has become the workplace's "dirty little secret."
Tags: Karima Mariama-Arthur, WordSmithRapport, workplace bullying, Workplace Bullying Institute
Posted in Media About Bullying, Print: News, Blogs, Magazines, WBI in the News | No Archived Comments | Post A Comment () »
Thursday, September 18th, 2014
WBI proudly participated in the Fifth Annual Sports Law and Ethics Symposium at Santa Clara University on Sept. 11 hosted by the Institute of Sports Law and Ethics. Planning for the event preceded the NFL inadequate handling of the multiple domestic violence incidents by player-employees. But the symposium was immersed in the headlines of the day.
Gary Namie, WBI Director, joined a panel exploring Bullying and the Locker Room Culture. My contribution was to educate the audience about adult bullying in the workplace and overlap with the Jonathan Martin/NFL case. Esteemed colleagues on the panel included
• Brandi Chastain, U.S. Olympic and World Cup women's soccer champion turned advocate for youth safety in soccer
• William Pollack, PhD, Harvard Medical School clinical psychologist and author of Real Boys: Rescuing Our Sons from the Myths of Boyhood
• Jim Thompson, founder of the Positive Coaching Alliance an organization dedicated to transforming all youth sports into positive, character-building experiences
Watch the 85 min. video of the panel.
Paraag Marathe, President of the 49ers of the NFL opened the Symposium. He refused to address the then-current domestic abuser Ray McDonald presented for the team. I was able to ask if the integrity and character of players was part of the recruitment and hiring process. He emphatically said that players with skills but no integrity had a place on the 49ers roster. He also cited the extensive psychological testing that all potential player-employees face. Hmm.
KPIX-TV San Francisco coverage of the Symposium
Tags: Brandi Chastain, ethics, Jim Thompson, Jonathan Martin, NFL, sports law, William Pollack, workplace bullying
Posted in Employers Gone Wild: Doing Bad Things, NFL: Jonathan Martin, Tutorials About Bullying, WBI Education, WBI in the News | No Archived Comments | Post A Comment () »
Thursday, September 18th, 2014
New Hampshire lawmakers uphold veto of workplace bullying bill
By Kathleen Ronayne, Associated Press, Sept. 18, 2014
The New Hampshire House on Wednesday upheld Gov. Maggie Hassan's veto of a bill aimed at curbing workplace bullying among the state's employees, despite strong calls from several lawmakers to go against the governor.
Supporters of the bill fell roughly 50 votes short Wednesday of the necessary two-thirds to override the veto. The majority of Republicans voted to sustain the veto while a majority of Democrats voted to overturn it.
Tags: Healthy Workplace Bill, New Hampshire, veto, workplace bullying
Posted in Healthy Workplace Bill (U.S. campaign), WBI in the News, Workplace Bullying Laws | No Archived Comments | Post A Comment () »
Thursday, September 18th, 2014
Original story in the Shelbyville (TN) Times-Gazette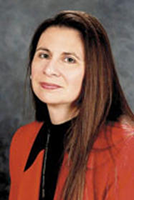 A Middle Tennessee State University business professor continues her push for a more civil workplace.
Dr. Jackie Gilbert, a professor of management in the MTSU Jones College of Business, joined forces with like-minded people across the state and nation to help craft legislation and guidelines that will help do just that within government agencies.
Gilbert was part of a group of advocates who helped shape the Healthy Workplace Act, which was signed into law in June by Gov. Bill Haslam. The legislation, sponsored by state Rep. Antonio Parkinson, D-Memphis, grants legal protection to those government agencies that adopt a model policy to combat abusive behavior in the workplace or craft comparable guidelines of their own.
The law applies to any agency, county, metropolitan government, municipality, or other political subdivision of the state. By enacting the law, Tennessee became the 26th state to introduce the Healthy Workplace Bill and the first to pass it. The national grassroots legislative movement began more than a decade ago to get workplace anti-bullying laws passed in every state.
"Respectful interaction at work is a priority," said Gilbert, who has incorporated anti-bullying concepts into her teaching. "This law is going to set the stage for providing some guidance for what is acceptable and what is not acceptable at work."
Gilbert is a member of Tennessee Healthy Workplace Advocates, which worked toward passage of the bill. She was recently appointed to serve on a workplace civility workgroup that is advising the Tennessee Advisory Commission on Intergovernmental Relations, or TACIR, on developing a model policy for Tennessee's state and local governments. The legislation requires that a model be in place by March 15, 2015.
Tags: abusive conduct, Antonio Parkinson, HB 1981, Healthy Workplace Bill, Jackie Gilbert, MTSU, TACIR, Tennessee, workplace bullying policy
Posted in Healthy Workplace Bill (U.S. campaign), WBI in the News, Workplace Bullying Laws | No Archived Comments | Post A Comment () »