Archive for the 'WBI in the News' Category
Friday, August 29th, 2014
Real Business – Aug 25, 2014


Click to enlarge infographic
Tags: Gary Namie, infographic, real business, workplace bullying
Posted in WBI in the News | No Archived Comments | Post A Comment () »
Wednesday, August 27th, 2014
By Nancy Collamer, Forbes, August 25, 2014
If you saw a young child being pushed around on the playground, chances are you would intervene. But are you equally proactive when you see bullying at work?
While this may sound like a hypothetical question, it's anything but. According to a 2014 survey conducted by the Workplace Bullying Institute (WBI), 27% of Americans have been bullied at work, 21% have witnessed it and 72% of us are aware that workplace bullying happens.
Real bullying involves more than just bad management and obnoxious behavior.
How Bullying Can Harm A Victim's Health
It also means health-harming behaviors that can include verbal abuse, offensive conduct and intentional sabotage. And workplace bullying doesn't just harm the victim. It leads to poor morale, high turnover and low productivity, which impact the entire organization.
The problem is now so widespread that lawmakers in 15 states have introduced legislation aimed at prodding employers to take the matter seriously or face consequences.
Why Boomers Can Be Effective
So what are you willing to do about it? I ask because many boomers are in management and as a result, some are in a good position to take action. Even if you're not among your employer's leadership team, you still might be able to make a difference.
If you're well respected by colleagues, have good relations with key influencers at your employer or have strong job security, it's likely easier for you to speak up and get management to take bullying seriously than it is for your younger co-workers.
That is an important advantage. Just like on the playground where bigger kids target weaker ones, the majority of workplace bullying is inflicted from the top down. According to the WBI survey, 56% of it is attributed to bosses, compared to 33% that's blamed on peers. Given this inherent power imbalance, it's no surprise that few victims stand up to their abusers.
I want to emphasize that not every boomer is in a position to stand up to workplace bullies.
Many older workers are in precarious job situations and know that if they speak up, they could be fired. That's especially true in environments where bully behavior is a celebrated part of the workplace culture. (Wolves of Wall Street anyone?)
Tags: 2014 U.S. Workplace Bullying Survey, baby boomers, boomers & bullying, Gary Namie, research, workplace bullying, Workplace Bullying Institute
Posted in Media About Bullying, Print: News, Blogs, Magazines, Tutorials About Bullying, WBI Education, WBI in the News | No Archived Comments | Post A Comment () »
Wednesday, August 20th, 2014
Understanding Workplace-Bullying Legislation
By Randi Melnick
American Bar Association, August 13, 2014
Labor-and-employment attorneys hear countless tales of abuse suffered by employees in the workplace. Employees subjected to mean-spirited or degrading treatment can often feel helpless, or even if they are proactive and make a complaint to human resources, they may simply be told to toughen up, or find a new job. With the realities of today's increasingly stressful and competitive workplace, it is worth a moment of reflection to consider what level of civility should be expected in the workplace, and what the consequences should be, if any, for those who break such codes of conduct.
Workplaces can have tricky cultural norms, and some people will be more skilled than others at communicating. However, there is a difference between a manager or coworker who lacks tact and one who goes out of his or her way to purposefully target an individual. When one is verbally abused or intimidated, when work is sabotaged, or when humiliation is used as a tactic, that is bullying. And it is not always illegal in the United States.
Tags: abusive conduct, affirmative defenses, bullying defined, bullying law, Healthy Workplace Bill, lawyers, Randi Melnick, workplace bullying
Posted in Healthy Workplace Bill (U.S. campaign), Media About Bullying, Print: News, Blogs, Magazines, WBI in the News, Workplace Bullying Laws | No Archived Comments | Post A Comment () »
Tuesday, August 19th, 2014
Deer Park Chamber Hears Presentation on Workforce Bullying
By Erica Drexler, Deer Park (TX) Broadcaster, August 18, 2014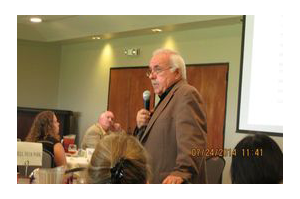 Frank Mulcahy discussed the issue of workforce bullying within organizations and the school system to the Deer Park Chamber of Commerce luncheon last week.
Mulcahy was the featured speaker at the luncheon and is a Business Development Director for the Workplace Bullying Institute (WBI).
"Frank speaks to groups across America about the true costs of workplace bullying, he works with hospitals, schools and businesses on developing a culture on sincerity … when you hear the words bullying, you automatically think of the schoolyard and things that take place there, bullying in the schoolyard is something that's still there," said Tim Culp, President and CEO at Deer Park Chamber of Commerce.
Mulcahy has won awards for his talents as a sales professional, entrepreneur and a master presenter.
"So you know that when somebody comes to you with discrimination or harassment, we got 'Title 7,' we can protect against that, but bullying falls into a different category where there's no protection, and as Tim said, it is in classrooms, I did go to Clemson to get certified so I could work with my school districts to help them to stop the bullying in classrooms and it was there that I recognized workplace bullying," Mulcahy said.
He said that 35 percent of teachers admitted to bullying a student in a survey and 27 percent of individuals have dealt with bullying at their jobs.
"So it estimates that one out of four people are currently going through or have been bullied and the business is the one who paid the price, because 77 percent of the time the target, not the perpetrator, but the target ends up moving on to another position, so the business has to lose their best and their brightest people, because the best and the brightest are the ones that are targeted, everybody recognized bullying in the classroom, everybody, because we know that the kids are tyrants you know, but what we stop to realize as they grow up and unless you stop them from being bullies as children, they then come to the workplace with us with this new practiced set of skills and that's when they become workplace (bullies), the bullying to me has been a source of my want to give back to the businesses," Mulcahy said. "I feel personal about this, you know it's my calling or my mission … because you know it gets a certain point in your life that you want to give back and the Lord's been good to me."
Tags: Chamber of Commerce, Deer Park, Frank Mulcahy, Texas, workplace bullying
Posted in WBI in the News | No Archived Comments | Post A Comment () »
Thursday, August 7th, 2014
By Jeff Mandel – Orlando Business Journal – August 7, 2014
A staggering 27 percent of U.S. workers report experiencing abusive conduct at work; 21 percent report witnessing such conduct. And bullying is four times more common than harassment in the workplace, with 65.6 million people reporting to have been affected.
Bullying in the workplace is defined as actions by an individual or group that are unreasonable, physical or psychological, repeated, and cause an intentional impact on the target, such as humiliation, degradation, offense, intimidation or cause dangerous results to the target, such as risk to safety and/or mental or physical health issues. In short, bullying is considered a form of violence.
And the impacts of workplace bullying have a ripple effect. Not only does workplace bullying impact the target of the bullying, but it leaves a lasting impression on others in the workplace as well. Workplace bullying often results in high turnover, low productivity, lost innovations, difficulty hiring quality employees and even customer retention.
Here are five tips for employers wanting to be proactive in the fight against workplace bullying:
(more…)
Tags: Healthy Workplace Bill, Jeff Mandel, Orlando Business Journal, workplace bullying
Posted in WBI in the News | No Archived Comments | Post A Comment () »
Monday, August 4th, 2014
By Kathryn Cave – IDG Connect – August 4, 2014
"Every office full of ambitious people has them. And we have all worked with at least one—the co-worker with an inexplicable ability to rise in the ranks," wrote the Wall Street Journal recently in an article entitled What Corporate Climbers Can Teach Us. "'How do they do it?' we may ask ourselves or whisper to friends at work," it continued. "They don't have more experience. They don't seem that brilliant."
The answer it suggests is the "dark triad" of personality traits identified by psychologists as: narcissism, Machiavellianism and psychopathy. "These traits are well-known for the bad behaviour that they can cause when dominant in people's personalities," explained the article. "At milder levels, however, they can actually foster skills that can help people rise through the ranks."
Of course, there's a very fine line between demonstrating these skills for the purpose of career progression and becoming that covert workplace bully. And the latter is a serious problem. Recent research from the Workplace Bullying Institute (WBI) released in Feb 2014, shows 27% of all adult Americans have directly experienced "repeated abusive conduct that is threatening, intimidating, humiliating, work sabotage or work abuse."
Dr. Namie, Director of WBI and widely regarded as North America's foremost authority on workplace bullying, tells us that bullies also usually exhibit this dark triad. In fact, he demonstrates that the sort of qualities that facilitate career progression are indelibly linked to workplace bullying. "Look at that package," Dr. Namie tells us: "these are the people who are willing to meddle with others. They fill their days with political gamesmanship. And the other people, the targets, come to work to do their job."
"[For the bullies] climbing the ladder is all of their work," Dr. Namie continues. "It is their focus. It becomes a zero-sum game where they must obliterate all competition. They see co-workers as competition as opposed to peers, or a possible pool of friends. They see them as someone to dupe, overcome and climb over. And it is just Machiavellian. And some people don't have that view at all. They're co-corporative. They're nice. They're kind. The targets are in that group."
Tags: dark triad, Gary Namie, I.T., IDG Connect, it, kathryn cave, workplace bullying
Posted in WBI in the News | No Archived Comments | Post A Comment () »
Tuesday, July 29th, 2014
Victims say the problem is tangled by workers' fear of retribution, lack of legal protections, and concerns about what constitutes abusive behavior.
By Bella English – The Boston Globe – July 29, 2014
Carol Anne Geary is a veteran librarian who loved her profession and went back to school, while working, to earn a master's degree in library science. But her passion turned into a nightmare when, she says, she was bullied on the job to such an extent that she was hospitalized with high blood pressure and other health issues.
Geary, who lives in Shrewsbury, was working at a library in another town where she says other staffers verbally abused and excluded her, spoke to library patrons about her in derogatory terms, and made disparaging remarks about gay issues, knowing that she has a gay son.
When Geary took a short leave, on her doctor's orders, she was bombarded with phone calls, asking her why she couldn't work from home. The truth was, she could hardly get out of bed. The library, she says, fought her workers' compensation claim, and then fired her when she was too sick to return to work. "Workman's comp — they understand if you hurt your leg on the job. But it's almost impossible to prove that you're sick because of bullying," says Geary, who doesn't want to identify the library because she fears her former co-workers. "We need to make the workplace safe and healthy.''
In recent months, a spotlight has been turned on the issue of workplace bullying by some high-profile local cases, including Suffolk County Register of Probate Patricia Campatelli, who was suspended over allegations of punching a subordinate after a holiday party. A report by a court-appointed investigator said she "created a fearful atmosphere" in the office.
In July, Leslie Berlowitz resigned as head of the American Academy of Arts and Sciences in Cambridge following several accusations that included subjecting employees to frequent tirades, prompting some to quit in a matter of days or weeks. One former worker recalled that Berlowitz barred entry to the employee kitchen for weeks by posting yellow crime scene tape over the doorway because a worker left a dirty spoon in the sink.
Research suggests that the problem is widespread, with as many as one in four workers saying they have been subjected to abusive conduct on the job. And state legislators are considering a bill to combat it.
Given the apparent scope of the problem, why does it remain so shrouded?
(more…)
Tags: bella english, boston globe, David Yamada, Gary Namie, Greg Sorozan, Healthy Workplace Bill, workplace bullying
Posted in WBI in the News | No Archived Comments | Post A Comment () »
Monday, July 28th, 2014

A candidate for NY State Senate District 10, Everly Brown, is a man committed to ending Workplace Bullying. This is a national first. Brown, a Rosedale Queens resident, is gathering signatures to demand that current State Senate leaders to pass the WBI anti-bullying Healthy Workplace Bill (S3863/A4965) NOW !!! Brown will hand deliver the petitions by walking from Sen. Skelos' (Republican Senate leader) office on Long Island to Sen. Klein's (Democratic Senate leader) office in the Bronx — 40 miles on August 11.
Visit his website to support Everly Brown's campaign.
On the left is the New York Times ad run by Everly Brown on July 28, 2014.
Tags: Everly Brown, Healthy Workplace Bill, workplace bullying, Workplace Bullying Institute
Posted in Healthy Workplace Bill (U.S. campaign), WBI in the News, Workplace Bullying Laws | No Archived Comments | Post A Comment () »
Monday, July 28th, 2014
By Marcia Heroux Pounds, (Florida) Sun Sentinel, July 24, 2014
Bullying in the workplace happens at all levels and in many different workplaces, even to 6-foot, 300-lb. Miami Dolphins football players, experts said at a conference Thursday in Deerfield Beach.
The Broward County Crime Commission gathered local and national experts to talk about adult and workplace bullying.
"When you have zero tolerance, employees understand, 'we don't want to get near that locker room mentality that the Dolphins had,' " said Jack Seiler, mayor of Fort Lauderdale, referring to Dolphins linemen's vulgar text messages, voice mails and behavior that prompted teammate Jonathan Martin to quit the team last year.
The city has a zero-tolerance policy against bullying, Seiler said.
But 27 percent of U.S. workers have been bullied and 21 percent have witnessed bullying in the workplace, according to a 2014 survey by the Workplace Bullying Institute. Workplace bullying is defined as repeated mistreatment; abusive conduct that is threatening, humiliating or intimidating; work sabotage; or verbal abuse.
Nearly 70 percent of bullies are male and 31 percent female, according to the Institute.
Improved economic conditions in the country have not lessened the bullying, said Gary Namie, research director of the Workplace Bullying Institute. Victims may be ostracized in the workplace and set up for errors, he said.
"I'm going to add to your job and not give you training and then call you 'stupid,' " he said as an example of a bully boss.
While many bills have been floated, including in Florida's state legislature, none have passed to take action against workplace bullying.
"Once management understands what the costs of bullying are, they'll get it," said Kelly Kolb, a labor lawyer for Buchanan, Ingersoll & Rooney in Fort Lauderdale.
Research has shown that bullying can result in "clinical depression, anxiety, high blood pressure, ulcers, loss of sleep, a variety of problems. That's going to translate into absenteeism, loss of productivity, more sick days, workers comp claims, health insurance claims, short- and long-term disability claims," Kolb said. "Productivity is going down, expenses are going up, all because of this, usually one male, individual," he said.
Maureen Duffy, a workplace consultant and family therapist in South Florida, said once a person is targeted for bullying, it doesn't always end after the person is fired or quits.
"They get tracked down at their new employment, anonymous phone calls saying, why did you hire this person?," Duffy said. The former employer may withhold references when the person is trying to get a new job, she said.
Sometimes, the situation is even worse. Conference attendees heard from the mother and sister of Jodie Jones Zebell, a 31-year-old mammographer who took her own life after feeling bullied at work.
"Even if something seems trivial, it adds up," said her sister Joie Bostwick. "Listen, and make sure they know how much you love them."
###
Also presenting at the event were WBI friends.
Associate Law Professor Kerri Stone, Florida International University
Attorney Wm. David Cornwell, Gordon Rees, attorney for Jonathan Martin
Associate Professor Alexia Georgakopoulos, PhD, Nova Southeastern University
Tags: Broward Crime Commission, Fort Lauderdale, Gary Namie, Jack Seiler, Jodie Jones Zebell, Maureen Duffy, workplace bullying, Workplace Bullying Institute
Posted in WBI in the News | No Archived Comments | Post A Comment () »
Thursday, July 10th, 2014
By David Shadovitz | Human Resource Executive, July 10, 2014
Anti-bullying legislation continues to gain momentum in state legislatures, with Tennessee becoming the first state to pass anti-bullying legislation.
On June 17, Tennessee Gov. Bill Haslam signed into law the Healthy Workplace Act, a law that affects the practices of state and local government agencies. Private employers are not affected.
The law defines "harassment, intimidation or bullying" as any act that "substantially interferes with a person's work performance or creates an intimidating, hostile or offensive work environment," and instructs the Tennessee Advisory Commission on Intergovernment Relations to create a model policy by next March. Employers have the option to adopt the TACIR policy or not. Those deciding to enact it would be immune from claims arriving from bullying behavior.
Proponents of anti-bullying legislation and experts believe other states could soon follow in the Volunteer State's footsteps, with some pointing to New York and Massachusetts as the most likely to pass anti-bullying laws that would also include private-sector employers.
So far, 28 states have introduced anti-bullying legislation this year, according to the Workplace Bullying Institute in Bellingham, Wash.
In June, Puerto Rico Governor Alejandro Garcia Padilla vetoed legislation that would have held both public- and private-sector employers in that territory accountable for workplace bullying. In doing so, Padilla pointed to the Department of Justice's view that the definition of "workplace harassment" is too vague and the fact that victims of workplace bullying can still seek protection under the territory's Constitution.
Gary Namie, national director of the Workplace Bullying Institute and a chief architect of the Healthy Workplace Act, says his reaction to the Tennessee law is generally positive. Any legislation that focuses on abusive conduct in the workplace breaks the silence, he says. "You're going to have all of the institutions talking about it now."
But while he considers the Tennessee law a good first step, Namie adds that he's disappointed by the legislation's limited scope and authority, describing it as a "gutted" version of the Healthy Workplaces Act.
Namie notes that it's also unfortunate that under the act "all of the processes still happen in-house under a shroud of secrecy . . . . "Everything remains internal."
Recent studies confirm that bullying continues to be a widespread and troubling issue in workplaces.
Tags: david shadovitz, Gary Namie, Healthy Workplace Bill, human resources executive, Puerto Rico, Tennessee, Workplace Bullying Institute
Posted in Healthy Workplace Bill (U.S. campaign), WBI in the News, Workplace Bullying Laws | No Archived Comments | Post A Comment () »