Archive for the 'Commentary by G. Namie' Category
Saturday, September 27th, 2014
There is a raging epidemic of sexual assaults on US college campuses. Reliable estimates claim that between 16% and 25% of college women face the risk of rape or some other assault, according to the spring 2014 report by the White House Task Force to Protect Students from Sexual Assault. The Obama Administration's goal is to understand the problem then propose legislative, behavioral and institutional changes to eradicate the problem.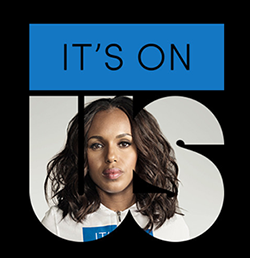 On Sept. 23, 2014, the government launched a new public education campaign featuring celebrities (ostensibly the only credible Americans with the right to suggest that the public change its behavior) — It's On Us. The message attempts to increase the responsibility felt by witnesses of assaults to intervene and disrupt.
In school bullying initiatives, it's called making "upstanders" out of bystanders. Witnesses are known to not intervene in emergencies of all kinds. The reluctance is called the "bystander effect," and followed a 1964 rape and murder of Kitty Genovese in Queens New York witnessed by 38 neighbors, each of whom failed to call the police in time to save her life. The explanations that emerged from subsequent research (led by social psychologists John Darley and Bibb Latane starting in the 1960's). Bystander reticence is usually based on fear — of retaliation, of botching a rescue, of being the sole helper, of being the next victim.
Tags: bystander effect, bystanders, campus sexual assault, Columbia University, It's On Us, White House Task Force to Protect Students from Sexual Assault, witnesses, workplace bullying
Posted in Fairness & Social Justice Denied, Media About Bullying, Print: News, Blogs, Magazines, Tutorials About Bullying, WBI Education | No Archived Comments | Post A Comment () »
Tuesday, September 23rd, 2014
We here regularly criticize the American penchant for being anti-science. When policymakers are the ignorant ones who willfully substitute personal opinions for science, it endangers the country. Watch Jon Stewart on the Daily Show select clips from the House Committee on Science to illustrate the buffoonery happening in Washington regarding climate change.
Tags: anti-science, Buschon, Daily Show, Jon Stewart, US Congress
Posted in Commentary by G. Namie, The New America | No Archived Comments | Post A Comment () »
Wednesday, September 10th, 2014
The NFL — the No Effin' Liability league for the boys of football — has struck again. As a multi-billion dollar enterprise (owned by revered American entrepreneurs — celebrities themselves who own celebrity labor), the league of owners of American professional football has shown itself to be incredibly inept. Their mouthpiece, the "commish" Roger Goodell seems driven solely to protect the NFL brand. He certainly is not a competent CEO though paid $44.2 million per year to be incompetent. I'm not sure he could work the drive-thru at McDonalds — it's too fast moving and accuracy matters.
You see Roger got caught crafting corporate policy in a very public way, then revising it to be more punitive publicly, only to get caught acting unilaterally and reflexively, all the while completely ignoring his own stated "policy." The man doesn't know "strategery,"willing to act without thinking.
Ray Rice, star player for the Baltimore Ravens, was caught on a New Jersey casino hotel security video entering an elevator with this then-fiance, Janay Palmer. That same camera caught him dragging an unconscious Janay from the elevator minutes later.
Conclusion to be drawn by any reasonable person: Rice struck Palmer in the elevator. Local law enforcement, the district attorney and the judge seemed to believe an unknown third person must have assaulted her in the elevator. Charges were dismissed. The NFL also engaged in such magical thinking. Goodell was allowed to assume that if the courts didn't care to protect Palmer and jail Rice, the Ravens and NFL had little to worry about. And the only worry for the team and league is LEGAL liability. Just protect the shield, baby (tip to Al Davis).
Goodell decided that he had better punish Rice in some way. He grazed him with a 2-game suspension. Even within the NFL's hierarchy of punishments, the penalty was light as compared to a pot smoking 6-game suspension. The inequity was obvious to all immediately but not to Goodell. Weeks later, he publicly declared that a domestic violence first-time violation committed by a player (nothing said about the distinction between proof, accusation, arrest, indictment or conviction) would draw a 6-game penalty. What to do with Rice retroactively? Suddenly two new domestic violence cases emerged with San Francisco and Carolina players. What to do? Goodell waited.
Into the breach strode that paragon of journalism, TMZ, with the missing link — video from the elevator. At last, Goodell could see what had actually happened between the video sequences taken outside the elevator. He rapidly, within the day, compelled the Ravens team to fire Rice and the NFL suspended Rice indefinitely (which in the past has always been the route to redemption and restoral of playing privileges).
Goodell expected praise. Instead, there have been calls for his head. ESPN talking head, attorney, and former NFL quarterback Steve Young opined that the Ravens should have acted like a responsible corporate employer and sent Rice home without pay pending an investigation.
I'll let ESPN's Keith Olbermann explain why Goodell and the Ravens and county officials screwed up. He calls for mass resignations. Obermann says Goodell "comforted the violent and afflicted the victim" and is an "enabler of men who beat women."
As an institution, the NFL is screwy. The people in charge seem incapable of owning the responsibility for what they have done. It's all deflection and denial. Just protect the shield, baby.
It's corporate CYA!
Coming: Part II — The NFL's Personnel Problem
Tags: CEO, corporate irresponsibility, domestic violence, human resources, investigations, NFL, Roger Goodell, wullying
Posted in Commentary by G. Namie, Employers Gone Wild: Doing Bad Things, NFL: Domestic Violence, The New America | No Archived Comments | Post A Comment () »
Friday, September 5th, 2014
Purpose Rockstar is a wonderful program hosted by Derrick Duplessy, Executive Director of the Duplessy Foundation. Here is Purpose Rockstar's goal:
Our goal is to inspire you to craft your dream job with examples of people who have created meaningful careers, Purpose Rockstars. We have 100+ case studies of people from every type of career.
Dr. Namie was a recent case study for the program. You can hear the entire interview by following this link.
Tags: Derrick Duplessy, Duplessy Foundation, Gary Namie, Purpose Rockstar, Workplace Bullying Institute
Posted in Commentary by G. Namie, The New America, WBI in the News | No Archived Comments | Post A Comment () »
Tuesday, August 12th, 2014
It may surprise those of you who have never read a Russell Brand essay on the wrongness of austerity or the ills of contemporary society to realize the comedic man has depth and insight. And so I expected his tribute to Robin Williams to be equally brilliant. Here is the full essay.
I chose the excerpt below to capture Brand's point about our very human fragility that gets bulldozed by our "man up" compassionless society.
What platitudes then can we fling along with the listless, insufficient wreaths at the stillness that was once so animated and wired, the silence where the laughter was? That fame and accolades are no defence against mental illness and addiction? That we live in a world that has become so negligent of human values that our brightest lights are extinguishing themselves? That we must be more vigilant, more aware, more grateful, more mindful? That we can't tarnish this tiny slice of awareness that we share on this sphere amidst the infinite blackness with conflict and hate?

That we must reach inward and outward to the light that is inside all of us? That all around us people are suffering behind masks less interesting than the one Robin Williams wore? Do you have time to tune in to Fox News, to cement your angry views to calcify the certain misery?

What I might do is watch Mrs Doubtfire. Or Dead Poets Society or Good Will Hunting and I might be nice to people, mindful today how fragile we all are, how delicate we are, even when fizzing with divine madness that seems like it will never expire.
Tags: Robin Williams, Russell Brand, suicide
Posted in Commentary by G. Namie, The New America | No Archived Comments | Post A Comment () »
Saturday, August 2nd, 2014
Tags: Gary Namie, got a minute, NFL, target, who gets bullied, workplace bullying, Workplace Bullying Institute
Posted in Commentary by G. Namie, Media About Bullying, NFL: Jonathan Martin, WBI Education | No Archived Comments | Post A Comment () »
Wednesday, July 30th, 2014
Tags: Colbert, income inequality, poor door
Posted in Commentary by G. Namie, Fairness & Social Justice Denied, The New America | No Archived Comments | Post A Comment () »
Sunday, July 27th, 2014
A grocery store chain, DeMoulas Market Basket, started in 1916 in Lowell, Massachusetts by two Greek immigrants is at the center of a rare remarkable demonstration of employee and customer loyalty.
The original Market Basket founders sold their store to two sons, brothers Mike and George, in 1954. When George died, a blood feud began, claiming (and a 1994 court agreeing) that Mike had cheated George and his family out of $500 million. George's son, Arthur S. Demoulas, still became Boston's 8th wealthiest person.
Arthur T. Demoulas, Mike's son and the cousin of Arthur S., was named CEO in 2008 by the Market Basket Board of Directors controlled by Arthur S. (History from the Demoulas corporate website. More history from a Boston Globe video.)
The the all male board, led by Arthur S. attempted to fire Arthur T. in 2013, and eventually did fire him on June 23, 2014. Two other executives were fired and six quit.
As CEO, Arthur T. was committed to the firm's 25,000 employees like few American CEOs. Said the Boston Globe about him:
It's easy to see why the employees love Arthur T., who has been generous to them to a degree that drives his relatives crazy. One of the acts that drew their ire was replacing $46 million that their profit-sharing plan lost in the market during the 2008 financial meltdown. Arthur T. thought it was money the employees were entitled to. His cousins argued, not unreasonably, that investments sometimes go sour.
The Market Basket melodrama exploded outside the board room when loyal employees and customers took to the streets to protest and to gather signatures on petitions to re-instate Arthur T.
Here's the account from WMUR-TV:
Tags: Arthur S. Demoulas, Arthur T. Demoulas, family feud, loyalty, Market Basket, protest
Posted in Fairness & Social Justice Denied, Tutorials About Bullying, WBI Education | No Archived Comments | Post A Comment () »
Saturday, July 26th, 2014
Tags: Gary Namie, got a minute, health harm, workplace bullying, Workplace Bullying Institute
Posted in Commentary by G. Namie, Media About Bullying, WBI Education | No Archived Comments | Post A Comment () »
Tuesday, July 22nd, 2014
"Suppose you were an idiot.
And suppose you were a member of Congress.
But I repeat myself."
Mark Twain
I'm starting to sound like my father and can't believe I question nearly every day "what is this world coming to?" Near the top of my "it's all going to hell" list is America's turning its back on science — unabashedly, proudly, defiantly — through legislation.
In the UK, the BBC has banned from their airwaves crackpot guests preaching that climate change is not real. The change is to bolster scientific integrity. Staff will receive training in science and scientific conferences will be attended by staff to stay abreast of developments.
Deniers get equivalence here in the US. One denier with one believer (proxy by Bill Nye, the "Science Guy"). Viewers ignorant of the facts could conclude that climate change is not really something to be concerned about. The fallacy of this false equivalence was never more clear than this demonstration by comedian John Oliver on his HBO show This Week Tonight.
And recently the British government extended its public school ban on teaching pseudoscience, creationism, to cover "academies" and "free schools," the equivalent of charter schools in the States. The government recognizes the religious bases of the founders of such schools. Thus creationism promotes religion and has no business in the teaching of science.
America is headed in the other direction, driving headfirst into ignorance. Creationists and advocates for "intelligent design" in the US seem to be gaining clout. The National Center for Science Education (NCSE) 2014 legislative scorecard identified states that are attempting to make their children science illiterates.
Tags: Healthy Workplace Bill, state legislators, state legislatures
Posted in Commentary by G. Namie, Employers Gone Wild: Doing Bad Things, Healthy Workplace Bill (U.S. campaign), The New America, WBI Surveys & Studies | No Archived Comments | Post A Comment () »