Archive for the 'The New America' Category
Friday, February 27th, 2015
"We need a leader who will stand up and say we will take the fight to them and not wait until they take the fight to American soil," declared Wisconsin Governor Scott Walker, a 2016 presidential hopeful, to the audience at the Conservative Political Action Conference in Washington, DC. This is his reference to ISIS terrorists.
Then he said: "If I can take on 100,000 protesters, I can do the same in the rest of the world," a clear reference to both ongoing protests against new anti-worker laws and a historic revolt in 2011 against Walker's push to dismantle collective-bargaining rights for the state's labor unions.
Walker denies he connected the dots but his "dog whistle" points were clearly heard by the radical right wing CPAC audience. He is bragging about busting unions — what he refers to as Democratic special interest groups.
"To compare the hundreds of thousands of teachers, students, grandmothers, veterans, correctional officers, nurses and all the workers who came out to peacefully protest and stand together for their rights as Americans to ISIS terrorists is disgusting and unacceptable," said Wisconsin AFL-CIO President Phil Neuenfeldt in a statement. "To compare hard-working men and women who work for a living to terrorists is a disgrace. Coming together to peacefully protest for freedom, to raise your voice for a better Wisconsin, this is not an act of terror."
Let's hope America doesn't make the same mistakes that Wisconsin voters have made in recent elections.
The irony in America that not one word may be spoken against the military or those who serve in it (all are "heroes") but defaming the working women and men who dare to organize to fight against abusive practices by government and corporate employers (who are well organized and funded) can go unpunished is not lost on us.
Tags: CPAC, right wing, Scott Walker, Unions, Wisconsin
Posted in The New America, Unions | No Archived Comments | Post A Comment () »
Thursday, January 8th, 2015
WBI: Because of the extreme health harm bullying causes, some targeted individuals, with help from their physicians and psychotherapists, were granted paltry amounts of monthly Social Security Disability payments on which their survival is entirely dependent. Republicans in the House included an obscure rule change on opening day of the 114th Congress that altered how Social Security trust fund transfers money to fund SS Disability. They made transferring funds (reallocation) contingent upon either increasing the SS tax or cutting benefits. It is estimated that starting in 2016, disability recipients will suffer a 20% decrease in their benefit.
Dear disinterested/apathetic/dim-witted American voters — pay attention to elections and who you send to Congress and your state legislatures. This is what we have brought upon ourselves.
From the office of Sen. Sherrod Brown: Reallocation is a simple procedure used by Congress to rebalance how Social Security payroll tax revenues are apportioned between the two trust funds – the equivalent of transferring money from a checking to a savings account. Reallocation is commonsense, bipartisan policy that has been utilized by both parties 11 times since 1957 – most recently in 1994, including four times under Ronald Reagan. It was projected that the 1994 reallocation would keep the trust fund solvent until 2016.
Tags: bullied targets, disability, psychological health harm, social security
Posted in Commentary by G. Namie, Fairness & Social Justice Denied, The New America | 1 Archived Comment | Post A Comment () »
Tuesday, October 28th, 2014
Posing this question on the internet is risky, certain to draw unsolicited government surveillance attention in paranoid America. You see, terror existed before America's Sept. 11, 2001. Just ask Britain. We should be able to use the word when it applies to a variety of situations. But after 9-11, the semantic gods yielded control of the term to western governments.
Here is Merriam-Webster's definition:

ter·ror noun \ˈter-ər, ˈte-rər\

1:  a state of intense fear
2 a :  one that inspires fear :  scourge b :  a frightening aspect c :  a cause of anxiety :  worry d :  an appalling person or thing; especially :  brat
3:  reign of terror
4:  violent or destructive acts (as bombing) committed by groups in order to intimidate a population or government into granting their demands

Origin of TERROR
Middle English, from Anglo-French terrour, from Latin terror, from terrēre to frighten; akin to Greek trein to be afraid, flee, tremein to tremble First Known Use: 14th century
Thus, a practitioner of terror, the terrorist, is a person who deliberately instills fear and anxiety in others in an intimidating fashion. Isn't that what a workplace bully does when she or he abuses others? From fear comes paralysis. Shocked and paralyzed targets and witnesses do not respond to aggression with aggression.
Look at the fourth term in the above definition. The goal of intimidation is have "a population or government," proxies for organizations, grant the bully's demands. Bullies get their way with their employers. Perpetrators are rarely punished. They abuse others with impunity, rarely facing consequences. American employers do next to nothing to stop bullies while innocent guileless targets lose their jobs, livelihoods and sanity at alarming rates.
Logically, workplace bullies are terrorists within organizations. They are organizational terrorists. Their actions fit the definition. We simply are applying a label appropriately.
Bullying is not simply eye rolling as bully apologists like to characterize it. It is workplace violence, albeit a non-physical form. It is a mistake to underestimate the effects verbal abuse, threats, intimidation, humiliation and domination have on human beings.
History is on our side. The founder of the international movement in Sweden, Heinz Leymann, titled one of his early English-language journal articles — "Mobbing and Psychological Terror at Workplaces." Of course, he chose the term mobbing to connote the interpersonal destruction of workplace victims by multiple perpetrators. To assess the extent to which a target was harmed, he developed his own instrument, the LIPT, the Leymann Interpersonal Psychological Terrorization scale. Leymann minced no words. He died in 1999 before other nations followed America's descent into paranoia about terrorism. I wonder how close he was to naming the phenomenon we know today as bullying, terrorization.
When Dr. Ruth and I made the commitment to begin the work which evolved into the Workplace Bullying Institute back in 1996-97, we had a choice of two reasonable terms. Mobbing was the Scandinavian and European term. Workplace Bullying was the British term. We deliberately chose to import "workplace bullying" for a variety of reasons. We originally did discuss "terrorization," but felt it would be considered too radical to be accepted by American media. A short four years later, Sept 11 happened. The movement would have been stopped in its tracks for adopting anything related to "terror."
Looking back after more than 17 years, in the spirit of realistically naming the destructive force that workplace bullying is, I now see "terrorization" as an entirely appropriate synonym to add to the list of acceptable terms. Invoking Leymann's courage to call it what it is, bullying is terrorism.
Which employers will launch a "war" against it within their walls? Call us. We'll help you do it right.
Tags: bullied targets, Gary Namie, Heinz Leymann, psychological terrorization, terror, terrorist, victims, workplace bullying
Posted in Commentary by G. Namie, The New America, Tutorials About Bullying, WBI Education | 3 Archived Comments | Post A Comment () »
Tuesday, September 23rd, 2014
We here regularly criticize the American penchant for being anti-science. When policymakers are the ignorant ones who willfully substitute personal opinions for science, it endangers the country. Watch Jon Stewart on the Daily Show select clips from the House Committee on Science to illustrate the buffoonery happening in Washington regarding climate change.
Tags: anti-science, Buschon, Daily Show, Jon Stewart, US Congress
Posted in Commentary by G. Namie, The New America | No Archived Comments | Post A Comment () »
Wednesday, September 10th, 2014
The NFL — the No Effin' Liability league for the boys of football — has struck again. As a multi-billion dollar enterprise (owned by revered American entrepreneurs — celebrities themselves who own celebrity labor), the league of owners of American professional football has shown itself to be incredibly inept. Their mouthpiece, the "commish" Roger Goodell seems driven solely to protect the NFL brand. He certainly is not a competent CEO though paid $44.2 million per year to be incompetent. I'm not sure he could work the drive-thru at McDonalds — it's too fast moving and accuracy matters.
You see Roger got caught crafting corporate policy in a very public way, then revising it to be more punitive publicly, only to get caught acting unilaterally and reflexively, all the while completely ignoring his own stated "policy." The man doesn't know "strategery,"willing to act without thinking.
Ray Rice, star player for the Baltimore Ravens, was caught on a New Jersey casino hotel security video entering an elevator with this then-fiance, Janay Palmer. That same camera caught him dragging an unconscious Janay from the elevator minutes later.
Conclusion to be drawn by any reasonable person: Rice struck Palmer in the elevator. Local law enforcement, the district attorney and the judge seemed to believe an unknown third person must have assaulted her in the elevator. Charges were dismissed. The NFL also engaged in such magical thinking. Goodell was allowed to assume that if the courts didn't care to protect Palmer and jail Rice, the Ravens and NFL had little to worry about. And the only worry for the team and league is LEGAL liability. Just protect the shield, baby (tip to Al Davis).
Goodell decided that he had better punish Rice in some way. He grazed him with a 2-game suspension. Even within the NFL's hierarchy of punishments, the penalty was light as compared to a pot smoking 6-game suspension. The inequity was obvious to all immediately but not to Goodell. Weeks later, he publicly declared that a domestic violence first-time violation committed by a player (nothing said about the distinction between proof, accusation, arrest, indictment or conviction) would draw a 6-game penalty. What to do with Rice retroactively? Suddenly two new domestic violence cases emerged with San Francisco and Carolina players. What to do? Goodell waited.
Into the breach strode that paragon of journalism, TMZ, with the missing link — video from the elevator. At last, Goodell could see what had actually happened between the video sequences taken outside the elevator. He rapidly, within the day, compelled the Ravens team to fire Rice and the NFL suspended Rice indefinitely (which in the past has always been the route to redemption and restoral of playing privileges).
Goodell expected praise. Instead, there have been calls for his head. ESPN talking head, attorney, and former NFL quarterback Steve Young opined that the Ravens should have acted like a responsible corporate employer and sent Rice home without pay pending an investigation.
I'll let ESPN's Keith Olbermann explain why Goodell and the Ravens and county officials screwed up. He calls for mass resignations. Obermann says Goodell "comforted the violent and afflicted the victim" and is an "enabler of men who beat women."
As an institution, the NFL is screwy. The people in charge seem incapable of owning the responsibility for what they have done. It's all deflection and denial. Just protect the shield, baby.
It's corporate CYA!
Coming: Part II — The NFL's Personnel Problem
Tags: CEO, corporate irresponsibility, domestic violence, human resources, investigations, NFL, Roger Goodell, wullying
Posted in Commentary by G. Namie, Employers Gone Wild: Doing Bad Things, NFL: Domestic Violence, The New America | No Archived Comments | Post A Comment () »
Friday, September 5th, 2014
Purpose Rockstar is a wonderful program hosted by Derrick Duplessy, Executive Director of the Duplessy Foundation. Here is Purpose Rockstar's goal:
Our goal is to inspire you to craft your dream job with examples of people who have created meaningful careers, Purpose Rockstars. We have 100+ case studies of people from every type of career.
Dr. Namie was a recent case study for the program. You can hear the entire interview by following this link.
Tags: Derrick Duplessy, Duplessy Foundation, Gary Namie, Purpose Rockstar, Workplace Bullying Institute
Posted in Commentary by G. Namie, The New America, WBI in the News | No Archived Comments | Post A Comment () »
Tuesday, August 12th, 2014
It may surprise those of you who have never read a Russell Brand essay on the wrongness of austerity or the ills of contemporary society to realize the comedic man has depth and insight. And so I expected his tribute to Robin Williams to be equally brilliant. Here is the full essay.
I chose the excerpt below to capture Brand's point about our very human fragility that gets bulldozed by our "man up" compassionless society.
What platitudes then can we fling along with the listless, insufficient wreaths at the stillness that was once so animated and wired, the silence where the laughter was? That fame and accolades are no defence against mental illness and addiction? That we live in a world that has become so negligent of human values that our brightest lights are extinguishing themselves? That we must be more vigilant, more aware, more grateful, more mindful? That we can't tarnish this tiny slice of awareness that we share on this sphere amidst the infinite blackness with conflict and hate?

That we must reach inward and outward to the light that is inside all of us? That all around us people are suffering behind masks less interesting than the one Robin Williams wore? Do you have time to tune in to Fox News, to cement your angry views to calcify the certain misery?

What I might do is watch Mrs Doubtfire. Or Dead Poets Society or Good Will Hunting and I might be nice to people, mindful today how fragile we all are, how delicate we are, even when fizzing with divine madness that seems like it will never expire.
Tags: Robin Williams, Russell Brand, suicide
Posted in Commentary by G. Namie, The New America | 1 Archived Comment | Post A Comment () »
Wednesday, July 30th, 2014
Tags: Colbert, income inequality, poor door
Posted in Commentary by G. Namie, Fairness & Social Justice Denied, The New America | 1 Archived Comment | Post A Comment () »
Tuesday, July 22nd, 2014
"Suppose you were an idiot.
And suppose you were a member of Congress.
But I repeat myself."
Mark Twain
I'm starting to sound like my father and can't believe I question nearly every day "what is this world coming to?" Near the top of my "it's all going to hell" list is America's turning its back on science — unabashedly, proudly, defiantly — through legislation.
In the UK, the BBC has banned from their airwaves crackpot guests preaching that climate change is not real. The change is to bolster scientific integrity. Staff will receive training in science and scientific conferences will be attended by staff to stay abreast of developments.
Deniers get equivalence here in the US. One denier with one believer (proxy by Bill Nye, the "Science Guy"). Viewers ignorant of the facts could conclude that climate change is not really something to be concerned about. The fallacy of this false equivalence was never more clear than this demonstration by comedian John Oliver on his HBO show This Week Tonight.
And recently the British government extended its public school ban on teaching pseudoscience, creationism, to cover "academies" and "free schools," the equivalent of charter schools in the States. The government recognizes the religious bases of the founders of such schools. Thus creationism promotes religion and has no business in the teaching of science.
America is headed in the other direction, driving headfirst into ignorance. Creationists and advocates for "intelligent design" in the US seem to be gaining clout. The National Center for Science Education (NCSE) 2014 legislative scorecard identified states that are attempting to make their children science illiterates.
Tags: Healthy Workplace Bill, state legislators, state legislatures
Posted in Commentary by G. Namie, Employers Gone Wild: Doing Bad Things, Healthy Workplace Bill (U.S. campaign), The New America, WBI Surveys & Studies | No Archived Comments | Post A Comment () »
Wednesday, July 9th, 2014
In this space we regularly call for greater employer accountability and the enactment of laws that make that accountability more likely than is currently done voluntarily. Our domain is the non-physical safety threat. U.S. workers are supposedly to be made safe from threats to their physical safety.
OSHA, a "regulatory" agency responsible for Occupational Safety and Health in the U.S. seems to have trouble accomplishing its mission. "OSHA's mission is to assure safe and healthful workplaces by setting and enforcing standards and by providing training, outreach, education and assistance." Wondering if by assistance, OSHA means delivering "waivers" to destructive employers who poison and take lives.
For example, the following two stories of injustice based on token punishment will curdle your blood.
Story 1.
A CSC Sugar plant in Fairless Hills, PA provides sugar for Snapple and Ben & Jerry's Ice Cream. The plant is staffed and managed entirely by temp workers. According to ProPublica statistics, temporary workers are most at risk for safety hazards at worksites in states where data exist.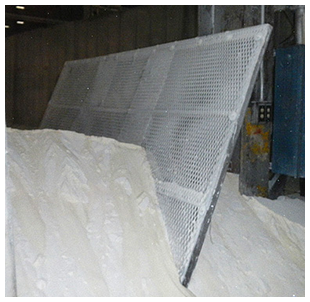 In February 2013, Peruvian New Jersey resident Janio Salinas was unclogging the machine from below. He was buried alive and asphyxiated. Coworkers found him after they returned from lunch. The onsite temp manager had complained about this potential hazard to a higher level manager until a safety platform was installed. However, the big boss instructed the temp manager to remove that platform because it had slowed the flow of sugar, had slowed down "production." That big boss lied about his order to investigators, claiming ignorance about the platform (picture on the left). His costly decision was made 13 days before Salinas was buried. Turns out the only cost was Salinas' life.
Next came the OSHA investigation. OSHA initially fined CSC $25,855 but after CSC installed a safety guard and started using a new procedure to break up sugar clumps, the fine was reduced to $18,098 (for good behavior???). Jean Kulp, director of OSHA's Allentown, PA, office, told Univision that her agency doesn't have the ability to shut down businesses, has limited criminal enforcement provisions, and found the CSC had not been "willfully in violation," which would have triggered bigger fines despite a record of repeated violations.
$18,098 for a man's life!
Kulp's ultimate insult to the Salinas' surviving family: CSC had not in her judgement shown "total disregard" for its workers.
Thanks to Daily Kos for the tip to the tale.
Tags: asphyxiation, CSC sugar, Elk River, Freedom Industries, Janio Salinas, Jean Kulp, MCHM, OSHA, West Virginia
Posted in Commentary by G. Namie, Employers Gone Wild: Doing Bad Things, Fairness & Social Justice Denied, The New America | No Archived Comments | Post A Comment () »