Archive for the 'The New America' Category
Friday, April 18th, 2014
The U.S. Supreme Court, the Roberts court, regularly finds in favor of corporations over individuals. In two landmark cases, Citizens United (2010) and McCutcheon (2014), the court gave wealthy individuals unlimited control over the political process — electing politicians and influencing lawmakers concerning public policy laws.
Now comes an empirical analysis of 1,779 public policy laws crafted between 1981 and 2002 by two academic political scientists — Martin Gilens at Princeton and Benjamin Page at Northwestern. The conclusions suggest that oligarchy (or more technically plutocracy) better describes the U.S. than a simple electoral democracy. This is a shot across the bow to defenders of American exceptionalism.

(more…)
Tags: American exceptionalism, biased pluralism, citizen powerlessness, Democracy Now, oligarchy, power of business groups
Posted in Commentary by G. Namie, Fairness & Social Justice Denied, Healthy Workplace Bill (U.S. campaign), The New America, Workplace Bullying Laws | No Archived Comments | Post A Comment () »
Thursday, April 17th, 2014
It would be great if bosses would leave us alone at home, during family time and on weekends. But it is not the American way, nor the Brit way, nor the French way.
Recent hyperbolic mis-reporting stated that a new French "law" protected workers from bosses contacting them after 6 pm. Oops.
The real news was the inclusion in two union bargaining agreements covering about 250,000 mid-level managers in tech industries. Those workers are subject to erratic schedules, and up to 78-hour work weeks, unlike other workers (who average 39.5 hour weeks) despite a 35-hour work week limit on the books. And the terms of the agreements have not yet been approved by the Labor Ministry.
So, to reduce stress (a tiny bit), the new agreements with employers "oblige" (not order, not mandate under threat of punishment) workers "to disconnect from remote communications tools" outside of normal working hours, whatever those hours might be — not expressly 6 pm. In other words, the onus is on the worker to turn off the employer when away from work for at least 11 hours (and that includes sleeping).
This gesture is a nod to the European notion that quality of life still can matter. Workaholism is not accepted without complaint. French workers engage in strikes and work stoppages. The French take to the street to protest social injustice. However, one union official made this conciliatory remark to the NY Times
"We also wouldn't like this to squeeze businesses and cause them problems."
The fact that the roots of the workplace bullying movement were sown in the social democratic Scandinavian nations should not be lost on Americans.
Yet, American media scorn the French as if they are lazy and unproductive. As if an overstressed and abused work force is exemplary. I hear the chants now — We're number 1! Americans meekly accept everything their corporate masters shove down their throats. And public sector unions, the last bastion of organized labor, are being gutted by malicious state legislatures and governors hell bent on privatizing America. Few fight back out of fear. Why?
The French are not to be mocked. In fact, French unions are trying to hold on to an eroding leverage themselves. The globalized world dominated by multinational corporations have convinced all governments to step aside and let businesses operate without rules or limits.
In Germany, Volkswagen forbade supervisors from contacting workers after hours and shut down its servers to stop e-mail and phone calls. Deutsche Telekom also invoked a communications-free time ensuring that managers have no right to expect workers to answer supervisors' calls or e-mails while away from work.
It would be far better if Americans voluntarily unplugged themselves from their work-provided phones and devices. They couldn't track us in our bedrooms with remotely launched laptop cameras. The NSA would have no record of our interactions. And we would sleep more peacefully. The trouble is that employers have convinced too many of us to be afraid, very afraid. Oh, well. Maybe someday.
Tags: disconnect, French workers, no e-mail policy, off-work time, Volkswagen, workaholism
Posted in Commentary by G. Namie, Good News, The New America | No Archived Comments | Post A Comment () »
Thursday, March 20th, 2014
Hitachi technology takes worker surveillance to new extremes. Where is the employers' confidence in, and trust of, employees? It's called the "Business Microscope."
Here's a picture of the device and the tracking system: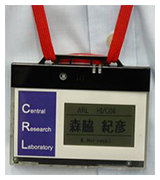 Listen to WBI Podcast 39 by Dr. Gary Namie
Audio clip: Adobe Flash Player (version 9 or above) is required to play this audio clip. Download the latest version here. You also need to have JavaScript enabled in your browser.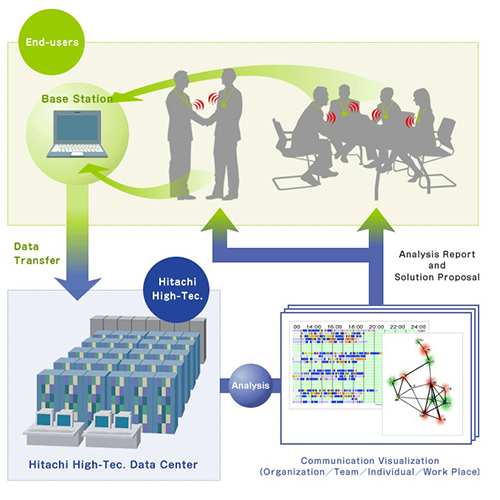 Tags: Gary Namie, Hitachi Business Microscope, Podcasts, workplace bullying, Workplace Bullying Institute
Posted in Commentary by G. Namie, Employers Gone Wild: Doing Bad Things, Podcasts, The New America, WBI Education | No Archived Comments | Post A Comment () »
Thursday, March 13th, 2014
Our societal tendency to blame victims of all sorts undercuts our ability to make systemic changes. If individuals are responsible rather than schools, employers and man-made (sic) organizations, then nothing ever has to change.
This is one of the many forms of resistance we face in the workplace bullying movement.
An interesting case surfaced in which a Wisconsin high school principal, Jon Wiltzius, was upset with a story published in the student's monthly magazine. The editors bravely took on the topic of rape and blaming victims in their school. Three victims told their stories anonymously. Kudos for editors-in-chief Rachel Schneider and Tanvi Kumar.
The cover story ruffled the feathers of the principal responsible for the organizational (building) culture. His reaction — to cite case law that the District has control, not the student editors, over the publication — rather than hold an assembly to have all students discuss what may contribute to the normalization of sexual assault in high school and what his school could do about it. Oops. Guess the students are more adult about this serious topic than the principal who chooses to duck his responsibility.
Watch the WBAY-TV, ABC affiliate in Green Bay report
Read the well-written, truthful article on pages 11-16 of the student publication Cardinal Columns at Fond-du-Lac High School.
Tags: blaming the victim, Cardinal Columns, Fond-du-Lac, fundamental attribution error, high school, Jon Wiltzius, rape culture, WBAY-TV, Wisconsin
Posted in Broadcasts: Video, TV, radio, webinars, Commentary by G. Namie, Media About Bullying, The New America, Tutorials About Bullying, WBI Education | No Archived Comments | Post A Comment () »
Tuesday, February 18th, 2014
Evidence mounts every week that the American "have-nots" suffer new economic indignities. In our very unequal America (please hold off on the 'American dream for everyone' speech), wealth becomes might. The extremely wealthiest 1% benefited from the global recession of 2008. Of the wealth accumulated since then, the 1% won 95% while the bottom 90% of Americans grew poorer.
A disgusting aspect of our new Gilded Age (term coined in the late 19th century by Mark Twain) is the shamelessness of the uber rich. A case in point — Tom Perkins, a Silicon Valley venture capitalist, is making news with provocative (read hate-filled) comments that taxation is persecution of the rich by progressive akin to Nazi persecution of the Jews and, for extra effect, voting should be the privilege earned only by those who actually pay taxes. The latest outrageous comment was made at the ostensibly "serious" and credible San Francisco Commonwealth Club event titled: War on the 1%
Really? Really? The exploiters are victims??? Sounds like the bully's faux lament.
Matt Tiabi regularly reports on new financial scams that generate obscene gobs of cash for the inventors while screwing employees of affected companies, and of course, the public.
Tags: class warfare, gilded age, income inequality, Mark Twain, Tom Perkins, wealth
Posted in Commentary by G. Namie, Fairness & Social Justice Denied, The New America | No Archived Comments | Post A Comment () »
Tuesday, February 11th, 2014
Join supporters of privacy and internet openness. See the 13 Principles on the Application of Human Rights to Communications Surveillance: including legality, necessity, proportionality, transparency and public oversight.
Call or e-mail your legislators easily from the campaign's website.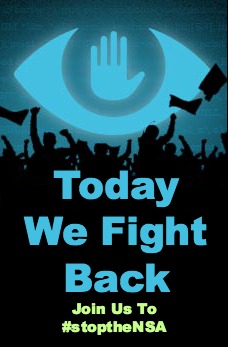 Tags: communications surveillance, NSA, surveillance state, The Day We Fight Back
Posted in Commentary by G. Namie, The New America | No Archived Comments | Post A Comment () »
Tuesday, February 11th, 2014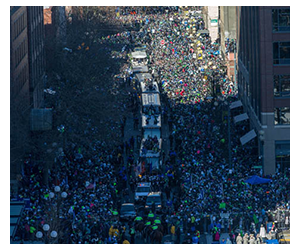 They came by the hundred thousands. You might think this is about the 750,000 Seattle Seahawks fans clogging the streets of Seattle to greet their NFL team coming home triumphant from the Super Bowl (pictured on the left). In a way, they make the point for me that it took the NFL to get people to take to the streets. But it was a feel-good parade that few could argue with. And note that the parade's participants outnumbered the population of Seattle. Some converged on the city from far away. WBI lives 100 miles north and there were two busloads and untold car pools who made the trek. So this is what it takes to move people to act, to stand in the frigid air to make a statement of some sort.
Why don't Americans protest in the streets? Robert Reich wrote that despite the economic pain suffered by the poor — underpaid workers, the underemployed and the unemployed — we Americans are afraid to protest corporate greed and government indifference lest we lose our jobs. He also believes that our cynicism about government, now commonplace thanks to an unrelenting message from the right for over 40 years, keeps us in our couches.
But hope springs eternal. A bit of background. North Carolina is one of several states where rabid right wingers (don't call 'em conservatives) control the state legislature and the governor's seat. The politicians who seem to hate citizens have run amok, trampling voting rights, undermining public education and seemingly re-segregating the state as was done after the Civil War (or War of Northern Aggression) via Jim Crow laws. Bill Moyers produced a mini-documentary on the recent setbacks for North Carolinians.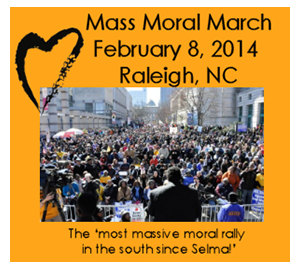 In N.C., Rev. William Barber, pastor, PhD in public policy, State NAACP President, and organizer extraordinaire, has led what he called "Moral Monday" protests. They began with a half dozen people at his church. Barber, the smart organizer staged an event on Feb. 8 in Raleigh (see poster) that included activists for multiple progressive causes. In fact, the event had a 14-point agenda. On Sunday, the crowd estimated at between 80,000 and 100,000 marchers took over Raleigh.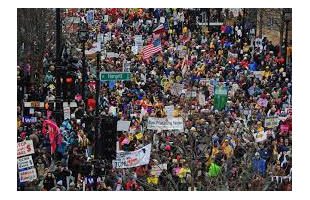 Moral marchers modeled for other Americans one week after the Super Bowl that other things matter beside the NFL: quality public schools, livable wage, health care for all, increased access to voting, affordable housing, end of the death penalty, immigrant rights, and redress for North Carolina's racist past. It was heartening to see the successful event. It should remind us of our rebellious history, that our nation was forged by protest. Too bad the corporate media kinda ignored it all.
WBI salutes the Moral Monday movement in North Carolina and around the nation.
Tags: environmental justice, Fairness & Social Justice Denied, moral march, moral mondays, NAACP, North Carolina, William Barber
Posted in Commentary by G. Namie, Good News, The New America | No Archived Comments | Post A Comment () »
Tuesday, November 26th, 2013
In Switzerland, the ratio of CEO pay to lowest paid workers in their companies has grown today to 43:1 from 6:1 in 1984. By comparison, in the U.S. in 2012, the ratio was 354:1, according to the AFL-CIO,. It is 84:1 in the U.K. The inequality sparked outrage and a movement in response that is sweeping Spain, France, Germany, and the EU which is considering limiting the ratio.
Why not in America?
Tags: 1:12, AFL-CIO, CEO compensation, executive pay, inequality, Switzerland
Posted in Commentary by G. Namie, Fairness & Social Justice Denied, The New America | No Archived Comments | Post A Comment () »
Tuesday, November 12th, 2013
Our human ancestors, the Neanderthals, last walked the earth 28,000 years ago. (Sorry, creationists.) To be a "neanderthal" means to lag behind modern practices, to cling onto outdated ways. (Sorry, neanderthals who were more sophisticated than the namesake.)
It's getting harder to find apologists among the sports cognoscenti at ESPN to defend the Miami Dolphins designated bully Richie Incognito. The Miami Dolphins post-game panel after Monday Night Football on Nov. 11 stated unanimously that the locker room culture in every team would have to change just as surely as approaches to concussions have changed. They spoke of "neanderthals" in the locker room growing extinct. That the league has to evolve because other workplaces don't behave abusively. (Oops. Yes they do. That's the message about workplace bullying.)
We at WBI concur heartily that the NFL must evolve. How strong will be the blowback against such humanizing proposals? NFL Coach Pete Carroll spoke of preserving rituals (such as rookies carrying helmets off the field) but not hazing. Can the NFL remain as attractive to American fans without the ancillary abuse that has little to do with the game itself? Is the game so violent that it makes it difficult, if not impossible, for fired-up players to not engage in some form of abuse after the play, in the locker room, in bars after games, or at home? Are NFL players as conditioned to be violent as military veterans who have difficulty leaving a war zone to return to civilian life?
Let's watch and hope for the evolution out of neanderthalism. Then, the NFL will be a safe place for players like Jonathan Martin who eschew off-field violence.
An evolution will require acquiring skills, both for managers in sports and in the non-sports workplace.
Tags: Gary Namie, Jonathan Martin, manager training, neanderthal, NFL, training, workplace bullying
Posted in Commentary by G. Namie, NFL: Jonathan Martin, The New America, Tutorials About Bullying, WBI Education | No Archived Comments | Post A Comment () »
Tuesday, November 5th, 2013
What have the fans spawned in our lust for football in the U.S.? Is it healthy? Is it sustainable? Where is the room for the Jonathan Martins in that world?
Follow the full story in the Category list in the sidebar: NFL: Jonathan Martin
Tags: ESPN, Jonathan Martin, Richie Incognito
Posted in Broadcasts: Video, TV, radio, webinars, Commentary by G. Namie, Media About Bullying, NFL: Jonathan Martin, The New America | No Archived Comments | Post A Comment () »