Archive for the 'Fairness & Social Justice Denied' Category
Wednesday, December 10th, 2014
By Sharon Florentine – CIO – 11/7/14
Workplace bullying opens your organization up to poor productivity, lower retention rates and possible legal action. And it's not an isolated issue – the workplace statistics are shocking. Is your culture cultivating a bully mentality?
Old bullies never die, they just get … promoted. And older doesn't always mean wiser. Those bullies you remember from your school days don't always grow out of that behavior. Many in fact, carry it with them into the workplace.
If you think bullying isn't happening in your organization, think again. According to a Zogby poll commissioned by WBI in January 2014, 27 percent of the 1,000 U.S. workers surveyed had been the target of bullying; an additional 21 percent had witnessed an incident or incidents of bullying in the workplace.
A recent Forbes article reported that an alarming number of respondents, 96 percent, admitted to being bullied in the workplace.
The issue is so prevalent that Gary Namie and his wife, Ruth Namie created the Workplace Bullying Institute(WBI), an organization dedicated to eradicating workplace bullying.
Defining Workplace Bullying
Different people may have different ideas about what workplace bullying means, but the WBI offers these thoughts: "We have a fairly high threshold for the definition of bullying; we define it as repeated mistreatment and abusive conduct that is threatening, humiliating, or intimidating, work sabotage or verbal abuse. Even so, we consider it something of an epidemic," Gary Namie says.
Bullying Has Widespread Organizational Impact
Bullying in the workplace affects more than just the individual targeted. It has negative effects on an entire organization, according to Namie and WBI data. "Victims suffer from depression, anxiety and panic. They take more sick days, resulting in higher rates of absenteeism. They have higher rates of stress-related health problems, increasing employers' healthcare costs. They aren't as motivated, engaged or productive – why would they be?" says Namie.
These individuals who are bullied are more likely to leave your organization and they certainly aren't going to recommend your company to their talented friends, family or professional contacts.
Posted in Fairness & Social Justice Denied | 1 Archived Comment | Post A Comment () »
Monday, December 8th, 2014
By Deidra A. Sorrell Ed.D., NCC, LPC
Summarizing her newly completed doctoral dissertation …
The research examined the lived experiences of elementary school educators facing workplace bullying within public schools.
The researcher recruited six elementary school educator-participants from WBI volunteers. All participants were female and over forty-years-old. All of the participants experienced bullying after taking medical leave due to preexisting health issues, which caused more stress and anxiety. As a coping mechanism, all of the participants found the teachers union ineffective in solving their disputes. The educators were interviewed at length to gain extensive descriptions of their experiences.
Three major themes emerged from the data. The themes included: (a) experiences with workplace bullying, (b) coping, and (c) environmental factors contributing to workplace bullying.
Tags: Deidra A. Sorrell, dissertation, educators, teachers, workplace bullying
Posted in Fairness & Social Justice Denied, Guest Articles, Tutorials About Bullying, WBI Education | No Archived Comments | Post A Comment () »
Friday, October 31st, 2014

Source: BestMastersDegrees.com
Tags: bad bosses, bestmastersdegrees.com, boss, management, workplace
Posted in Fairness & Social Justice Denied | 1 Archived Comment | Post A Comment () »
Wednesday, October 29th, 2014
Hollaback — the movement to stop sexual harassment of women simply walking in public — features a video of Shosana Roberts walking in New York City for 10 hours filmed by Rob Bliss who produced the PSA below. And men think women's experiences are no different from theirs — get real. Watch the humiliation hurled at Roberts.
Tags: Hollaback, Rob Bliss, sexual harassment, Shosana Roberts, street harassment
Posted in Fairness & Social Justice Denied | 2 Archived Comments | Post A Comment () »
Saturday, September 27th, 2014
There is a raging epidemic of sexual assaults on US college campuses. Reliable estimates claim that between 16% and 25% of college women face the risk of rape or some other assault, according to the spring 2014 report by the White House Task Force to Protect Students from Sexual Assault. The Obama Administration's goal is to understand the problem then propose legislative, behavioral and institutional changes to eradicate the problem.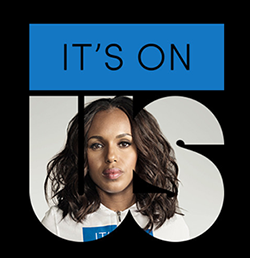 On Sept. 23, 2014, the government launched a new public education campaign featuring celebrities (ostensibly the only credible Americans with the right to suggest that the public change its behavior) — It's On Us. The message attempts to increase the responsibility felt by witnesses of assaults to intervene and disrupt.
In school bullying initiatives, it's called making "upstanders" out of bystanders. Witnesses are known to not intervene in emergencies of all kinds. The reluctance is called the "bystander effect," and followed a 1964 rape and murder of Kitty Genovese in Queens New York witnessed by 38 neighbors, each of whom failed to call the police in time to save her life. The explanations that emerged from subsequent research (led by social psychologists John Darley and Bibb Latane starting in the 1960's). Bystander reticence is usually based on fear — of retaliation, of botching a rescue, of being the sole helper, of being the next victim.
Tags: bystander effect, bystanders, campus sexual assault, Columbia University, It's On Us, White House Task Force to Protect Students from Sexual Assault, witnesses, workplace bullying
Posted in Fairness & Social Justice Denied, Media About Bullying, Print: News, Blogs, Magazines, Tutorials About Bullying, WBI Education | 1 Archived Comment | Post A Comment () »
Wednesday, July 30th, 2014
Tags: Colbert, income inequality, poor door
Posted in Commentary by G. Namie, Fairness & Social Justice Denied, The New America | No Archived Comments | Post A Comment () »
Sunday, July 27th, 2014
A grocery store chain, DeMoulas Market Basket, started in 1916 in Lowell, Massachusetts by two Greek immigrants is at the center of a rare remarkable demonstration of employee and customer loyalty.
The original Market Basket founders sold their store to two sons, brothers Mike and George, in 1954. When George died, a blood feud began, claiming (and a 1994 court agreeing) that Mike had cheated George and his family out of $500 million. George's son, Arthur S. Demoulas, still became Boston's 8th wealthiest person.
Arthur T. Demoulas, Mike's son and the cousin of Arthur S., was named CEO in 2008 by the Market Basket Board of Directors controlled by Arthur S. (History from the Demoulas corporate website. More history from a Boston Globe video.)
The the all male board, led by Arthur S. attempted to fire Arthur T. in 2013, and eventually did fire him on June 23, 2014. Two other executives were fired and six quit.
As CEO, Arthur T. was committed to the firm's 25,000 employees like few American CEOs. Said the Boston Globe about him:
It's easy to see why the employees love Arthur T., who has been generous to them to a degree that drives his relatives crazy. One of the acts that drew their ire was replacing $46 million that their profit-sharing plan lost in the market during the 2008 financial meltdown. Arthur T. thought it was money the employees were entitled to. His cousins argued, not unreasonably, that investments sometimes go sour.
The Market Basket melodrama exploded outside the board room when loyal employees and customers took to the streets to protest and to gather signatures on petitions to re-instate Arthur T.
Here's the account from WMUR-TV:
Tags: Arthur S. Demoulas, Arthur T. Demoulas, family feud, loyalty, Market Basket, protest
Posted in Fairness & Social Justice Denied, Tutorials About Bullying, WBI Education | No Archived Comments | Post A Comment () »
Thursday, July 17th, 2014
Here is a great video from Sue O'Donnell RN, MN, PhD, University of New Brunswick. The strong illustrations of men being bullied at work is supported by WBI research. According to the 2014 WBI U.S. Workplace Bullying Survey males comprise 40% of bullied targets.
Men Workplace Bullying from Nick Wilson Videography on Vimeo.
Tags: nick wilson, sue
Posted in Fairness & Social Justice Denied | 1 Archived Comment | Post A Comment () »
Monday, July 14th, 2014
The Healthy Workplace Campaign is WBI's effort to enact anti-bullying legislation for the American workplace state by state. The model bill is called the Healthy Workplace Bill (HWB).

Features of the HWB
• Suffolk University Law Professor David C. Yamada, text author, used federal Title VII Civil Rights laws as basis
• Defines severe abusive conduct — does not use term workplace bullying
• Provides legal redress for anyone subjected to abusive conduct, whether or not the person is a member of a protected status group
• Requires that abusive conduct result in either demonstrable health or economic harm to plaintiff
• Plaintiffs who file lawsuits make public formerly hidden, confidential employer processes that hide and deny bullying
• Prohibits retaliation against any participant in procedures involved in dealing with the abusive conduct complaint
• Requires plaintiffs to hire private attorneys, no fiscal impact on state government
• Provides incentives (affirmative defenses) for employers who implement genuine corrective procedures
• Preserves managerial prerogative to discipline and terminate employees
• Does not interfere with state workers' compensation laws or union CBAs
We named the HWB in 2002. All other uses of the name HWB are unauthorized by us. California first introduced the HWB in 2003. It has been carried in over half of states and two territories since. The Workplace Bullying Institute trains and provides support to a national network of volunteer Sate Coordinators who lobby their respective state legislators to sponsor the HWB. You can track its status at the HWB website.
Botched Amendments & Unanticipated Consequences
As authors of the HWB, we naturally want the full and original version of the bill enacted into law. And we realize compromises will be made during the process. It is "sausage making," after all. We just wish all bill sponsors would refuse to allow major revisions that change the spirit of the bill from protecting abused workers to something else. Since the HWB was first introduced, different amendments have been proposed or made.
Often the well-intended sponsor, a pro-worker advocate, agrees to compromise adopting the belief that the law can be built in steps. Let's get this version passed now and it will be revisited in the coming years and supplemented with the other desired provisions.
Tags: amendments, business lobby, Chamber of Commerce, David Yamada, Gary Namie, Healthy Workplace Bill, Unions, vicarious liability, workplace bullying, Workplace Bullying Institute
Posted in Employers Gone Wild: Doing Bad Things, Fairness & Social Justice Denied, Healthy Workplace Bill (U.S. campaign), Tutorials About Bullying, Unions, WBI Education, Workplace Bullying Laws | No Archived Comments | Post A Comment () »
Wednesday, July 9th, 2014
In this space we regularly call for greater employer accountability and the enactment of laws that make that accountability more likely than is currently done voluntarily. Our domain is the non-physical safety threat. U.S. workers are supposedly to be made safe from threats to their physical safety.
OSHA, a "regulatory" agency responsible for Occupational Safety and Health in the U.S. seems to have trouble accomplishing its mission. "OSHA's mission is to assure safe and healthful workplaces by setting and enforcing standards and by providing training, outreach, education and assistance." Wondering if by assistance, OSHA means delivering "waivers" to destructive employers who poison and take lives.
For example, the following two stories of injustice based on token punishment will curdle your blood.
Story 1.
A CSC Sugar plant in Fairless Hills, PA provides sugar for Snapple and Ben & Jerry's Ice Cream. The plant is staffed and managed entirely by temp workers. According to ProPublica statistics, temporary workers are most at risk for safety hazards at worksites in states where data exist.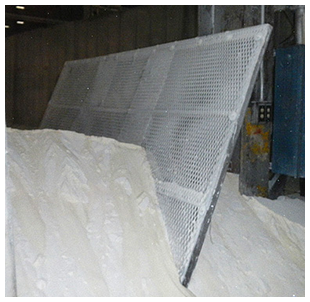 In February 2013, Peruvian New Jersey resident Janio Salinas was unclogging the machine from below. He was buried alive and asphyxiated. Coworkers found him after they returned from lunch. The onsite temp manager had complained about this potential hazard to a higher level manager until a safety platform was installed. However, the big boss instructed the temp manager to remove that platform because it had slowed the flow of sugar, had slowed down "production." That big boss lied about his order to investigators, claiming ignorance about the platform (picture on the left). His costly decision was made 13 days before Salinas was buried. Turns out the only cost was Salinas' life.
Next came the OSHA investigation. OSHA initially fined CSC $25,855 but after CSC installed a safety guard and started using a new procedure to break up sugar clumps, the fine was reduced to $18,098 (for good behavior???). Jean Kulp, director of OSHA's Allentown, PA, office, told Univision that her agency doesn't have the ability to shut down businesses, has limited criminal enforcement provisions, and found the CSC had not been "willfully in violation," which would have triggered bigger fines despite a record of repeated violations.
$18,098 for a man's life!
Kulp's ultimate insult to the Salinas' surviving family: CSC had not in her judgement shown "total disregard" for its workers.
Thanks to Daily Kos for the tip to the tale.
Tags: asphyxiation, CSC sugar, Elk River, Freedom Industries, Janio Salinas, Jean Kulp, MCHM, OSHA, West Virginia
Posted in Commentary by G. Namie, Employers Gone Wild: Doing Bad Things, Fairness & Social Justice Denied, The New America | No Archived Comments | Post A Comment () »