Archive for the 'Fairness & Social Justice Denied' Category
Friday, December 6th, 2013
Dr. Gary Namie provides clarification about three fundamental themes of the social movement against workplace bullying which are commonly misunderstood or mischaracterized:
1) It's about bullying, not bullies or their personalities.
2) Employers act irrationally and irresponsibly about bullying, which itself makes no sense.
3) Being "anti-abuse" is not the same as being "anti-corporate"
Audio clip: Adobe Flash Player (version 9 or above) is required to play this audio clip. Download the latest version here. You also need to have JavaScript enabled in your browser.
Tags: anti-abuse, employer behavior, Gary Namie, ingratiation, Podcasts, taboo, workplace bullying, Workplace Bullying Institute
Posted in Commentary by G. Namie, Employers Gone Wild: Doing Bad Things, Fairness & Social Justice Denied, Podcasts, WBI Education | No Archived Comments | Post A Comment () »
Tuesday, December 3rd, 2013
NOV. 29 UPDDATE: Flash – Shipyard president Kevin McCoy claims to have "investigated" the bullying allegation below and found "no evidence of it." No duh! And the protesters lost a day's pay.
By Patrick Odell, Global News, Nov. 28, 2013
Hundred of workers at Halifax's Irving Shipyard walked off the job Thursday, angry about the way management is treating them and what they call an oppressive work environment. Ross Lord reports.
HALIFAX, NS – Workers at the Irving-owned Halifax Shipyard walked off the job Thursday morning in protest after they say a co-worker killed himself after being suspended by management.
Rick Rose of Unifor says a worker took his own life on Wednesday after he was suspended for 30 days.
Rose says the death came after a series of disciplinary actions involving various employees.
He says other employees are upset over what they say is an increase in disciplinary actions by management.
In an email statement, Irving said it was "devastated" to find out one of its workers, whom it identified as Peter MacKenzie, had died.
Police were on scene to keep things under control and so traffic doesn't get back up. Protesters were crossing Barrington Street earlier in the morning, which caused lengthy delays for downtown commuters.
Rose says he is meeting with management today about the death and the workers' grievances.
###
The intriguing angle to this bullying-suicide-protest story is that troubles began when Irving brought in an American president and he, in turn, imported an American management team. Since then, there have been 14 disciplinary dismissals. One triggering a suicide. What did they do differently? Why did the new team not acclimate to the culture of the shipyard? Were the Americans sent in to "clean up" the shipyard with respect to workers? Was previous Canadian management considered to cooperative with the union? Were the Americans sent in to bust the union?
Tags: halifax shipyard, suicides, unifor, workplace bullying
Posted in Broadcasts: Video, TV, radio, webinars, Fairness & Social Justice Denied, Media About Bullying | No Archived Comments | Post A Comment () »
Friday, November 29th, 2013
Wake up America

Tags: inequality, living wage, Wal-Mart
Posted in Employers Gone Wild: Doing Bad Things, Fairness & Social Justice Denied | No Archived Comments | Post A Comment () »
Tuesday, November 26th, 2013
In Switzerland, the ratio of CEO pay to lowest paid workers in their companies has grown today to 43:1 from 6:1 in 1984. By comparison, in the U.S. in 2012, the ratio was 354:1, according to the AFL-CIO,. It is 84:1 in the U.K. The inequality sparked outrage and a movement in response that is sweeping Spain, France, Germany, and the EU which is considering limiting the ratio.
Why not in America?
Tags: 1:12, AFL-CIO, CEO compensation, executive pay, inequality, Switzerland
Posted in Commentary by G. Namie, Fairness & Social Justice Denied, The New America | No Archived Comments | Post A Comment () »
Monday, November 11th, 2013
William Swenson of Seattle, Washington is an Afghan War veteran nominated for the Medal of Honor. During a 2009 battle he repeatedly called for air support. His calls were denied and 15 American and Afghan soldiers were killed by Taliban forces. After returning home, he complained about the lack of air support. Later, the Pentagon lost his nomination papers for the Medal of Honor for 18 months while another soldier in the same battle, Dakota Myer, received his medal in 2011.
In October, 2013 Defense Secretary Hagel apologized for mistakes in processing the nomination:
"The McClatchy investigation also revealed that Swenson's Medal of Honor nomination from December 2009 had inexplicably vanished from every military computer system midway through the approval process.
Five Americans and 10 Afghans died in the Battle of Ganjgal against about 60 Taliban-led insurgents. Two Army officers later received career-ending reprimands for dereliction of duty by ignoring calls from Swenson and others for air and artillery support for 90 minutes as the fighting raged.
Five days after the battle, Swenson told military investigators that the delay in sending reinforcements was tied to politically driven rules of engagement concerns over civilian casualties.
'Now, that's courage and that's character,' Hagel said of Swenson's willingness to question the rules of engagement. 'As the institution itself reflected on that same courage and integrity institutionally, the institution, the United States Army, corrected the mistake. They went back and acknowledged a mistake was made, and they fixed it.'"
Read the whole story with these links:
Marines Promoted Inflated Story for Medal of Honor Recipient
Videos Contradict Medal of Honor Recipient's Account of Taliban Attack
Petraeus Advised Downgrading Swenson's Medal of Honor Bid, Probe Finds
Swenson Hall of Heroes Induction Brings Changes to MOH Processing
Tags: dakota myer, hagel, medal of honor, petraeus, truth, william swenson
Posted in Employers Gone Wild: Doing Bad Things, Fairness & Social Justice Denied | No Archived Comments | Post A Comment () »
Thursday, October 31st, 2013
A stranger visiting America would think us crazy upon learning effective Nov. 1, an additional $5 billion will be cut from the food stamps program (SNAP). One would think that the paltry assistance of $1.50 per meal BEFORE the cuts set to take effect was somehow living large, so large that cuts needed to be made. This America is unrecognizable to me. I have lived to see the progression from the launch of the War on Poverty, celebrities lobbying Congress regularly to end needless preventable hunger, the compelling new documentary A Place at the Table showing how hungry kids stand little chance of learning or maximizing their lifelong potential, to learning that the House Republican proposal for the Farm Bill is to cut $39B over ten years from food stamps and the Senate plan is to cut $4B (striking and shameless that no one proposes ADDING to the program at a time when 15% of all Americans are poor with so many unemployed or underemployed working for minimum wage) see the report below on video,
Not related to workplace bullying, you say? Think again.
• The WBI campaign against Workplace Bullying involves social justice.
• Social justice includes leveling the economics for Americans.
• WBI supports bullied targets, 77% of whom lose their livelihoods through no fault of their own and may require assistance from the government to survive.
• Therefore, cuts to assistance programs for the needy certainly must adversely affect targets of workplace bullying.
• WBI advocates for quality of life issues for bullied targets.
• WBI is target-centric.
Tags: hunger in America
Posted in Commentary by G. Namie, Fairness & Social Justice Denied, The New America | No Archived Comments | Post A Comment () »
Friday, October 4th, 2013
The Federal Shutdown is hurting the middle class and the working poor the most.
A co-coordinator for the California Healthy Workplace Bill Advocate group gave us some more news about the shutdown's effects on the EEOC and whistleblower protections.
(more…)
Tags: abuse, bullying, EEOC, federal shutdown, whistleblower
Posted in Fairness & Social Justice Denied, Related Phenomena, The New America | No Archived Comments | Post A Comment () »
Tuesday, October 1st, 2013
We certainly agree with WBI supporter Cindy Waitt who drew the analogy between the Congressional shutdown of the U.S. Government on October 1 and the exercise of workplace bullying.
More important is the damage lawmaker dysfunction creates for prospects of legislation to improve the lives of working people. At the federal level, a group representing approximately one-fifth of the House of Representatives refuses to do the pro forma act of funding existing services. And that group wants to actually deprive food stamp recipients (SNAP program enrollees) of the ability to fend off hunger (now euphemistically called "food insecurity").
In states with legislatures under Republican party control, the agenda matches exactly ALEC's pro-business/anti-government privatization, voting restrictions, union-breaking, reversals in women's rights, and anti-poor austerity laws.
You may consider the Congressional minority akin to the proud principled revolutionary hero Thomas Paine or see them as self-aggrandizing radicals abdicating their responsibility to serve the American people.
Regardless, the following facts are true:
• only saboteurs seek jobs with the sole purpose of dismantling the institutions they work for
• given the success of federal and state lawmakers at reversing progressive laws that expanded individuals' rights and once regulated businesses, the trend is clearly harmful to individual workers
• liars deliberately confuse bills with laws to suggest something final is still in draft form. Bills are introduced, debated, voted on and sent to the executive's desk (governor or president) for affirmation or veto. With the executive's signature a bill becomes law. The Affordable Care Act (aka, Obamacare) is law. It stopped being a bill when the president signed it on March 23, 2010. In fact, some laws face constitutional challenges. The U.S. Supreme Court affirmed the law's legality in 2012. It is not a "bill" as the radical minority derisively refers to it. Implementation began Oct. 1, 2013.
• the contempt for colleagues and president shown by radical lawmakers in the core group that insisted on the shutdown models a level of disrespect and intimidation previously reserved for the abusive relationships, schools and workplaces — there no longer is the pretense of civility and decency
• those arguing against expanding health care insurance to millions who could not qualify beforehand evidently have never suffered ill health without access to doctors, clinics or hospitals — shame on them
• denial of health care, food, unemployment insurance to the neediest in our society is cruel and sadistic — again, a shame for America the world cannot understand
• leaders of the federal shutdown have admirers in state houses and those state radicals will never support, and probably will work hard to kill, adult anti-bullying legislation, our Healthy Workplace Bill.
The political climate has become even chillier for hopes of passing our innovative attempt to restore a modicum of justice to American workplaces where abuse thrives. Small groups of legislators who are dedicated to depriving citizens of existing rights loathe extending any rights.
The fact that our bill has not yet passed into law depends on many factors, the least of which is the terminology of the bill itself. The HWB is a workers' rights bill. The appetite for bills like the HWB will now be at an all time low.
Reasonable lawmakers outnumber the destructive radicals. Brave lawmakers must call out their obstructing peers. The brave can make miracles happen. Sadly, bravery is in short supply.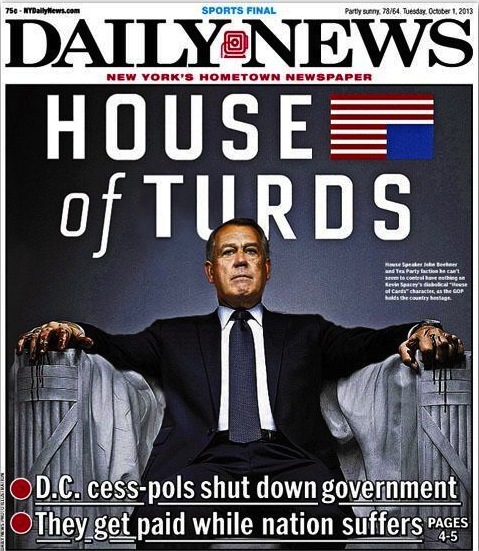 Tags: Congress, government shutdown, incivility, workplace bullying
Posted in Commentary by G. Namie, Fairness & Social Justice Denied, Healthy Workplace Bill (U.S. campaign), Workplace Bullying Laws | 1 Archived Comment | Post A Comment () »
Saturday, September 21st, 2013
Dear Kalola,

Ok, I need advice.

My son is a young autistic man and has been employed in a private club in Birmingham, AL. When he began employment 4 years ago, the club agreed to communicate with his job coach about his performance. During the last 2 years, he has complained of workplace bullying, being yelled at, and ridiculed in front of other employees. He has been sent home and written up.

The club has refused comment regarding our attempts to communicate and will not return phone calls and emails to either his job coach or myself.

He was fired last week.  As this is a private club he is not protected by the ADA, which may explain why they refuse to deal with his job coach.

Alabama has no law to prevent this type of behavior and a cause of action would be difficult to prove, because of the difficulty of getting a current employee to testify.

Any advice?

Judy
(more…)
Tags: ADA, at-will employment, autism, Let's Talk with Kalola, workplace bullying
Posted in Fairness & Social Justice Denied, Let's Talk with Kalola | No Archived Comments | Post A Comment () »
Wednesday, September 11th, 2013
Inequality, unfairness, has many causes. In the animal kingdom, hiearchy generates stress for dominated, lower-ranking subordinates. Distress certainly results from poorly executed human systems, specifically hierarchical workplaces gone awry. Consider the connotations of being branded a "subordinate." Dignity and respect are withheld simply because of being on the "bottom" of a graphic. People become top and bottom when they internalize the chart. "Higher ups" have power to control conditions for the "lower-ranking."
Rankism, the granting of superiority to individuals in roles higher up the org chart than us, is a social disease. Though many driven by narcissism claim superiority for no objective reason. [Read the fine work of Dr. Robert Fuller to understand Rankism.] A recent study described in the video blows holes in the proffered rationale that CEO "deserve" compensation that averages 354 times the salaries of workers.
Read the report cited in the video: Executive Excess 2013: Bailed Out, Booted & Busted. A 20-year review of America's top-paid CEOs by the Institute for Policy Studies, August 28, 2013.
Tags: CEO pay, inequality, Institute for Policy Studies
Posted in Employers Gone Wild: Doing Bad Things, Fairness & Social Justice Denied | No Archived Comments | Post A Comment () »