Archive for the 'Healthy Workplace Bill (U.S. campaign)' Category
Monday, April 3rd, 2017
ALERT: The Joint Committee on Labor and Workforce Development meets Hearing Room A2 at the State Capitol on Tuesday April 4 at 1 pm. Public hearing for S 1013.
Massachusetts has been one of the more active states in recent years with the re-introduction of the anti-bullying Healthy Workplace Bill. The volunteer citizen lobbying group, Massachusetts Healthy Workplace Advocates, in concert with the public employees union, NAGE, have been the drivers of the years-long campaign.
The title of bill S 1013 is "An Act addressing workplace bullying, mobbing, and harassment, without regard to protected class status." It makes abusive conduct legally actionable. Employers are vicariously liable if they fail to prevent or correct it.
The immediate goal after a bill is introduced is to have the committee chairs agree to schedule a public hearing in the committee to which the bill was referred. Now, early in the legislative session, the hearing for S 1013 is set. With a positive vote from the committee, advocates can work with the bill sponsors to get the senior leaders in each chamber to call for a floor vote for the bill. This has been the snag in years past.
WBI will call on its supporters to help compel key Mass politicians to agree to that floor vote.
For now, we want everyone to thank the prime sponsor, Sen. Jennifer L. Flanagan
Her email: Jennifer.Flanagan@masenate.gov
Her office phone: 617-722-1230
Here is the list of all sponsors:
Diana DiZoglio, Frank I. Smizik, John W. Scibak, Angelo J. Puppolo, Jr., RoseLee Vincent, Thomas M. McGee, Louis L. Kafka, Barbara A. L'Italien, Lori A. Ehrlich, Daniel M. Donahue, Michael D. Brady, James J. O'Day, Aaron Vega, Kenneth J. Donnelly, Denise Provost, Jonathan Hecht, Bruce J. Ayers, Ann-Margaret Ferrante, Brian M. Ashe, Chris Walsh, Ruth B. Balser, Danielle W. Gregoire, Steven Ultrino, Tackey Chan, Donald F. Humason, Jr., Brendan P. Crighton, John J. Mahoney, Dylan Fernandes, Solomon Goldstein-Rose, William N. Brownsberger, Russell E. Holmes, Jonathan D. Zlotnik, Kevin G. Honan, Joan B. Lovely, James B. Eldridge, Claire D. Cronin, David T. Vieira, Michael O. Moore, John C. Velis, Kevin J. Kuros, Alice Hanlon Peisch, James Arciero, Byron Rushing, Paul McMurtry, Paul Brodeur, Sal N. DiDomenico, Christine P. Barber

Tags: Healthy Workplace Bill, Joint Committee on Labor and Workforce Development, Massachusetts legislation, S 1013, Sen. Jennifer Flanagan, workplace bullying
Posted in Healthy Workplace Bill (U.S. campaign), Workplace Bullying Laws | No Archived Comments | Post A Comment () »
Wednesday, March 30th, 2016
On Jan. 1, 2015 California started mandating training in Abusive Conduct for supervisors (in employers with 50 or more workers). The definition was lifted verbatim from the WBI Healthy Workplace Bill (HWB) authored by Suffolk University Law Professor David Yamada.
WBI and its national network of volunteer State Coordinators has been lobbying for the complete HWB since 2001. Timid, business lobby-yoked state lawmakers are afraid to take a stand for workers who suffer health harm as the result of workplace bullying. Of course, the HWB does not include the phrase "workplace bullying." The term used is "abusive conduct."
California and Utah have mandated training. Utah's 2015 legislation is superior to California's, though it applies only to state agency employers. Utah requires that employers describe how they will provide protections to employees. California, at first, simply mandated the training. And the topic of abusive conduct, which is still legal until the full HWB is enacted into law in California, is to be added to mandated training on the employer's commitment to the prevention and resolution of illegal sexual harassment. Oops. This is confusing to nearly everyone. Many HR types hardly understand the power of having protected group status membership or not.
We worry that employees will conflate bullying (abusive conduct) with illegal forms of harassment, including exposure to a hostile work environment. They will falsely believe that abusive conduct is currently illegal because of the pairing with illegal forms of discrimination that violate state and federal laws.
Now comes an April 1 amendment to California Fair Employment and Housing Act Regulations. The section below shows the intended clarification regarding the content of the Abusive Conduct related to Government Code section 12950.1(g)(2).
The good news: the deleterious impact on the targets of abusive conduct must be discussed. Naturally, the negatives for the employer are to be included.
The bad news: the regulation lifts most of our HWB definition of abusive conduct but omits the critical element describing that personal health harm can be manifested. And time devoted to abusive conduct training should be "meaningful." Still vague.
Read the amended, clarifying regulation for yourself.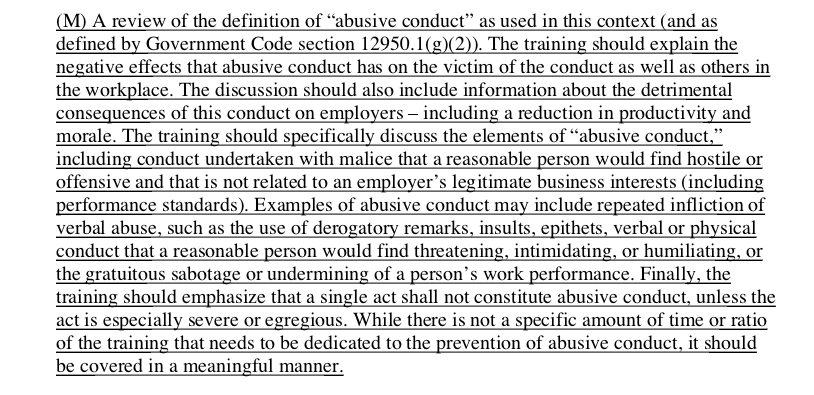 Tags: abusive, workplace bullying
Posted in Healthy Workplace Bill (U.S. campaign), Workplace Bullying Laws | No Archived Comments | Post A Comment () »
Wednesday, February 24th, 2016
By Pam Raphael
Bullying has gotten a lot of attention . Most of the focus has been on children but we know that children learn from us, how we treat each other and how we use power in relationship.
It is urgent that we are taking bullying in school seriously. It is not a developmental stage or a phase of childhood it is a lack of better tools, understanding, accountability and developmental capability. It is not something to be ignored until they grow out of it.
Children who are targeted suffer terribly and the trauma can follow them for decades. Some turn their trauma inward leading to low self esteem, under-performance and depression. While others channel it outwardly and become bullies themselves.
When childhood bullies grow up without accountability meted by their peer groups, families or the criminal justice system they go to work and continue their pattern of abuse.
That is why American workplaces have a bullying problem.
According to a recent national survey conducted by the Workplace Bullying Institute, 72% of people polled reported knowledge that workplace bullying exists and 27% have current or past experience with it. That means one in four people have experienced it and three out of four of us have witnessed it.
It is not a surprise, then, that 93% of those same people polled would also support legislation that makes it unlawful.
When an adult has been abused so relentlessly that they have severe anxiety and can no longer work we assume they must have been weak willed, mentally ill or have a "victim mentality."
But that is looking in the wrong direction. The distorted thinking and mental illness of people who are emotionally undeveloped, unstable or disordered and who are inflicting abuse on others is the problem. People who lack the self awareness, emotional capability and communication skills resort to blame and scapegoating.
Because there is no law defining it or how to respond, most employers ignore the perpetrator to protect liability allowing workplace bullying to continue. It is a failure of will that we can and must demand be changed. Bullying is abuse.
Here is something you can do today to start change happening here in WA state:
There are two companion bills that were introduced this legislative session in Washington State that need your support:
Senate Bill 6532 and House Bill 2894 would "provide legal recourse for employees who have been harmed, psychologically, physically, or economically, by being deliberately subjected to abusive work environments; and provide legal incentives for employers to prevent and
respond to mistreatment of employees at work."
Please contact your legislators as well as the sponsors of the bills and let them know you appreciate their consideration of these bills because you see the urgency to do something to help employees and employers in WA State. Find a comprehensive list of legislators here – http://healthyworkplacebill.org/states/wa/
Let them know you believe this demands our attention now.
We need legislation to protect employees from the worst kinds of bullying and abuse the kind that ruins lives and protect the bottom line and liability of employers who do the right thing.
We have to change our belief that abuse is normal and inevitable. When someone is bullied on the job that is not correcting a problem it is the problem.
Washington is leading the nation in so many ways. Let's lead the nation in modeling healthy workplaces. The costs to everyone are too high to ignore it any longer.
BIO:
Pamela Raphael is a Mental Health Counselor in Seattle specializing in the effects of traumatic workplace and relationship abuse. She is a former board president of Real Change and is currently serving as the WA State Coordinator for the Healthy Workplace Bill, a national initiative of the Workplace Bullying Institute.

Tags: Healthy Workplace Bill, Pam Raphael, Washington State, workplace bullying, Workplace Bullying Institute
Posted in Healthy Workplace Bill (U.S. campaign), Workplace Bullying Laws | No Archived Comments | Post A Comment () »
Sunday, February 14th, 2016
Everyone bullied knows how the absence of any state laws to expressly prohibit bullying and abusive conduct has made it difficult to get justice from their employers. Without a law such as state and federal statutes that make discriminatory misconduct illegal, employers can and do nothing.
Does anyone believe American employers, government or private sector, would voluntarily stumble upon the mistreatment women routinely face in the contemporary workplace and create protections for those employees? Not likely. Only laws get employer attention and compel compliance. That's why employer policies are in place. In fact, most employers overreact to even a hint of harassment.
Try going to HR to simply clarify your experiences that may or may not be harassment. That's why you went down to HR to explore what happened to you and what can be done informally. Bam! HR opens a complaint on your behalf, though you greatly fear reprisals. HR is minimizing exposure to legal risks for them without regard to your safety.
Yet, when you claim to be "bullied," you are not believed or discounted or ignored or made to believe you caused your fate. Why? Bullying is still legal. Bullies can, and do, bully with impunity. And once you make the employer aware, the retaliation, often worse than the original sins, worsens your situation. Your health declines from a host of stress-related complications — cardiovascular, gastrointestinal, neurological changes that affect emotional regulation and memory, and mental health, often ending in trauma.
This is why having a law passed soon is essential for worker safety.
WBI thanks Rhode Island State Senator Frank Ciccone, a lifelong friend of labor, for sponsoring SB 2377 on Feb. 10, 2016. He and the other four co-sponsors deserve our thanks and praise.
SB 2377 also put Rhode Island on the map. It became the 30th state to ever introduce our anti-bullying Healthy Workplace Bill.
Now we pray for a public hearing in the Senate Labor Committee. May the Ocean State be the first to make the bill state law.
Bill details and contact information for all sponsors and committee chairs dwell on the Rhode Island State Page of the Healthy Workplace Bill website.

Tags: Frank Ciccone, Healthy Workplace Bill, Rhode Island, SB 2377, Workplace Bullying Institute
Posted in Healthy Workplace Bill (U.S. campaign) | 2 Archived Comments | Post A Comment () »
Thursday, January 28th, 2016
Eleven Washington State House Representatives have sponsored the anti-bullying Healthy Workplace Bill (HB 2894). Another 11 state Senators of both parties are sponsoring the Senate companion bill (SB 6532). The HWB defines health-harming abusive conduct and makes it unlawful for employers to allow it to happen.
This marks the return of the legislation to Washington, absent since 2012. Washington was the 4th state to ever introduce the legislation.
If you live in the state, please visit the WA State Page at the Healthy Workplace Bill website. Contact information for all bill sponsors and committee members can be found there. You can also volunteer to testify or help the State Coordinator get the bill through committees and floor votes in a very short legislative session.


Tags: abusive conduct, Healthy Workplace Bill, workplace bullying, workplace bullying insitute
Posted in Healthy Workplace Bill (U.S. campaign), Workplace Bullying Laws | No Archived Comments | Post A Comment () »
Friday, October 23rd, 2015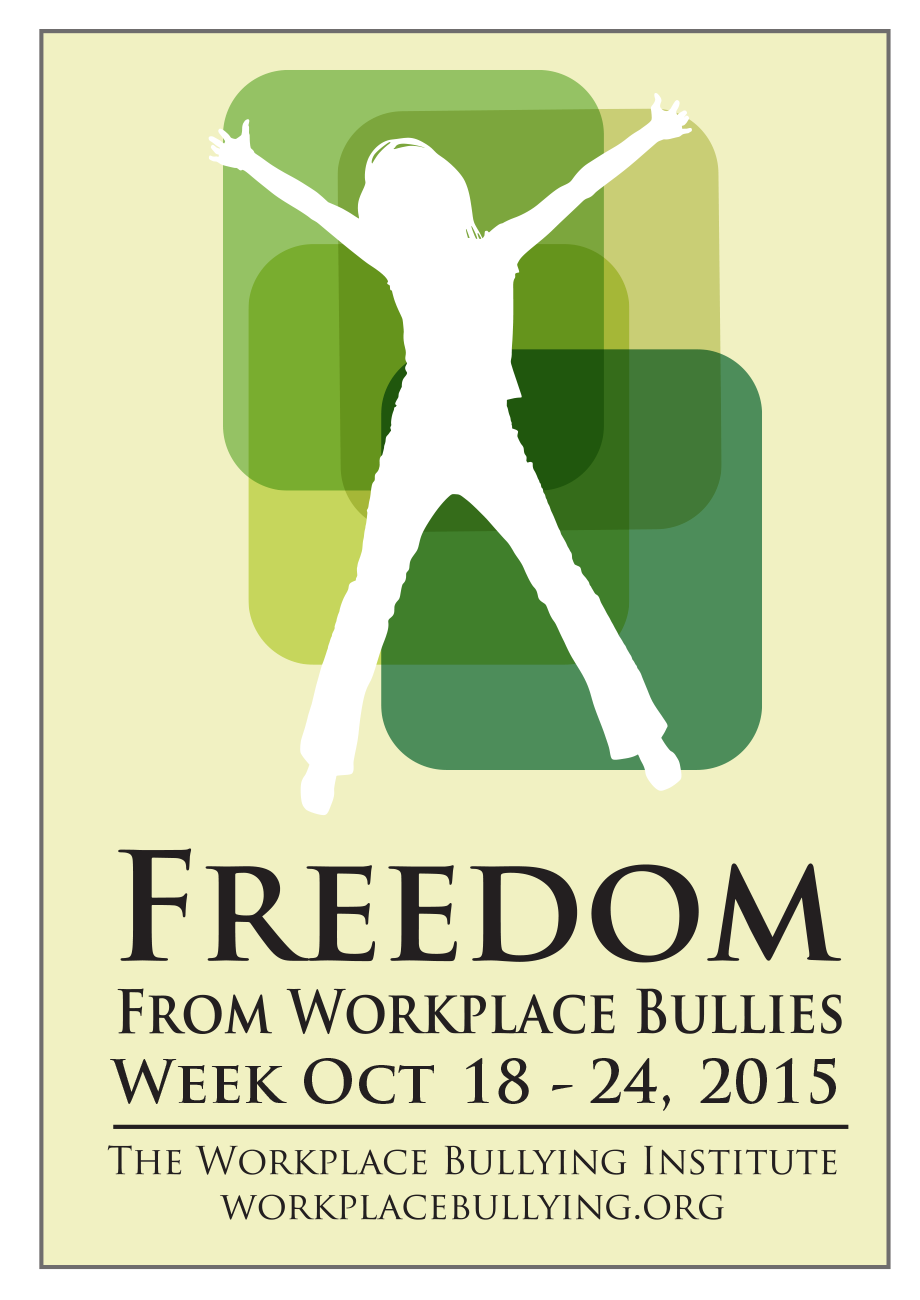 The Workplace Bullying Institute thanks the following West Virginia cities for acknowledging Freedom from Workplace Bullies Week and the necessity of caring for those subjected to abusive conduct at work.
It's a call to action for employers in those cities and the entire state.
Anmoore
Charleston
Elkins
St. Albans
Star City
Welch.
Click to view the Proclamations.
West Virginia has a history of introducing the WBI anti-bullying Healthy Workplace Bill. It has yet to be enacted into law.
The time has come. 2016 provides the state lawmakers a chance to show who they represent.

Tags: abusive conduct, Freedom from workplace bullies week, Healthy Workplace Bill, WBI, West Virginia, workplace bullying, Workplace Bullying Institute
Posted in Freedom Week, Healthy Workplace Bill (U.S. campaign), WBI Education | No Archived Comments | Post A Comment () »
Wednesday, October 21st, 2015

Gary Namie introduction

SEIU International President Mary Kay Henry

NAGE: Nat'l President David Holway & VP Greg Sorozan

AFGE: Local President Charletta McNeill



Tags: abusive conduct, AFGE, Freedom from workplace bullies week, Healthy Workplace Bill, NAGE, seiu, Unions, workplace bullying
Posted in Freedom Week, Healthy Workplace Bill (U.S. campaign), Unions, WBI Education, Workplace Bullying Laws | No Archived Comments | Post A Comment () »
Monday, October 19th, 2015
An Op-Ed essay by a Maine advocate for the WBI Healthy Workplace Bill published during Freedom From Workplace Bullies Week 2015.
By Deborah B. Mason, Bangor (ME) Daily News, Oct. 19, 2015,
Why do we need a healthy workplace law? I know. I am a teacher. I worked in a public school in Maine. And I experienced bullying in my workplace. I know from personal experience that there are no protections from bullies and no legal rights for victims of bullying.
Today the respect for the profession of teaching is at the lowest point I have ever seen. I have been an educator for nearly 30 years, including 19 years as a classroom teacher. I am one of hundreds of Maine teachers with stories of abuse. I know the fear and pain of not having a safe place to go in the workplace. I know how prolonged stress affects a person's physical health. I know the frustration and pain of realizing that human, labor and civil rights laws do not apply to teachers who are bullied in their workplace. I know the pain of contemplating suicide as a way to stop the pain.
Studies from the Workplace Bullying Institute show that 49 percent of working American adults report having been bullied or witnessed bullying at work. This can include verbal abuse, offensive conduct (including nonverbal conduct) that is threatening, humiliation, intimidation or work interference – sabotage – that prevents work from getting done.
In 72 percent of the cases, the bully outranks the person he or she is bullying. The bullying of teachers is pervasive in schools, yet the law of sovereign immunity protects public employers and sets up a barrier to equal rights for public employees.
In 2013, state Rep. Sara Gideon sponsored LD 1201, "An Act To Protect Employees From Abusive Work Environments." The Legislature converted the bill into and passed a resolve, "Directing the Worker's Compensation Board to Study the Issue of Addressing Psychological and Physical Harm to Employees Due to Abusive Work Environments."
But Gov. Paul LePage vetoed the bill, stating that the worker's compensation program already provides benefits to injured employees, and he didn't understand what such a study would accomplish.
Yet, the bullying of teachers continues. There are too many stories of teachers who have been bullied and who are still being bullied, but have no recourse. Many teachers are not able to come forward: They are teachers who are trying to save their jobs and careers, or have found out they were not allowed a worker's compensation claim and had to take a disability retirement or early retirement. They are teachers who cannot risk a review of their status or more abuse.
I am able to sign my name to this OpEd because I no longer have anything to lose because I am no longer a teacher. I hope to see another healthy workplace bill in Augusta soon. And this time, I hope we will not see "dead" printed across the bill.

All Maine employees deserve freedom from workplace bullying.
###
Deborah B. Mason of Albany Township is certified as a Maine professional teacher for grades 7-12 and is currently employed by the United States Postal Service.
WBI thanks Deborah B. Mason

Tags: Deborah B. Mason, Freedom from workplace bullies week, Healthy Workplace Bill, workplace bullying, Workplace Bullying Institute
Posted in Freedom Week, Healthy Workplace Bill (U.S. campaign), WBI Education, Workplace Bullying Laws | No Archived Comments | Post A Comment () »
Monday, April 27th, 2015
Pennsylvania state Rep. Mark Cohen, along with seven co-sponsors, introduced HB 1041 on April 21, 2015.
PA joins other states — Texas, New York, Massachusetts, and Minnesota — with versions of the WBI anti-bullying Healthy Workplace Bill (HWB) that include employer liability for enabling a health-harming abusive work environment.
In 2015 alone 11 bills have been introduced in 10 states. Since 2003, 29 states and two territories have introduced some version of the HWB.
If you are a Pennsylvanian, go to the State Page for all contact information for lawmakers — co-sponsors and the key members of the House Labor and Industry Committee. Thank sponsors and encourage committee leaders to hold a public hearing for the bill, HB 1041.

Tags: abusive conduct, HB 1041, Healthy Workplace Bill, law, legislation, Pennsylvania, Rep. Mark Cohen
Posted in Healthy Workplace Bill (U.S. campaign), Workplace Bullying Laws | 7 Archived Comments | Post A Comment () »
Sunday, April 12th, 2015
For some reason, Vermont lawmakers sponsoring a paid sick leave bill appropriated our the WBI bill name – Healthy Workplace Bill – in 2015. We support paid sick leave, but care most about ending health-harming abuse in the workplace.
Now comes Vermont Senate bill S 143 –An act relating to protecting employees from abuse at work. WBI thanks sponsor Sen. Anthony Pollina. Tenacious Vermont State Coordinator, Sherrill Gilbert, has worked for several sessions to have the HWB not only introduced but heard in committee. Despite the formation of a task force in past years, the historically progressive state has failed to take definitive action against this scourge.
The bill has been referred to a Senate committee on which a former sponsor sits. We await scheduling of a public hearing at which Vermonters can testify about the need for a state law.
In 2015, VT S 143 is the 9th bill to be introduced across the states. Vermont joins Texas, New York, Massachusetts and Minnesota with complete versions (with employer liability) of the Healthy Workplace Bill.
Details of the bill can be found at the VT State Page of the Healthy Workplace Bill website.

Tags: Anthony Pollina, Gary Namie, Healthy Workplace Bill, S 143, Sherrill Gilbert, Vermont, workplace abusive conduct, workplace bullying
Posted in Healthy Workplace Bill (U.S. campaign), Hear Ye! Hear Ye! 2, Workplace Bullying Laws | No Archived Comments | Post A Comment () »