Archive for the 'Media About Bullying' Category
Friday, March 7th, 2014
US Congressman Darrell Issa, chair of the House Oversight Committee bullied fellow Congressman Elijah Cummings and below is the video record of it recorded by C-SPAN. Issa allowed no one to testify at this Wed. March 5 hearing held to humiliate former IRS worker Lois Lerner who invoked her 5th Amendment right to not give self-incriminating answers to Issa's questions. Rep. Cummings had something to say, but Rep. Issa turned off his microphone twice. Issa adjourned the hearing while the outraged Cummings attempted to speak.
Bullied targets have borne the brunt of a bully's contempt similar to that demonstrated by Issa.
Tags: bullying, contempt, Darrell Issa, disrespect, John Lewis, political bullying
Posted in Broadcasts: Video, TV, radio, webinars, Media About Bullying, Tutorials About Bullying, WBI Education | No Archived Comments | Post A Comment () »
Friday, March 7th, 2014
By Caitlin Bronson
March 5, 2014
Insurance Business America
Workplace mistreatment and office bullying contributes to employer losses of more than $4bn in annual absences, including in workers' comp and disability insurance, a new study suggests.
According to researchers at the National Institute of Occupational Safety and Health, bullying accounted for 5.5% of sickness absenteeism in 2010. That translates to higher workers' comp costs in an environment already wary of additional risk.
Researchers noted that workplace bullying, which could include insults, intimidation, withholding information or gossiping, often causes anxiety, stress, depressive symptoms and even post-traumatic stress disorder in affected workers.
"Furthermore, as exposure to bullying increases, the risk of depressive symptoms also increases," the study found. "Besides targets of workplace bullying, employees who observed workplace bullying have also reported stress and anxiety."
Tags: business costs, caitlin bronson, insurance business, workers comp, workplace bullying
Posted in Media About Bullying, Print: News, Blogs, Magazines | No Archived Comments | Post A Comment () »
Friday, March 7th, 2014
By Joyce E. A. Russell
The Washington Post
March 2
Career Coach: How to detect subtle forms of bullying at work
Sad to say, but bullying does not just exist in the schoolyard. It is alive and well in the workplace.
We probably all know what the obvious signs of bullying look like. Examples include: offensive communication (using profanity, gossip or derisive jokes); aggression (yelling or shouting at an employee); coercion (forcing someone to say or do things against their will); belittling or demeaning someone regarding their ideas or work; embarrassing, degrading or humiliating someone publicly in front of others; retaliation; threats; blocking the advancement or growth of someone, or actively campaigning to get rid of them.
In addition to these obvious forms of bullying, there are many subtle forms that may not easily be detected but still cause emotional damage. Perhaps a bully is in charge of taking photos at a key event. He/she may take pictures of everyone but their victim to let them know who is in control. Maybe the bully acts chummy with the victim's friends or share jokes and social events with everyone but the victim. These are forms of socially isolating the victim.
Bullies may constantly justify their behavior or make excuses for it ("I raised my voice because I am going through a bad time right now"). They may act oblivious or dumb ("Oh, I didn't know that was important to you"). They may constantly blame the victim or use him/her as a scapegoat. One tactic that I have heard used a lot is pitting employees against each other so that they will turn against each other. This way, the bully comes out as the winner.
As managers, bullies may set unrealistic expectations or set their employees up to fail. They may also display sudden mood swings, making them unpredictable. They may take credit for others' ideas without acknowledging them. They may lie or distort the truth about what others have said in order to advance their own agendas. For example, the person may say, "Josh said this is how we should run the meeting" since that is how the bully wants to run it, when in fact, Josh never said that at all.
Really clever bullies are manipulators who are skilled at reading others and understanding their weaknesses so they know how to exploit them. In fact, many bullies can disguise their bullying behind a very nice and charming demeanor and a "pure" or noble cause. For example, they may demean a group of employees by arguing passionately that getting rid of them or limiting their power will be for the "good of the entire institution." Thus, it may initially be hard to detect the bullying. Also, bullying often reflects a pattern of actions over a long course of time so it may actually go undetected in the workplace, yet still have substantial costs to an employer.
Tags: JOyce E.A. Russell, subtle bullying, The Washington Post, workplace bullying
Posted in Print: News, Blogs, Magazines | No Archived Comments | Post A Comment () »
Sunday, March 2nd, 2014
By Scott Whipple, The Bristol (CT) Press, March 1, 2014
NEW BRITAIN — Workplace bullying is back in the public eye.
According to a recent national survey, an overwhelming majority of Americans — 93 percent — support enactment of a new law that would protect workers from repeated abusive treatment at work. Only 1 percent strongly oppose such a measure.
"Because of the strong public support and stories from Connecticut citizens we are seeking sponsors in the state legislature to enact the Anti-Bullying Healthy Workplace Bill" said Katherine Hermes, state co-coordinator promoting the legislation.
Tags: Connecticut, Healthy Workplace Bill, Katherine Hermes, legislation, Peter Tercyak, workplace bullying
Posted in Healthy Workplace Bill (U.S. campaign), Media About Bullying, Print: News, Blogs, Magazines, WBI in the News, Workplace Bullying Laws | No Archived Comments | Post A Comment () »
Sunday, March 2nd, 2014
Ban on workplace bullying stalled at Vermont Statehouse
Advocacy group asks lawmakers to hold public hearing
by Stewart Ledbetter, WPTZ, NBC-TV, Montpelier, VT, Feb. 28, 2014
Sherill Gilbert says she walks the Statehouse hallways as often as she can, trying to persuade members of the Legislature to take up her cause.
She's determined, even after five years without much success.
 
"I'd love to see Vermont become first state with law against workplace bullying," Gilbert said Thursday. "I've heard from people from all 14 Vermont counties. Somebody needs to do something. It's the only legalized abuse in the United States."
Tags: 2014 U.S. Workplace Bullying Survey, anti-bullying bill, Healthy Workplace Bill, Kevin Mullin, legislation, Sherrill Gilbert, Vermont, William Doyle, workplace bullying
Posted in Broadcasts: Video, TV, radio, webinars, Healthy Workplace Bill (U.S. campaign), Media About Bullying, WBI in the News, Workplace Bullying Laws | No Archived Comments | Post A Comment () »
Tuesday, February 25th, 2014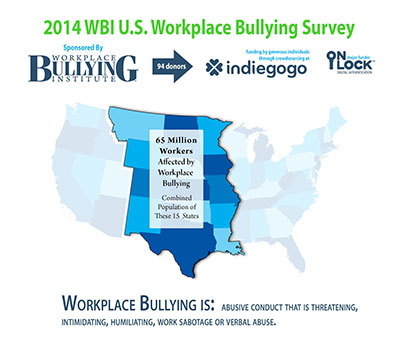 Infographic design by David Phillips, WBI


The results for our WBI 2014 U.S. Workplace Bullying Survey are in! Check out this infographic and please share.

Read the summary of the Survey results.

Or download the complete report.
Tags: David Phillips, infograhpic, survey, WBI 2014 U.S. Workplace Bullying Survey, workplace bullying
Posted in Bullying-Related Research, Media About Bullying, WBI Education, WBI Surveys & Studies | 1 Archived Comment | Post A Comment () »
Saturday, February 1st, 2014
Bully Nation
by Yale Magrass and Charles Derber
New Jersey Governor Chris Christie has appropriately been called a bully. This has implications well beyond Christie. His calling out has the potential to shift the growing public conversation about bullying from a pyschological narrative about abusive individuals to a new discourse on institutionalized bullying, carried out by ruling institutions and elites.
The current focus on bullying – like much of the discussion about guns and gun violence – has tended to focus on individuals and mental health. It is a therapeutic narrative. Bullying is seen primarily as a psychological problem of individuals. The victim needs therapy, better communication or adaptation skills. Bullies are characterologically flawed and need therapy or perhaps legal punishment.
But there is little or no discussion of larger social or cultural forces in the United States and the American institutions or leaders who bully other countries or workers and citizens at home. Institutionalized bullying is endemic to a capitalist hegemonic nation like the United States and creates death and suffering on a far greater scale than personal, everyday bullying, as important and toxic as the latter might be.
Tags: Charles Derber, institutional bullying, international bullying, sociology, U.S. bully nation, Yale Magrass
Posted in Guest Articles, Media About Bullying, Print: News, Blogs, Magazines, Tutorials About Bullying, WBI Education | No Archived Comments | Post A Comment () »
Friday, January 31st, 2014
Recently, the folks at Legal Checklist asked for a general, but wide-ranging, introduction to the problems workplace bullying causes for individuals and organizations. I included tips for bullied targets.
Bullied targets are constantly advised to "document." Here's what I said in the interview regarding the topic:
To bolster your case, you'll definitely want a paper trail of abuse. One of the great problems with bullying is the fear that co-workers have of testifying or helping. So, long before there is any kind of a formal procedure or formal complaint, it would be great if you can get statements from co-workers about what they observed — not their opinions, but simply a statement that validates that your incident report is accurate: "You were there. Tell me what you saw." These statements should be maintained with the date and time. At the earliest time possible, you want to have them validate an event. You will create an incident report. And get that time-stamped. Ask them to send a written copy, perhaps through their personal email.

In some states, you can audio or videotape a conversation unilaterally. It's called the one-party consent law. In a one-party consent state, it is possible with so many different recording devices to capture audio or video that would be irrefutably time-stamped and stored safely. That's what you need to do to make an extremely strong case.
Documentation makes your subjective experience more objective. Evidence builds cases better than emotional appeals for cessation or justice. It is not that you do not deserve both, it is simply fact that emotions scare even well-intentioned others. Make it easier to help you based on facts — costs incurred by the employer who insists on keeping "Bully Bob," friend and confidante, on the payroll while banishing multiple targets who tried to warn of risks posed by Bob/Bobette.
Tags: Gary Namie, Legal Checklist, OnLock, workplace bullying
Posted in Media About Bullying, Print: News, Blogs, Magazines, WBI in the News | No Archived Comments | Post A Comment () »
Thursday, January 30th, 2014
Jonathan Martin, Miami Dolphins offensive lineman, left the team in October, 2013. His voluntary decision to leave an "abusive environment" caused a firestorm of controversy in the sports world. On January 29, 2014, Martin spoke publicly for the first time about his ordeal with former NFL coach, now NBC sports broadcaster Tony Dungy.
The short 3:43 min. version of the interview

The full 25 min. interview
Listen for his distinction between cruelty required on the field and character off the field. Exactly what Richard Sherman described as his "switch."
Follow the full NFL story in the Category list in the sidebar: NFL: Jonathan Martin
Tags: abuse, bullying, Jonathan Martin, Miami Dolphins, NFL, target, Tony Dungy
Posted in Broadcasts: Video, TV, radio, webinars, Employers Gone Wild: Doing Bad Things, Media About Bullying, NFL: Jonathan Martin, Target Tale, WBI Education | No Archived Comments | Post A Comment () »
Thursday, January 30th, 2014
Hear opponents of our anti-bullying Healthy Workplace Bill, then supporters, including Suffolk University Law Professor, WBI Affiliate and HWB author, David Yamada.
Tags: David Yamada, greater boston, Healthy Workplace Bill, workplace bullying
Posted in Broadcasts: Video, TV, radio, webinars, Healthy Workplace Bill (U.S. campaign) | No Archived Comments | Post A Comment () »