Archive for the 'Media About Bullying' Category
Friday, October 17th, 2014
County Declares No Tolerance for Workplace Bullying
By Lyn Jerde, Portage (WI) Daily Register, Oct. 16, 2014
Andy Ross made it clear at the outset: Nobody is saying that there are bullies working for Columbia County.
But, in urging the County Board Wednesday to approve a resolution proclaiming Freedom from Workplace Bullies Week, Ross said the county's top governing body should reiterate the importance of a bully-free workplace.
Ross is a member of the County Board's Human Resources Committee, which offered the resolution, which the County Board approved unanimously.
The Workplace Bullying Institute, based in Bellingham, Washington, started largely because one of the founders, Ruth Namie, once had a "boss from hell," according to information on the Workplace Bullying Institute's website. In the 1990s, she wrote, there was little legal recourse for victims of workplace harassment if the harassment wasn't overtly racist or sexist.
The Institute has declared next week, Oct. 19 to 25, as Freedom from Workplace Bullies Week.
The Institute defines workplace bullying as "a systematic campaign of interpersonal destruction that jeopardizes your health, your career, the job you once loved." This kind of bullying usually doesn't entail physical threats, but rather deliberate emotional and psychological abuse.
Ross told the County Board that the resolution puts the county on record that such behavior won't be tolerated in any Columbia County department.
"This is one of those topics that we wish we didn't have to address," he said.
The topic is being addressed, Ross noted, in ongoing management and leadership training that has been provided, first to county department heads and later to lower-level managers in county departments. The training, offered through Madison Area Technical College, will focus this fall on how managers can avoid bullying behavior.
"Depending on how old you are," Ross said, "it may be something that was acceptable, and pretty common, years ago. But we can't tolerate it anymore."
Tags: Andy Ross, Columbia County, Freedom from workplace bullies week, Portage Wisconsin, proclamation, resolution, workplace bullying
Posted in Freedom Week, Good News, Media About Bullying, Print: News, Blogs, Magazines, WBI Education, WBI in the News | No Archived Comments | Post A Comment () »
Friday, October 17th, 2014
By Amy Gallo, Harvard Business Review, October 16, 2014
When a colleague is mean to you, it can be hard to know how to respond. Some people are tempted to let aggressive behavior slide in the hopes that the person will stop. Others find themselves fighting back. When you're being treated poorly by a coworker how can you change the dynamic? And if the behavior persists or worsens, how do you know when you're dealing with a true bully?
What the Experts Say

"When it comes to bad behavior at work, there's a broad spectrum," with outright bullies on one end and people who are simply rude on the other, says Michele Woodward, an executive coach and host of HBR's recent webinar: "Bullies, Jerks, and Other Annoyances" You may not know which end of the spectrum you're dealing with until you actually address the behavior. If it's a bully, it can be difficult ­— if not impossible — to get the person to change, says Gary Namie, the founder of the Workplace Bullying Institute and author of The Bully at Work. But in most cases, you can ­— and should ­— take action. "Know that you have a solution, you're not powerless," says Woodward. Here are some tactics to consider when dealing with an aggressive colleague.
(more…)
Tags: Amy Gallo, cruel bosses, Gary Namie, Harvard Business Review, mean bosses, workplace bullying, Workplace Bullying Institute
Posted in Media About Bullying, Print: News, Blogs, Magazines, Tutorials About Bullying, WBI Education, WBI in the News | 1 Archived Comment | Post A Comment () »
Tuesday, October 14th, 2014
The international reach of WBI …
By Timi Trieska Dara – 14 Oktober 2014, MetroTVNews, Jakarta, Indonesia
Intimidasi (bullying) di tempat kerja bukan hal baru. Sebagian besar korban bullying adalah perempuan. Survei yang dilakukan Workplace Bullying Institute Amerika Serikat mencatat sekitar 37 persen pekerja menjadi korban bullying.
Penulis sebuah penelitian, Karan Smith, mengatakan sekitar 40 persen dari pelaku bully di tempat kerja di AS adalah perempuan. Korban bullying sebagian besar adalah perempuan. Selain itu, pria pelaku bully juga sering memilih perempuan sebagai korbannya.
Berikut beberapa hasil pengamatan terkait bullying di tempat kerja:
1. Bullying memiliki banyak bentuk
"Taktik bully dari yang bersifat keras–berteriak, membanting pintu, dan ngomel–hingga yang halus, misalnya karyawan yang dibully tidak diikutsertakan dalam pertemuan penting atau ditugaskan tanpa sumber daya yang memadai untuk menyelesaikan pekerjaan rekannya. Rekan kerjanya bisa direkrut dalam ekspedisi untuk mengisolasinya. Di belakang korban, pengganggu melancarkan aksinya, meskipun bos sendiri sering menjadi penyebabnya," kata Karan.
2. Pelaku bully memilih karyawan yang baik sebagai korban
"Karyawan yang diserang sering kompeten, berkomitmen pada satu prinsip, dipilih untuk kekuatannya, bukan kelemahannya," ujarnya.
3. Ikan membusuk dari kepala
"Bullying biasanya terjadi dalam kepemimpinan yang buruk," kata Karan.
4. Bullying menciptakan penyakit
Korban bully akan sering mengalami tekanan darah tinggi, depresi, diabetes, dan bahkan masalah di tempat kerja seperti gangguan pasca-trauma stres.
Cara terbaik untuk mencegah bullying, baik pria maupun wanita, adalah mempertimbangkan alasan sosial yang mendasar mengapa hal itu terjadi di tempat pertama.
Tags: Indonesia, Timi Trieska Dara, workplace bullying
Posted in Broadcasts: Video, TV, radio, webinars, Media About Bullying, WBI in the News | No Archived Comments | Post A Comment () »
Saturday, September 27th, 2014
There is a raging epidemic of sexual assaults on US college campuses. Reliable estimates claim that between 16% and 25% of college women face the risk of rape or some other assault, according to the spring 2014 report by the White House Task Force to Protect Students from Sexual Assault. The Obama Administration's goal is to understand the problem then propose legislative, behavioral and institutional changes to eradicate the problem.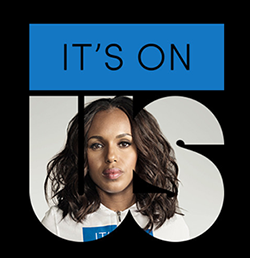 On Sept. 23, 2014, the government launched a new public education campaign featuring celebrities (ostensibly the only credible Americans with the right to suggest that the public change its behavior) — It's On Us. The message attempts to increase the responsibility felt by witnesses of assaults to intervene and disrupt.
In school bullying initiatives, it's called making "upstanders" out of bystanders. Witnesses are known to not intervene in emergencies of all kinds. The reluctance is called the "bystander effect," and followed a 1964 rape and murder of Kitty Genovese in Queens New York witnessed by 38 neighbors, each of whom failed to call the police in time to save her life. The explanations that emerged from subsequent research (led by social psychologists John Darley and Bibb Latane starting in the 1960's). Bystander reticence is usually based on fear — of retaliation, of botching a rescue, of being the sole helper, of being the next victim.
Tags: bystander effect, bystanders, campus sexual assault, Columbia University, It's On Us, White House Task Force to Protect Students from Sexual Assault, witnesses, workplace bullying
Posted in Fairness & Social Justice Denied, Media About Bullying, Print: News, Blogs, Magazines, Tutorials About Bullying, WBI Education | 2 Archived Comments | Post A Comment () »
Thursday, September 25th, 2014
In a time of universal deceit, telling the truth becomes a revolutionary act. George Orwell
There's a level of refreshing level of candor about Roger Goodell, NFL Commissioner, from two ESPN employees — Keith Olbermann and Bill Simmons — rarely spoken today in mainstream media (and ESPN is certainly mainstream). It's all the more remarkable when you learn that ESPN pays the NFL $15 billion to televise Monday Night Football. So, ESPN critics could be seen as biting the hand that feeds them, but these two pundits show tremendous courage in calling out the NFL mismanagement of its current domestic violence crisis.
Bill Simmons is the writer who started Grantland (an ESPN Internet Venture) and has been an ESPN superstar. For his calling Goodell a liar, he earned a 3 week suspension. The Simmons B.S. Podcast from which the audio came was pulled from the Grantland website by ESPN. Here is the audio that got him into trouble.
Audio clip: Adobe Flash Player (version 9 or above) is required to play this audio clip. Download the latest version here. You also need to have JavaScript enabled in your browser.
Also brave were ESPN writers, Don Van Natta, Jr. and Keith Van Valkenburg, who wrote an extraordinary investigative Outside the Lines article that revealed that Goodell and the Baltimore Ravens ownership colluded with Ray Rice's attorney to cover up his domestic violence incident. Then, both Goodell and Ravens owner, Steve Bisciotti, lied about their knowledge of it. Very Nixonian of the NFL.
The OTL article title

Despite ESPN silencing Simmons and reportedly wordsmithing the OTL article with some deletions, many critics on the network are jabbing the NFL. Critics are the only ones who can hold institutions accountable.
Why do we not see the same drive to be candid from the Washington DC beltway political pundits? Their relationships with the "newsmakers" is way too cozy. Reporter would rather ingratiate themselves with the people they are paid to hold accountable. Kissing up and comfort prevent truthtelling. The result — America is in a new war while still fighting the old one with public support.
After all …
All governments are run by liars and nothing they say should be believed. I.F. Stone
Tags: Bill Simmons, censorship, Don Van Natta, ESPN, Keith Olbermann, Keith Van Valkenburg, liar, lies, NFL, Ray Rice, Roger Goodell, unethical
Posted in Broadcasts: Video, TV, radio, webinars, Employers Gone Wild: Doing Bad Things, Media About Bullying, NFL: Domestic Violence | No Archived Comments | Post A Comment () »
Tuesday, September 23rd, 2014
The Fifth Annual Sports Law and Ethics Symposium at Santa Clara University was hosted by the Institute of Sports Law and Ethics on Sept 11, 2014. Below is video of the panel
Bullying and the Locker Room Culture of Performance
Panelists:
• Jim Thompson, founder of the Positive Coaching Alliance an organization dedicated to transforming all youth sports into positive, character-building experiences
• William Pollack, PhD, Harvard Medical School clinical psychologist and author of Real Boys: Rescuing Our Sons from the Myths of Boyhood
• Brandi Chastain, U.S. Olympic and World Cup women's soccer champion turned advocate for youth safety in soccer
• Gary Namie, PhD, Workplace Bullying Institute Director, educating the audience about adult bullying in the workplace and its overlap with the Jonathan Martin/NFL case.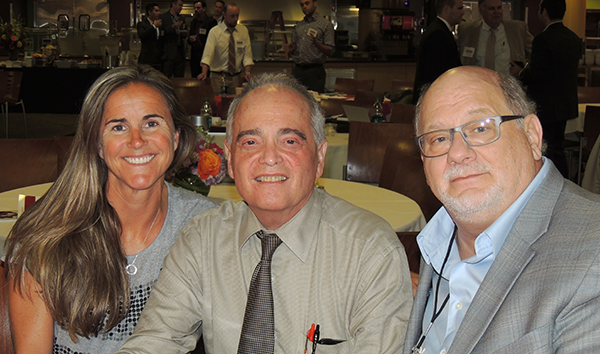 Pictured from left to right: Brandi Chastain, William Pollack, Gary Namie
Tags: Brandi Chastain, bullying in sport, Gary Namie, Jim Thompson, ostracism, Positive Coaches Alliance, William Pollack, Workplace Bullying Institute
Posted in Broadcasts: Video, TV, radio, webinars, Employers Gone Wild: Doing Bad Things, Media About Bullying, NFL: Domestic Violence, Tutorials About Bullying, WBI Education | No Archived Comments | Post A Comment () »
Friday, September 19th, 2014
by Karima Mariama-Arthur, Esq., Black Enterprise, Sept. 1, 2014
If you thought bullying was over after elementary school, think again. No longer confined to boundaries of the schoolyard, the new face of bullying is far more sophisticated and adult! Workplace bullying is a growing epidemic that has prompted numerous groups to press Congress on legislation that would outlaw it. With more than one-third of the U.S. workforce being bullied, it's a shocking truth deserving of significantly more exposure. The Boston Globe discussed the topic late last month, shedding light on what has become the workplace's "dirty little secret."
Tags: Karima Mariama-Arthur, WordSmithRapport, workplace bullying, Workplace Bullying Institute
Posted in Media About Bullying, Print: News, Blogs, Magazines, WBI in the News | No Archived Comments | Post A Comment () »
Saturday, September 6th, 2014
By Laura Entis – Entrepreneur – Sep. 4, 2014
You shouldn't call people names. You shouldn't yell, or belittle others. These are lessons we're supposed to learn as children, but unfortunately, such behaviors persist long after we've left the playground: Workplace bullying is sadly commonplace.
It doesn't just take place among coworkers. A common tick of the Bad Boss is to select an office scapegoat on whom he or she can dump any built up frustration/anger/aggression at whim.
It makes sense that direct targets of their bosses' abuse would experience a decrease in productivity; if your boss is frequently yelling at you, your work will likely suffer.
But a new study from a team of researchers at Michigan State University found that when a boss frequently bullies one employee, the entire team's productivity decreases. The study involved looking at verbal abuse and demeaning emails in a controlled lab setting.
"That's the most disturbing finding," lead investigator Crystal Farh said in a press release, "because it's not just about individual victims now, it's about creating a context where everybody suffers, regardless of whether you were individually abused or not."
According to her research, while targeted individuals contributed less (as one would expect), their team members "descended into conflicts" and also, on average, were less productive.
Farh's main takeaway? In the wake of any situation where a boss is bullying an underling, everyone on the team – not just that employee – will need help repairing interpersonal relationships and rebuilding trust. In other words, bullying bosses are truly toxic because their bad behavior spreads, infecting the entire office.
Tags: bosses, Crystal Farh, workplace bullying
Posted in Print: News, Blogs, Magazines | No Archived Comments | Post A Comment () »
Friday, August 29th, 2014
Business Wire – August 28, 2014 – Kaplan Survey
For those entering the workforce, typical top-of-mind issues include opportunities for growth, benefits, and job security — but nearly half of those entering the nursing profession voice another concern: being bullied by colleagues. According to a just-released Kaplan survey of over 2,000 nursing school graduates from the class of 2014, 48% say they are concerned about being the victims of workplace bullying or working in a hostile working environment.* The survey also found that 39% personally knew nurses who were victims of workplace bullying or a hostile working environment.
One widely cited study found that approximately 60% of nurses left their first nursing job within six months because of bullying issues or because of a hostile work environment.** And studies conducted over the past decade show there's a financial cost to this for medical providers, ranging from $22,000 to over $64,400 per turnover. (http://www.medscape.com/viewarticle/569393_2).
Tags: healthcare, hostile work environment, kaplan test pret, nursing school, workplace bullying
Posted in Bullying-Related Research, Print: News, Blogs, Magazines | No Archived Comments | Post A Comment () »
Thursday, August 28th, 2014
UPDATE: Success.
We reported in late July about the long-standing feud between second generation owners of the Market Basket grocery store chain in the Northeast. Arthur S. Demoulas fired his cousin Artie T. Workers rose in support because he had done several costly things to help financially strapped workers when the stock market collapse ate up retirement savings. Local politicians called for boycotts of the stores. Shelves ran bare. Governors in two states pled for a solution.
Now, Artie T.'s offer to buy the chain, to remove Artie S., has been accepted by the Board. Artie T. will restore all lost jobs. Artie S. had fired protestors.
Life resumes to normal in a couple of months as the chain reverts to control by Artie T.
This is a very rare story where non-union workers prevailed. A great story. Justice.
Tags: Arthur S. Demoulas, Arthur T. Demoulas, Artie T., boycott, CEO, family feud, Market Basket, workers
Posted in Broadcasts: Video, TV, radio, webinars, Good News, Media About Bullying, Print: News, Blogs, Magazines | No Archived Comments | Post A Comment () »