Archive for the 'Media About Bullying' Category
Tuesday, September 23rd, 2014
The Fifth Annual Sports Law and Ethics Symposium at Santa Clara University was hosted by the Institute of Sports Law and Ethics on Sept 11, 2014. Below is video of the panel
Bullying and the Locker Room Culture of Performance
Panelists:
• Jim Thompson, founder of the Positive Coaching Alliance an organization dedicated to transforming all youth sports into positive, character-building experiences
• William Pollack, PhD, Harvard Medical School clinical psychologist and author of Real Boys: Rescuing Our Sons from the Myths of Boyhood
• Brandi Chastain, U.S. Olympic and World Cup women's soccer champion turned advocate for youth safety in soccer
• Gary Namie, PhD, Workplace Bullying Institute Director, educating the audience about adult bullying in the workplace and its overlap with the Jonathan Martin/NFL case.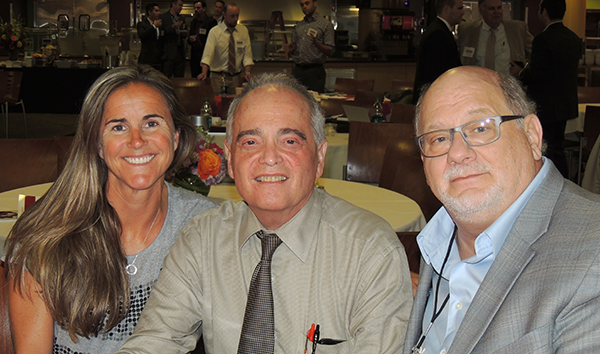 Pictured from left to right: Brandi Chastain, William Pollack, Gary Namie
Tags: Brandi Chastain, bullying in sport, Gary Namie, Jim Thompson, ostracism, Positive Coaches Alliance, William Pollack, Workplace Bullying Institute
Posted in Broadcasts: Video, TV, radio, webinars, Employers Gone Wild: Doing Bad Things, Media About Bullying, NFL: Domestic Violence, Tutorials About Bullying, WBI Education | No Archived Comments | Post A Comment () »
Friday, September 19th, 2014
by Karima Mariama-Arthur, Esq., Black Enterprise, Sept. 1, 2014
If you thought bullying was over after elementary school, think again. No longer confined to boundaries of the schoolyard, the new face of bullying is far more sophisticated and adult! Workplace bullying is a growing epidemic that has prompted numerous groups to press Congress on legislation that would outlaw it. With more than one-third of the U.S. workforce being bullied, it's a shocking truth deserving of significantly more exposure. The Boston Globe discussed the topic late last month, shedding light on what has become the workplace's "dirty little secret."
Tags: Karima Mariama-Arthur, WordSmithRapport, workplace bullying, Workplace Bullying Institute
Posted in Media About Bullying, Print: News, Blogs, Magazines, WBI in the News | No Archived Comments | Post A Comment () »
Saturday, September 6th, 2014
By Laura Entis – Entrepreneur – Sep. 4, 2014
You shouldn't call people names. You shouldn't yell, or belittle others. These are lessons we're supposed to learn as children, but unfortunately, such behaviors persist long after we've left the playground: Workplace bullying is sadly commonplace.
It doesn't just take place among coworkers. A common tick of the Bad Boss is to select an office scapegoat on whom he or she can dump any built up frustration/anger/aggression at whim.
It makes sense that direct targets of their bosses' abuse would experience a decrease in productivity; if your boss is frequently yelling at you, your work will likely suffer.
But a new study from a team of researchers at Michigan State University found that when a boss frequently bullies one employee, the entire team's productivity decreases. The study involved looking at verbal abuse and demeaning emails in a controlled lab setting.
"That's the most disturbing finding," lead investigator Crystal Farh said in a press release, "because it's not just about individual victims now, it's about creating a context where everybody suffers, regardless of whether you were individually abused or not."
According to her research, while targeted individuals contributed less (as one would expect), their team members "descended into conflicts" and also, on average, were less productive.
Farh's main takeaway? In the wake of any situation where a boss is bullying an underling, everyone on the team – not just that employee – will need help repairing interpersonal relationships and rebuilding trust. In other words, bullying bosses are truly toxic because their bad behavior spreads, infecting the entire office.
Tags: bosses, Crystal Farh, workplace bullying
Posted in Print: News, Blogs, Magazines | No Archived Comments | Post A Comment () »
Friday, August 29th, 2014
Business Wire – August 28, 2014 – Kaplan Survey
For those entering the workforce, typical top-of-mind issues include opportunities for growth, benefits, and job security — but nearly half of those entering the nursing profession voice another concern: being bullied by colleagues. According to a just-released Kaplan survey of over 2,000 nursing school graduates from the class of 2014, 48% say they are concerned about being the victims of workplace bullying or working in a hostile working environment.* The survey also found that 39% personally knew nurses who were victims of workplace bullying or a hostile working environment.
One widely cited study found that approximately 60% of nurses left their first nursing job within six months because of bullying issues or because of a hostile work environment.** And studies conducted over the past decade show there's a financial cost to this for medical providers, ranging from $22,000 to over $64,400 per turnover. (http://www.medscape.com/viewarticle/569393_2).
Tags: healthcare, hostile work environment, kaplan test pret, nursing school, workplace bullying
Posted in Bullying-Related Research, Print: News, Blogs, Magazines | No Archived Comments | Post A Comment () »
Thursday, August 28th, 2014
UPDATE: Success.
We reported in late July about the long-standing feud between second generation owners of the Market Basket grocery store chain in the Northeast. Arthur S. Demoulas fired his cousin Artie T. Workers rose in support because he had done several costly things to help financially strapped workers when the stock market collapse ate up retirement savings. Local politicians called for boycotts of the stores. Shelves ran bare. Governors in two states pled for a solution.
Now, Artie T.'s offer to buy the chain, to remove Artie S., has been accepted by the Board. Artie T. will restore all lost jobs. Artie S. had fired protestors.
Life resumes to normal in a couple of months as the chain reverts to control by Artie T.
This is a very rare story where non-union workers prevailed. A great story. Justice.
Tags: Arthur S. Demoulas, Arthur T. Demoulas, Artie T., boycott, CEO, family feud, Market Basket, workers
Posted in Broadcasts: Video, TV, radio, webinars, Good News, Media About Bullying, Print: News, Blogs, Magazines | No Archived Comments | Post A Comment () »
Wednesday, August 27th, 2014
By Nancy Collamer, Forbes, August 25, 2014
If you saw a young child being pushed around on the playground, chances are you would intervene. But are you equally proactive when you see bullying at work?
While this may sound like a hypothetical question, it's anything but. According to a 2014 survey conducted by the Workplace Bullying Institute (WBI), 27% of Americans have been bullied at work, 21% have witnessed it and 72% of us are aware that workplace bullying happens.
Real bullying involves more than just bad management and obnoxious behavior.
How Bullying Can Harm A Victim's Health
It also means health-harming behaviors that can include verbal abuse, offensive conduct and intentional sabotage. And workplace bullying doesn't just harm the victim. It leads to poor morale, high turnover and low productivity, which impact the entire organization.
The problem is now so widespread that lawmakers in 15 states have introduced legislation aimed at prodding employers to take the matter seriously or face consequences.
Why Boomers Can Be Effective
So what are you willing to do about it? I ask because many boomers are in management and as a result, some are in a good position to take action. Even if you're not among your employer's leadership team, you still might be able to make a difference.
If you're well respected by colleagues, have good relations with key influencers at your employer or have strong job security, it's likely easier for you to speak up and get management to take bullying seriously than it is for your younger co-workers.
That is an important advantage. Just like on the playground where bigger kids target weaker ones, the majority of workplace bullying is inflicted from the top down. According to the WBI survey, 56% of it is attributed to bosses, compared to 33% that's blamed on peers. Given this inherent power imbalance, it's no surprise that few victims stand up to their abusers.
I want to emphasize that not every boomer is in a position to stand up to workplace bullies.
Many older workers are in precarious job situations and know that if they speak up, they could be fired. That's especially true in environments where bully behavior is a celebrated part of the workplace culture. (Wolves of Wall Street anyone?)
Tags: 2014 U.S. Workplace Bullying Survey, baby boomers, boomers & bullying, Gary Namie, research, workplace bullying, Workplace Bullying Institute
Posted in Media About Bullying, Print: News, Blogs, Magazines, Tutorials About Bullying, WBI Education, WBI in the News | No Archived Comments | Post A Comment () »
Wednesday, August 20th, 2014
Understanding Workplace-Bullying Legislation
By Randi Melnick
American Bar Association, August 13, 2014
Labor-and-employment attorneys hear countless tales of abuse suffered by employees in the workplace. Employees subjected to mean-spirited or degrading treatment can often feel helpless, or even if they are proactive and make a complaint to human resources, they may simply be told to toughen up, or find a new job. With the realities of today's increasingly stressful and competitive workplace, it is worth a moment of reflection to consider what level of civility should be expected in the workplace, and what the consequences should be, if any, for those who break such codes of conduct.
Workplaces can have tricky cultural norms, and some people will be more skilled than others at communicating. However, there is a difference between a manager or coworker who lacks tact and one who goes out of his or her way to purposefully target an individual. When one is verbally abused or intimidated, when work is sabotaged, or when humiliation is used as a tactic, that is bullying. And it is not always illegal in the United States.
Tags: abusive conduct, affirmative defenses, bullying defined, bullying law, Healthy Workplace Bill, lawyers, Randi Melnick, workplace bullying
Posted in Healthy Workplace Bill (U.S. campaign), Media About Bullying, Print: News, Blogs, Magazines, WBI in the News, Workplace Bullying Laws | No Archived Comments | Post A Comment () »
Tuesday, August 19th, 2014
The fifth annual Sports Law and Ethics Symposium hosted by the Santa Clara University (CA) Institute of Sports Law and Ethics will cover trending issues like changes in the NCAA, bullying, match-fixing, steroid use, and the opening of the new San Francisco 49ers stadium.
The event will be held at Benson Memorial Center on SCU's campus Sept. 11, from 8:30 a.m. to 6 p.m.
This year's Symposium will feature top speakers from the Bay Area and the nation, from morning keynote speaker and San Francisco 49ers President Paraag Marathe to featured lunchtime speaker, Travis Tygart, the CEO of the United States Anti-Doping Agency (USADA).
Among the topics to be discussed during the Symposium:
Bullying and a Culture of Performance: Positive Coaching Alliance CEO and founder Jim Thompson will lead a discussion with Dr. Gary Namie, founder of the Workplace Bullying Institute and expert witness in the Jonathan Martin bullying case; Dr. William Pollack, Harvard Medical School associate clinical professor and author of Real Boys: Rescuing our Sons from the Myths of Boyhood; and Brandi Chastain, Olympic gold medal winner and member of World Cup champion U.S. soccer team.
Tags: Brandi Chastain, bullying in sports, Gary Namie, ISPE, Jim Thompson, locker room bullying, Santa Clara University, William Pollack
Posted in Media About Bullying, Print: News, Blogs, Magazines | No Archived Comments | Post A Comment () »
Friday, August 8th, 2014
The WBI Target Action Plan is our suggested course of action for bullied targets who have back-stabbing coworkers, unsympathetic bosses, no union support, and a host of employer representatives who tell them that the bullying is their fault. Forget rational appeals for help made to enablers of the bullying. They are part of the "vast conspiracy" making it a case of many against one. The tendency is to implore that the emotional abuse stop and that is typically done in an emotional way. The WBI plan teaches you to become an unemotional advocate for yourself by making the "business case."
Watch the latest WBI webinar to learn how.
Tags: costs, Dr. Gary Namie, financial impact of bullying, Making the Business Case, WBI webinar, Workplace Bullying Institute
Posted in Broadcasts: Video, TV, radio, webinars, Media About Bullying, WBI Education, Webinars | 4 Archived Comments | Post A Comment () »
Wednesday, August 6th, 2014
By Richard B. Cohen – Employment Discrimination Report – August 4, 2014
Just as last week we re-opened our discussion about the possibility/desirability of enacting legislation to prohibit workplace bullying, it has been reported that the governor of New Hampshire just vetoed such a bill – calling it "well-intentioned" but ultimately "unworkable."
Chalk up another defeat for anti-bullying legislation, which is batting zero.
The Healthy Workplace Bill
We have not seen the NH bill, but if "workability" is the issue, perhaps New Hampshire should have turned to Prof. David Yamada, of nearby Suffolk University Law School, who is the author of the template legislation that serves as the basis of most of the workplace anti-bullying bills introduced across the country.
We noted last week that he wrote to us on February 25th about our discussion on anti-bullying legislation and said that "I can attest that the need for such legislation is underscored by the terrible inadequacy of existing law, including tort claims (IIED) and other causes of action. … the template bill, a/k/a The Healthy Workplace Bill, sets a relatively high threshold for recovery, higher in fact than hostile work environment standards for sexual harassment. In other words, it's about creating a cause of action for abuse, not incivility."
Goodness Gracious — Bullying Can Be Anything!
However, as Law360 reports, "unworkability "resonates with many employers' concerns that ill-defined workplace bullying laws would invite a wave of meritless employment lawsuits, attorneys say." Law 360 quotes some incisive comments from various employment attorneys:
"Any legislation is just going to further clog the court system;"
"The biggest problem is what the governor identified. That is, 'How do you define bullying?'"
"Bullying is so subjective. If it's just unwelcome conduct — well, goodness gracious, that could be anything."
One lawyer proposed a more workable solution that no one has seemingly ever thought of: "Everybody should be treated with professionalism and respect, and none of these issues will ever come up."
Wow — a breathtaking concept! Goodness gracious, what a boffo idea! Wish we thought of that!
Tags: employment discrimination report, Healthy Workplace Bill, richard b. cohen, workplace bullying
Posted in Media About Bullying, Print: News, Blogs, Magazines | No Archived Comments | Post A Comment () »