Archive for the 'Print: News, Blogs, Magazines' Category
Tuesday, April 23rd, 2013
By Kim Painter, USA Today, April 20, 2013
Every workplace has bullies, But when the workplace is a hospital, it's not just an employee problem.
The worker, according to court documents, felt threatened: His superior came at him "with clenched fists, piercing eyes, beet-red face, popping veins, and screaming and swearing." He thought he was about to be hit. Instead, his angry co-worker stormed out of the room.
But it wasn't just any room: It was in a hospital, adjacent to a surgical area. The screamer was a cardiac surgeon, and the threatened employee was a perfusionist, a person who operates a heart/lung machine during open heart surgery. In 2008, the Indiana Supreme Court ruling in Raess v. Doescher upheld a $325,000 settlement for the perfusionist, who said he was traumatized.
It's enough to make any patient wonder: Just how well does my health care team get along?
The question is worth pondering, say experts in what is commonly called "disruptive behavior." Every workplace, like every schoolyard, has its bullies. But when the workplace is a doctor's office, hospital room or surgical suite — when doctors throw charts at nurses or nurses throw insults at trainees — it isn't just a workplace problem. It's a patient-safety issue, these experts say.
"The impact in health care is significant because you are dealing with patients' lives," says Peter Angood, CEO of the American College of Physician Executives in Tampa.
Tags: Doescher, raess, safety, USA Today, workplace bullying
Posted in Media About Bullying, Print: News, Blogs, Magazines | No Archived Comments | Post A Comment () »
Thursday, March 28th, 2013
When fuzzy facts (first generation distortion) are allowed to pass for actual data and circulated widely by media (2nd gen distortion) they used by critics to undermine the anti-bullying campaign. Let's clear the air about current American employer engagement in stopping workplace bullying.
SHRM (the HR trade association) conducted a 2011 study about workplace bullying and reported results in Feb. 2012. The non-scientific survey of members had a low response rate of 15% (the final 401 respondents meant SHRM randomly polled 2,673 members). The results shed light on HR's view about the prevalence of workplace bullying policies in the U.S. When asked if respondents' organizations had specific anti-bullying policies in place, 44% of HR respondents defiantly stated their organization has "no policy and has no plans to put a workplace bullying policy in place." The answer, "No, but we plan to put a formal policy in place in the next 12 months," was chosen by 13%. Another 40% said, "Yes, our workplace bullying policy is part of another workplace policy." Only 3% of SHRM members said "Yes. We have a separate workplace bullying policy" in our organization.

Actual slide from 2012 SHRM survey results from which 56% statistic was plucked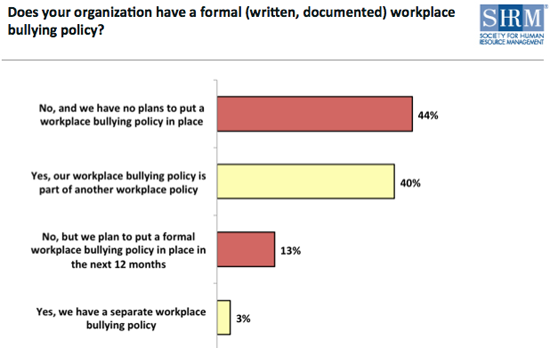 You can download the slide show from here.
(more…)
Tags: Gary Namie, HR, human resources, SHRM, surveys, WBI research, workplace bullying, workplace bullying policies
Posted in Employers Gone Wild: Doing Bad Things, Media About Bullying, Print: News, Blogs, Magazines, WBI Education, WBI Surveys & Studies | 1 Archived Comment | Post A Comment () »
Monday, March 18th, 2013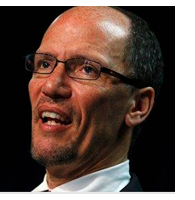 Just when it looked like President Obama knew no one to add to his cabinet that spoke the language of working folks, he has decided to use the nomination to Department of Labor Secretary to hoist Thomas Perez on his shoulders. Said the President today
"He's the son of Dominican immigrants. He helped pay his way through college as a garbage collector and working at a warehouse. He went on to become the first lawyer in his family. So his story reminds us of this country's promise"
According to reports, Perez, currently working in the Civil Rights Division of the federal Justice Department, was the second person of color to ever be elected to the Montgomery County (MD) Council. While on the Council, Perez pushed a "bill of rights" for domestic workers, tried to toughen county laws against predatory lending and supported the expansion of medical clinics to serve the uninsured. He also fought to import cheaper prescription drugs for county employees — a plan blocked by the Food and Drug Administration.
Tags: abuse of domestic workers, Barrack Obama, caregivers, domestic workers, GOP, home health aides, housecleaners, nannies, Thomas Perez, U.S. Department of Labor, Unions, workers' rights
Posted in Commentary by G. Namie, Good News, Media About Bullying, Print: News, Blogs, Magazines, The New America, Unions | No Archived Comments | Post A Comment () »
Wednesday, March 6th, 2013
The original March 1 article written by Sam Hananel of Associated Press was carried by the following news outlets:
Note: Broken links are the result of original sources dropping the content. You can always read the full content at this WBI blog.
ABC News | CBS News | Fox News-The Five | Fox-4-TV Dallas-Fort Worth | WLUK-TV-11 Green Bay | WWLP-TV, Springfield, MA | WKRG-TV-5 Mobile AL | KOMO News Seattle | KSDK St. Louis | KWTX Waco, Temple, Kileen (TX)
The Washington Post | USA Today | MSN | Yahoo News | Yahoo Finance | The Christian Science Monitor | Boston Herald | Seattle Post Intelligencer | San Antonio Express News | San Diego Union-Times | Las Vegas Sun | The Oklahoman | The Olympian (WA) | Free Press Burlington, VT | The Clarion Ledger, Jackson, MS | Journal Gazette & Times-Courier Mattoon, IL | Modesto Bee (CA) | Times Union Albany NY | Times Free Press, Chattanooga, TN | Long Island Business News | The News Journal, Delaware | Times-News Erie, PA | The Spectrum, Southern, Utah | Associations Now | Arizona Republic | The Tennessean | Oswego County, NY Palladium-Times | Toledo Blade | CNY Central | Madison.com | North Jersey Record | Mondaq.com (HR, Canada) | The Columbus Dispatch (OH) | The Detroit News | Logan Banner (WV) | St. Paul Pioneer Press (MN)
Tags: associated press, Gary Namie, Greg Sorozan, Sharon Parella, SHRM, workplace bullying
Posted in Broadcasts: Video, TV, radio, webinars, Media About Bullying, Print: News, Blogs, Magazines, Unions, WBI in the News | No Archived Comments | Post A Comment () »
Tuesday, March 5th, 2013
The Tyranny of the Queen Bee
By Peggy Drexler, Wall Street Journal, March 1, 2013
Women who reached positions of power were supposed to be mentors to those who followed—but something is amiss in the professional sisterhood.
Kelly was a bright woman in her early 30s: whip-smart, well qualified, ambitious—and confused. Even a little frightened.
She worked for a female partner in a big consulting firm. Her boss was so solicitous that Kelly hoped the woman—one of just a few top female partners—might become her mentor. But she began to feel that something was wrong. In meetings, her boss would dismiss her ideas without discussion and even cut her off in mid-sentence. Kelly started to hear about meetings to which she wasn't invited but felt she should be. She was excluded from her boss's small circle of confidants.
Tags: Gary Namie, gender and bullying, Peggy Drexler, woman-on-woman bullying, women bullied targets, women bullies, workplace bullying, Workplace Bullying Institute
Posted in Media About Bullying, Print: News, Blogs, Magazines, Tutorials About Bullying, WBI Education, WBI in the News | No Archived Comments | Post A Comment () »
Friday, March 1st, 2013
Growing Push to Halt Workplace Bullying
by Sam Hananel, Associated Press, March 1, 2013
Margaret Fiester is no shrinking violet, but she says working for her former boss was a nightmare.
"One day I didn't do something right and she actually laid her hands on me and got up in my face and started yelling, 'Why did you do that?'" said Fiester, who worked as a legal assistant for an attorney.
Fiester doesn't have to worry about those tirades anymore, but she hears lots of similar stories in her current role as operations manager at the Society for Human Resource Management, where she often fields questions about the growing issue of workplace bullying.
On-the-job bullying can take many forms, from a supervisor's verbal abuse and threats to cruel comments or relentless teasing by a co-worker. And it could become the next major battleground in employment law as a growing number of states consider legislation that would let workers sue for harassment that causes physical or emotional harm.
"I believe this is the new claim that employers will deal with. This will replace sexual harassment," said Sharon Parella, a management-side employment lawyer in New York. "People who oppose it say these laws will force people to be polite at work. But you can no longer go to work and act like a beast and get away with it."
Tags: AP, associated press, employment law, Gary Namie, Greg Sorozan, Healthy Workplace Bill, Massachusetts healthy workplace advocates, Sharon Parella, SHRM, unions and bullying, workplace bullying
Posted in Healthy Workplace Bill (U.S. campaign), Media About Bullying, Print: News, Blogs, Magazines, Unions, WBI in the News, Workplace Bullying Laws | No Archived Comments | Post A Comment () »
Thursday, February 14th, 2013
By Hilary Holladay, Contributor to The Hook, Charlottesville (VA), Feb. 14, 2013
Over the past five years, I've given a lot of thought to workplace bullying. I moved 650 miles, back home to Virginia, to escape a bully at my old job. I have friends who have been similarly tormented. We've traded stories and consoled one another. Some of them, like me, have found new work, or they have X'ed off the calendar days and finally escaped their tormentors through retirement. But a lot of people don't have those options just yet, and they shouldn't have to leave otherwise rewarding jobs just because someone is trying to make them miserable. So they continue to suffer the anxiety, anger, and depression that come with being bullied.
Awareness of the problem reached a tipping point in Charlottesville after Virginia Quarterly Review editor Kevin Morrissey's suicide in 2010. The devastating event touched off dozens of news stories locally and nationally about workplace bullying. Board of Visitors Rector Helen Dragas' thwarted attempt to oust UVa President Teresa Sullivan last summer raised the specter yet again. Everybody, it seems, is at risk of being bullied.
Tags: are you a bully, bullies, hilary holladay, support for bullies, the Hook, workplace bullying
Posted in Print: News, Blogs, Magazines | 1 Archived Comment | Post A Comment () »
Monday, February 4th, 2013
Imagine the largest U.S. corporation in its industry harboring abusive managers, 124 of them, despite complaints from people closest to those harmed and even inquiries from the police. It was the kind of abuse that can permanently traumatize individuals and families. Further imagine excusing the accused (because they said they did not do it) and allowing them to continue to work with no penalties or accountability for the wrongs committed. When evidence rose to undeniable levels, the CEO never admitted what the abusive managers did, never helped the people harmed, but chose to move offenders out of state or out of the country! Still no punishment. And if that wasn't outrageous enough, imagine that the CEO claims credit for an "evolved" attitude toward the abuse after his retirement only after public revelations of his unconscionable decisions.
Tags: Archdiocese of Los Angeles, cover up, Gary Namie, Healthy Workplace Bill, priest abuse, Roger M. Mahoney, sexual abuse, workplace bullying
Posted in Employers Gone Wild: Doing Bad Things, Fairness & Social Justice Denied, Media About Bullying, Print: News, Blogs, Magazines | No Archived Comments | Post A Comment () »
Friday, January 25th, 2013
We reprint a good article on the topic of woman-on-woman workplace bullying. You can read our own thinking about it here. The W-o-W bullying phenomenon was also captured in the WBI 2010 U.S. Workplace Bullying Survey in which women bullies (38% of all bullies) targeted other women in 80% of situations.
###
Every Office Has Its Bullies, Here's How to Outwit Them
by Jude Stewart, Fast Company
All of us can be difficult to work with at times, in ways we're usually blind to. Here's how to deal with others (and your own flaws) to defuse difficult work situations, from the authors of "Mean Girls at Work."
Everybody knows them, that ragtag parade of office meanies: the inveterate gossip, the underminer, the credit-stealer, the boss rolling his eyes or openly playing favorites. But discussions of workplace conflict too often focus on poor innocent me, persevering amid difficult coworkers. Less discussed is a more uncomfortable fact: All of us can be difficult to work with at times, in ways we're usually blind to. This is particularly pernicious when you're the boss, since you're both too pressed for time to recognize your shortcomings and–let's face it–even your most forthright direct reports may be reluctant to point out your flaws.
Office squabbles seem minor, but their costs to individuals and organizations can rack up. In a 2011 white paper, the Center for Resolution estimated a typical manager spends 20-40% of her time dealing with employee conflicts. Office disputes are a decisive factor in most employee departures, and 90% of cause-related terminations. Truly intractable conflicts can wind up in litigation with price tags of $50,000 to $100,000 in attorney fees.
Tags: bullying, Fast Company, Gary Namie, Jude Stewart, woman-on-woman, workplace bullying
Posted in Print: News, Blogs, Magazines, Tutorials About Bullying | No Archived Comments | Post A Comment () »
Thursday, December 20th, 2012
St. Louis County school cafeteria manager Dianne Brame — who claims to know the name of every student in her school — felt compassion for a 4th grader with a parent who does not speak English who fell off the federal school lunch program and was ordered to be fed a cheese sandwich and milk. Instead, Brame fed the student a regular lunch for months. For this the privately contracted firm that runs the school cafeteria, Chartwells, fired her for "theft." The school district superintendent spoke bureaucrat-speak in dodging responsibility because cafeteria staff were contractors.
Tags: Dianne Brame, federal lunch program, school cafeteria worker
Posted in Broadcasts: Video, TV, radio, webinars, Media About Bullying, Print: News, Blogs, Magazines | No Archived Comments | Post A Comment () »