Archive for the 'Print: News, Blogs, Magazines' Category
Thursday, April 17th, 2014
By Bernadette Starzee, Long Island (NY) Business News, April 16, 2014
The much-publicized investigation into alleged bullying on the Miami Dolphins football team has brought workplace bullying into the national spotlight.
More than a third of American workers say they've been bullied at work, according to a survey by the Workplace Bullying Institute, a national organization that defines workplace bullying as repeated, health-harming abusive conduct committed by bosses and/or co-workers. This may include verbal abuse, intimidation, humiliation and sabotage that prevents work from getting done.
While bullying is not healthy for the victim or the workplace, it's not necessarily unlawful. Though so-called "Healthy Workplace" bills have been introduced in 26 states since 2003, including New York, none of these anti-bullying bills have become law.
Tags: bullying scandal, Jonathan Martin, Miami Dolphins, NFL, workplace bullying, workplace bullying policies
Posted in Healthy Workplace Bill (U.S. campaign), Media About Bullying, NFL: Jonathan Martin, Print: News, Blogs, Magazines, WBI in the News, Workplace Bullying Laws | 1 Archived Comment | Post A Comment () »
Tuesday, April 15th, 2014
Here is a special piece featuring a graduate of Workplace Bullying University. Take a look.
Our team's golden boy gets a free pass for bad behaviour
Special to the Globe and Mail
4/13/14
THE QUESTION
I work at a fairly small company, and I get along fairly well with most of my colleagues – with one notable exception.
One of my team members is an extremely talented individual, but he's impossible to work with. He frequently makes inappropriate and insulting jokes about co-workers, and some of his work contains subtle digs at members of our team.
Whenever I gently try to tell him that his comments aren't appreciated, he sarcastically thanks me for my contribution as a "junior employee," and suggests it's not my place to take issue with his behaviour. However, our manager seems hesitant to discipline him because he's seen as irreplaceable. Whenever I raise an issue about his behaviour, our manager says he'll talk to my co-worker, but nothing ever changes.
Tags: heather mackenzie, The Globe and Mail, the integrity group, Workplace Bullying Institute, Workplace Bullying University
Posted in Media About Bullying, Print: News, Blogs, Magazines, Workplace Bullying University | No Archived Comments | Post A Comment () »
Monday, April 14th, 2014
This news is really gonna upset bully apologists who worry so much about the tender sensibilities of offenders (and less about the harm inflicted by these creeps).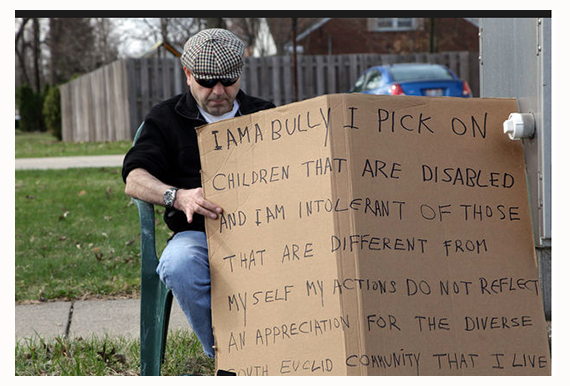 Northeast Ohio Media Group, April 13, 2014
SOUTH EUCLID, Ohio — The man accused of bullying his neighbors for 15 years, including children with developmental disabilities, carried out part of his punishment on Sunday by sitting at a busy intersection with a large sign that says he's a bully.
Edmond Aviv, 62, endured five hours of people yelling at him from passing cars while holding a sign that said: "I AM A BULLY! I pick on children that are disabled, and I am intolerant of those that are different from myself. My actions do not reflect an appreciation for the diverse South Euclid community that I live in."
Aviv, who ignored the comments and rarely looked up, said the judge's sentence and ensuing media coverage that garnered national and international attention ruined his life. He also denied he bullied the family.
"The judge destroyed me," said Aviv, who refused to answer other questions. "This isn't fair at all."
Tags: bully, bullying the disabled, Edmond Aviv, neighborhood bullying
Posted in Broadcasts: Video, TV, radio, webinars, Media About Bullying, Print: News, Blogs, Magazines, Tutorials About Bullying, WBI Education | No Archived Comments | Post A Comment () »
Tuesday, April 8th, 2014
By Carol Kinsey Goman, Forbes, April 6, 2014
I met Brenda when she managed a 2,000-person department for a Fortune 500 company. Brought in to help her with an upcoming change initiative, I was impressed by Brenda's intelligence, creativity, political savvy, and dedication to her job. She had all the qualities of a senior executive – which was her career goal.
But she was also a bully. One direct report described her as a "kiss-up and slap-down kind of manager." The targets of the bullying were especially demoralized, but even those on her staff who only witnessed the bad behavior began to devote more energy to protecting themselves than they did to helping the company. Brenda's dysfunctional management style eventually led to a decline in her department's performance and, as a result, the change initiative was abandoned. Eventually Brenda's career was derailed by the increasing number of enemies she made with every nasty glare and mean-spirited remark. She resigned when it became obvious that she would never get the promotion she coveted.
Stories about bullies don't always end with them resigning in disgrace. In fact, many bullies thrive. You may even be working for one.
Tags: 2010 WBI U.S. Workplace Bullying Survey, bully boss, bullying research, workplace bullying, Workplace Bullying Institute
Posted in Media About Bullying, Print: News, Blogs, Magazines, Tutorials About Bullying, WBI Education, WBI in the News | No Archived Comments | Post A Comment () »
Monday, April 7th, 2014
By Jane Mundy, Lawyers and Settlements, April 7, 2014
Craig, a commercial truck driver, isn't about to take bullying lying down. He believes this type of harassment should be a violation of the California labor law. Unfortunately, this type of harassment is not contrary to the California labor code, but wrongful termination is.
If not for Craig being pro-active, he wouldn't be able to collect unemployment insurance. His boss, the owner of the trucking company, accused Craig of misconduct and fired him. Initially Unemployment Insurance denied his claim but he went before an impartial unemployment Administration Law judge who sided with him.
"That was one notch in my favor and I was able to collect backpay, but I still haven't been paid for the week I worked, and even more important, this guy shouldn't get away with his bullying," says Craig. "I only worked one week for him and it was probably the worst week of my life.
Tags: 2007 WBI US Workplace Bullying Survey, California labor law, Gary Namie, Healthy Workplace Bill, NAGE Local 282
Posted in Healthy Workplace Bill (U.S. campaign), Media About Bullying, Print: News, Blogs, Magazines, WBI in the News, Workplace Bullying Laws | No Archived Comments | Post A Comment () »
Thursday, April 3rd, 2014
If You Don't Want Anti-Bullying Legislation, Give Me a 'Hell Yeah!'
by Jon Hyman, Workforce Management, April 3, 2014
Bullying in the workplace isn't illegal, unless it's bullying because of some protected characteristic (sex, race, etc.). Yet, just because something is legal doesn't mean it should be condoned.
According to Today's General Counsel (citing the Workplace Bullying Institute's 2014 US Workplace Bullying Survey), an astounding 72 percent of employees report that their employers have not done anything to curb bullying in the workplace.
The quickest way to ensure that generalized workplace bullying becomes illegal is for employers to continue to ignore it. If employees continued to report that they are being bullied, and that their employers are not doing anything to stop it, legislatures will step in and pass anti-bullying laws.
So, what should you do? Treat bullying like it's illegal. Create a workplace culture in which bullying is not permitted to occur.
Tags: anti-bullying legislation, Healthy Workplace Bill, WBI 2014 U.S. Workplace Bullying Survey, workplace bullying, Workplace Bullying Institute
Posted in Healthy Workplace Bill (U.S. campaign), Media About Bullying, Print: News, Blogs, Magazines, WBI in the News, Workplace Bullying Laws | No Archived Comments | Post A Comment () »
Monday, March 24th, 2014
Name-Calling in the Virtual Playground
by Nick Bilton, New York Times, March 23, 2014
Silicon Valley sometimes feels like high school. It has its alpha types and its outcasts, its bullies and its bullied.
That, anyway, is one takeaway from the recent flap over Secret, a six-week-old social app that connects people anonymously. Secret has apparently put the Valley in touch with its inner 10th grader and become a cyber-schoolyard for all manner of gossips and trolls inside the technology industry. The blowback has been swift.
Veronica Belmont, a video host and technology writer, promptly hung up on the app. "Deleted the app Secret," Ms. Belmont wrote in early February.
Aaron Durand, a photographer, soon followed. "It's not me, it's you," Mr. Durand tweeted a few days later. Many others followed suit.
"I don't need that kind of hate in my life," one entrepreneur told me. "It's like high school all over again."
If this is what happens in the temples of American technology, think what will happen when Secret and similar apps hit real high schools and middle schools. Parents, you have been warned.
The founders of Secret, Chrys Bader-Wechseler and David Byttow, told me that they saw the potential pitfalls and were trying to find ways to prevent cyberbullying over their app before it finds its way to youngsters. They said Secret was supposed to help people, not hurt them.
Tags: bullying technology, Secret
Posted in Media About Bullying, Print: News, Blogs, Magazines | No Archived Comments | Post A Comment () »
Friday, March 14th, 2014
Why Wait for a Law? Stop Bullying Now
By Stephen Paskoff, Workforce Management, March 13, 2014
I recently participated in a webcast discussing current workplace issues, including bullying and abusive conduct. So far, such behavior, however defined or named, has not been recognized as illegal at the state or federal level. Generally, these and other programs I have participated in mostly consider whether workplace bullying is an imminent or remote litigation risk. No doubt that's a matter to be concerned about.
However, to me here's the more critical question: Why are organizations spending so much time discussing what might happen in the future as opposed to addressing the organizational damage abusive behaviors are causing them right now? Wouldn't it be a strange business world if leaders waited to maximize the profitability of their manufacturing and sales processes until some legislature passed a law compelling them to do so? But that's just what they are doing when it comes to bullying conduct.
Tags: costs of bullying, employers, Healthy Workplace Bill, legislation, Paskoff, workplace bullying
Posted in Media About Bullying, Print: News, Blogs, Magazines | No Archived Comments | Post A Comment () »
Thursday, March 13th, 2014
Kelly Greenberg has been coach of the women's basketball team at Boston University for 10 years, and at the University of Pennsylvania and Holy Cross for a total of 12 years before that. Her style has been described as "difficult," and bullying by the Boston Globe.
This season, four scholarship players walked away from the team, tired of the emotional abuse Greenberg directed at them. Without scholarships that BU might take back, staying in school there is an expensive proposition. From the Globe article, here are some statements by the women players.
"I arrived feeling very confident and motivated. Then I felt bullied, threatened, and emotionally abused by the coach. By the time I left, she had demolished me as a person. She didn't treat us like human beings at all" … Dana Theobald
"I discovered that when you play for Coach Greenberg, you don't play the game you love. You play her game, an emotional game that is not about basketball." … Melissa Gallo
And from the student who was taken to hospital when suicide was contemplated
"Basketball is a contact sport. We have all played for tough coaches. But I went to BU because I believed [Greenberg] was a great coach, and I was shocked by how it turned out. It was very scary. I was blaming everything on myself because of the way I had been treated. I knew deep inside that it wasn't me, but I was too afraid to say it was [Greenberg] because she didn't make me feel supported. Giving up a $60,000-a-year scholarship is the hardest thing I've ever done. I hate that I'm not in school, but it had to be done. My spirit was broken." … Dionna Joynes
These comments are completely consistent with the experiences of bullied targets. The bullying was not about the sport of basketball (the equivalent of work-related tasks) but about Greenberg's volatile emotionality. Finally, illustrating the perfect fit with the phenomenon of bullying, the targets lost their jobs (the sport) they loved because they were involuntarily emotionally abused.
It seems coach Greenberg had trouble with players who were injured. She assaulted them as "selfish" after suffering a concussion or ankle injury.
When two players quit previously and the university conducted its "investigation," Greenberg was made aware that she is difficult and that she had made regrettable mistakes.
Let's see if BU renews Greenberg's contract. Read the full story in the Globe.
Tags: Boston University, coach bullying, Dionna Joynes, emotional abuse, Kelly Greenberg, sports bullying, suicide, woman-on-woman, workplace bullying
Posted in Media About Bullying, Print: News, Blogs, Magazines, Tutorials About Bullying, WBI Education | No Archived Comments | Post A Comment () »
Monday, March 10th, 2014
By Martha C. White, Time, March 10, 2014
You can take the bully out of the schoolyard, but it seems you can't take the playground mentality out of bullies even after they grow up. More than a quarter of Americans say they've been bullied at work, 7% within the last year alone, according to the Workplace Bullying Institute, which commissioned a new survey studying the prevalence and impact of bullying on the job.
Men make up about two-thirds of bullies, and their targets are women 57% of the time. Although women make up only 31% of bullies, their targets are overwhelmingly — more than two-thirds of the time — other women. Bullying by a boss is the most common kind of workplace bullying, making up more than half of all instances.
"Sadly, what stops bullying the most is requiring the target to lose her or his job," says Gary Namie, director of the Workplace Bullying Institute. According to the survey, in 61% of cases, the bullying only stops when the target quits, is fired or forced out.
But experts in office bullying say there's hope. There are steps you can take to stop office bullies. So if you've been the target of the office bully, read on.
Tags: target action plan, what to do, workplace bullying
Posted in Print: News, Blogs, Magazines, WBI Education, WBI in the News, WBI Surveys & Studies | 2 Archived Comments | Post A Comment () »