Archive for the 'Hear Ye! Hear Ye! 2' Category
Tuesday, October 6th, 2015
8th Annual WBI Celebration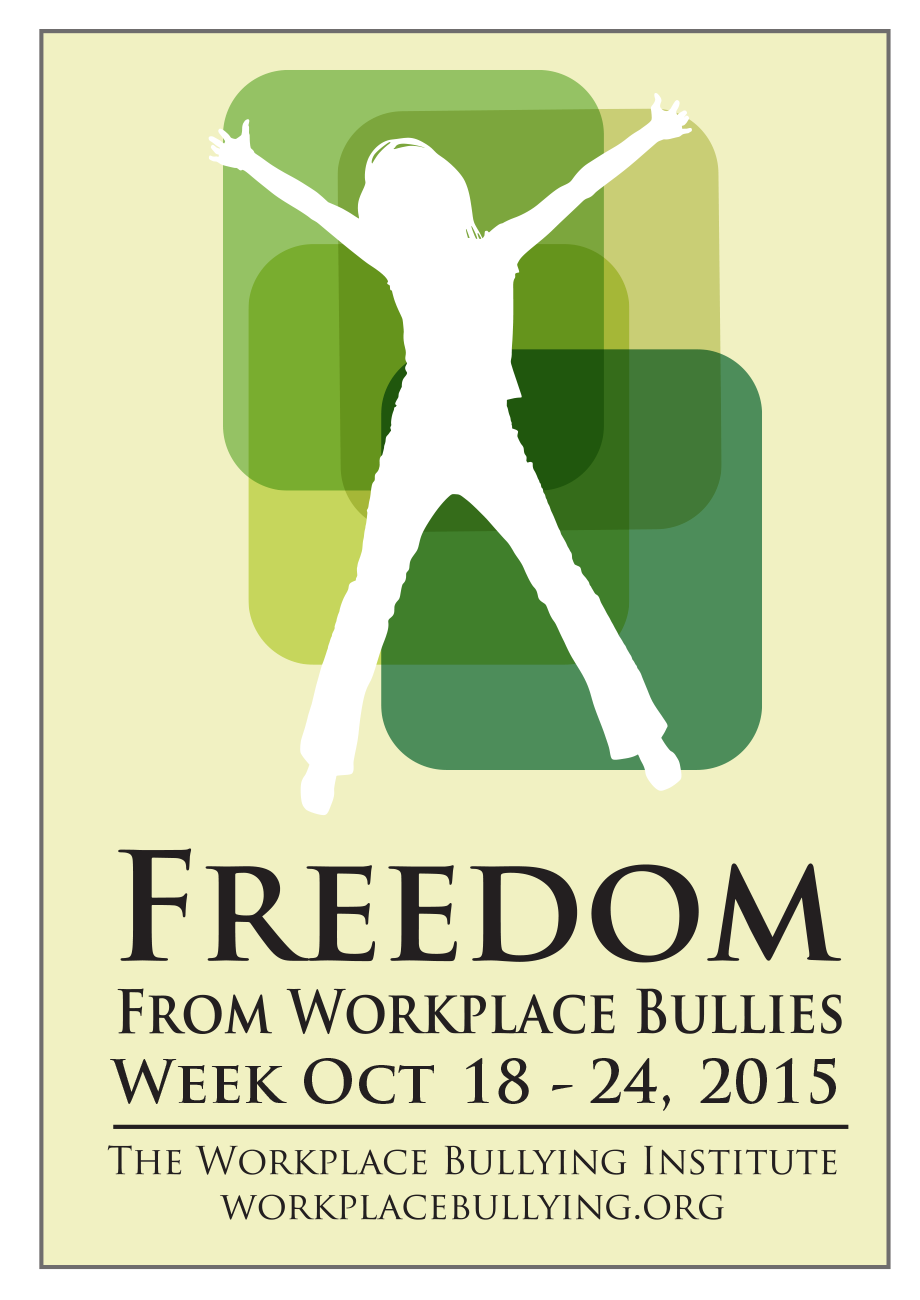 DO SOMETHING POSITIVE!
• As Targets of bullying, shame paralyzes us and prevents us from defending ourselves.
• As members of Targets' Families, we watch in horror as our loved ones' lives unravel before our eyes.
• As Witnesses, fear of engagement, fear of threats to our own safety, prevent us from helping targets.
• As Managers, we lack the skills to stop it, confusing bullying with conflict, which we all abhor.
• As HR, we watch helplessly because laws do not compel policies that give us authority to act.
• As Union officers, we are too occupied with survival to see how much our members are suffering.
• As Owners/Executives, we wonder why some of the most admired managers are considered abusive.
• As State Lawmakers, we fear losing business lobby support, so we ignore the Healthy Workplace Bill.
Unrealistic fears, self-blame, rampant institutional indifference, and waiting for regulations are the excuses to not take positive prosocial action today to help those who are harmed by abusive conduct of others. How dare we turn our backs. Are we not moral human beings with empathy for the plight of oppressed peers?
So, just this one week of the year, let's say "no" to all the rationalizations that sustain bullying in our workplaces. Open our eyes and see the harm caused.
Yes. Bullying costs employers. But bullying carries a tremendous human cost in terms of preventable stress-related injuries to the most capable workers among us.
DO SOMETHING POSITIVE! Visit the Freedom Week section of the WBI website.
Tell WBI the activity you plan for the week and we will post it here. Send message to namie at workplacebullying dot org.
Downloadable 2015 Flyers to print for your workplace.
Tags: Freedom Week, Oct 18-24, workplace bullying, Workplace Bullying Institute
Posted in Freedom Week, Hear Ye! Hear Ye! 2, WBI Education | No Archived Comments | Post A Comment () »
Friday, September 25th, 2015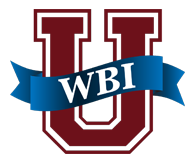 November 13-14-15
In Boise, Idaho
Workplace Bullying University® Training for Professionals
The only intensive, research-driven, comprehensive seminar in all aspects of the Workplace Bullying phenomenon in the world. Created in 2008 by the Drs. Namie, founders of the Workplace Bullying Institute. Three days of exceptional learning, an entirely unique experience.
For Leaders, Nurses, Physicians, Union advocates, Psychologists, Psychotherapists, Consultants, Trainers, HR
For a limited time, we offer an unprecedented tuition discount.
Read all the program details and testimonials at the Workplace Bullying University® website.
Tags: education, Gary Namie, Ruth Namie, seminar, training, Workplace Bullying University
Posted in Hear Ye! Hear Ye! 2, WBI Education, Workplace Bullying University | No Archived Comments | Post A Comment () »
Wednesday, April 22nd, 2015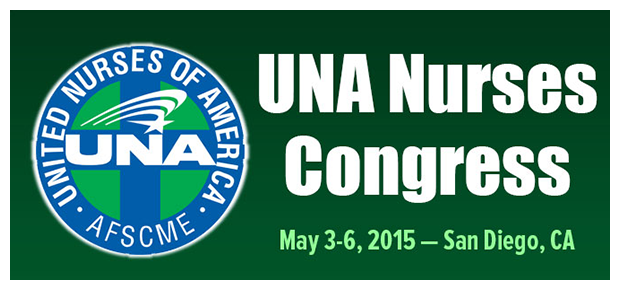 On Sunday May 3, Dr. Gary Namie, WBI Director addresses the national conference. He will also deliver several workshops. If you are a UNA or AFSCME member, consider attending. Too often nurses consider lateral or horizontal violence an acceptable occupational hazard. It need not be. The irony is that healthcare providers, primarily nurses, care more for patients than for their own health. Much can, and should, be done to make the healthcare workplace safe for nurses.
Location: Hilton San Diego Resort & Spa; Mission Bay Drive, San Diego, CA.
Tags: AFSCME, lateral violence, National Nurses Congress, UNA, workplace bullying
Posted in Hear Ye! Hear Ye! 2 | 1 Archived Comment | Post A Comment () »
Sunday, April 12th, 2015
For some reason, Vermont lawmakers sponsoring a paid sick leave bill appropriated our the WBI bill name – Healthy Workplace Bill – in 2015. We support paid sick leave, but care most about ending health-harming abuse in the workplace.
Now comes Vermont Senate bill S 143 –An act relating to protecting employees from abuse at work. WBI thanks sponsor Sen. Anthony Pollina. Tenacious Vermont State Coordinator, Sherrill Gilbert, has worked for several sessions to have the HWB not only introduced but heard in committee. Despite the formation of a task force in past years, the historically progressive state has failed to take definitive action against this scourge.
The bill has been referred to a Senate committee on which a former sponsor sits. We await scheduling of a public hearing at which Vermonters can testify about the need for a state law.
In 2015, VT S 143 is the 9th bill to be introduced across the states. Vermont joins Texas, New York, Massachusetts and Minnesota with complete versions (with employer liability) of the Healthy Workplace Bill.
Details of the bill can be found at the VT State Page of the Healthy Workplace Bill website.
Tags: Anthony Pollina, Gary Namie, Healthy Workplace Bill, S 143, Sherrill Gilbert, Vermont, workplace abusive conduct, workplace bullying
Posted in Healthy Workplace Bill (U.S. campaign), Hear Ye! Hear Ye! 2, Workplace Bullying Laws | No Archived Comments | Post A Comment () »
Wednesday, April 1st, 2015
Dispatch from WBI colleague Francesco A. Portelos, New York City teacher
Sometimes workplace bullying affects only the victim. Sometimes it propagates to surrounding colleagues, morale and family members. In all cases though, the work is negatively affected. As you can imagine, when workplace bullying hits schools, the students are hurt as well.
Recently, a group of bullied New York City educators, known as Don't Tread on Educators (DTOE), got together and created a list of administrators that have been known to bully and harass their employees. The Administrators in Need of Improvement (ANOI) list has grown in recent months and is now at about 85 administrators throughout New York's five boroughs. It even has an interactive map to locate these bullies by geographic area. The list has given teachers a platform to share their stories and concerns about workplace harassment. The curtain has been pulled back and the harassment exposed.
Many of these stories are similar and show a pattern of harassment that exist in the NYC Department of Education. The ANOI list gives teachers who are being bullied the power to hit administrators where it hurts. ON SOCIAL MEDIA. Visit the DTOE website.
###
Hear Francesco's personal story
Tags: abusive conduct, administrators, ANOI, DTOE, educators, Francesco Portelos, New York City schools, perpetrators, teachers, workplace bullying
Posted in Guest Articles, Hear Ye! Hear Ye! 2, Target Tale, WBI Education | 7 Archived Comments | Post A Comment () »
Thursday, March 12th, 2015
Texas state House Rep. Garnet F. Coleman on March 11, 2015 introduced the full version of the WBI anti-abuse Healthy Workplace Bill (HWB). HB 3226, the first-ever introduction in Texas.
Texas is the 29th state since 2003 to introduce the HWB. Texas joins Massachusetts and New York with proposed laws that make employers liable for exposing workers to health-harming abusive work environments.
Texas is the 7th state to introduced abusive conduct-related legislation in 2015.
Visit the Texas State Page at the HWB website for details.
The HWB campaign map for March 12, 2015.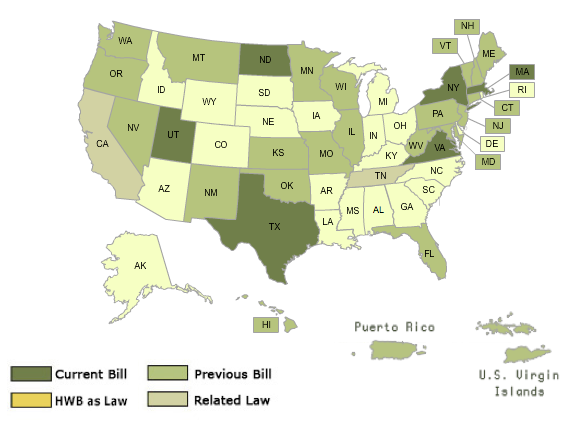 Tags: abusive conduct, bill, Garnet F. Coleman, Healthy Workplace Bill, law, legislation, Texas, workplace bullying
Posted in Healthy Workplace Bill (U.S. campaign), Hear Ye! Hear Ye! 2, Workplace Bullying Laws | No Archived Comments | Post A Comment () »
Wednesday, March 11th, 2015
Mass. State Rep. Ellen Story, a staunch ally of the anti-abuse campaign for the workplace, has introduced the Healthy Workplace Bill (HWB) for the 2015-16 legislative session. Rep. Story has been involved since 2004! Her latest contribution is House bill H 1771. This is the full version of the bill that carries employer liability for enabling and maintaining a toxic work environment in which employees can be subjected to health-harming abusive conduct.
Mass. joins New York State as the only two states with current bills that hold employers accountable for the psychological safety of the work environment. Of course, the HWB grants good employers an escape from vicarious liability when they voluntarily take steps to prevent and correct abusive conduct. But toothless bills gutted by the state chambers of commerce (and others in the business lobby) share one common element — no employer liability.
The very effective WBI affiliate MA Healthy Workplace Advocates were able to secure 57 co-sponsors. In years past, the group, working in concert with organized labor, NAGE, orchestrated successful committee hearings. Perhaps this year after another hearing, H 1771 can move to a floor vote and beyond … to the Governor's desk.
We salute our Massachusetts volunteer State Coordinators and Citizen Lobbyists. Stay tuned.
You can track H 1771's progress at the MA State Page of the HWB website.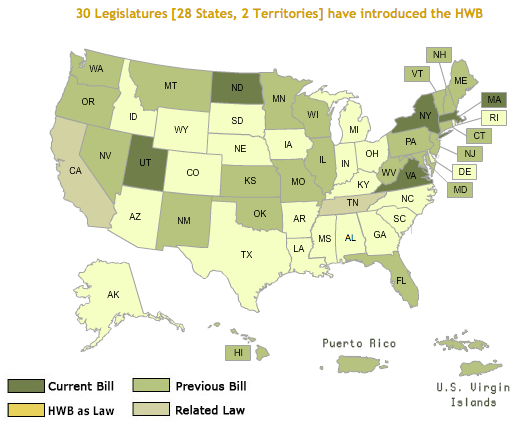 Tags: abusive conduct, abusive work environment, Healthy Workplace Bill, MA Healthy Workplace Advocates, Mobbing, workplace bullying
Posted in Healthy Workplace Bill (U.S. campaign), Hear Ye! Hear Ye! 2, Workplace Bullying Laws | 1 Archived Comment | Post A Comment () »
Friday, February 27th, 2015
Richard Himmer, WBI Affiliate and Workplace Bullying University graduate, leads bullied targets on a unique journey beginning on March 19 from 7 to 8 pm at Extendicare Health 3220 Rosedale St., Gig Harbor, Washington. Richard has a unique process designed to restore targets' lost dignity. He is endorsed by WBI.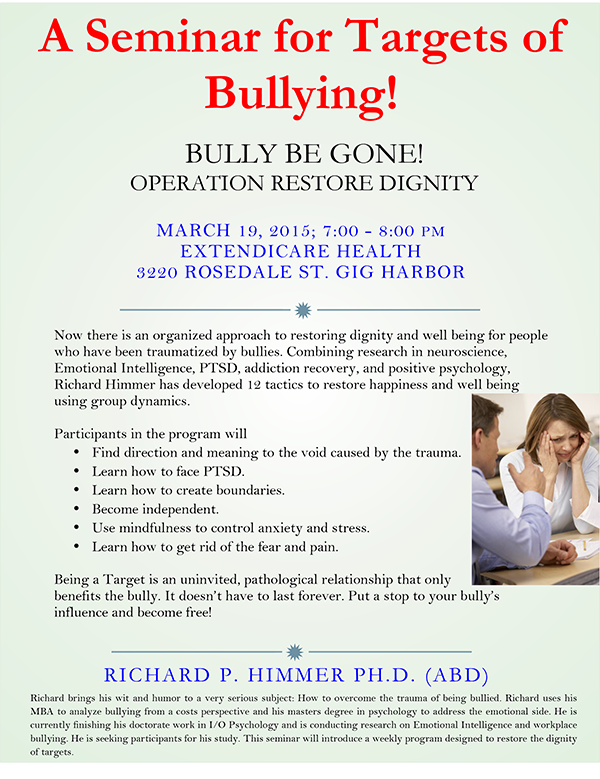 Tags: bullied targets, Dignity, recovery, Richard Himmer, trauma, WBI, workplace bullying
Posted in Events & Appearances, Hear Ye! Hear Ye! 2 | 1 Archived Comment | Post A Comment () »
Tuesday, February 10th, 2015
The WBI State Coordinators are hard at work meeting with legislative sponsors for the WBI anti-bullying Healthy Workplace Bill. Here's a status report. As of Feb. 10 …
• North Dakota became the 27th state to introduce something — HB 1428. That something is a simple paragraph declaring that public sector employers have to address harassment, ostensibly not just the currently illegal variety of discriminatory misdeeds. The bill cleared the House on a 91-0 vote and is on to the Senate for consideration. Visit the ND State page at the HWB website for details.
• Connecticut has a somewhat related bill — SB 432. It creates an "advisory board," akin to past study groups and task forces that lawmakers use to delay taking any real action. Visit the CT State page at the HWB website for details.
• Utah's HB 216 is the boldest of the small step bills to date. It requires employers to address the HWB's definition of health-harming abusive conduct by providing annual training. Better than California's recently implemented training mandate, Utah would require coverage of not only the definition of the phenomenon, but its effect on worker's health and a description of what remedies the employer has in effect. Visit the UT State page at the HWB website for details.
• We saved the best for last. New York returns to lead the nation with a complete Healthy Workplace Bill in the Assembly — A 3250. The bill provides legal redress for employees harmed by abusive conduct. It rewards proactive employers who voluntarily protect workers with adequate policies and procedures with a litigation prevention mechanism. It defines the phenomenon and applies to employers in both private and public sectors. Our State Coordinators continue to set the highest bar for comparison. A 3250 has 80 co-sponsors. The Senate companion bill is in the works. Visit the NY State page at the HWB website for details.
Stay tuned for major developments as additional states come on board.
Tags: bills, Gary Namie, Healthy Workplace Bill, laws, legislation, prevention, state laws, Workplace Bullying Institute
Posted in Healthy Workplace Bill (U.S. campaign), Hear Ye! Hear Ye! 2, WBI Education, Workplace Bullying Laws | No Archived Comments | Post A Comment () »
Saturday, February 7th, 2015
Wednesday Feb. 11 Webinar for Employers & HR
2 pm EST, 60 minutes
A joint production of the Workplace Bullying Institute and Biz21 Publishing




When the Bully is the Boss
Many companies assume they don't have a bullying problem. Employees get along. In meetings, team members respect each other. But look closer. You might find that the bully is the very person you would expect your employees to turn to if they are being bullied—the boss.
Some managerial bullying is unintentional — supervisors see themselves as "demanding results." Other times bosses know their behavior crosses the line, but don't care.
Not convinced? Consider the slew of new state laws protecting workers against bullying. And consider the number of companies that have rushed to adopt anti-bullying policies and procedures for investigating complaints.
The costs are real. The employee's health can suffer, causing missed work, higher healthcare costs and reduced productivity. Bullied employees are also a flight risk, as are those who witness bullying. And there's the threat of lawsuits against the company.
In this session, Dr. Gary Namie will teach you:
• How to recognize and respond to a bully boss
• What differentiates "bullying" from other conduct- both illegal (discrimination) and legal (non-abusive disagreements)
• Why the workplace climate may be allowing the bully to prosper
• Why owners and executives often tend to defend bullies
• How to build an abuse-intolerant, accountable culture for all employees, regardless of rank
• How to measure outcomes of anti-bullying activities that benefit both employees and the company.
Tags: biz21, bully bosses, Gary Namie, webinar, workplace bullying, Workplace Bullying Institute
Posted in Events & Appearances, Hear Ye! Hear Ye! 2 | No Archived Comments | Post A Comment () »