Archive for the 'Hear Ye! Hear Ye! 2' Category
Friday, February 27th, 2015
Richard Himmer, WBI Affiliate and Workplace Bullying University graduate, leads bullied targets on a unique journey beginning on March 19 from 7 to 8 pm at Extendicare Health 3220 Rosedale St., Gig Harbor, Washington. Richard has a unique process designed to restore targets' lost dignity. He is endorsed by WBI.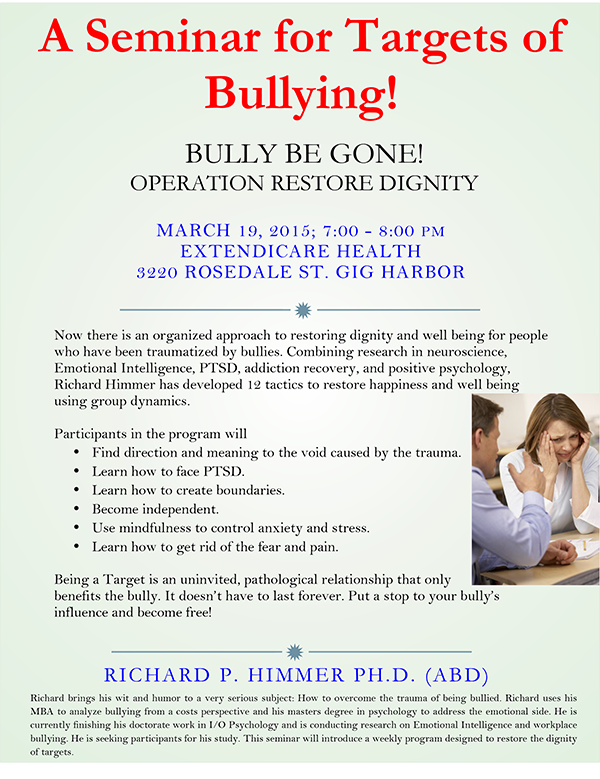 Tags: bullied targets, Dignity, recovery, Richard Himmer, trauma, WBI, workplace bullying
Posted in Events & Appearances, Hear Ye! Hear Ye! 2 | No Archived Comments | Post A Comment () »
Tuesday, February 10th, 2015
The WBI State Coordinators are hard at work meeting with legislative sponsors for the WBI anti-bullying Healthy Workplace Bill. Here's a status report. As of Feb. 10 …
• North Dakota became the 27th state to introduce something — HB 1428. That something is a simple paragraph declaring that public sector employers have to address harassment, ostensibly not just the currently illegal variety of discriminatory misdeeds. The bill cleared the House on a 91-0 vote and is on to the Senate for consideration. Visit the ND State page at the HWB website for details.
• Connecticut has a somewhat related bill — SB 432. It creates an "advisory board," akin to past study groups and task forces that lawmakers use to delay taking any real action. Visit the CT State page at the HWB website for details.
• Utah's HB 216 is the boldest of the small step bills to date. It requires employers to address the HWB's definition of health-harming abusive conduct by providing annual training. Better than California's recently implemented training mandate, Utah would require coverage of not only the definition of the phenomenon, but its effect on worker's health and a description of what remedies the employer has in effect. Visit the UT State page at the HWB website for details.
• We saved the best for last. New York returns to lead the nation with a complete Healthy Workplace Bill in the Assembly — A 3250. The bill provides legal redress for employees harmed by abusive conduct. It rewards proactive employers who voluntarily protect workers with adequate policies and procedures with a litigation prevention mechanism. It defines the phenomenon and applies to employers in both private and public sectors. Our State Coordinators continue to set the highest bar for comparison. A 3250 has 80 co-sponsors. The Senate companion bill is in the works. Visit the NY State page at the HWB website for details.
Stay tuned for major developments as additional states come on board.
Tags: bills, Gary Namie, Healthy Workplace Bill, laws, legislation, prevention, state laws, Workplace Bullying Institute
Posted in Healthy Workplace Bill (U.S. campaign), Hear Ye! Hear Ye! 2, WBI Education, Workplace Bullying Laws | No Archived Comments | Post A Comment () »
Saturday, February 7th, 2015
Wednesday Feb. 11 Webinar for Employers & HR
2 pm EST, 60 minutes
A joint production of the Workplace Bullying Institute and Biz21 Publishing




When the Bully is the Boss
Many companies assume they don't have a bullying problem. Employees get along. In meetings, team members respect each other. But look closer. You might find that the bully is the very person you would expect your employees to turn to if they are being bullied—the boss.
Some managerial bullying is unintentional — supervisors see themselves as "demanding results." Other times bosses know their behavior crosses the line, but don't care.
Not convinced? Consider the slew of new state laws protecting workers against bullying. And consider the number of companies that have rushed to adopt anti-bullying policies and procedures for investigating complaints.
The costs are real. The employee's health can suffer, causing missed work, higher healthcare costs and reduced productivity. Bullied employees are also a flight risk, as are those who witness bullying. And there's the threat of lawsuits against the company.
In this session, Dr. Gary Namie will teach you:
• How to recognize and respond to a bully boss
• What differentiates "bullying" from other conduct- both illegal (discrimination) and legal (non-abusive disagreements)
• Why the workplace climate may be allowing the bully to prosper
• Why owners and executives often tend to defend bullies
• How to build an abuse-intolerant, accountable culture for all employees, regardless of rank
• How to measure outcomes of anti-bullying activities that benefit both employees and the company.
Tags: biz21, bully bosses, Gary Namie, webinar, workplace bullying, Workplace Bullying Institute
Posted in Events & Appearances, Hear Ye! Hear Ye! 2 | No Archived Comments | Post A Comment () »
Wednesday, December 31st, 2014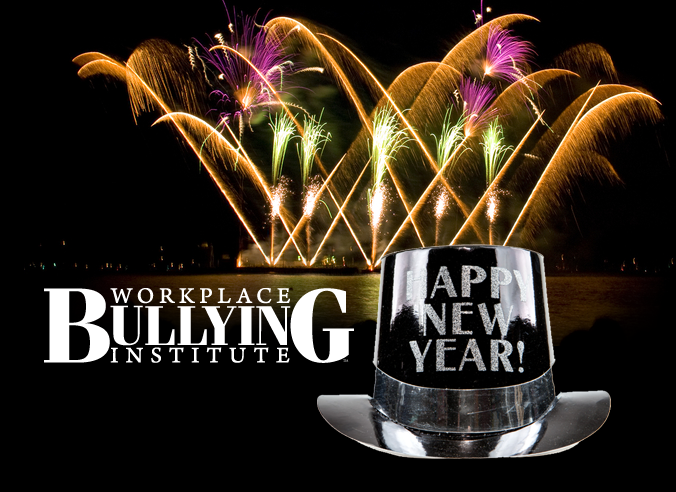 Tags: new years
Posted in Hear Ye! Hear Ye! 2 | 1 Archived Comment | Post A Comment () »
Thursday, October 9th, 2014
People who benefit from the advice found at this WBI website or in our books or on the WBI YouTube channel, or from the WBI videos designed to help bullied individuals can now help WBI.
GR Northwest is our online shopping site. A small portion of the sales goes to WBI.
We start with seasonal offerings — Halloween and Christmas.
Tell us what you normally purchase online and we will attempt to make those items available so you can support WBI simply by making your routine online purchases.
Dash off an email to
ideas at grnorthwest.com so we can try to acquire those items for you.
Thank you for your continued support.
Tags: bullied targets, shopping, support, Workplace Bullying Institute
Posted in Hear Ye! Hear Ye! 2 | No Archived Comments | Post A Comment () »
Thursday, September 25th, 2014
Freedom Week is a chance to break through the shame and silence that shrouds workplace bullying. No one asks to be targeted, to be dominated, to be humiliated. The psychological assaults harm the person's health and the health and well being of families, too.
Bullying at work is most like the phenomenon of domestic violence. [October is also Domestic Violence Awareness Month.] It is abuse where the abuser is on the payroll. Coworkers and employers notoriously ignore it. Through their indifference, they tacitly support and encourage it. Employers suffer no consequences because workplace bullying is not yet illegal in the U.S.
Freedom Week is a time to be daring and bold. Do something!
Tell WBI what you have planned and we will announce it here at the website.
Visit the Freedom Week site to learn what different groups can do.
Downloadable 2014 WBI Freedom Week Flyers
• Freedom Flyer Format #1
• Freedom Flyer Format #2
• Freedom Flyer Format #3
Tags: Freedom from workplace bullies week, Freedom Week 2014, Workplace Bullying Institute
Posted in Freedom Week, Hear Ye! Hear Ye! 2, WBI Education | 1 Archived Comment | Post A Comment () »
Thursday, August 7th, 2014
The National Association of Social Workers (NASW) Conference was treated to a presentation on workplace bullying by WBI Affiliates Linda R. Crockett and Sherri Tanchack. Both are Canadian pioneers leading the group — Social Workers Against Bullying.
Linda and Sherri recognize both the importance of clinicians treating bullied patients to (1) understand the work environment as causing the harm from workplace bullying and (2) the necessity of therapists hurt by bullying to heal so as to help others. If you are a social worker in Canada or the U.S., contact them. We met Linda and Sherri at Workplace Bullying University.
Here are the two along with their co-presenter at NASW, Dr. Tracy Whitaker, and the new NASW president, Dr. Darrell P. Wheeler.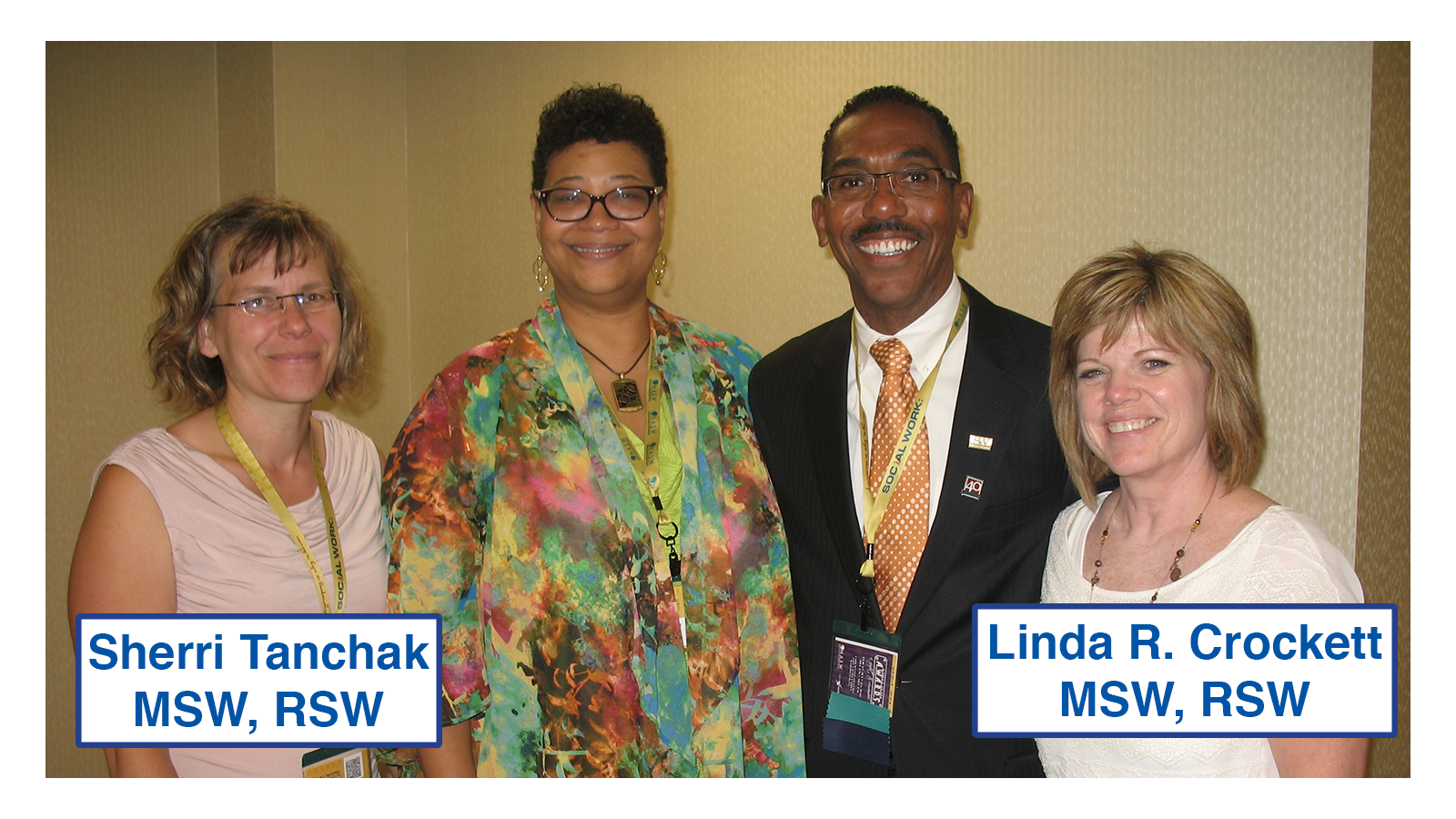 Tags: Linda Crockett, NASW, Sherri Tanchak, social workers against bullying, workplace bullying
Posted in Hear Ye! Hear Ye! 2 | No Archived Comments | Post A Comment () »
Thursday, July 17th, 2014
We help documentary film makers by participating in their films. One successful documentary was Murder By Proxy.
Filmmakers Sheila Dvorak and Jay Galione, produced Gone Postal: The Documentary. Jay's father's experience as a proud postal worker watching the destruction by politicians of the USPS inspired the film. We met Jay and Sheila when they filmed our reaction to the manufactured crises in the Postal Service.
Let's all help fund completion of this worthy project on Indiegogo. (WBI supporters generously funded the 2014 US Workplace Bullying Survey on Indiegogo.) Please help these filmmakers.
Visit the Gone Postal website | Visit the Indiegogo fund raising page
Tags: documentary film, Gone Postal, indiegogo, Jay Gallione, Sheila Dvorak
Posted in Documentaries, Hear Ye! Hear Ye! 2, Media About Bullying | No Archived Comments | Post A Comment () »
Wednesday, July 16th, 2014
If you are anywhere near Deerfield Beach, FL, you owe it to yourself to attend the Broward Crime Commission Workplace Bullying event. Come meet Dr. Gary Namie (WBI Director, co-author, The Bully At Work), Dr. Maureen Duffy (co-author, Overcoming Mobbing), law professor Kerri Stone, and Jonathan Martin attorney David Cornwell.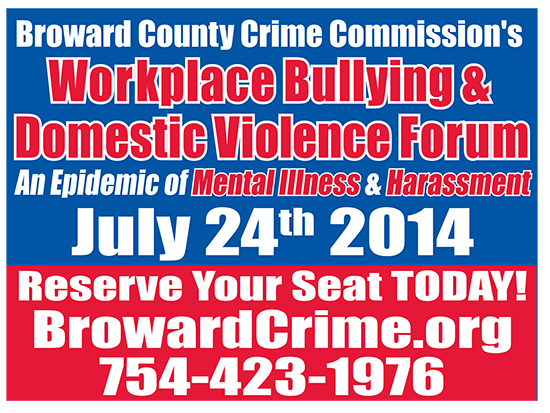 Tags: adult bullying, Broward Crime Commission, David Cornwell, Gary Namie, Kerri Stone, Maureen Duffy, workplace bullying
Posted in Hear Ye! Hear Ye! 2, NFL: Jonathan Martin | No Archived Comments | Post A Comment () »
Monday, July 14th, 2014
Vernetta Rosemary Northcutt (1945 – 2014)
At South Sacramento Hospital beloved mother and educator Vernetta Rosemary Northcutt passed early evening on June 3, after a valiant two plus year battle against pancreatic cancer. Her son Will and oldest nephew Robert whom loved her dearly, were with her throughout her final hours.
She moved to Elk Grove eight years ago after living in Vallejo, where she was known and respected for over 20 years as a teacher in the VUSD, spending the vast majority of her 25 plus year educational career with the VUSD as a Vallejo High School teacher. Loved and appreciated by a great number of her students, Ms. Northcutt was well known for her devotion to teaching students to reach beyond their potential and be all that they could be using well developed educational tools and creative methods.
She also fought to reclaim the dignity denied her by that same school district. Read the story of her travails here.

A memorial for her past students and close friends will be held on July 27 at the Vallejo (CA) Community Center on 225 Amador St. between the hours of 3 and 8 p.m.
If you are interested in assisting with the memorial in any way please contact her son Will Flynn at AnubanUT2@gmail.com or any member of the Ruth Love family.
Thanks to all that truly cared about her and treated her with the respect she deserved. Let us rejoice, for she is truly at peace in the company of the Lord.
Tags: Vallejo United School District, Vernetta Northcutt, workplace bullying
Posted in Hear Ye! Hear Ye! 2, Tutorials About Bullying, WBI Education | No Archived Comments | Post A Comment () »