Archive for the 'Good News' Category
Monday, October 26th, 2015
Though at WBI we focus exclusively on adults bullying one another in the workplace, there are lessons to be derived from attempts to stop schoolage bullying. A wonderful experiment exposed adults at a bus stop (probably in S.F. based on signage) to two girls tormenting a third girl. Note how adults intervene and some remove the bullied girl from the others for safety. If only adults would do the same to help their tormented colleagues at work. Of course, adults at a bus stop face no risk intervening with younger people. Wonder if the result would be the same if the kids were all boys and of high school age (who might be carrying a gun in their backpack), or boys of color?????
Read about the film at Stand Up Against Bullying.
Directed/Produced by Rob Bliss Creative: http://www.robblisscreative.com/

Tags: Bassett Unified School District, bullying, bystander, intervention, witness
Posted in Good News, Tutorials About Bullying, WBI Education | No Archived Comments | Post A Comment () »
Saturday, October 24th, 2015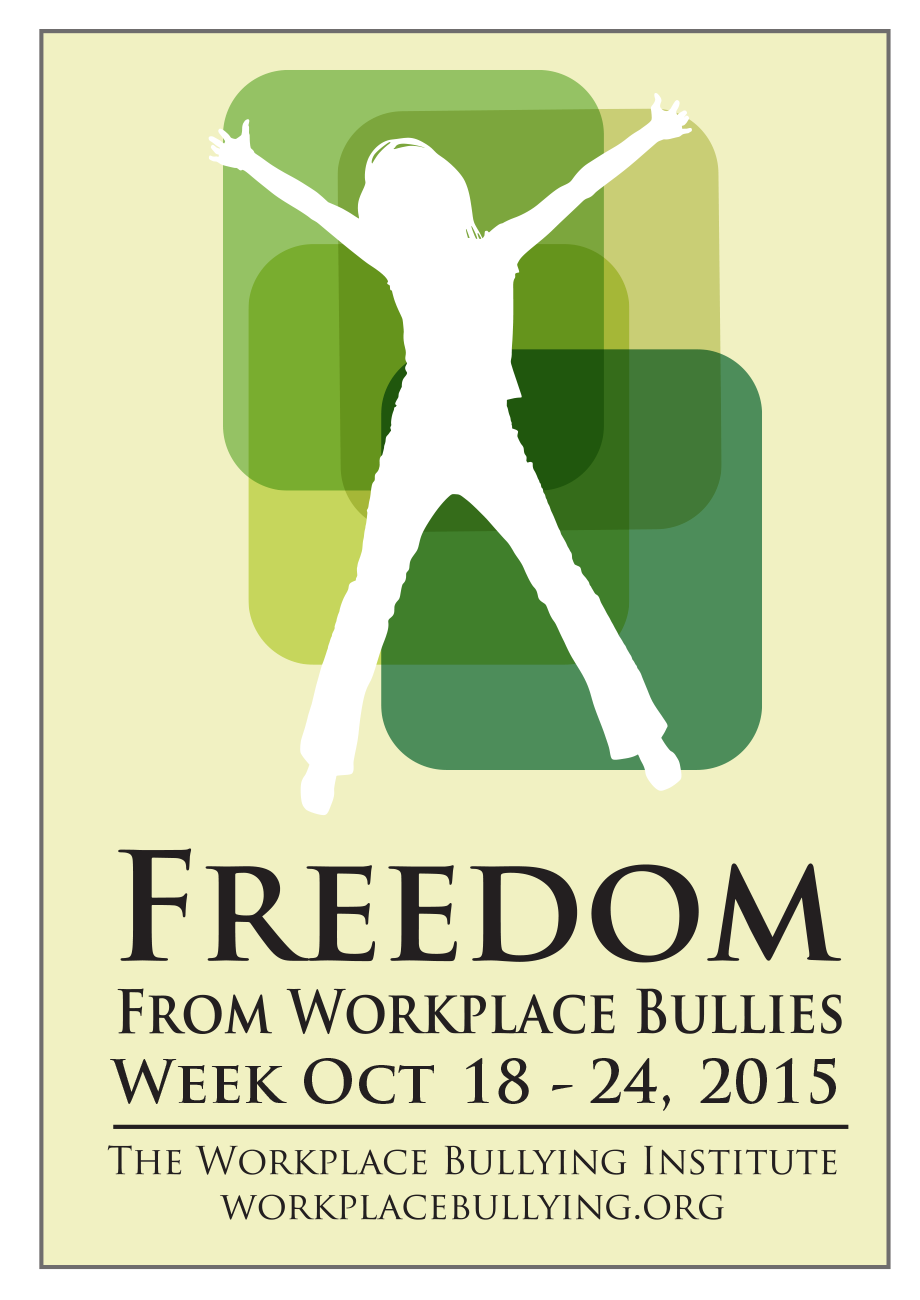 The Workplace Bullying Institute thanks the following California 116 cities and counties for acknowledging Freedom from Workplace Bullies Week and the necessity of caring for those subjected to abusive conduct at work.
It's a call to action for employers in those cities and the entire state.
Click to view the Proclamations issued at the request of the WBI-affiliated California Healthy Workplace Advocates.
Counties
Alameda County
Del Norte County
El Dorado County
Humboldt County
Lassen County
Madera County
Sierra County
Cities
Albany
Anaheim
Arcata
Artesia
Avenal
Belmont
Benicia Original home of the Workplace Bullying Institute
California was the first state in the nation in 2003 to introduce the WBI anti-bullying Healthy Workplace Bill. It has yet to be enacted into law.
The time has come. 2016 provides the state lawmakers a chance to show who they represent.

Tags: California Healthy Workplace Advocates, city proclamations, county proclamations, Freedom from workplace bullies week, workplace bullying, Workplace Bullying Institute
Posted in Freedom Week, Good News, WBI Education | No Archived Comments | Post A Comment () »
Friday, October 23rd, 2015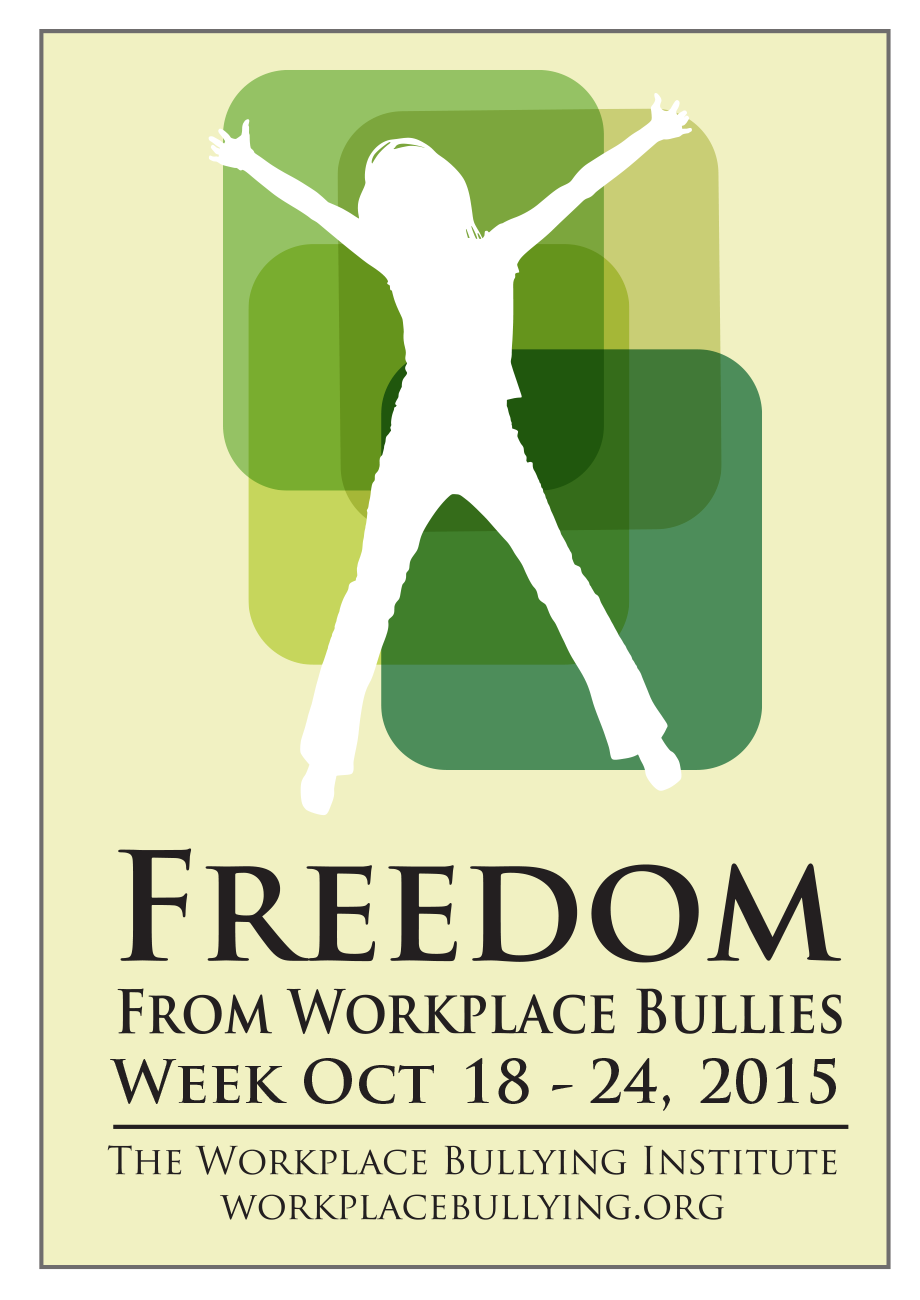 On October 19, 2015, during WBI Freedom from Workplace Bullies Week, Anchorage Mayor Ethan Berkowitz approved a new policy to combat bullying in the workplace. The policy aims to ensure that city employees are respected and treated with dignity while at work.
Berkowitz said that Anchorage does not have a significant bullying problem in work areas, but the issue does come up on rare occasions. He said the idea was first brought to him by city employees to propose a policy prohibiting all verbal abuse, humiliation or threatening behavior in the municipality's workplaces.
The new policy went into effect Oct. 19. It is an expansion of existing anti-discrimination policies that comply with state and federal laws. The policy fails to address thorough procedures to ensure fair and credible resolution of reported incidents. However, it's a start.
WBI congratulates Anchorage for taking this humane step to provide additional protections for City employees.

Tags: abusive conduct, Anchorage, Ethan Berkowitz, Freedom from workplace bullies week, WBI, workplace bullying policy
Posted in Broadcasts: Video, TV, radio, webinars, Employers Doing Good, Good News, Media About Bullying | No Archived Comments | Post A Comment () »
Tuesday, August 11th, 2015
As reported by Massachusetts State Coordinator David Yamada on his blog …
After being reported favorably out of the Joint Committee on Labor and Workforce Development, the Massachusetts Healthy Workplace Bill has been moved to a procedural stage called "Third Reading," which means it is now eligible for a full vote by the House of Representatives. As reported by Deb Falzoi on the Facebook page of the Massachusetts Healthy Workplace Advocates:
BREAKING NEWS: The Healthy Workplace Bill, HB 1771, has been ordered to a Third Reading in the House. This step is the furthest point the bill has gone in Massachusetts in previous sessions, but this session we've reached it much earlier in the session. Progress!
Without a doubt this is good news and increases the likelihood for a favorable result during the 2015-16 Massachusetts legislative session.

Tags: h1771, Healthy Workplace Bill, legislation, Massachusetts, workplace bullying
Posted in Good News | No Archived Comments | Post A Comment () »
Tuesday, April 14th, 2015
Owner of a Credit Card Processor Is Setting a New Minimum Wage: $70,000 a Year
By Patricia Cohen, New York Times, April 13, 2015
WBI: The extraordinary tale of a capitalist with a conscience who resolved an internal income inequality issue with equality.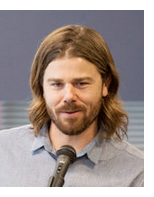 The idea began percolating, said Dan Price, the founder of Gravity Payments, after he read an article on happiness. It showed that, for people who earn less than about $70,000, extra money makes a big difference in their lives.
His idea bubbled into reality on Monday afternoon, when Mr. Price surprised his 120-person staff by announcing that he planned over the next three years to raise the salary of even the lowest-paid clerk, customer service representative and salesman to a minimum of $70,000.
"Is anyone else freaking out right now?" Mr. Price asked after the clapping and whooping died down into a few moments of stunned silence. "I'm kind of freaking out.


If it's a publicity stunt, it's a costly one. Mr. Price, who started the Seattle-based credit-card payment processing firm in 2004 at the age of 19, said he would pay for the wage increases by cutting his own salary from nearly $1 million to $70,000 and using 75 to 80 percent of the company's anticipated $2.2 million in profit this year.

Tags: capitalist, Dan Price, Gravity Payments, happiness, income inequality
Posted in Good News | No Archived Comments | Post A Comment () »
Sunday, April 12th, 2015
Minnesota leap frogs Tennessee with respect to having a state policy to thwart workplace bullying. First a bit of background. In 2014, Tennessee passed a law (Public Chapter 997) that assigned policy writing to a state commission (TACIR) comprised of elected officials with technical support from WBI-affiliated professionals. The group did produce a model policy. However, several lawmakers refused to allow the policy's implementation. The workplace psychological safety of public employees in that right-to-work state remains unresolved, treated as a political game.
Thus, the first state to implement a workplace bullying policy for all state workers is Minnesota. The successful story begins with the state employees union MAPE (Minnesota Association of Professional Employees) becoming aware of bullying-related problems for members in January 2012. Discussions of bullying surfaced in contract bargaining sessions. In February 2013, some bullying managers were removed in partnership with the union. Education accelerated in May 2013 when MAPE held a seminar for stewards with lessons gleaned from a public session sponsored by the Minneapolis Bar Association at which Dr. Gary Namie spoke.
Audio report:
Audio clip: Adobe Flash Player (version 9 or above) is required to play this audio clip. Download the latest version here. You also need to have JavaScript enabled in your browser.
By August 2013, MAPE had produced videos of their bullying experiences. In September, results of a membership survey revealed that 1 out of 4 members were either directly bullied or they had witnessed it. State. The state Department of Human Services Commissioner, Lucinda Jesson, signed an anti-bullying petition to ensure safe, retaliation-free reporting of bullying.

Tags: 2014 WBI U.S. Workplace Bullying Survey, abusive conduct, employee advocates, MAPE, Minnesota state, policy & procedures, Unions, workplace bullying policy
Posted in Bullying & Health, Good News, Unions, WBI Education | No Archived Comments | Post A Comment () »
Saturday, March 14th, 2015
On March 12, the Utah Senate unanimously passed HB 216 on a vote 24 ayes -0 nays -5 not voting. The bill, introduced by House Rep. Keven Stratton and sponsored in the Senate by Todd Weiler, sailed through both House and Senate committees and floor votes in both chambers. The bill becomes law with Gov. Gary Herbert's signature.
Though the HB 216 is not the complete Healthy Workplace Bill that carries employer liability for fostering an abusive work environment, it is stronger than two previous state laws — CA and TN — that mildly approached the epidemic of workplace bullying, abusive conduct as defined by the Workplace Bullying Institute.
Features of the Utah bill, soon to become law, are that it:
• applies to state agencies only
• mandates training of employees AND supervisors
• states that training will include description and "ramifications" of abusive conduct
• training to include resources available to abused workers
• and training to cover the internal grievance process details (WBI: to hold abuser accountable)
• also training in Ethical Conduct
• also training in Organizational Leadership with Integrity
• training every other year
• State may allocate funds to develop policies for agencies
• State may support development of agency training
Visit the Utah State Page at the HWB website for details. State Coordinator Dr. Denise Halverson deserves credit for shepherding this bill through the legislative process while providing her expertise on the topic so lawmakers could confidently and unanimously pass this HWB-related bill.

Tags: abusive conduct, Denise Halverson, Healthy Workplace Bill, Keven Stratton, legislation, Todd Weiler, training, Utah, workplace bullying, Workplace Bullying Institute
Posted in Good News, Healthy Workplace Bill (U.S. campaign), Workplace Bullying Laws | No Archived Comments | Post A Comment () »
Wednesday, December 24th, 2014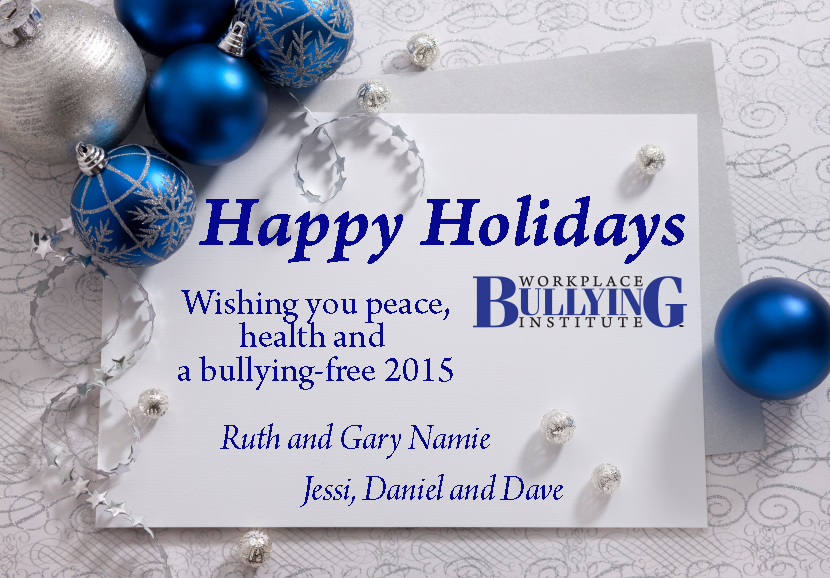 Posted in Good News | No Archived Comments | Post A Comment () »
Monday, December 8th, 2014
New Policy at UW-Madison Aims to Discourage Faculty Bullying
By Pat Schneider, Capital Times, Dec. 1, 2014
Derogatory remarks. Unwarranted physical contact. Sabotage of a colleague's work. Use of threats or retaliation in the exercise of authority.
Sounds like seriously bad behavior in the workplace, especially for faculty at Wisconsin's flagship university.
But Soyeon Shim, dean of the School of Human Ecology, says she has heard of many incidents fitting one or all of those behaviors at UW-Madison.
This kind of bullying is not limited to UW-Madison, or to academics, Shim stresses.
"It's human behavior. It's everywhere," she says.
But the occurrence of such hostile and intimidating behavior at a university threatens the fundamental tenet of academic freedom that allows faculty to search for and express truth in individual ways, Shim says.
"Lack of respect or making someone feel unwelcome or unable to voice their opinions goes against academic freedom. You should be able to voice your opinion without being threatened or sabotaged in promotion," she says.

Tags: bullying in the academe, intimidating behavior, university, UW-Madison, workplace bullying policy
Posted in Good News | No Archived Comments | Post A Comment () »
Monday, November 3rd, 2014
If you are a bullied social worker or anyone bullied at work in Alberta, Edmonton is the place to be. Help can be found at the Alberta Bullying Research, Resources and Recovery Centre. The Centre was established by Linda Crockett. We are proud to say that this extraordinary activist attended WBI's Workplace Bullying University Training for Professionals to supplement the relevant skills and qualifications she already possessed.
Here is Linda featured in two publications — a profile by her union HSAA (Health Sciences Association in Alberta) and an article by Linda. Linda is an outspoken advocate for the workplace bullying movement — saying all the right things and always pushing to break the silence.
You can reach Linda at the Centre at 780-965-7480. Call for help or call to volunteer to help other professionals.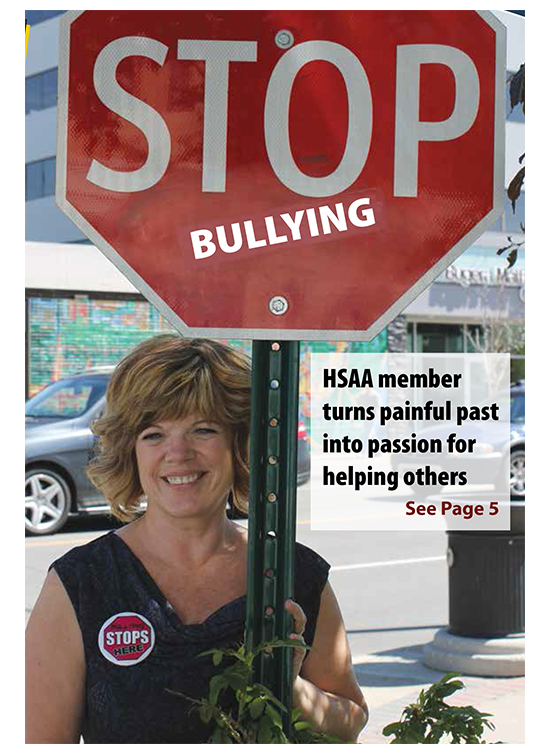 Tags: ABRC, Alberta Bullying Research Resources and Recovery Centre, Linda R. Crockett, mental health professionals, social workers, workplace bullying
Posted in Good News, Tutorials About Bullying, WBI Education, Workplace Bullying University | No Archived Comments | Post A Comment () »