Archive for the 'Good News' Category
Friday, December 6th, 2013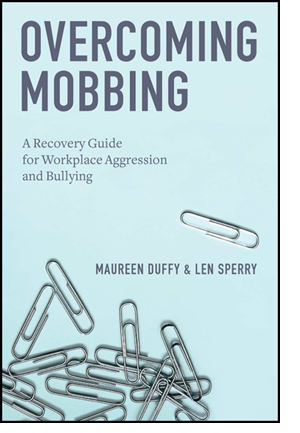 Overcoming Mobbing
A Recovery Guide for
Workplace Aggression
and Bullying
By Maureen Duffy & Len Sperry
A powerful, practical book that accurately reflects the entire bullying experience. These two clinicians, Duffy a clinical psychologist and Sperry a psychiatrist, demonstrate a deep understanding of bullied individuals and what it takes to heal them so life can be lived after bullying.The subtitle says it all — Recovery.
From the Foreword
Practical is the adjective to best describe this book. Though it is rich in citations and relies on science, applicability to real lives, real families and real organizations jumps off the pages. It tackles an admittedly complex subject with an accessible writing style that showcases illustrations and summary lists and tables. Points are driven home artfully with compassion for victims present throughout …
The blunt and truthful authors then describe how organizations create "shadow files" and do whatever it takes for administrators hide behind the myth that it is a "good and fair place to work." Hypocritically, those employers discard good employees as though they are dispensable resources using the tactics of mobbing fueled by the hurtful power of social exclusion, ostracism …
The authors do not leave the reader submerged in the dark side of the world of work. Ultimately, the book is about hope and inspiration. So, the seventh chapter signals the shift toward a discussion of recovery from mobbing. The valuable advice flows steadily and includes gems such as "don't make fighting the organization that mobbed you your next career." Their wisdom extends to selecting psychotherapists who practice "trauma-informed mental health care" by taking into account the organizational, cultural and power dynamics factors that instigated the mobbing experience rather than a focus on the victim's vulnerability …
The authors' defiantly critique the "bad apple," personality-dominated explanation for mobbing. They give the reader an introduction to work environments and their working parts. Personalities of perpetrators comprise only a small part …
Hooray for Duffy and Sperry's clarity in pronouncing that banishing bullies does not end the systemic problem. As the authors write "it takes an organization" to create it, and that's what it takes to stop it. ###
There is wisdom for organizational reps for those smart enough to apply the lessons contained inside. However, this book is primarily for bullied targets and the families who love them.
About the authors
Maureen Duffy, PhD, is a practicing family therapist and consultant specializing in workplace and school mobbing and bullying issues and an Affiliate with the Qualitative Research Graduate Program at Nova Southeastern University She provides trauma-informed psychotherapy to targets of mobbing and bullying and their families and consultation and training on workplace abuse to stakeholders including human resource managers and attorneys. She is the coauthor of Mobbing: Causes, Consequences, and Solutions.
Len Sperry, MD, PhD, is Professor of Mental Health Counseling at Florida Atlantic University and Clinical Professor of Psychiatry at the Medical College of Wisconsin. He has provided psychotherapy to mobbing victims and consulted with corporations on mobbing and bullying. He is the coauthor of Mobbing: Causes, Consequences, and Solutions.
Buy this book (along with the Lutgen-Sandvik book and, if they don't own it yet, our book, The Bully At Work) for those who need it most this Christmas season. They will be forever grateful.
Tags: bullied targets, Len Sperry, Maureen Duffy, Mobbing, organizational factors, self help, strategies, therapy, trauma, workplace bullying
Posted in Books, Bullying-Related Research, Good News, Hear Ye! Hear Ye! 2, Media About Bullying, Social/Mgmt/Epid Sciences, Tutorials About Bullying | No Archived Comments | Post A Comment () »
Thursday, December 5th, 2013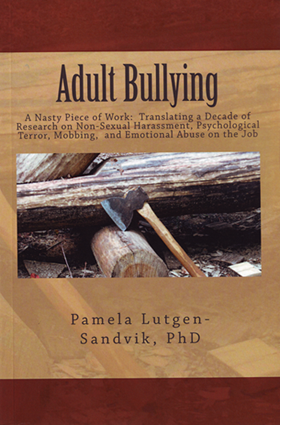 Adult Bullying
A Nasty Piece of Work:
Translating a Decade of Research
on Non-Sexual Harassment,
Psychological Terror, Mobbing,
and Emotional Abuse on the Job
By Pamela Lutgen-Sandvik, Ph.D.
North Dakota State University
Dr. Lutgen-Sandvik is arguably one of the most prolific American academic researchers on the topic of workplace bullying. She certainly is the best informed among academics, with few exceptions.
Here's why.
Pam is real. From her bio, prior to earning her doctorate in organizational communication at Arizona State she worked as a social service organization administrator, first in the field of women's advocacy and then in outpatient substance abuse treatment. Advocacy in the human services field is a rare background for academics.
Pam's practical, kick 'em in the shins approach to the esoteric world of academic research is revealed in the titles of some of her works — "Nightmares, demons & slaves" (can you hear Cher?), "Take this job and shove …" "Burned by bullying in America." And her style of collecting research data was to talk with bullied targets.
This book is a compilation of her work. It is not written by an egghead. The subtitle refers to her "translating" research into plainspeak. That's what she is profoundly good at doing well. Thus, it is ultimately readable.
The information found between the covers is useful if you are fighting a grievance, filing a complaint, embroiled in a lawsuit, or facing blank stares from HR.
The book covers many aspects of the bullying phenomenon with chapters on each — the prevalence, the stages of bullying, explaining the pain, the trauma and stigma of being bullied, how organizations become toxic, why women bully women, behavior of witnesses, and reversing the effects of bullying in individuals' lives.
Pam dedicates the book to all those bullied individuals who bravely participated in her research.
In 2013, she moved to North Dakota State (NDSU) in 2013 to join the Department of Communication in Fargo. She continues to research, publish, and teach in the area of organizational communication at NDSU and serves as the Director of the NDSU Communication Research & Training Center. Dr. Lutgen-Sandvik is married, has two children, and lives in Moorhead, MN.
Also, in 2013, Pam attended the WBI Workplace Bullying University® training for professionals in Bellingham, Washington to which she contributed mightily.
Pam declares that
All proceeds from book sales support scientific research that seeks to reduce workplace bullying, improve workplace communications and build more respectful workplace climates.
Where else can approx. $11 accomplish all that? Buy this book for yourself and as gifts for loved ones who have been bullied at work. While shopping, also buy Overcoming Mobbing by Duffy & Sperry new this holiday season 2013, and our book, The Bully At Work. They will be forever grateful.
With Pam, our admiration is personal. She came to Bellingham to meet us Namies in 2003 before her graduate studies were finished. She came to glean all she could from Dr. Ruth. So she is more than an intellectual colleague, she is a precious friend. We bought the book. You should, too.
Tags: bullied targets, emotional abuse, Len Sperry, Mobbing, non-sexual harassment, Pamela Lutgen-Sandvik, psychological terror, research, self help, workplace bullying, workplace bullying book
Posted in Books, Bullying-Related Research, Good News, Hear Ye! Hear Ye! 2, Media About Bullying, Social/Mgmt/Epid Sciences | No Archived Comments | Post A Comment () »
Friday, November 29th, 2013
A new study from the UK Federation of Entertainment Unions found that workplace bullying, along with harassment and discrimination, is major issue in the creative industries.
The report took center stage at the Creating without Conflict conference in London on November 19, 2013. Along with the survey results the Unions called for confidential hotlines to help their bullied members, as well as better training for management.
From The Stage

These findings come from a survey, Creating Without Conflict, compiled by the Federation of Entertainment Unions, which includes Equity, the Writers' Guild of Great Britain, the Musicians' Union, BECTU and the National Union of Journalists. Its aim was to assess how widespread bullying, harassment and discrimination is in the entertainment and media industries, with more than 4,000 people from across the different unions taking part. Respondents included household names and top screenwriters, as well as people at the beginning of their careers.
Tags: creating without conflict, london, survey, UK Federation of Entertaimnet unions, Unions, workplace bullying
Posted in Broadcasts: Video, TV, radio, webinars, Good News | No Archived Comments | Post A Comment () »
Monday, November 4th, 2013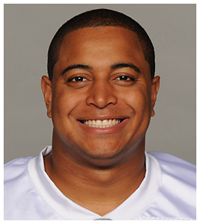 It is fact that bullied targets suffer in silence for too long. When shrouded in silence and secrecy, bullying thrives. Targets lose their jobs; bullies continue with impunity.
An interesting and hopeful exception is brewing. The NFL and Miami Dolphins are investigating the charges of an abusive work environment in the locker room by 2nd year player Jonathan Martin (picture on the right). He has accused veteran teammate Richie Incognito of intimidation and bullying. Thanks to Martin and the Dolphins for using the term "bullying."
Martin voluntarily left the team on Oct. 28. The team put him on paid leave. A decision about his status is due by 4 pm Tuesday Nov. 5. His pay could be suspended at that time. If Martin were to lose money, he makes approximately $68,000 per game during the regular season.
The team learned of exchanges and racial blasts from Incognito directed at Martin since the departure. The team then suspended Incognito. His rants have gone viral.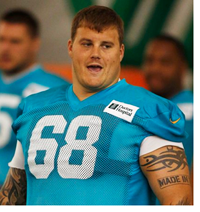 The story might well have ended with teammates backing Incognito (pictured on the left) and denigrating Martin for being weak. And the Dolphins were leaning toward that conclusion over the weekend but changed when evidence became available and in their possession.
Here's the transcript of a classy Incognito voice message he left for Martin in April 2013, a year after Martin was drafted, according to sources Multiple sources confirmed by ESPN:
"Hey, wassup, you half n—– piece of s—. I saw you on Twitter, you been training 10 weeks. [I want to] s— in your f—ing mouth. [I'm going to] slap your f—ing mouth. [I'm going to] slap your real mother across the face [laughter]. F— you, you're still a rookie. I'll kill you."
And true to form, Incognito has demonstrated a pattern of super-aggression above and beyond what is demanded by professional football. Workplace bullies are chronic abusers, not single shot offenders.
Bullies in non-sports workplaces are rarely held accountable (only 11% face negative consequences for their actions). Let's watch this case to see if finally justice is served.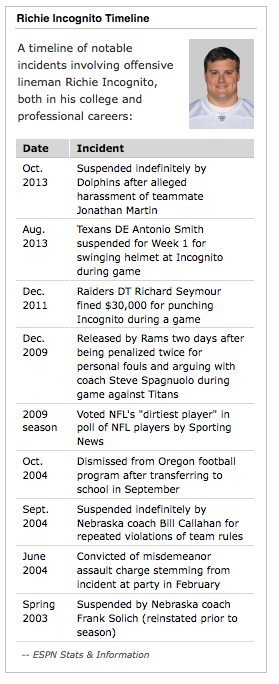 Follow the full story in the Category list in the sidebar: NFL: Jonathan Martin
Tags: bully, Gary Namie, Jonathan Martin, NFL, racial slurs, Richie Incognito, workplace bullying
Posted in Broadcasts: Video, TV, radio, webinars, Good News, Media About Bullying, NFL: Jonathan Martin, Print: News, Blogs, Magazines, Tutorials About Bullying, WBI Education | No Archived Comments | Post A Comment () »
Monday, October 21st, 2013
Victoria stood up for her bullied coworkers. As a result, she put herself in the line of fire. But instead of retreating, Victoria is now part of a growing movement to end workplace bullying, the Healthy Workplace Bill Campaign.
From Executive Producer Irshad Manji, Moral Courage TV tells the stories of people who are fighting corruption in their workplace, faith, or culture. Whether they are standing up to a bully, breaking up a gang, or simply seeking truth, the heroes of our stories refuse to fail.
For other inspiring stories, subscribe to their YouTube Channel: http://www.youtube.com/MoralCourageChannel
Tags: Healthy Workplace Bill, irshad manji, moral courage project, moral courage TV, workplace bullying
Posted in Broadcasts: Video, TV, radio, webinars, Good News, Healthy Workplace Bill (U.S. campaign) | No Archived Comments | Post A Comment () »
Monday, September 16th, 2013
Self-guided program on DVD for employers of all sizes leads to the creation of a comprehensive, defensible policy to prevent and correct workplace bullying from the recognized originator of the workplace bullying consulting field in North America.
Recognition of workplace bullying is at an all time high and employers are beginning to addressing. Workplace Bullying Institute research shows that only 5.5% of U.S. employers are adequately dealing with the problem in their organizations. In a 2013 survey of business executives, 68% indicated it was a serious problem. Many employers don't know where to start. 
Since launching the U.S. anti-workplace bullying movement in 1997, Dr. Gary Namie has worked with organizations to create policies and procedures. For the first time, and only from WBI, companies of all sizes can now apply the same writing method normally facilitated by Dr. Namie in person.

"We wanted to remove all barriers for all employers to stopping bullying," according to Dr. Namie, "Employees are clamoring for protection and this is our plan to accelerate the changes businesses must make to stem the losses."
The cost is $299 so that small businesses can protect themselves against the losses incurred by a workplace bully.
The DVD is best used by an assembled team of workers called the Policy Writing Group or the appropriate authority in small firms. Instructions are provided that allow the group to create the most comprehensive set of policy provisions, informal solutions, and formal enforcement procedures. Law professor David C. Yamada discusses legal and liability issues associated with policy creation. Only those who work at your organization understand the idiosyncrasies of their unique workplace culture. This DVD results in a policy specific to your organization with all of the accompanying ethical and logistical questions answered.
For product information visit The Work Doctor® Website

Tags: David Yamada, Gary Namie, policy, procedures, solution, training, Work Doctor, workplace bullying, workplace bullying policy
Posted in Good News, Hear Ye! Hear Ye! 2, Products & Services | No Archived Comments | Post A Comment () »
Monday, July 29th, 2013
Union workers (SEIU, Local 1000) negotiated for, and won, in their new 2013 contract with the State of California and all agencies where Local 1000 members work major victories. They will not be furloughed, but on the workplace bullying front, they will now have new tools to compel State managers to act with respect in a non-bullying, non-abusive manner. Local 1000 counts 95,000 members across its nine bargaining units.
The announcement came on the SEIU website, proclaiming on July 16
Dignity Clause Strengthened
Under our new contract, members have more rights when it comes to workplace bullying or other violations of the dignity clause.

Our bargaining team succeeding in obtaining language that strengthens the Dignity Clause (Article 5.11) so that employees who believe they have not been treated with generally accepted standards of dignity and human courtesy may now file a grievance. Previously, members could only file a complaint of dignity clause violations to their department head.

In addition, our new contract requires each state department to maintain a Workplace Violence and Bullying Prevention policy and distribute it to each employee.

"We fought for the strongest possible protections for our members who experience workplace bullying–I know firsthand how a bully boss can create a nightmare for you at work," said Sophia Perkins, chair of Bargaining Unit 4, who testified about her own experiences during bargaining. "One reason I became active in the union is to address this issue and hold bullying bosses accountable."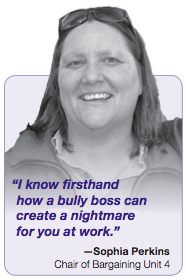 The text of Article 5.11 Dignity Clause, agreed upon on June 9, 2013 is …
"The State is committed to providing a workplace where all employees, regardless of their classification or pay status, are treated by supervisors and managers in a manner that maintains generally accepted standards of human dignity and courtesy. Employees alleging they have not been treated accordingly may file a grievance. The decision reached at Step 3 (CalHR) shall be final."
Further, management proposed language for Article 10.21 Workplace Violence and Bullying Prevention …
"The State and Union developed a model Workplace Violence and Bullying Prevention program. Each department shall maintain a Workplace Violence and Bullying Prevention program that meets the existing mutually agreed upon model program. The department program shall be in writing and distributed an/or made available to all employees."
See the signatures of the negotiating team members on each of these articles.
A "Mini-Arbitration Procedure" has been pilot tested and now made permanent for the life of the new contract. It creates a standing panel of four arbitrators, two assigned by the Union and two by the State. Article 6.14 creates the panel and spells out rules to expedite the hearing process. Arbitration begins at Step 4. Disputes over the Dignity Clause end at Step 3. It appears that like in the 2009 NAGE-State of Massachusetts contract, arbitration is not something the States, as employers, are willing to subject themselves to.
Tags: Article 5.11, Article 6A, bargaining agreement, contracts, Dignity Clause, mutual respect, NAGE, SEIU Local 1000, State of California, State of Massachusetts, Unions, workplace bullying
Posted in Good News, Unions | No Archived Comments | Post A Comment () »
Monday, July 15th, 2013
American employees rarely get paid sick leave. So, they work sick. On May 8, 2013, the New York City Council passed, by the vote of 45 to 3, a bill affecting one million workers that requires employers in the city with over 20 employees to offer 5 days of paid sick leave per year, effective April 1, 2014. In 2015, employers with 15 or more employees must provide the benefit. This was a major sea change in the city's employment laws, something good for employees and a mandate for employer responsibility.
Mayor Bloomberg objected. [He had won a waiver for all City workers from the state's anti-violence law passed years ago. And he promised to exempt NYC from employee protections granted in the Healthy Workplace Bill when it passes in NY State.] Mr. Entrepreneur and his cohort employer buddies hate paid sick leave, too. He vetoed the NYC bill, but it became law 2013/046 with a Council vote override (47:4) on June 26, 2013.
Great news for New Yorkers. But travel 1,000 miles south to Florida where the Governor led state legislation to override and deny any paid sick leave requirement that a city or county (Miami-Dade and Orange counties were considering bills like the one in New York City) may choose to adopt.
Tags: employee benefits, Florida, NY City Council, paid sick leave, Rick Scott
Posted in Employers Gone Wild: Doing Bad Things, Fairness & Social Justice Denied, Good News | No Archived Comments | Post A Comment () »
Tuesday, July 2nd, 2013
Here at WBI, we have long contended that organizations need their highest ranking leaders to genuinely want to stop workplace bullying. Lip service from the top might be adequate to get an initiative started by the internal champions and advocates, but the risk is that the executive reserves the right for him or herself to stop the program without warning or justification. Unfortunately, most executives squash attempts by earnest champions at the start.
Here's a rare good news tale from the University of Massachusetts. These are the words of the Chancellor writing to all campus staff with my comments in burgundy.
Shortly after my arrival on campus last year, I learned of the disturbing results of a survey about workplace bullying that had been administered to all faculty and staff members. While the numbers were consistent with those found at workplaces of all types throughout the country, this is clearly an area in which UMass Amherst aspires to be something much better than average.
Tags: Gary Namie, Subbaswamy, union, Unions, unions and bullying, Univ of Massachusetts, workplace bullying
Posted in Good News, Tutorials About Bullying, Unions, WBI Education | No Archived Comments | Post A Comment () »
Thursday, June 27th, 2013
Alberta has been hit with heavy rains and massive flooding. Homes in Calgary may have to be condemned. Bridges have been washed away. The Trans-Canada Highway has just been cleared and re-opened. It's a genuine disaster — much like hurricane Sandy that surprisingly hit New York and New Jersey and hurricane Katrina that devastated the poorer sections of New Orleans. Governmental responses couldn't be more dissimilar.
A Calgary Sun headline says it all: Premier vows to help Albertans out of this flood mess no matter the cost (my emphasis).
Here are a few excerpts from the story about the provincial government's commitment to rebuilding:
• Premier Redford and her cabinet committed "preliminarily" to spending $1 billion to rebuild infrastructure and, in some cases, probably improve it, considering it a "down payment." $1b for a population of only 3.6 million.
• People displaced from their homes receive a $1,250 cash card for each adult and $500 for each child. Not loans. Simply cash to live.
• The province will not place the burden of cost on local governments. The feds can reimburse up to 90%.
• Said the Premier: "our commitment is to fund recovery right across the province in every municipality and in every home that's been affected."
• The flood will affect budgeting and the Premier said: "Are we sticking with the plan to balance the budget? No, we're not."
• "We are going to do, please listen to my words, whatever it takes to get everyone back to a place where they can continue to live their lives." 

The June 24 Rick Bell Calgary Sun article
Tags: Alberta floods, government help, Premier Redford
Posted in Good News | No Archived Comments | Post A Comment () »