Archive for the 'Good News' Category
Saturday, March 14th, 2015
On March 12, the Utah Senate unanimously passed HB 216 on a vote 24 ayes -0 nays -5 not voting. The bill, introduced by House Rep. Keven Stratton and sponsored in the Senate by Todd Weiler, sailed through both House and Senate committees and floor votes in both chambers. The bill becomes law with Gov. Gary Herbert's signature.
Though the HB 216 is not the complete Healthy Workplace Bill that carries employer liability for fostering an abusive work environment, it is stronger than two previous state laws — CA and TN — that mildly approached the epidemic of workplace bullying, abusive conduct as defined by the Workplace Bullying Institute.
Features of the Utah bill, soon to become law, are that it:
• applies to state agencies only
• mandates training of employees AND supervisors
• states that training will include description and "ramifications" of abusive conduct
• training to include resources available to abused workers
• and training to cover the internal grievance process details (WBI: to hold abuser accountable)
• also training in Ethical Conduct
• also training in Organizational Leadership with Integrity
• training every other year
• State may allocate funds to develop policies for agencies
• State may support development of agency training
Visit the Utah State Page at the HWB website for details. State Coordinator Dr. Denise Halverson deserves credit for shepherding this bill through the legislative process while providing her expertise on the topic so lawmakers could confidently and unanimously pass this HWB-related bill.
Tags: abusive conduct, Denise Halverson, Healthy Workplace Bill, Keven Stratton, legislation, Todd Weiler, training, Utah, workplace bullying, Workplace Bullying Institute
Posted in Good News, Healthy Workplace Bill (U.S. campaign), Workplace Bullying Laws | No Archived Comments | Post A Comment () »
Wednesday, December 24th, 2014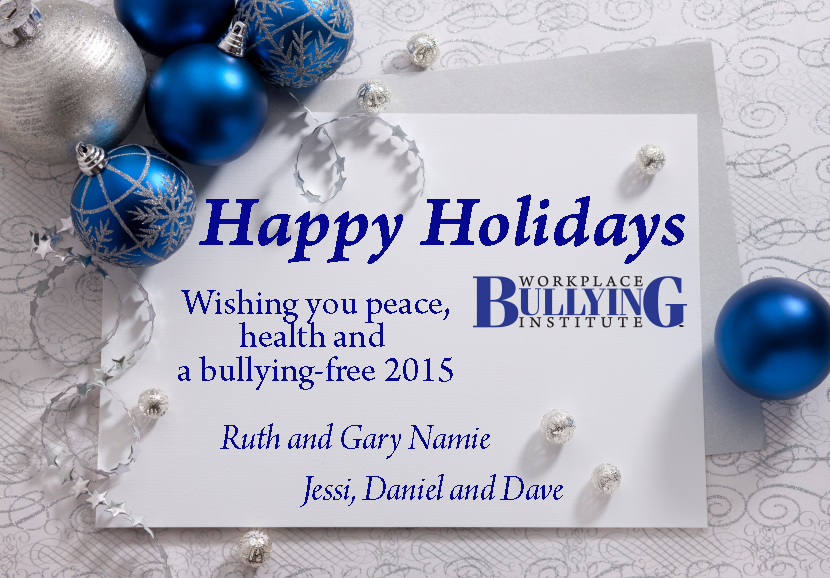 Posted in Good News | No Archived Comments | Post A Comment () »
Monday, December 8th, 2014
New Policy at UW-Madison Aims to Discourage Faculty Bullying
By Pat Schneider, Capital Times, Dec. 1, 2014
Derogatory remarks. Unwarranted physical contact. Sabotage of a colleague's work. Use of threats or retaliation in the exercise of authority.
Sounds like seriously bad behavior in the workplace, especially for faculty at Wisconsin's flagship university.
But Soyeon Shim, dean of the School of Human Ecology, says she has heard of many incidents fitting one or all of those behaviors at UW-Madison.
This kind of bullying is not limited to UW-Madison, or to academics, Shim stresses.
"It's human behavior. It's everywhere," she says.
But the occurrence of such hostile and intimidating behavior at a university threatens the fundamental tenet of academic freedom that allows faculty to search for and express truth in individual ways, Shim says.
"Lack of respect or making someone feel unwelcome or unable to voice their opinions goes against academic freedom. You should be able to voice your opinion without being threatened or sabotaged in promotion," she says.
Tags: bullying in the academe, intimidating behavior, university, UW-Madison, workplace bullying policy
Posted in Good News | No Archived Comments | Post A Comment () »
Monday, November 3rd, 2014
If you are a bullied social worker or anyone bullied at work in Alberta, Edmonton is the place to be. Help can be found at the Alberta Bullying Research, Resources and Recovery Centre. The Centre was established by Linda Crockett. We are proud to say that this extraordinary activist attended WBI's Workplace Bullying University Training for Professionals to supplement the relevant skills and qualifications she already possessed.
Here is Linda featured in two publications — a profile by her union HSAA (Health Sciences Association in Alberta) and an article by Linda. Linda is an outspoken advocate for the workplace bullying movement — saying all the right things and always pushing to break the silence.
You can reach Linda at the Centre at 780-965-7480. Call for help or call to volunteer to help other professionals.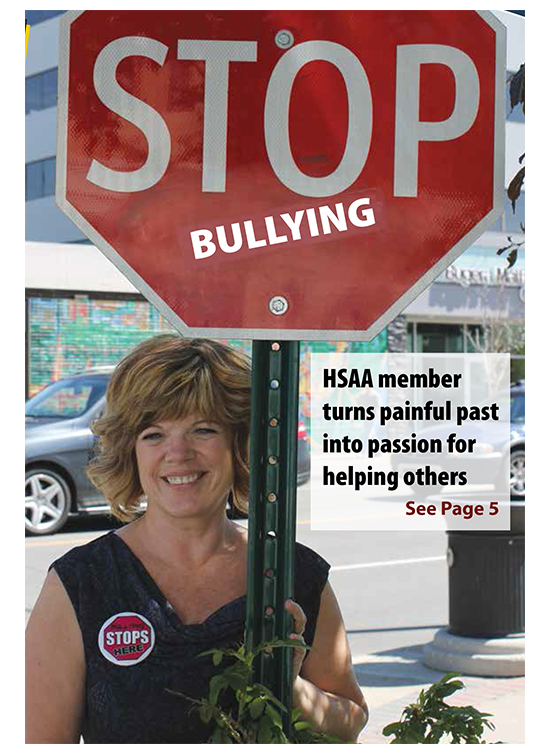 Tags: ABRC, Alberta Bullying Research Resources and Recovery Centre, Linda R. Crockett, mental health professionals, social workers, workplace bullying
Posted in Good News, Tutorials About Bullying, WBI Education, Workplace Bullying University | No Archived Comments | Post A Comment () »
Sunday, October 19th, 2014
Just in time for WBI's Freedom from Workplace Bullies Week, James Woodson, Tuscaloosa Senior Assistant City Attorney introduced and the city council passed its first-ever workplace bullying policy (Ordinance No. 8144, Oct. 14, 2014). As documented elsewhere at the WBI site, a policy is necessary but not sufficient to comprehensively prevent and correct bullying. But it is a good preliminary step by any employer. Tuscaloosa will follow with training for staff and managers. We commend Mr. Woodson and the council. Woodson told his local TV station
"It wasn't that many years ago that employers were adopting for the first time sexual harassment policies, then that became anti-harassment policies, and I think this is a natural extension to bullying, to essentially catch all of the inappropriate workplace behavior."
[Earlier in 2014, Tennessee became the first state to encourage government agencies as employers to adopt policies to address abusive conduct.]
Here are the policy's strengths and shortcomings.
Tags: abusive conduct, Alabama, HR, policy, Tuscaloosa, workplace bullying policy
Posted in Freedom Week, Good News, Tutorials About Bullying, WBI Education | No Archived Comments | Post A Comment () »
Friday, October 17th, 2014
County Declares No Tolerance for Workplace Bullying
By Lyn Jerde, Portage (WI) Daily Register, Oct. 16, 2014
Andy Ross made it clear at the outset: Nobody is saying that there are bullies working for Columbia County.
But, in urging the County Board Wednesday to approve a resolution proclaiming Freedom from Workplace Bullies Week, Ross said the county's top governing body should reiterate the importance of a bully-free workplace.
Ross is a member of the County Board's Human Resources Committee, which offered the resolution, which the County Board approved unanimously.
The Workplace Bullying Institute, based in Bellingham, Washington, started largely because one of the founders, Ruth Namie, once had a "boss from hell," according to information on the Workplace Bullying Institute's website. In the 1990s, she wrote, there was little legal recourse for victims of workplace harassment if the harassment wasn't overtly racist or sexist.
The Institute has declared next week, Oct. 19 to 25, as Freedom from Workplace Bullies Week.
The Institute defines workplace bullying as "a systematic campaign of interpersonal destruction that jeopardizes your health, your career, the job you once loved." This kind of bullying usually doesn't entail physical threats, but rather deliberate emotional and psychological abuse.
Ross told the County Board that the resolution puts the county on record that such behavior won't be tolerated in any Columbia County department.
"This is one of those topics that we wish we didn't have to address," he said.
The topic is being addressed, Ross noted, in ongoing management and leadership training that has been provided, first to county department heads and later to lower-level managers in county departments. The training, offered through Madison Area Technical College, will focus this fall on how managers can avoid bullying behavior.
"Depending on how old you are," Ross said, "it may be something that was acceptable, and pretty common, years ago. But we can't tolerate it anymore."
Tags: Andy Ross, Columbia County, Freedom from workplace bullies week, Portage Wisconsin, proclamation, resolution, workplace bullying
Posted in Freedom Week, Good News, Media About Bullying, Print: News, Blogs, Magazines, WBI Education, WBI in the News | No Archived Comments | Post A Comment () »
Monday, September 29th, 2014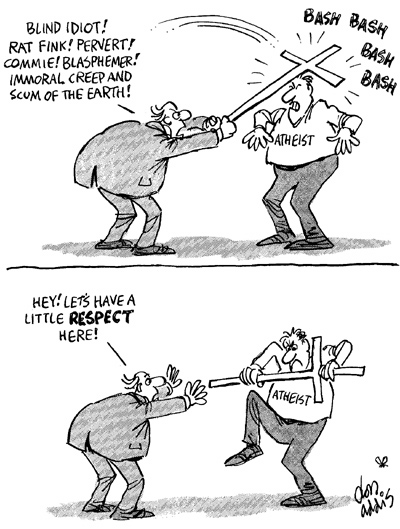 Tags: David Dunning, John Cleese
Posted in Good News | No Archived Comments | Post A Comment () »
Thursday, August 28th, 2014
UPDATE: Success.
We reported in late July about the long-standing feud between second generation owners of the Market Basket grocery store chain in the Northeast. Arthur S. Demoulas fired his cousin Artie T. Workers rose in support because he had done several costly things to help financially strapped workers when the stock market collapse ate up retirement savings. Local politicians called for boycotts of the stores. Shelves ran bare. Governors in two states pled for a solution.
Now, Artie T.'s offer to buy the chain, to remove Artie S., has been accepted by the Board. Artie T. will restore all lost jobs. Artie S. had fired protestors.
Life resumes to normal in a couple of months as the chain reverts to control by Artie T.
This is a very rare story where non-union workers prevailed. A great story. Justice.
Tags: Arthur S. Demoulas, Arthur T. Demoulas, Artie T., boycott, CEO, family feud, Market Basket, workers
Posted in Broadcasts: Video, TV, radio, webinars, Good News, Media About Bullying, Print: News, Blogs, Magazines | No Archived Comments | Post A Comment () »
Thursday, April 17th, 2014
Zappos, the little retailer that grew to be acquired by Amazon.com in 2009, has grown immensely under CEO Tony Hsieh, splitting into 10 separate companies. The company is a financial success. Additionally, its fame rests on a quirky corporate culture in its humane approach to employees. See these unique core values.
One unique Zappos practice was to offer employees $1,000 to quit on their 90-day anniversary of joining the company. Tim Sackett, an irreverent HR writer who understands the best and worst of HR, astutely pointed out that few corporations are bold enough to make such an offer for fear the good talent will walk. No guts in the HR dept. or confidence in the perceived quality of the workplace culture makes chickens of C-suite dwellers was his point.
Five years after the acquisition, Amazon will adopt the Zappos practice of offering Pay to Quit.
Tags: Amazon.com, employee engagement, loyalty, pay to quit, Zappos
Posted in Good News | No Archived Comments | Post A Comment () »
Thursday, April 17th, 2014
It would be great if bosses would leave us alone at home, during family time and on weekends. But it is not the American way, nor the Brit way, nor the French way.
Recent hyperbolic mis-reporting stated that a new French "law" protected workers from bosses contacting them after 6 pm. Oops.
The real news was the inclusion in two union bargaining agreements covering about 250,000 mid-level managers in tech industries. Those workers are subject to erratic schedules, and up to 78-hour work weeks, unlike other workers (who average 39.5 hour weeks) despite a 35-hour work week limit on the books. And the terms of the agreements have not yet been approved by the Labor Ministry.
So, to reduce stress (a tiny bit), the new agreements with employers "oblige" (not order, not mandate under threat of punishment) workers "to disconnect from remote communications tools" outside of normal working hours, whatever those hours might be — not expressly 6 pm. In other words, the onus is on the worker to turn off the employer when away from work for at least 11 hours (and that includes sleeping).
This gesture is a nod to the European notion that quality of life still can matter. Workaholism is not accepted without complaint. French workers engage in strikes and work stoppages. The French take to the street to protest social injustice. However, one union official made this conciliatory remark to the NY Times
"We also wouldn't like this to squeeze businesses and cause them problems."
The fact that the roots of the workplace bullying movement were sown in the social democratic Scandinavian nations should not be lost on Americans.
Yet, American media scorn the French as if they are lazy and unproductive. As if an overstressed and abused work force is exemplary. I hear the chants now — We're number 1! Americans meekly accept everything their corporate masters shove down their throats. And public sector unions, the last bastion of organized labor, are being gutted by malicious state legislatures and governors hell bent on privatizing America. Few fight back out of fear. Why?
The French are not to be mocked. In fact, French unions are trying to hold on to an eroding leverage themselves. The globalized world dominated by multinational corporations have convinced all governments to step aside and let businesses operate without rules or limits.
In Germany, Volkswagen forbade supervisors from contacting workers after hours and shut down its servers to stop e-mail and phone calls. Deutsche Telekom also invoked a communications-free time ensuring that managers have no right to expect workers to answer supervisors' calls or e-mails while away from work.
It would be far better if Americans voluntarily unplugged themselves from their work-provided phones and devices. They couldn't track us in our bedrooms with remotely launched laptop cameras. The NSA would have no record of our interactions. And we would sleep more peacefully. The trouble is that employers have convinced too many of us to be afraid, very afraid. Oh, well. Maybe someday.
Tags: disconnect, French workers, no e-mail policy, off-work time, Volkswagen, workaholism
Posted in Commentary by G. Namie, Good News, The New America | No Archived Comments | Post A Comment () »