Archive for the 'Good News' Category
Monday, September 29th, 2014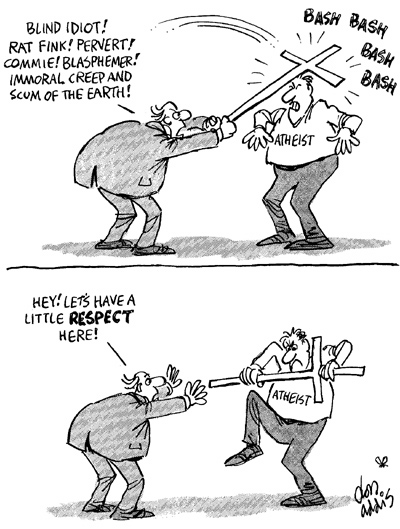 Tags: David Dunning, John Cleese
Posted in Good News | No Archived Comments | Post A Comment () »
Thursday, August 28th, 2014
UPDATE: Success.
We reported in late July about the long-standing feud between second generation owners of the Market Basket grocery store chain in the Northeast. Arthur S. Demoulas fired his cousin Artie T. Workers rose in support because he had done several costly things to help financially strapped workers when the stock market collapse ate up retirement savings. Local politicians called for boycotts of the stores. Shelves ran bare. Governors in two states pled for a solution.
Now, Artie T.'s offer to buy the chain, to remove Artie S., has been accepted by the Board. Artie T. will restore all lost jobs. Artie S. had fired protestors.
Life resumes to normal in a couple of months as the chain reverts to control by Artie T.
This is a very rare story where non-union workers prevailed. A great story. Justice.
Tags: Arthur S. Demoulas, Arthur T. Demoulas, Artie T., boycott, CEO, family feud, Market Basket, workers
Posted in Broadcasts: Video, TV, radio, webinars, Good News, Media About Bullying, Print: News, Blogs, Magazines | No Archived Comments | Post A Comment () »
Thursday, April 17th, 2014
Zappos, the little retailer that grew to be acquired by Amazon.com in 2009, has grown immensely under CEO Tony Hsieh, splitting into 10 separate companies. The company is a financial success. Additionally, its fame rests on a quirky corporate culture in its humane approach to employees. See these unique core values.
One unique Zappos practice was to offer employees $1,000 to quit on their 90-day anniversary of joining the company. Tim Sackett, an irreverent HR writer who understands the best and worst of HR, astutely pointed out that few corporations are bold enough to make such an offer for fear the good talent will walk. No guts in the HR dept. or confidence in the perceived quality of the workplace culture makes chickens of C-suite dwellers was his point.
Five years after the acquisition, Amazon will adopt the Zappos practice of offering Pay to Quit.
Tags: Amazon.com, employee engagement, loyalty, pay to quit, Zappos
Posted in Good News | No Archived Comments | Post A Comment () »
Thursday, April 17th, 2014
It would be great if bosses would leave us alone at home, during family time and on weekends. But it is not the American way, nor the Brit way, nor the French way.
Recent hyperbolic mis-reporting stated that a new French "law" protected workers from bosses contacting them after 6 pm. Oops.
The real news was the inclusion in two union bargaining agreements covering about 250,000 mid-level managers in tech industries. Those workers are subject to erratic schedules, and up to 78-hour work weeks, unlike other workers (who average 39.5 hour weeks) despite a 35-hour work week limit on the books. And the terms of the agreements have not yet been approved by the Labor Ministry.
So, to reduce stress (a tiny bit), the new agreements with employers "oblige" (not order, not mandate under threat of punishment) workers "to disconnect from remote communications tools" outside of normal working hours, whatever those hours might be — not expressly 6 pm. In other words, the onus is on the worker to turn off the employer when away from work for at least 11 hours (and that includes sleeping).
This gesture is a nod to the European notion that quality of life still can matter. Workaholism is not accepted without complaint. French workers engage in strikes and work stoppages. The French take to the street to protest social injustice. However, one union official made this conciliatory remark to the NY Times
"We also wouldn't like this to squeeze businesses and cause them problems."
The fact that the roots of the workplace bullying movement were sown in the social democratic Scandinavian nations should not be lost on Americans.
Yet, American media scorn the French as if they are lazy and unproductive. As if an overstressed and abused work force is exemplary. I hear the chants now — We're number 1! Americans meekly accept everything their corporate masters shove down their throats. And public sector unions, the last bastion of organized labor, are being gutted by malicious state legislatures and governors hell bent on privatizing America. Few fight back out of fear. Why?
The French are not to be mocked. In fact, French unions are trying to hold on to an eroding leverage themselves. The globalized world dominated by multinational corporations have convinced all governments to step aside and let businesses operate without rules or limits.
In Germany, Volkswagen forbade supervisors from contacting workers after hours and shut down its servers to stop e-mail and phone calls. Deutsche Telekom also invoked a communications-free time ensuring that managers have no right to expect workers to answer supervisors' calls or e-mails while away from work.
It would be far better if Americans voluntarily unplugged themselves from their work-provided phones and devices. They couldn't track us in our bedrooms with remotely launched laptop cameras. The NSA would have no record of our interactions. And we would sleep more peacefully. The trouble is that employers have convinced too many of us to be afraid, very afraid. Oh, well. Maybe someday.
Tags: disconnect, French workers, no e-mail policy, off-work time, Volkswagen, workaholism
Posted in Commentary by G. Namie, Good News, The New America | No Archived Comments | Post A Comment () »
Wednesday, April 9th, 2014
The Massachusetts anti-bullying legislation, the Healthy Workplace Bill — HB 1766, passed the Joint Committee on Labor and Workforce Development. As of April 7, it is slated for a vote by all members of the House of Representatives. We all stand with the advocates on the ground there — the Massachusetts Healthy Workplace Advocates — wish them success. You can track progress on the bill at the MA State Page of the HWB website.
Tags: bullying legislation, HB 1766, Healthy Workplace Bill, law, MA, Massachusetts, Massachusetts healthy workplace advocates, workplace bullying
Posted in Good News, Healthy Workplace Bill (U.S. campaign), Hear Ye! Hear Ye! 2, Workplace Bullying Laws | No Archived Comments | Post A Comment () »
Tuesday, April 1st, 2014
The Workplace Bullying Institute and the New Workplace Institute are happy to announce the launch of a joint initiative, the U.S. Academy on Workplace Bullying, Mobbing, and Abuse, which will support and promote the multi-disciplinary work of leading and emerging educators, researchers, practitioners, writers, and advocates who are dedicated to understanding, preventing, stopping, and responding to workplace bullying and related forms of interpersonal mistreatment.
"For over a year, we've been contemplating how to bring together an American network of leading and emerging experts on workplace bullying and related topics. The Academy is our conduit for doing so. We look forward to highlighting the good works of these incredible people," says David Yamada, Suffolk University law professor and New Workplace Institute director.
The Academy has over 50 Fellows including leading psychological researchers, physicians, attorneys, occupational health experts, professors of management, nursing, and communications, counselors, union trainers, military leaders, advocates, and consultants. The complete list of Fellows can be seen at workplacebullyingacademy.com.
"When we started WBI there was one trade unionist and a couple of academic researchers with the courage to focus on workplace bullying. Since then the field exploded exponentially," says Gary Namie, PhD, Co-founder of the Workplace Bullying Institute, established in 1997. "We recognize the universality of these destructive behaviors, and this network focuses on the unique challenges posed by American employee relations, mental health, and legal systems."
Tags: abuse, bullying research, David Yamada, Gary Namie, Mobbing, new workplace institute, U.S. academy, workplace bullying, Workplace Bullying Institute
Posted in Bullying-Related Research, Good News, Healthy Workplace Bill (U.S. campaign), Hear Ye! Hear Ye! 2, Products & Services, Social/Mgmt/Epid Sciences, Tutorials About Bullying, Unions, WBI Education | 1 Archived Comment | Post A Comment () »
Monday, March 17th, 2014
The Science of "Paying It Forward"
By Milena Tsvetkova and Michael Macy, New York Times, March 14, 2014
Authors of the study: The Social Contagion of Generosity, Cornell University
One morning in December of 2012, at the drive-through window of a Tim Hortons coffee shop in Winnipeg, Manitoba, a customer paid for her order and then picked up the tab for the stranger in the car behind her in line. Then that customer paid the bill for the following customer in line — and so on, for the next 226 customers, in a three-hour sequence of spontaneous generosity.
It turns out that such "pay it forward" chains are not unheard-of at Tim Hortons (though they are usually much shorter), and news outlets have reported the emergence of many such chains in a variety of restaurant drive-throughs and tollbooths throughout North America. Last year, a Chick-fil-A in Houston experienced a 67-car chain. A few months later, a Heav'nly Donuts in Amesbury, Mass., had a run of 55 cars.
Why do these things happen? One possibility is that generosity among strangers can be socially contagious. According to this theory, if you receive or observe an act of help, you become more likely to help others, even if your own action won't be directly reciprocated or rewarded. Rather than repay someone for helping, you "pay it forward" — a phrase popularized by Catherine Ryan Hyde's 1999 novel of that title (later turned into a movie of the same name).
Tags: altruism, bystander effect, generosity, paying it forward, social contagion
Posted in Bullying-Related Research, Good News, Social/Mgmt/Epid Sciences | No Archived Comments | Post A Comment () »
Wednesday, March 12th, 2014
This may be the happy ending denied so many bullied targets. The most famous of all targets in recent times, Jonathan Martin, has landed a new job. He was traded by the Miami Dolphins, the team with the abusive work environment that compelled him to voluntarily leave, to the 49ers coached by Jim Harbaugh, his college coach at Stanford.
And he's happy. Read the press account.
WBI research with bullied targets found that after bullying, 29% made more money, 37% were not bullied again, 65% were not able to match their lost income, and 26% never found another job. So, Jonathan Martin is one of the lucky ones. Of course, he still has to win a job on the 53-man roster this summer, but at least he has been given the chance.
We wish him luck.
###
For now, it appears this story ends, you can follow the full NFL story from the start in the Category list in the sidebar: NFL: Jonathan Martin Read the NFL investigation report.
Tags: Jonathan Martin, locker room culture, Miami Dolphins, NFL, workplace bullying
Posted in Good News, NFL: Jonathan Martin, Tutorials About Bullying, WBI Education, WBI Surveys & Studies | No Archived Comments | Post A Comment () »
Tuesday, March 11th, 2014
The ad speaks for itself.
)
Follow this link after watching the video.
Tags: mythodpedia
Posted in Good News, Hear Ye! Hear Ye! 2 | No Archived Comments | Post A Comment () »
Monday, March 10th, 2014
Confident girls are often called the other B-word, and it can keep them from reaching their full potential, write Sheryl Sandberg (COO, Facebook) and Anna Maria Chávez (CEO, Girl Scouts, USA) on March 8, 2014, Wall Street Journal.
We were bossy little girls.
Sheryl: When my brother and sister describe our childhood, they will say that I never actually played as a child but instead just organized other kids' play. At my wedding, they stood up and introduced themselves by explaining, "Hi, we're Sheryl's younger brother and sister … but we're not really her younger brother and sister. We're her first employees—employee No. 1 and employee No. 2."
From a very young age, I liked to organize—the toys in my room, neighborhood play sessions, clubs at school. When I was in junior high and running for class vice president, one of my teachers pulled my best friend aside to warn her not to follow my example: "Nobody likes a bossy girl," the teacher warned. "You should find a new friend who will be a better influence on you."
Anna: The Latino community of my childhood had clear expectations for each gender: Males made decisions, and females played supporting roles. My brothers and I used to play war with the neighborhood kids. Each child was assigned to a team to prepare for battle. As the only girl, I was always sent to collect ammunition (red berries from nearby trees). One day, I announced that I wanted to lead the battalion. The boys responded, "You are really bossy, Anna, and everyone knows a girl can't lead the troops."
Fortunately, I saw my mother break this mold by running for our local school board. One of the most vivid memories of my childhood was hearing people come up to my father and say that it was inappropriate for his wife to run for office … and having him tell them that he disagreed and was proud of her.
Tags: boss, bossy, labeling, power, sexism, stereotypes, women leaders
Posted in Good News, Guest Articles | 1 Archived Comment | Post A Comment () »