Archive for the 'Good News' Category
Monday, March 10th, 2014
Confident girls are often called the other B-word, and it can keep them from reaching their full potential, write Sheryl Sandberg (COO, Facebook) and Anna Maria Chávez (CEO, Girl Scouts, USA) on March 8, 2014, Wall Street Journal.
We were bossy little girls.
Sheryl: When my brother and sister describe our childhood, they will say that I never actually played as a child but instead just organized other kids' play. At my wedding, they stood up and introduced themselves by explaining, "Hi, we're Sheryl's younger brother and sister … but we're not really her younger brother and sister. We're her first employees—employee No. 1 and employee No. 2."
From a very young age, I liked to organize—the toys in my room, neighborhood play sessions, clubs at school. When I was in junior high and running for class vice president, one of my teachers pulled my best friend aside to warn her not to follow my example: "Nobody likes a bossy girl," the teacher warned. "You should find a new friend who will be a better influence on you."
Anna: The Latino community of my childhood had clear expectations for each gender: Males made decisions, and females played supporting roles. My brothers and I used to play war with the neighborhood kids. Each child was assigned to a team to prepare for battle. As the only girl, I was always sent to collect ammunition (red berries from nearby trees). One day, I announced that I wanted to lead the battalion. The boys responded, "You are really bossy, Anna, and everyone knows a girl can't lead the troops."
Fortunately, I saw my mother break this mold by running for our local school board. One of the most vivid memories of my childhood was hearing people come up to my father and say that it was inappropriate for his wife to run for office … and having him tell them that he disagreed and was proud of her.
Tags: boss, bossy, labeling, power, sexism, stereotypes, women leaders
Posted in Good News, Guest Articles | No Archived Comments | Post A Comment () »
Thursday, February 20th, 2014
The owner of the NFL Miami Dolphins fired offensive line coach Mike Turner and trainer Kevin O'Neil. Turner was named as an accomplice in the mistreatment of Jonathan Martin by Ted Wells in his report about the abusive team environment and bullying scanda. Below, head coach Joe Philbin commented on the report and changes he plans for next season.
Follow the full NFL story in the Category list in the sidebar: NFL: Jonathan Martin Read the NFL investigation report.
Tags: bullying, Jonathan Martin, Miami Dolphins, NFL, workplace bullying
Posted in Good News, NFL: Jonathan Martin | No Archived Comments | Post A Comment () »
Wednesday, February 12th, 2014
Jack Welch, the former CEO of General Electric, "Neutron Jack," and "CEO of the Century," famously practiced and preached that the "top 20% of performers deserved to be handsomely rewarded while the bottom 10% should be replaced." His "winning" strategy was to instill fear in all workers that at any time they could drop into the abyss of the lowest 10% and be banished.
Companies copied the practice of forced distributions for performance ratings, then acting on the arbitrarily discarded 10%-ers. One such company was Microsoft. They called it "stack ranking." Microsoft used a 1 to 5 scale, with 1 being the best and dictates that 20% of employees get a 1, 20% get a 2, 40% get a 3, 13% get a 4, and 7% get a 5 — a forced distribution not based on merit. Groups were also ranked against each other. Managers then had to fight among themselves to get resources.
The system compelled managers to fire people while ignoring actual performance criteria. It is a cruel system to both inaccurately rated workers and rating managers. It pits employee against employee, fostering a bullying culture. It creates zero-sum competition within the ranks that consume every worker's emotional energy. Here's how one manager described it:
When I became a manager I was forced to stack rank and kill off several people. It was the cruelest, most vicious form of management ever devised. The philosophy was to get rid of the bottom 10% and refresh the ranks. I found myself forced to get rid of people who had devoted many years of service to MSFT's success but had either burned out or had suffered some other life crisis (illness, death, divorce etc) which caused them to rank last. So rather than work to improve our people we got rid of the heart of MSFT culture. I hated it. I loathed it. And it caused me to burn out too. I left in 2000. Just in time to miss the burst of the Tech bubble. Yet our district manager, (who shall remain nameless), thrived in all of this chaos and turned it into a lucrative career. Such was the politics of MSFT at the time. Kinda like the old Star Trek parallel universe episode. Where you advanced by forming alliances and killing off your competition. And hence the decline of MSFT since the late 90′s. Yet some people came out on top. Cruelty isn't even the right word.
Tags: Jack Welch, Lisa Brummel, Microsoft, performance appraisal, stack ranking, workplace bullying
Posted in Good News, Tutorials About Bullying, WBI Education | No Archived Comments | Post A Comment () »
Tuesday, February 11th, 2014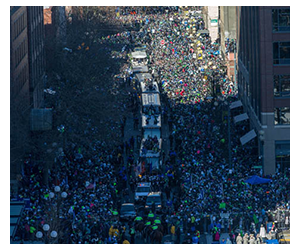 They came by the hundred thousands. You might think this is about the 750,000 Seattle Seahawks fans clogging the streets of Seattle to greet their NFL team coming home triumphant from the Super Bowl (pictured on the left). In a way, they make the point for me that it took the NFL to get people to take to the streets. But it was a feel-good parade that few could argue with. And note that the parade's participants outnumbered the population of Seattle. Some converged on the city from far away. WBI lives 100 miles north and there were two busloads and untold car pools who made the trek. So this is what it takes to move people to act, to stand in the frigid air to make a statement of some sort.
Why don't Americans protest in the streets? Robert Reich wrote that despite the economic pain suffered by the poor — underpaid workers, the underemployed and the unemployed — we Americans are afraid to protest corporate greed and government indifference lest we lose our jobs. He also believes that our cynicism about government, now commonplace thanks to an unrelenting message from the right for over 40 years, keeps us in our couches.
But hope springs eternal. A bit of background. North Carolina is one of several states where rabid right wingers (don't call 'em conservatives) control the state legislature and the governor's seat. The politicians who seem to hate citizens have run amok, trampling voting rights, undermining public education and seemingly re-segregating the state as was done after the Civil War (or War of Northern Aggression) via Jim Crow laws. Bill Moyers produced a mini-documentary on the recent setbacks for North Carolinians.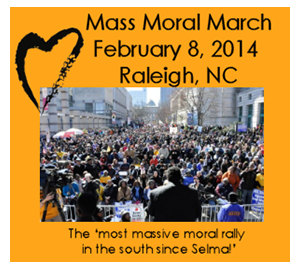 In N.C., Rev. William Barber, pastor, PhD in public policy, State NAACP President, and organizer extraordinaire, has led what he called "Moral Monday" protests. They began with a half dozen people at his church. Barber, the smart organizer staged an event on Feb. 8 in Raleigh (see poster) that included activists for multiple progressive causes. In fact, the event had a 14-point agenda. On Sunday, the crowd estimated at between 80,000 and 100,000 marchers took over Raleigh.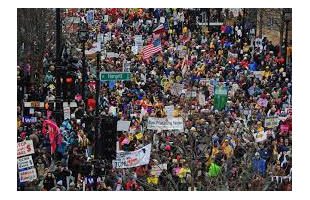 Moral marchers modeled for other Americans one week after the Super Bowl that other things matter beside the NFL: quality public schools, livable wage, health care for all, increased access to voting, affordable housing, end of the death penalty, immigrant rights, and redress for North Carolina's racist past. It was heartening to see the successful event. It should remind us of our rebellious history, that our nation was forged by protest. Too bad the corporate media kinda ignored it all.
WBI salutes the Moral Monday movement in North Carolina and around the nation.
Tags: environmental justice, Fairness & Social Justice Denied, moral march, moral mondays, NAACP, North Carolina, William Barber
Posted in Commentary by G. Namie, Good News, The New America | No Archived Comments | Post A Comment () »
Monday, January 13th, 2014
The WBI Indiegogo crowd funding campaign raised $7,026 (goal was 6,000).
This ensures that the 2014 WBI U.S. Workplace Bullying Survey will happen!!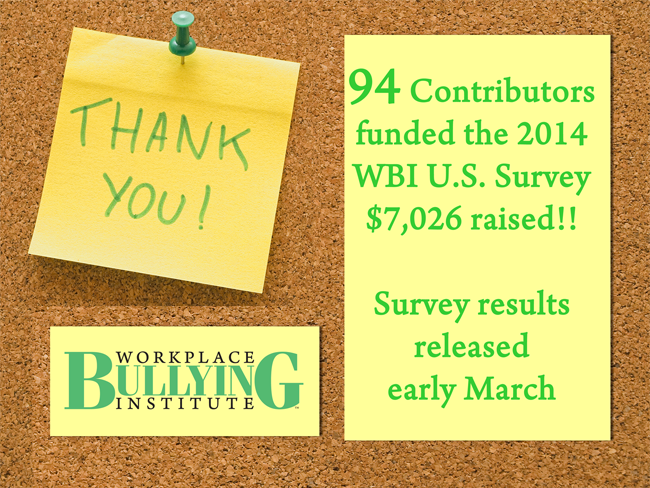 with Major Funding from An Anonymous Donor and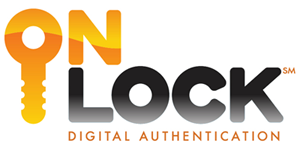 Tags: 2014 WBI U.S. Workplace Bullying Survey, indiegogo, thank you, WBI research
Posted in Good News, Hear Ye! Hear Ye! 2, WBI Surveys & Studies | No Archived Comments | Post A Comment () »
Monday, December 16th, 2013

Offices closed Dec. 16-Jan. 1. Back on Jan. 2
The WBI Indiegogo campaign to fund our national 2014 U.S. Workplace Bullying Survey ends mid-January.
Now is the best time of year to think of others. Give a voice to the millions of bullied targets and invigorate the campaign to end workplace bullying with your gift.
On Dec. 25, we hit 69% of our goal.
Can you help with a donation as low as $5 to make a difference. Perks available for donations of at least $50.
See the results of the the 2010 WBI U.S. Workplace Bullying Survey cited by more media than any other survey in the world.
Tags: holidays, U.S. Workplace Bullying Survey, Workplace Bullying Institute
Posted in Good News, WBI Surveys & Studies | No Archived Comments | Post A Comment () »
Friday, December 6th, 2013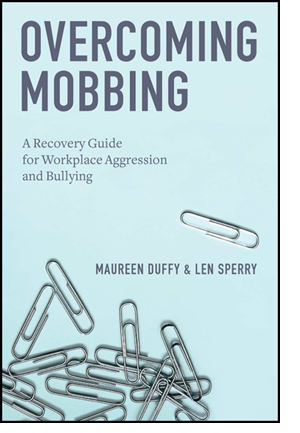 Overcoming Mobbing
A Recovery Guide for
Workplace Aggression
and Bullying
By Maureen Duffy & Len Sperry
A powerful, practical book that accurately reflects the entire bullying experience. These two clinicians, Duffy a clinical psychologist and Sperry a psychiatrist, demonstrate a deep understanding of bullied individuals and what it takes to heal them so life can be lived after bullying.The subtitle says it all — Recovery.
From the Foreword
Practical is the adjective to best describe this book. Though it is rich in citations and relies on science, applicability to real lives, real families and real organizations jumps off the pages. It tackles an admittedly complex subject with an accessible writing style that showcases illustrations and summary lists and tables. Points are driven home artfully with compassion for victims present throughout …
The blunt and truthful authors then describe how organizations create "shadow files" and do whatever it takes for administrators hide behind the myth that it is a "good and fair place to work." Hypocritically, those employers discard good employees as though they are dispensable resources using the tactics of mobbing fueled by the hurtful power of social exclusion, ostracism …
The authors do not leave the reader submerged in the dark side of the world of work. Ultimately, the book is about hope and inspiration. So, the seventh chapter signals the shift toward a discussion of recovery from mobbing. The valuable advice flows steadily and includes gems such as "don't make fighting the organization that mobbed you your next career." Their wisdom extends to selecting psychotherapists who practice "trauma-informed mental health care" by taking into account the organizational, cultural and power dynamics factors that instigated the mobbing experience rather than a focus on the victim's vulnerability …
The authors' defiantly critique the "bad apple," personality-dominated explanation for mobbing. They give the reader an introduction to work environments and their working parts. Personalities of perpetrators comprise only a small part …
Hooray for Duffy and Sperry's clarity in pronouncing that banishing bullies does not end the systemic problem. As the authors write "it takes an organization" to create it, and that's what it takes to stop it. ###
There is wisdom for organizational reps for those smart enough to apply the lessons contained inside. However, this book is primarily for bullied targets and the families who love them.
About the authors
Maureen Duffy, PhD, is a practicing family therapist and consultant specializing in workplace and school mobbing and bullying issues and an Affiliate with the Qualitative Research Graduate Program at Nova Southeastern University She provides trauma-informed psychotherapy to targets of mobbing and bullying and their families and consultation and training on workplace abuse to stakeholders including human resource managers and attorneys. She is the coauthor of Mobbing: Causes, Consequences, and Solutions.
Len Sperry, MD, PhD, is Professor of Mental Health Counseling at Florida Atlantic University and Clinical Professor of Psychiatry at the Medical College of Wisconsin. He has provided psychotherapy to mobbing victims and consulted with corporations on mobbing and bullying. He is the coauthor of Mobbing: Causes, Consequences, and Solutions.
Buy this book (along with the Lutgen-Sandvik book and, if they don't own it yet, our book, The Bully At Work) for those who need it most this Christmas season. They will be forever grateful.
Tags: bullied targets, Len Sperry, Maureen Duffy, Mobbing, organizational factors, self help, strategies, therapy, trauma, workplace bullying
Posted in Books, Bullying-Related Research, Good News, Hear Ye! Hear Ye! 2, Media About Bullying, Social/Mgmt/Epid Sciences, Tutorials About Bullying | 1 Archived Comment | Post A Comment () »
Thursday, December 5th, 2013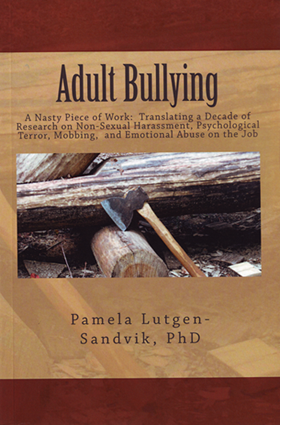 Adult Bullying
A Nasty Piece of Work:
Translating a Decade of Research
on Non-Sexual Harassment,
Psychological Terror, Mobbing,
and Emotional Abuse on the Job
By Pamela Lutgen-Sandvik, Ph.D.
North Dakota State University
Dr. Lutgen-Sandvik is arguably one of the most prolific American academic researchers on the topic of workplace bullying. She certainly is the best informed among academics, with few exceptions.
Here's why.
Pam is real. From her bio, prior to earning her doctorate in organizational communication at Arizona State she worked as a social service organization administrator, first in the field of women's advocacy and then in outpatient substance abuse treatment. Advocacy in the human services field is a rare background for academics.
Pam's practical, kick 'em in the shins approach to the esoteric world of academic research is revealed in the titles of some of her works — "Nightmares, demons & slaves" (can you hear Cher?), "Take this job and shove …" "Burned by bullying in America." And her style of collecting research data was to talk with bullied targets.
This book is a compilation of her work. It is not written by an egghead. The subtitle refers to her "translating" research into plainspeak. That's what she is profoundly good at doing well. Thus, it is ultimately readable.
The information found between the covers is useful if you are fighting a grievance, filing a complaint, embroiled in a lawsuit, or facing blank stares from HR.
The book covers many aspects of the bullying phenomenon with chapters on each — the prevalence, the stages of bullying, explaining the pain, the trauma and stigma of being bullied, how organizations become toxic, why women bully women, behavior of witnesses, and reversing the effects of bullying in individuals' lives.
Pam dedicates the book to all those bullied individuals who bravely participated in her research.
In 2013, she moved to North Dakota State (NDSU) in 2013 to join the Department of Communication in Fargo. She continues to research, publish, and teach in the area of organizational communication at NDSU and serves as the Director of the NDSU Communication Research & Training Center. Dr. Lutgen-Sandvik is married, has two children, and lives in Moorhead, MN.
Also, in 2013, Pam attended the WBI Workplace Bullying University® training for professionals in Bellingham, Washington to which she contributed mightily.
Pam declares that
All proceeds from book sales support scientific research that seeks to reduce workplace bullying, improve workplace communications and build more respectful workplace climates.
Where else can approx. $11 accomplish all that? Buy this book for yourself and as gifts for loved ones who have been bullied at work. While shopping, also buy Overcoming Mobbing by Duffy & Sperry new this holiday season 2013, and our book, The Bully At Work. They will be forever grateful.
With Pam, our admiration is personal. She came to Bellingham to meet us Namies in 2003 before her graduate studies were finished. She came to glean all she could from Dr. Ruth. So she is more than an intellectual colleague, she is a precious friend. We bought the book. You should, too.
Tags: bullied targets, emotional abuse, Len Sperry, Mobbing, non-sexual harassment, Pamela Lutgen-Sandvik, psychological terror, research, self help, workplace bullying, workplace bullying book
Posted in Books, Bullying-Related Research, Good News, Hear Ye! Hear Ye! 2, Media About Bullying, Social/Mgmt/Epid Sciences | No Archived Comments | Post A Comment () »
Friday, November 29th, 2013
A new study from the UK Federation of Entertainment Unions found that workplace bullying, along with harassment and discrimination, is major issue in the creative industries.
The report took center stage at the Creating without Conflict conference in London on November 19, 2013. Along with the survey results the Unions called for confidential hotlines to help their bullied members, as well as better training for management.
From The Stage

These findings come from a survey, Creating Without Conflict, compiled by the Federation of Entertainment Unions, which includes Equity, the Writers' Guild of Great Britain, the Musicians' Union, BECTU and the National Union of Journalists. Its aim was to assess how widespread bullying, harassment and discrimination is in the entertainment and media industries, with more than 4,000 people from across the different unions taking part. Respondents included household names and top screenwriters, as well as people at the beginning of their careers.
Tags: creating without conflict, london, survey, UK Federation of Entertaimnet unions, Unions, workplace bullying
Posted in Broadcasts: Video, TV, radio, webinars, Good News | No Archived Comments | Post A Comment () »
Monday, November 4th, 2013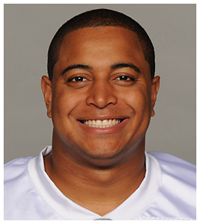 It is fact that bullied targets suffer in silence for too long. When shrouded in silence and secrecy, bullying thrives. Targets lose their jobs; bullies continue with impunity.
An interesting and hopeful exception is brewing. The NFL and Miami Dolphins are investigating the charges of an abusive work environment in the locker room by 2nd year player Jonathan Martin (picture on the right). He has accused veteran teammate Richie Incognito of intimidation and bullying. Thanks to Martin and the Dolphins for using the term "bullying."
Martin voluntarily left the team on Oct. 28. The team put him on paid leave. A decision about his status is due by 4 pm Tuesday Nov. 5. His pay could be suspended at that time. If Martin were to lose money, he makes approximately $68,000 per game during the regular season.
The team learned of exchanges and racial blasts from Incognito directed at Martin since the departure. The team then suspended Incognito. His rants have gone viral.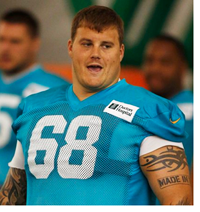 The story might well have ended with teammates backing Incognito (pictured on the left) and denigrating Martin for being weak. And the Dolphins were leaning toward that conclusion over the weekend but changed when evidence became available and in their possession.
Here's the transcript of a classy Incognito voice message he left for Martin in April 2013, a year after Martin was drafted, according to sources Multiple sources confirmed by ESPN:
"Hey, wassup, you half n—– piece of s—. I saw you on Twitter, you been training 10 weeks. [I want to] s— in your f—ing mouth. [I'm going to] slap your f—ing mouth. [I'm going to] slap your real mother across the face [laughter]. F— you, you're still a rookie. I'll kill you."
And true to form, Incognito has demonstrated a pattern of super-aggression above and beyond what is demanded by professional football. Workplace bullies are chronic abusers, not single shot offenders.
Bullies in non-sports workplaces are rarely held accountable (only 11% face negative consequences for their actions). Let's watch this case to see if finally justice is served.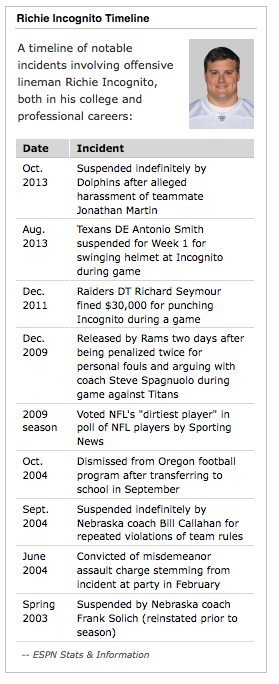 Follow the full story in the Category list in the sidebar: NFL: Jonathan Martin
Tags: bully, Gary Namie, Jonathan Martin, NFL, racial slurs, Richie Incognito, workplace bullying
Posted in Broadcasts: Video, TV, radio, webinars, Good News, Media About Bullying, NFL: Jonathan Martin, Print: News, Blogs, Magazines, Tutorials About Bullying, WBI Education | No Archived Comments | Post A Comment () »