Archive for the 'Bullying-Related Research' Category
Thursday, October 22nd, 2015
Bullying in the workplace: How to recognize and address it
By Becky Parker, WDAZ-TV (Grand Forks, North Dakota), Oct. 22, 2015
Bullying is an issue people may think is reserved for the schoolyard, or even cyberspace.
But adult bullying in the workplace can have devastating effects on people's lives.
One in 10 U.S. workers say they are being bullied at their jobs.
Forty-five-percent say they've been bullied at some point during their career, and another 25% say they've witnessed workplace bullying.
We spoke to North Dakota State University professor and researcher Pam Lutgen-Sandvik, who has been studying workplace bullying for nearly 15 years. [Note: Dr. Lutgen-Sandvik is a WBI friend & colleague; her research is featured prominently in the WBI training for professionals, Workplace Bullying University.]
She defines bullying as persistent, hostile, aggressive behavior that can be verbal or non-verbal.
Research shows adult bullying can lead to depression, eating disorders, sleeping disorders, PTSD and physical ailments.
It also increases the person's stress levels and degrades their mental health by making them feel crazy, scared, and anxious.
"It also bleeds into families. When you're bullied and abused at work you go home and sometimes there's displaced aggression when you're screaming at your family members, sort of that, 'kick-the-dog' kind of thing. We do know for sure it reduces people's satisfaction with their personal lives," says Lutgen-Sandvik.
Here's what she says you should do if you are being bullied at work:
• Give it a name – define it as workplace bullying.
• Remember that it's not your fault – bullies often make the victim feel crazy.
• Get some social support – like a counselor – as bullying can degrade your mental health.
• Take some time off from work to regroup and figure out how to address the problem.
"Trying to make sense of it and figure out what you're going to do is really difficult when you're in the environment and you're constantly bombarded with this aggression and hostility. If it's possible, take some time off of work so you can kind of get your bearings and figure out, 'am I going to stay? If I'm not going to stay, what am I going to do here?'"
Many people in a bullying situation at work might want to fight back, but that can be risky.
Often, bullying situations at work involve an element of power. In the U.S., it's usually a manager, but can also be a peer.
If you do choose to fight back, Lutgen-Sandvik says the best way is to talk to someone who has power over the bully.
Bring specific examples of bullying, have other co-workers to back you up, and have a clear goal in mind.
Lutgen-Sandvik says it is not a good idea to confront the bully directly.
"They will escalate the abuse worse than it ever was before, and drive the people out of the workplace because now they've become serious threats to the perpetrator. So, directly confronting the perpetrator, it's really a very, I would say, dangerous thing to do."
###
This is Freedom from Workplace Bullies Week and October is Bullying Prevention Month and Domestic Violence Awareness Month.
Readers may click-to-purchase Adult Bullying, Pam's chronicle of her decade of research into workplace bullying, written in easy-to-understand prose.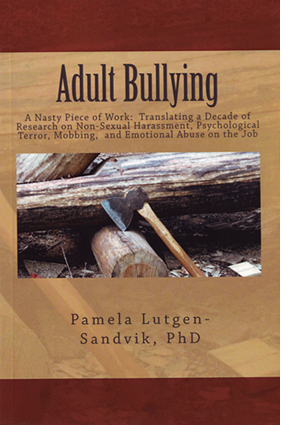 Tags: 2014 WBI U.S. Workplace Bullying Survey, abusive conduct, adult bullying, health harm, Lutgen-Sandvik, NDSU, professor, research, workplace bullying
Posted in Bullying & Health, Bullying-Related Research, Social/Mgmt/Epid Sciences, WBI Education, Workplace Bullying University | No Archived Comments | Post A Comment () »
Wednesday, September 23rd, 2015
At WBI, Dr. Ruth, I and several of the staff have listened to long-winded tales of misery endured at the hands of workplace bullies for many years. It amazes us that as many people survive the process as they do. It's a testament to human resilience.
Suicide is the abandonment of hope, of not seeing any future, of not perceiving alternatives. It happens. How often it is the choice of bullied workers is not known. The international pioneer of the movement, Heinz Leymann, wrote in the early 1990's that about 10% of those bullied do take their lives. It was his educated guess.
Now comes an important study from our Norwegian friends at the Bergen Bullying Research Group led by Stale Einarsen. The principal author of the study published Sept. 17 in the American Journal of Public Health is Morten Birkeland Nielsen.
The subtitle of the article is "A 3-Wave Longitudinal Norwegian Study." The key contribution made by the study is that it measured the same group of people during three different time periods. Its longitudinal approach clarifies the sequence of events. It was a test to determine which caused which — bullying at work or considering suicide (the academics and clinicians call it suicidal ideation). The one that preceded the other can be considered a cause of the second.
The study overcame a problem common to all cross-sectional studies (in which different groups of people are measured only once) — the question of correlation between factors. That is, if we ran a study here at the WBI website of bullied individuals and asked two questions — have you been bullied and have you considered suicide — and the two scores were highly correlated, we still could not say with certainty that bullying caused people to consider suicide. The Nielsen, et al., study solved that problem with its unique tracking of a single group over time — in 2005, 2007 and again in 2010. In wave 1, 2,539 (our of 4500 solicited from a national random sample) returned the researchers' surveys. By 2010, the sample was still at 1,291 individuals — the final group with three measurements.
Tags: American Journal of Public Health, Einarsen, Gary Namie, mental health, negative impact, Nielsen, suicide, workplace bullying, workplace bullying insititute
Posted in Bullying & Health, Bullying-Related Research, Social/Mgmt/Epid Sciences, WBI Education | 3 Archived Comments | Post A Comment () »
Tuesday, September 22nd, 2015
Workplace Bullying May Increase Risk of Suicidal Thoughts
By Lisa Rapaport, Reuters News Service, Sept. 17, 2015
(Reuters Health) – Workers who are victims of bullying on the job may become more likely to contemplate suicide than people who don't experience a hostile office environment, a Norwegian study suggests.
Researchers surveyed a nationally representative sample of roughly 1850 workers and followed them from 2005 to 2010. While less than five percent of participants reported thoughts of suicide during the study period, they were about twice as likely to do so after being victims of workplace bullying.
"Our study adds to the understanding of how bullying is related to thoughts about suicide by showing that the perception of being bullied at work actually is a precursor of suicidal ideation and not a consequence," said lead study author Morten Birkeland Nielsen of the National Institute of Occupational Health and the University of Bergen.
At least 800,000 people worldwide take their own lives each year, making suicide a leading cause of death, Nielsen and colleagues write in the American Journal of Public Health.
Although psychiatric disorders are involved in the majority of suicide attempts, most people with mental health disorders don't take their own lives, the researchers note.
Tags: abusive conduct, American Journal of Public Health, Einarsen, Gary Namie, Nielsen, suicide, University of Bergen, workplace bullying, Workplace Bullying Institute
Posted in Bullying-Related Research, Social/Mgmt/Epid Sciences, Tutorials About Bullying, WBI Education, WBI in the News | 1 Archived Comment | Post A Comment () »
Friday, July 31st, 2015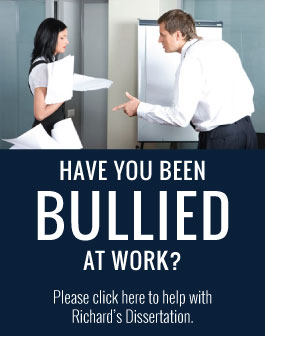 If you believe you have been bullied at work, you are invited to participate in a dissertation survey on Workplace Bullying approved by the WBI. The title of the dissertation is
"The Effect of Target Demographics and Emotional Intelligence on Workplace Bullying.
It takes about 20 minutes. There are two steps to the process:
Read the Consent Form
Take the survey (there are three surveys all combined into one)
Click here to start.
Please share this with anyone you feels has been bullied. Richard needs about 120 participants for the process.
Thank you.
Tags: emotional intelligence, research, survey, workplace bullying
Posted in Bullying-Related Research, Social/Mgmt/Epid Sciences | No Archived Comments | Post A Comment () »
Tuesday, March 10th, 2015
This is the stuff of science fiction that gives medical ethicists pause. Can we erase traumatizing memories stored in our brains? Can happier memories be planted as a substitute for painful ones?
Researchers are hard at work with the newest technologies allowing the substitution. Here is a new study done with laboratory mice. The news article describing the research appears below.
---
Rodent Recall: False but Happy Memories Implanted in Sleeping Mice
Researchers at CRNS in Paris create artificial positive feelings in mouse's memory for first time during sleep, highlighting possible new treatment for depression
By Hannah Devlin, The Guardian, March 9, 2015
Scientists have succeeded in creating false but happy memories in mice, in the first demonstration of memory manipulation during sleep.
In the study, positive feelings about a particular place were artificially written into the animal's memory, which caused them to seek out that place in search of a reward when they woke up.
The discovery that emotional memory can be readily manipulated has echoes of the the film, Eternal Sunshine of the Spotless Mind, in which Jim Carey's character has every recollection about his failed relationship wiped clean using a fictional mind-reading technology.
The scientists say that the findings could pave the way for new treatments that would allow patients to overcome depression or deeply entrenched painful memories.
Karim Benchenane, the neuroscientist who led the research at the CNRS (Centre national de la recherche scientifique) in Paris, said: "The idea is to use this as a tool for post-traumatic stress disorder."
Tags: creating memories, planted memories, PTSD, trauma treatment
Posted in Bullying-Related Research, Neuroscience & Genetics, Related Phenomena, Tutorials About Bullying, WBI Education | No Archived Comments | Post A Comment () »
Tuesday, October 28th, 2014
I've always had a negative reaction to positive psychology despite a sometimes unjustifiable optimism. The contrarian in me seeks the alternative path when the mainstream suggests we all get in line like sheep, think alike and go down the same road. As a psychologist, I saw positivism as my field's attempt to reinvent a history of its dark obsession with abnormality forged by European pioneers.
Related to my life immersed in bullying and injured bullied targets, I see newcomers and nitwits give targets bad advice. Some invoke positive thinking. Feel good affirmations cannot pierce the shroud under which bullied, anxious, and depressed targets find themselves. Can they? Of course, being told to "get real," and "just grow a thicker skin" are equally inane and ineffective admonitions. Where's the middle ground?
I found the realistic alternative to positivism in the work of German psychologist and researcher Gabriele Oettingen who teaches at New York University. Here are citations from an essay she recently wrote for the New York Times and the lengthier statements from her university webpage. Her approach seems best suited to targets seeking ways to overcome their adversity foisted upon them involuntarily.
Mental Contrasting
"Mental contrasting" has produced powerful results in laboratory experiments. When participants have performed mental contrasting with reasonable, potentially attainable wishes, they have come away more energized and achieved better results compared with participants who either positively fantasized or dwelt on the obstacles.

When participants have performed mental contrasting with wishes that are not reasonable or attainable, they have disengaged more from these wishes. Mental contrasting spurs us on when it makes sense to pursue a wish, and lets us abandon wishes more readily when it doesn't, so that we can go after other, more reasonable ambitions.
WBI: This approach seems to give permission to the person to let go of unattainable goals — e.g., convincing your employer to fire the bully — freeing the person to pursue wholeheartedly realistic goals — e.g., finding the next job, taking time off from work to heal or spending time with family and loved ones to repair strained relationships that matter more than work.
Tags: bullied targets, Gabriele Oettingen, goals, mental contrasting, positive thinking, positivism, workplace bullying
Posted in Bullying-Related Research, Social/Mgmt/Epid Sciences, Tutorials About Bullying, WBI Education | 2 Archived Comments | Post A Comment () »
Monday, September 29th, 2014
Career Builder commissioned an online Harris Poll to survey employed full-time private sector U.S. respondents. The prevalence of bullying was 28%. Career Builder findings can be extrapolated to their sample — people with full-time jobs in the private sector working for someone else.
Career Builder defined workplace bullying as
unwanted, aggressive behavior that involves a real or perceived power imbalance. The behavior is often repeated over time. Bullying can include actions such as making threats, spreading rumors, attacking someone physically or verbally, and excluding someone from a group on purpose.
The only diversion from traditional definitions is the inclusion of physical attacks. Bullying is non-physical assault, not battery.
WBI commissioned Zogby to conduct our 2014 U.S. Workplace Bullying Survey with a sample of all adult Americans that included unemployed workers (since bullying displaces so many of its targets). The prevalence of bullying was 27%. Our findings apply to all adult Americans, a broader sample.
The two studies are worth comparing. Both investigated bullying by race and rank.
Here are the major findings from the Career Builder survey (reprint of the CB press release).
• Minorities, the physically disabled and LGBT workers were bullied at a higher prevalence rate
• Women were targeted more than men (same for WBI)
• Managers were bullied at a 27% rate (it was 35% in the WBI 2007 national survey)
• Bullies were bosses (45%) and coworkers (46%); the WBI rates were 56% and 33%, respectively
• 48% of targets confronted their bully (WBI found that 69% had) and 45% of those people were successful at stopping the bullying (WBI found a paltry 3.57% success rate)
• 32% reported incidents to HR but in 58% of those cases nothing was done
According to the survey, the top five tactics were:
• Falsely accused of mistakes he/she didn't make (43%)
• Comments were ignored, dismissed or not acknowledged (41%)
• A different set of standards or policies was used for the worker (37%)
• Gossip was spread about the worker (34%)
• Constantly criticized by the boss or co-workers (32%)
Regardless of the definition, this study reinforces our own work — workplace bullying is an American workplace scourge.
Tags: career builder, HR, prevalence, race, workplace bullying
Posted in Bullying-Related Research, Healthy Workplace Bill (U.S. campaign), Social/Mgmt/Epid Sciences, Workplace Bullying Laws | 1 Archived Comment | Post A Comment () »
Thursday, September 25th, 2014
PERSONAL ATTRIBUTES OF BULLIED TARGETS AT WORK
WBI Research/Instant Poll: 2014 – A
Since the start of WBI, we have been conversing with bullied targets who telephone us for advice. Over 10,000 targets have taught us their world from the inside. Previously WBI identified in an online study (WBI, 2003) a set of personal attributes that targets themselves said was the reason they were bullied. That list included being independent, possessing more technical skill than their bully, being liked by peers, an ethicality and honesty the bully did not have and being apolitical — not willing or able to play the game of organizational politics.
Some academic researchers, especially those in business schools who tend to adopt management as their referential lens through which they interpret bullying, investigate factors such as "victim precipitation" or the "provocative victim." In other words, attributes of targets are seen as causal; it's a way to blame targets for their fate. It implies that a rational person, when confronted with such provocateurs, would engage in anti-social actions against them because they somehow "deserved it."
Clearly, no one deserves to be abused and suffer the type of health harm bullying generates. On this all good people should be able to agree.
WBI Instant Polls are online single-question surveys that rely upon self-selected samples of individuals bullied at work (typically 98% of any sample). No demographic data are collected. Our non-scientific Instant Polls accurately depict the perceptions of workers targeted for bullying at work as contrasted with the views of all adult Americans in our scientific national surveys.
Tags: 2014 IP a, attributes, bullied targets, bullying research, Daniel Christensen, Gary Namie, instant poll, personality, workplace bullying, Workplace Bullying Institute
Posted in Bullying-Related Research, Social/Mgmt/Epid Sciences, WBI Surveys & Studies | No Archived Comments | Post A Comment () »
Friday, August 29th, 2014
Business Wire – August 28, 2014 – Kaplan Survey
For those entering the workforce, typical top-of-mind issues include opportunities for growth, benefits, and job security — but nearly half of those entering the nursing profession voice another concern: being bullied by colleagues. According to a just-released Kaplan survey of over 2,000 nursing school graduates from the class of 2014, 48% say they are concerned about being the victims of workplace bullying or working in a hostile working environment.* The survey also found that 39% personally knew nurses who were victims of workplace bullying or a hostile working environment.
One widely cited study found that approximately 60% of nurses left their first nursing job within six months because of bullying issues or because of a hostile work environment.** And studies conducted over the past decade show there's a financial cost to this for medical providers, ranging from $22,000 to over $64,400 per turnover. (http://www.medscape.com/viewarticle/569393_2).
Tags: healthcare, hostile work environment, kaplan test pret, nursing school, workplace bullying
Posted in Bullying-Related Research, Print: News, Blogs, Magazines | No Archived Comments | Post A Comment () »
Tuesday, July 15th, 2014
WBI friend Lewis Maltby wrote convincingly in his book, Can They Do That?, that American workers have very few rights. Without a union bargained contract, all rights are owned by management unless state or federal laws provide specific protections. Among the industrialized nations (members of the OECD), US workers have the fewest rights.
Robert Fuller, another WBI friend, speaks and writes eloquently about somebodies and nobodys, the hierarchy in our lives. For him, the issue is rankism. It makes good sense in our nation of ever-expanding income inequality.
From the work of stress guru, Robert Sapolsky, Stanford University professor and researcher, we learn that simply organizing social groups in hiearchical ways with rank playing a role in how all resources are unevenly divided is stressful. Those dominated by others are doomed to lives of ongoing stress. Social subordination generates distress, that in turn, triggers major life-threatening diseases through disruption of the adrenocortical, cardiovascular, reproductive, immunological, and neurobiological systems (Sapolsky, 2005).
Workers bullied by higher ranking bosses (56% of all targets) will find it nearly impossible to avoid contact. That toxic contact is the exposure to stress that causes health harm.
I say all this to put into context the June 30, 2014 decisions by the U.S. Supreme Court (SCOTUS). By majority votes of the conservative-dominated court, the rights of company owners were expanded. The (chief justice) Roberts Court has never ruled against corporate interests.
The two cases decided upon were Sylvia Burwell, Secretary of HHS v. Hobby Lobby Stores, Inc. (13-354) and Conestoga Wood Specialties Corporation v. Sylvia Burwell, Secretary of HHS (13-356) — jointly dubbed the Hobby Lobby decision.
Tags: California Healthy Workplace Advocates, distress, Hobby Lobby, Lewis Maltby, Robert Fuller, Robert Sapolsky, SCOTUS, stress, US Supreme Court
Posted in Bullying-Related Research, Rulings by Courts, Social/Mgmt/Epid Sciences | 1 Archived Comment | Post A Comment () »