Archive for the 'Social/Mgmt/Epid Sciences' Category
Tuesday, February 25th, 2014
2014 WBI U.S. Workplace Bullying Survey
February 2014
National Prevalence & Awareness
Gender of Perpetrators & Targets
Perpetrator Rank
Race & Ideology
Employer Reactions
Coworker Actions
Stopping the Bullying
Support for a Law
Causal Factors
About Bullied Targets
Methodology

Funding by 93 Indiegogo Contributors and major support from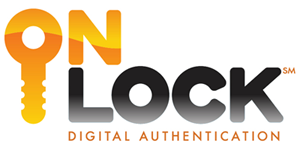 Gary Namie, PhD, Research Director
Assistance from Daniel Christensen & David Phillips
© 2014, Workplace Bullying Institute, All rights reserved.
360.656.6630
Key Findings
- 27% of adult Americans have directly experienced "repeated abusive conduct that is threatening, intimidating, humiliating, work sabotage or work abuse."
- Counting witnesses, 48% have been affected
- 72% of Americans are now aware of workplace bullying
- 93% of Americans want a law to protect them from abuse in addition to anti-discrimination laws
- Employers are lagging far behind and doing relatively nothing voluntarily to stop abusers on the payroll
- Women bullies still target women at a disproportional rate (68%)
- Women are still the majority of targets (60%)
Tags: 2014 U.S. Workplace Bullying Survey, Daniel Christensen, David Phillips, Gary Namie, research, surveys, Workplace Bullying Institute
Posted in Bullying-Related Research, Social/Mgmt/Epid Sciences, WBI Education, WBI Surveys & Studies | 2 Archived Comments | Post A Comment () »
Friday, December 6th, 2013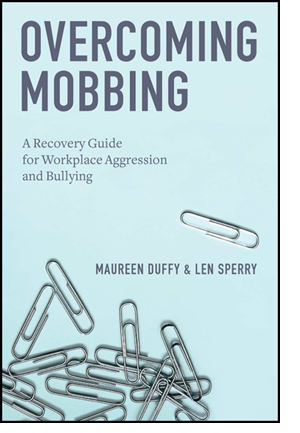 Overcoming Mobbing
A Recovery Guide for
Workplace Aggression
and Bullying
By Maureen Duffy & Len Sperry
A powerful, practical book that accurately reflects the entire bullying experience. These two clinicians, Duffy a clinical psychologist and Sperry a psychiatrist, demonstrate a deep understanding of bullied individuals and what it takes to heal them so life can be lived after bullying.The subtitle says it all — Recovery.
From the Foreword
Practical is the adjective to best describe this book. Though it is rich in citations and relies on science, applicability to real lives, real families and real organizations jumps off the pages. It tackles an admittedly complex subject with an accessible writing style that showcases illustrations and summary lists and tables. Points are driven home artfully with compassion for victims present throughout …
The blunt and truthful authors then describe how organizations create "shadow files" and do whatever it takes for administrators hide behind the myth that it is a "good and fair place to work." Hypocritically, those employers discard good employees as though they are dispensable resources using the tactics of mobbing fueled by the hurtful power of social exclusion, ostracism …
The authors do not leave the reader submerged in the dark side of the world of work. Ultimately, the book is about hope and inspiration. So, the seventh chapter signals the shift toward a discussion of recovery from mobbing. The valuable advice flows steadily and includes gems such as "don't make fighting the organization that mobbed you your next career." Their wisdom extends to selecting psychotherapists who practice "trauma-informed mental health care" by taking into account the organizational, cultural and power dynamics factors that instigated the mobbing experience rather than a focus on the victim's vulnerability …
The authors' defiantly critique the "bad apple," personality-dominated explanation for mobbing. They give the reader an introduction to work environments and their working parts. Personalities of perpetrators comprise only a small part …
Hooray for Duffy and Sperry's clarity in pronouncing that banishing bullies does not end the systemic problem. As the authors write "it takes an organization" to create it, and that's what it takes to stop it. ###
There is wisdom for organizational reps for those smart enough to apply the lessons contained inside. However, this book is primarily for bullied targets and the families who love them.
About the authors
Maureen Duffy, PhD, is a practicing family therapist and consultant specializing in workplace and school mobbing and bullying issues and an Affiliate with the Qualitative Research Graduate Program at Nova Southeastern University She provides trauma-informed psychotherapy to targets of mobbing and bullying and their families and consultation and training on workplace abuse to stakeholders including human resource managers and attorneys. She is the coauthor of Mobbing: Causes, Consequences, and Solutions.
Len Sperry, MD, PhD, is Professor of Mental Health Counseling at Florida Atlantic University and Clinical Professor of Psychiatry at the Medical College of Wisconsin. He has provided psychotherapy to mobbing victims and consulted with corporations on mobbing and bullying. He is the coauthor of Mobbing: Causes, Consequences, and Solutions.
Buy this book (along with the Lutgen-Sandvik book and, if they don't own it yet, our book, The Bully At Work) for those who need it most this Christmas season. They will be forever grateful.
Tags: bullied targets, Len Sperry, Maureen Duffy, Mobbing, organizational factors, self help, strategies, therapy, trauma, workplace bullying
Posted in Books, Bullying-Related Research, Good News, Hear Ye! Hear Ye! 2, Media About Bullying, Social/Mgmt/Epid Sciences, Tutorials About Bullying | 1 Archived Comment | Post A Comment () »
Thursday, December 5th, 2013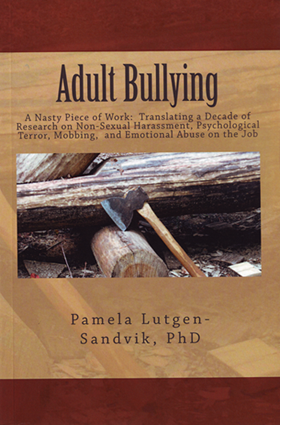 Adult Bullying
A Nasty Piece of Work:
Translating a Decade of Research
on Non-Sexual Harassment,
Psychological Terror, Mobbing,
and Emotional Abuse on the Job
By Pamela Lutgen-Sandvik, Ph.D.
North Dakota State University
Dr. Lutgen-Sandvik is arguably one of the most prolific American academic researchers on the topic of workplace bullying. She certainly is the best informed among academics, with few exceptions.
Here's why.
Pam is real. From her bio, prior to earning her doctorate in organizational communication at Arizona State she worked as a social service organization administrator, first in the field of women's advocacy and then in outpatient substance abuse treatment. Advocacy in the human services field is a rare background for academics.
Pam's practical, kick 'em in the shins approach to the esoteric world of academic research is revealed in the titles of some of her works — "Nightmares, demons & slaves" (can you hear Cher?), "Take this job and shove …" "Burned by bullying in America." And her style of collecting research data was to talk with bullied targets.
This book is a compilation of her work. It is not written by an egghead. The subtitle refers to her "translating" research into plainspeak. That's what she is profoundly good at doing well. Thus, it is ultimately readable.
The information found between the covers is useful if you are fighting a grievance, filing a complaint, embroiled in a lawsuit, or facing blank stares from HR.
The book covers many aspects of the bullying phenomenon with chapters on each — the prevalence, the stages of bullying, explaining the pain, the trauma and stigma of being bullied, how organizations become toxic, why women bully women, behavior of witnesses, and reversing the effects of bullying in individuals' lives.
Pam dedicates the book to all those bullied individuals who bravely participated in her research.
In 2013, she moved to North Dakota State (NDSU) in 2013 to join the Department of Communication in Fargo. She continues to research, publish, and teach in the area of organizational communication at NDSU and serves as the Director of the NDSU Communication Research & Training Center. Dr. Lutgen-Sandvik is married, has two children, and lives in Moorhead, MN.
Also, in 2013, Pam attended the WBI Workplace Bullying University® training for professionals in Bellingham, Washington to which she contributed mightily.
Pam declares that
All proceeds from book sales support scientific research that seeks to reduce workplace bullying, improve workplace communications and build more respectful workplace climates.
Where else can approx. $11 accomplish all that? Buy this book for yourself and as gifts for loved ones who have been bullied at work. While shopping, also buy Overcoming Mobbing by Duffy & Sperry new this holiday season 2013, and our book, The Bully At Work. They will be forever grateful.
With Pam, our admiration is personal. She came to Bellingham to meet us Namies in 2003 before her graduate studies were finished. She came to glean all she could from Dr. Ruth. So she is more than an intellectual colleague, she is a precious friend. We bought the book. You should, too.
Tags: bullied targets, emotional abuse, Len Sperry, Mobbing, non-sexual harassment, Pamela Lutgen-Sandvik, psychological terror, research, self help, workplace bullying, workplace bullying book
Posted in Books, Bullying-Related Research, Good News, Hear Ye! Hear Ye! 2, Media About Bullying, Social/Mgmt/Epid Sciences | No Archived Comments | Post A Comment () »
Friday, November 22nd, 2013
Review of Buckels, Jones & Paulhus (2013) Behavioral Confirmation of Everyday Sadism. This research was conducted at the University of British Columbia and the University of Texas at El Paso.
The phrase "workplace bullying" prompts most listeners to ponder deviant personality quirks of perpetrators. Though we at WBI believe work environment factors are better predictors of a bullying-prone workplace, it is the interaction of personality and work conditions that provide the fullest explanation. Bullied targets, when under assault, ruminate too long on the personality of their bully and the perp's motivation. So, we advise them to ignore the perp's personality so that they can act to get to safety. Given these forewarnings about the limited role of personality in bullying, here is a research article that addresses perhaps the most relevant of all personality traits related to bullying — sadism.
Tags: aggressors, Buckels, bullies, dark side of the world of work, dark triad, Paulhus, perpetrators, personality, sadism, workplace bullying
Posted in Bullying-Related Research, Social/Mgmt/Epid Sciences, Tutorials About Bullying, WBI Education | 2 Archived Comments | Post A Comment () »
Friday, November 22nd, 2013
By Efua Andoh, Psychology Benefits Society (American Psychological Association), Nov. 21, 2013
Richie Incognito's harassment of Miami Dolphins teammate Jonathan Martin raises many complex  questions about workplace bullying, jock culture and American culture overall especially regarding issues of power disparities, masculinity, and race.
As a 6 foot 5, 300-plus pound lineman on the National Football League's Miami Dolphins, Jonathan Martin doesn't exactly fit the stereotype of a bullying victim. But as has now come to light, Jonathan Martin was the target of persistent harassment by Richie Incognito, a fellow lineman with a reputation as one of the dirtiest players in the league. Incognito's lewd and threatening voicemails, some of which included racial slurs (Martin is African American and Incognito is white) have been made public. Reports have emerged that Dolphins coaches may have explicitly instructed Incognito to "toughen up" Martin and that some Dolphins teammates even participated in the abuse. The apparent straw that broke the camel's back was Incognito and others standing up and leaving a lunch table as soon as Martin joined them – a schoolyard tactic if there ever was one.  Martin abruptly left the team after that incident and checked into a hospital for treatment of emotional distress.
While the Dolphins initially downplayed Martin's departure, the team has indefinitely suspended Incognito, and the NFL has launched its own investigation. Yet, Martin's decision to seek help has met with a mixed reaction. While some players have been sympathetic there has been a collective shrug from a number of others who have dismissed Incognito's behavior as simply part of the "locker room culture." Some have said that Martin should have "been a man," implying he should have responded to aggression with aggression.  Sports Illustrated quoted one anonymous player "I might get my ass kicked, but I'm going to go down swinging if that happens to me, I can tell you that."
This story raises troubling and complex questions about workplace bullying, jock culture, and American culture overall regarding issues of power disparities, masculinity, and race. It isn't cut and dried; emerging research shows us that some of the things that many dismiss as simply "locker room" culture are antecedents to workplace bullying.   In fact, bullying targets – and bullies — come in all sizes, ages, and kinds.
Tags: Gary Namie, Jonathan Martin, locker room culture, Miami Dolphins, NFL, Samnani & Singh, workplace bullying, Workplace Bullying Institute
Posted in Bullying-Related Research, Media About Bullying, NFL: Jonathan Martin, Print: News, Blogs, Magazines, Social/Mgmt/Epid Sciences, Tutorials About Bullying, WBI Education, WBI in the News | No Archived Comments | Post A Comment () »
Monday, November 18th, 2013
On Nov. 11, 2013, Gallup released results of its poll that asks workers' preference for a male or female boss, a finding tracked since 1953. The majority of both men and women workers have no preference (51% and 32%, respectively). Fewer men prefer a female boss than than women (18% vs. 27%). Women prefer a male boss more than men do (40% vs. 29%).
The relevance to workplace bullying is the reliable WBI research findings that when women are perpetrators of bullying, they target women in the vast majority of cases (80%). So it is interesting that only 27% of women in Gallup's sample preferred a woman boss. The figure jumps slightly higher if the current boss is a woman (32% prefer a woman boss).
Read the survey findings and see the declining preference for a male boss over the generations. Though males are still preferred over women.
It's a shame really that more women are not given the chance to be executives. Over time, the workplace could become more human, not because I believe in some naive stereotype of all woman as more nurturant leaders than men (the woman-on-woman bullying undermines that simplistic notion), but women would not have to manage like men when they outrank them. Sitting atop the hierarchy provides the freedom to be oneself. We can hope, can't we??
Tags: ABC This Week, bosses, Gallup, gender, women-on-women, workplace bullying
Posted in Bullying-Related Research, Social/Mgmt/Epid Sciences, Tutorials About Bullying, WBI Education | No Archived Comments | Post A Comment () »
Wednesday, October 16th, 2013
Fads, by their nature have a short shelf life. Positive psychology is currently in fashion. How can one argue about the ubiquitous power thinking positive, rather than negative thoughts. For workplace bullied individuals, self-blame and other forms of self-criticism turned inward are destructive and unhealthy. I guess I am bothered by the happy-happy, glib, surreal approach to casting bullying in a positive light.
Apologists for bullies are positivists. They ask us to learn to deal with the quirks and peculiarities of hyper-aggressive people, never holding the abusers accountable for their conduct. Personal responsibility blankets targets while bullies skate by with no changes demanded of them. Happy-happy. Since bullying is routine, it is inevitable and we must put the most positive "spin" on the dark phenomenon.
However, bullying is abuse. Forgiving abusers can come much later, after laws are passed and employers can no longer blithely ignore it. Call me a pessimist. We dwell on the dark side of the world of work and will not buy into happy-happy spin. If society does not address the final form of abuse that is not yet taboo, it is sending generations of wrongly accused targets who did nothing but agree to use their skills in exchange for a paycheck.
Adam Grant, writing in the Huffington Post, wrote about the value of pessimistic thinking, backed by research. He cites the work of Julie Norem. All of us realists, believing that some pessimism protects against psychological traumatization, should feel validated by his discovery of Norem's work.
The Positive Power of Negative Thinking
by Adam Grant, Huffington Post, Oct. 16, 2013
Tags: Adam Grant, defensive pessimists, Gary Namie, positive psychology, strategic optimists, workplace bullying
Posted in Bullying-Related Research, Media About Bullying, Print: News, Blogs, Magazines, Social/Mgmt/Epid Sciences, Tutorials About Bullying, WBI Education | 1 Archived Comment | Post A Comment () »
Thursday, September 19th, 2013
WBI review of an academic research study:
Diekmann, K.A., Walker, S.D.S., Galinsky, A.D., & Tenbrunsel, A.E. (2012) Double victimization in the workplace: Why observers condemn passive victims of sexual harassment. Organization Science, 2012, 1-15.
A well practiced tendency of observers of workplace harassment, coworkers of the targeted person, is to declare that they themselves would have taken more action to stop the harassment than the victim did.
The researchers in this study call this prediction "forecasting," and people claim they would do more than they actually do. They have an optimism bias, especially with respect to moral or socially desirable conduct. No one wants to admit they would not do "the right thing" when opportunities present themselves. And there is an equal underestimation of how likely they would be to yield to social pressure and self-interest.
A common consequence of such observer hubris is the subsequent condemnation of victims for failing to have acted — to resist, to confront, to report, to reverse the harassment. Of course, as WBI research shows, confrontation fails to stop the negative conduct and leads to retaliation of the victim which exacerbates the suffering.
Staying passive is the preferred choice of both sexual harassment victims and bullied targets. From their perspective, it is safer than alternatives. However, observers may interpret passivity as weakness. Thus, harassment victims are harmed twice over.
Tags: A.D. Galinsky, A.E. Tenbrunsel, bullied targets, double victimization, fundamental attribution error, Gary Namie, K. A. Diekmann, S.D.S. Walker, sexual harassment, social forecasting, social science research, victim denigration, workplace bullying
Posted in Bullying-Related Research, Social/Mgmt/Epid Sciences, Tutorials About Bullying, WBI Education | No Archived Comments | Post A Comment () »
Tuesday, August 13th, 2013
An informative New York Times column by Frank Bruni is built on Bruni's interview with psychologist Christopher Kilmartin. Kilmartin wrote The Masculine Self and teaches at the Air Force Academy to help the U.S. military reduce its sexual assault problems.
Kilmartin shared these observations with Bruni:
"We start boys off at a very early age," Kilmartin told me during a recent phone conversation. "When the worst thing we say to a boy in sports is that he throws 'like a girl,' we teach boys to disrespect the feminine and disrespect women. That's the cultural undercurrent of rape."
Tags: Christopher Kilmartin, environmental causes, Frank Bruni, Gary Namie, rape, sexism, sexual assault, societal causes, The Masculine Self, workplace bullying
Posted in Bullying-Related Research, Commentary by G. Namie, Social/Mgmt/Epid Sciences, The New America, Tutorials About Bullying, WBI Education | 2 Archived Comments | Post A Comment () »
Monday, August 12th, 2013
By Malory Nye, Huffington Post UK, Aug. 12, 2013
Imagine the scenario – a woman goes into work one day and a senior colleague acts in an abusive and malicious way towards her. This is so shocking that she spends the next two years suffering from the consequences of that incident. She cannot sleep at night, she has frequent flashbacks and nightmares, she turns into a different person. The way she has been treated by her colleagues at work creates an ongoing depressive condition that requires serious psychiatric support.
Is it right to talk about this as post traumatic stress disorder (PTSD)?
If it looks like a dog, if it barks like a dog, and if overall it behaves like a dog, then it is most likely to be a dog. In the case of PTSD caused by bullying and abuse at work, this is a particularly black dog.
But most of our images of PTSD come from much more 'obvious' and dramatic causes of such shock. When we think of PTSD we are most likely to think of the soldiers in Afghanistan who have suffered from exploding IEDs or have been subject to combat and personal loss.
In the cases of PTSD at work, then the obvious examples are of fire-fighters, on-patrol police officers, and other emergency workers who have had near death shocks in extreme circumstances. Each of these clearly are people who may be suffering from PTSD.
So is it fair to use a diagnosis of PTSD for someone whose mental health has been severely affected by bullying at work, rather than some more easily identifiable event or incident?
On the other hand, let's give some thought to how a person who has been subject to workplace bullying may feel about themselves.
Tags: Andrea Adams, Britain, Eva Michalak, PTSD, UK, workplace bullying
Posted in Bullying-Related Research, Social/Mgmt/Epid Sciences, Tutorials About Bullying, WBI Education | 2 Archived Comments | Post A Comment () »