Archive for the 'Social/Mgmt/Epid Sciences' Category
Friday, July 31st, 2015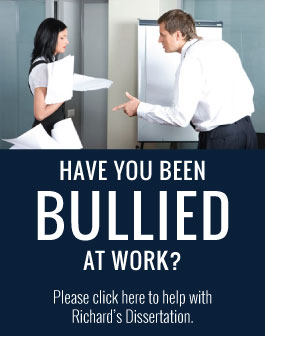 If you believe you have been bullied at work, you are invited to participate in a dissertation survey on Workplace Bullying approved by the WBI. The title of the dissertation is
"The Effect of Target Demographics and Emotional Intelligence on Workplace Bullying.
It takes about 20 minutes. There are two steps to the process:
Read the Consent Form
Take the survey (there are three surveys all combined into one)
Click here to start.
Please share this with anyone you feels has been bullied. Richard needs about 120 participants for the process.
Thank you.
Tags: emotional intelligence, research, survey, workplace bullying
Posted in Bullying-Related Research, Social/Mgmt/Epid Sciences | No Archived Comments | Post A Comment () »
Tuesday, October 28th, 2014
I've always had a negative reaction to positive psychology despite a sometimes unjustifiable optimism. The contrarian in me seeks the alternative path when the mainstream suggests we all get in line like sheep, think alike and go down the same road. As a psychologist, I saw positivism as my field's attempt to reinvent a history of its dark obsession with abnormality forged by European pioneers.
Related to my life immersed in bullying and injured bullied targets, I see newcomers and nitwits give targets bad advice. Some invoke positive thinking. Feel good affirmations cannot pierce the shroud under which bullied, anxious, and depressed targets find themselves. Can they? Of course, being told to "get real," and "just grow a thicker skin" are equally inane and ineffective admonitions. Where's the middle ground?
I found the realistic alternative to positivism in the work of German psychologist and researcher Gabriele Oettingen who teaches at New York University. Here are citations from an essay she recently wrote for the New York Times and the lengthier statements from her university webpage. Her approach seems best suited to targets seeking ways to overcome their adversity foisted upon them involuntarily.
Mental Contrasting
"Mental contrasting" has produced powerful results in laboratory experiments. When participants have performed mental contrasting with reasonable, potentially attainable wishes, they have come away more energized and achieved better results compared with participants who either positively fantasized or dwelt on the obstacles.

When participants have performed mental contrasting with wishes that are not reasonable or attainable, they have disengaged more from these wishes. Mental contrasting spurs us on when it makes sense to pursue a wish, and lets us abandon wishes more readily when it doesn't, so that we can go after other, more reasonable ambitions.
WBI: This approach seems to give permission to the person to let go of unattainable goals — e.g., convincing your employer to fire the bully — freeing the person to pursue wholeheartedly realistic goals — e.g., finding the next job, taking time off from work to heal or spending time with family and loved ones to repair strained relationships that matter more than work.
Tags: bullied targets, Gabriele Oettingen, goals, mental contrasting, positive thinking, positivism, workplace bullying
Posted in Bullying-Related Research, Social/Mgmt/Epid Sciences, Tutorials About Bullying, WBI Education | 2 Archived Comments | Post A Comment () »
Monday, September 29th, 2014
Career Builder commissioned an online Harris Poll to survey employed full-time private sector U.S. respondents. The prevalence of bullying was 28%. Career Builder findings can be extrapolated to their sample — people with full-time jobs in the private sector working for someone else.
Career Builder defined workplace bullying as
unwanted, aggressive behavior that involves a real or perceived power imbalance. The behavior is often repeated over time. Bullying can include actions such as making threats, spreading rumors, attacking someone physically or verbally, and excluding someone from a group on purpose.
The only diversion from traditional definitions is the inclusion of physical attacks. Bullying is non-physical assault, not battery.
WBI commissioned Zogby to conduct our 2014 U.S. Workplace Bullying Survey with a sample of all adult Americans that included unemployed workers (since bullying displaces so many of its targets). The prevalence of bullying was 27%. Our findings apply to all adult Americans, a broader sample.
The two studies are worth comparing. Both investigated bullying by race and rank.
Here are the major findings from the Career Builder survey (reprint of the CB press release).
• Minorities, the physically disabled and LGBT workers were bullied at a higher prevalence rate
• Women were targeted more than men (same for WBI)
• Managers were bullied at a 27% rate (it was 35% in the WBI 2007 national survey)
• Bullies were bosses (45%) and coworkers (46%); the WBI rates were 56% and 33%, respectively
• 48% of targets confronted their bully (WBI found that 69% had) and 45% of those people were successful at stopping the bullying (WBI found a paltry 3.57% success rate)
• 32% reported incidents to HR but in 58% of those cases nothing was done
According to the survey, the top five tactics were:
• Falsely accused of mistakes he/she didn't make (43%)
• Comments were ignored, dismissed or not acknowledged (41%)
• A different set of standards or policies was used for the worker (37%)
• Gossip was spread about the worker (34%)
• Constantly criticized by the boss or co-workers (32%)
Regardless of the definition, this study reinforces our own work — workplace bullying is an American workplace scourge.
Tags: career builder, HR, prevalence, race, workplace bullying
Posted in Bullying-Related Research, Healthy Workplace Bill (U.S. campaign), Social/Mgmt/Epid Sciences, Workplace Bullying Laws | No Archived Comments | Post A Comment () »
Thursday, September 25th, 2014
PERSONAL ATTRIBUTES OF BULLIED TARGETS AT WORK
WBI Research/Instant Poll: 2014 – A
Since the start of WBI, we have been conversing with bullied targets who telephone us for advice. Over 10,000 targets have taught us their world from the inside. Previously WBI identified in an online study (WBI, 2003) a set of personal attributes that targets themselves said was the reason they were bullied. That list included being independent, possessing more technical skill than their bully, being liked by peers, an ethicality and honesty the bully did not have and being apolitical — not willing or able to play the game of organizational politics.
Some academic researchers, especially those in business schools who tend to adopt management as their referential lens through which they interpret bullying, investigate factors such as "victim precipitation" or the "provocative victim." In other words, attributes of targets are seen as causal; it's a way to blame targets for their fate. It implies that a rational person, when confronted with such provocateurs, would engage in anti-social actions against them because they somehow "deserved it."
Clearly, no one deserves to be abused and suffer the type of health harm bullying generates. On this all good people should be able to agree.
WBI Instant Polls are online single-question surveys that rely upon self-selected samples of individuals bullied at work (typically 98% of any sample). No demographic data are collected. Our non-scientific Instant Polls accurately depict the perceptions of workers targeted for bullying at work as contrasted with the views of all adult Americans in our scientific national surveys.
Tags: 2014 IP a, attributes, bullied targets, bullying research, Daniel Christensen, Gary Namie, instant poll, personality, workplace bullying, Workplace Bullying Institute
Posted in Bullying-Related Research, Social/Mgmt/Epid Sciences, WBI Surveys & Studies | No Archived Comments | Post A Comment () »
Tuesday, July 15th, 2014
WBI friend Lewis Maltby wrote convincingly in his book, Can They Do That?, that American workers have very few rights. Without a union bargained contract, all rights are owned by management unless state or federal laws provide specific protections. Among the industrialized nations (members of the OECD), US workers have the fewest rights.
Robert Fuller, another WBI friend, speaks and writes eloquently about somebodies and nobodys, the hierarchy in our lives. For him, the issue is rankism. It makes good sense in our nation of ever-expanding income inequality.
From the work of stress guru, Robert Sapolsky, Stanford University professor and researcher, we learn that simply organizing social groups in hiearchical ways with rank playing a role in how all resources are unevenly divided is stressful. Those dominated by others are doomed to lives of ongoing stress. Social subordination generates distress, that in turn, triggers major life-threatening diseases through disruption of the adrenocortical, cardiovascular, reproductive, immunological, and neurobiological systems (Sapolsky, 2005).
Workers bullied by higher ranking bosses (56% of all targets) will find it nearly impossible to avoid contact. That toxic contact is the exposure to stress that causes health harm.
I say all this to put into context the June 30, 2014 decisions by the U.S. Supreme Court (SCOTUS). By majority votes of the conservative-dominated court, the rights of company owners were expanded. The (chief justice) Roberts Court has never ruled against corporate interests.
The two cases decided upon were Sylvia Burwell, Secretary of HHS v. Hobby Lobby Stores, Inc. (13-354) and Conestoga Wood Specialties Corporation v. Sylvia Burwell, Secretary of HHS (13-356) — jointly dubbed the Hobby Lobby decision.
Tags: California Healthy Workplace Advocates, distress, Hobby Lobby, Lewis Maltby, Robert Fuller, Robert Sapolsky, SCOTUS, stress, US Supreme Court
Posted in Bullying-Related Research, Rulings by Courts, Social/Mgmt/Epid Sciences | 1 Archived Comment | Post A Comment () »
Tuesday, June 10th, 2014
We regularly conduct research, and describe the research of others, here at WBI. Now we ask site visitors who are educators who have been bullied to volunteer to help a woman complete her doctoral dissertation study. She wants to interview bullied educators, defined below. Her e-mail contact appears below. Thanks for helping.
Call for Research Interview Participants
If you are an educator (e.g. teacher, special education teacher, school counselor, school psychologist, school speech/language pathologist) and have ever been bullied by an adult supervisor at your school-based job, you are needed to participate in a private and confidential research study. Your anonymity will be protected.
Please contact D.A. Sorrell at
thebullydiscussion@gmail.com
for more details.
Tags: bullied educators, volunteer
Posted in Bullying-Related Research, Social/Mgmt/Epid Sciences | No Archived Comments | Post A Comment () »
Monday, June 2nd, 2014
New longitudinal study documents long-term mental health consequences
Einarsen, S. & Nielsen, M.B. (2014) Workplace bullying as an antecedent of mental health problems: A five-year prospective and representative study. International Archives of Occupational & Environmental Health, May 20, 2014. DOI 10.1007/s00420-014-0944-7
Professor Stale Einarsen, colleagues and students conduct cutting-edge research into workplace bullying at the University of Bergen, Norway. This new study employees a longitudinal design. That is, it follows a group of people over 5 years, longer than the typical 12-24 months follow-up in other longitudinal works. Over time, the researcher has the chance to see an escalation of the bullying and the relative permanence of its effects on bullied individuals.
Tags: anxiety, Bergen Bullying Research Group, depression, longitudinal study, mental health, NAQ, Norwegians, psychological distress, Stale Einarsen, victimization, workplace bullying
Posted in Bullying-Related Research, Social/Mgmt/Epid Sciences, Tutorials About Bullying, WBI Education | 1 Archived Comment | Post A Comment () »
Wednesday, April 23rd, 2014
We at WBI, as co-facilitators of the U.S. Academy on Workplace Bullying, Mobbing and Abuse, value the contributions scientists make to the workplace bullying movement. The facts from the hundreds of studies produced by Academy scholars and researchers inform our teachings. Our own WBI studies often surprise us, but we accept them and abandon long-held, but wrong, assumptions about some aspect of the phenomenon.
One doesn't have to be a former university professor like me to appreciate fact-based science. Lovers of technological advances and gadgets should be fond of science. But in the evolving America of the past 30 years, a new group of empiricists has arisen and gained credibility. They are people who feel that if they personally don't touch, smell, feel, hear or in any way directly experience something, it doesn't exist.
I call them Narcissistic Empiricists to acknowledge the simultaneous rise of narcissism. They are the anti-science freaks. Once it was ludicrous to mock science (the Inquisition being an exception) lest the person look stupid. Stupid entitles people to substitute facts with opinions and to forever confuse the two. Unfortunately, media coverage of denialists that fails to counter their stated opinions with facts that lazy reporters don't choose to discover makes stupid almost cool, certainly uncritically acceptable. Science trumps opinions. But in the split-screen, simplistic two-sided media world we inhabit, opinions are granted equivalence, a false parity, with science. With constant exposure to this muddled and incorrect worldview, uncritical viewers who let the media decide reality for them.
Tags: American society, climate change denial, science denial, workplace bullying
Posted in Bullying-Related Research, Fairness & Social Justice Denied, Social/Mgmt/Epid Sciences | No Archived Comments | Post A Comment () »
Tuesday, April 8th, 2014

U.S. NATIONAL PREVALENCE in 2014
Workplace bullying is repeated mistreatment and a form of "abusive conduct." For the first time, we used the definition of workplace bullying that matches perfectly the definition codified in the Healthy Workplace Bill.
Thus, we asked Americans to consider only the most serious forms of bullying. Eye rolling may be part of bullying, but it alone is not sufficient. Nonverbal cues coupled with verbal abuse and the tactics of exclusion are delivered by perpetrators repeatedly in order to intentionally harm targeted individuals. The closest analogy to workplace bullying is domestic violence. Bullying is a non-physical form of workplace violence.
Tags: American workers affected, bullying statistics, Daniel Christensen, David Phillips, Gary Namie, national prevalence, WBI 2014 U.S. Workplace Bullying Survey, Workplace Bullying Institute, workplace bullying research
Posted in Bullying-Related Research, Social/Mgmt/Epid Sciences, WBI Education, WBI Surveys & Studies | No Archived Comments | Post A Comment () »
Tuesday, April 1st, 2014
The Workplace Bullying Institute and the New Workplace Institute are happy to announce the launch of a joint initiative, the U.S. Academy on Workplace Bullying, Mobbing, and Abuse, which will support and promote the multi-disciplinary work of leading and emerging educators, researchers, practitioners, writers, and advocates who are dedicated to understanding, preventing, stopping, and responding to workplace bullying and related forms of interpersonal mistreatment.
"For over a year, we've been contemplating how to bring together an American network of leading and emerging experts on workplace bullying and related topics. The Academy is our conduit for doing so. We look forward to highlighting the good works of these incredible people," says David Yamada, Suffolk University law professor and New Workplace Institute director.
The Academy has over 50 Fellows including leading psychological researchers, physicians, attorneys, occupational health experts, professors of management, nursing, and communications, counselors, union trainers, military leaders, advocates, and consultants. The complete list of Fellows can be seen at workplacebullyingacademy.com.
"When we started WBI there was one trade unionist and a couple of academic researchers with the courage to focus on workplace bullying. Since then the field exploded exponentially," says Gary Namie, PhD, Co-founder of the Workplace Bullying Institute, established in 1997. "We recognize the universality of these destructive behaviors, and this network focuses on the unique challenges posed by American employee relations, mental health, and legal systems."
Tags: abuse, bullying research, David Yamada, Gary Namie, Mobbing, new workplace institute, U.S. academy, workplace bullying, Workplace Bullying Institute
Posted in Bullying-Related Research, Good News, Healthy Workplace Bill (U.S. campaign), Hear Ye! Hear Ye! 2, Products & Services, Social/Mgmt/Epid Sciences, Tutorials About Bullying, Unions, WBI Education | 1 Archived Comment | Post A Comment () »