Archive for the 'Employers Gone Wild: Doing Bad Things' Category
Saturday, August 2nd, 2014
Tags: Gary Namie, got a minute, NFL, target, who gets bullied, workplace bullying, Workplace Bullying Institute
Posted in Commentary by G. Namie, Media About Bullying, NFL: Jonathan Martin, WBI Education | No Archived Comments | Post A Comment () »
Tuesday, July 29th, 2014
The President of the International Association of Machinists and Aerospace Workers (IAM) is calling on Boeing CEO Jim McNerney to apologize to Boeing's workforce for offensive remarks made during a quarterly earning call with reporters on July 23, 2014.
"The heart will still be beating, the employees will still be cowering, I'll be working hard," said McNerney in response to a reporter's question about whether he had plans to retire after he turns 65 next month. Boeing's policy is for executives to retire at age 65.
McNerney is ranked #126 on the Forbes list of CEO compensation earning $13.36 million per year.
"Boeing's CEO would have been far better served to give credit to the workforce that has driven the company's sales and profits to record levels," said IAM President Tom Buffenbarger. "Instead, his unfunny and unnecessary remarks serve as reminder that the Jack Welch style of anti-personnel management is still alive and well at Boeing. If he is able to get his foot out of his mouth, the very next thing we hear from Mr. McNerney should be a sincere apology to all employees at Boeing."
The IAM and Boeing have a contentious relationship with Boeing always threatening IAM with shutting down production plants and moving to anti-union states (as they did for one plant moving to South Carolina from Washington state).
On that same Friday, McNerney issued an apology distributed companywide. He said the comment made during a call about the company's quarterly results was a "joke gone bad."
Tags: Boeing, CEO, IAM, labor relations, Machinists, McNerney
Posted in Employers Gone Wild: Doing Bad Things, Unions | No Archived Comments | Post A Comment () »
Tuesday, July 22nd, 2014
"Suppose you were an idiot.
And suppose you were a member of Congress.
But I repeat myself."
Mark Twain
I'm starting to sound like my father and can't believe I question nearly every day "what is this world coming to?" Near the top of my "it's all going to hell" list is America's turning its back on science — unabashedly, proudly, defiantly — through legislation.
In the UK, the BBC has banned from their airwaves crackpot guests preaching that climate change is not real. The change is to bolster scientific integrity. Staff will receive training in science and scientific conferences will be attended by staff to stay abreast of developments.
Deniers get equivalence here in the US. One denier with one believer (proxy by Bill Nye, the "Science Guy"). Viewers ignorant of the facts could conclude that climate change is not really something to be concerned about. The fallacy of this false equivalence was never more clear than this demonstration by comedian John Oliver on his HBO show This Week Tonight.
And recently the British government extended its public school ban on teaching pseudoscience, creationism, to cover "academies" and "free schools," the equivalent of charter schools in the States. The government recognizes the religious bases of the founders of such schools. Thus creationism promotes religion and has no business in the teaching of science.
America is headed in the other direction, driving headfirst into ignorance. Creationists and advocates for "intelligent design" in the US seem to be gaining clout. The National Center for Science Education (NCSE) 2014 legislative scorecard identified states that are attempting to make their children science illiterates.
Tags: Healthy Workplace Bill, state legislators, state legislatures
Posted in Commentary by G. Namie, Employers Gone Wild: Doing Bad Things, Healthy Workplace Bill (U.S. campaign), The New America, WBI Surveys & Studies | No Archived Comments | Post A Comment () »
Wednesday, July 16th, 2014
If you are anywhere near Deerfield Beach, FL, you owe it to yourself to attend the Broward Crime Commission Workplace Bullying event. Come meet Dr. Gary Namie (WBI Director, co-author, The Bully At Work), Dr. Maureen Duffy (co-author, Overcoming Mobbing), law professor Kerri Stone, and Jonathan Martin attorney David Cornwell.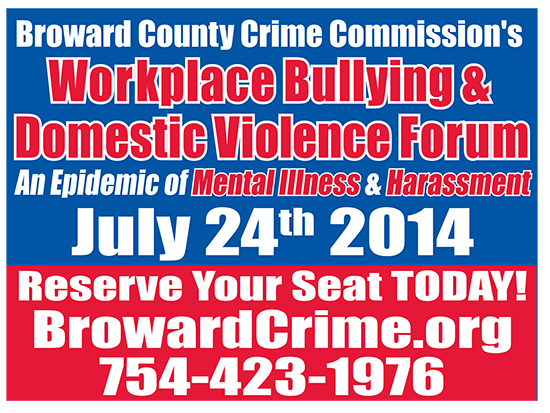 Tags: adult bullying, Broward Crime Commission, David Cornwell, Gary Namie, Kerri Stone, Maureen Duffy, workplace bullying
Posted in Hear Ye! Hear Ye! 2, NFL: Jonathan Martin | No Archived Comments | Post A Comment () »
Monday, July 14th, 2014
The Healthy Workplace Campaign is WBI's effort to enact anti-bullying legislation for the American workplace state by state. The model bill is called the Healthy Workplace Bill (HWB).

Features of the HWB
• Suffolk University Law Professor David C. Yamada, text author, used federal Title VII Civil Rights laws as basis
• Defines severe abusive conduct — does not use term workplace bullying
• Provides legal redress for anyone subjected to abusive conduct, whether or not the person is a member of a protected status group
• Requires that abusive conduct result in either demonstrable health or economic harm to plaintiff
• Plaintiffs who file lawsuits make public formerly hidden, confidential employer processes that hide and deny bullying
• Prohibits retaliation against any participant in procedures involved in dealing with the abusive conduct complaint
• Requires plaintiffs to hire private attorneys, no fiscal impact on state government
• Provides incentives (affirmative defenses) for employers who implement genuine corrective procedures
• Preserves managerial prerogative to discipline and terminate employees
• Does not interfere with state workers' compensation laws or union CBAs
We named the HWB in 2002. All other uses of the name HWB are unauthorized by us. California first introduced the HWB in 2003. It has been carried in over half of states and two territories since. The Workplace Bullying Institute trains and provides support to a national network of volunteer Sate Coordinators who lobby their respective state legislators to sponsor the HWB. You can track its status at the HWB website.
Botched Amendments & Unanticipated Consequences
As authors of the HWB, we naturally want the full and original version of the bill enacted into law. And we realize compromises will be made during the process. It is "sausage making," after all. We just wish all bill sponsors would refuse to allow major revisions that change the spirit of the bill from protecting abused workers to something else. Since the HWB was first introduced, different amendments have been proposed or made.
Often the well-intended sponsor, a pro-worker advocate, agrees to compromise adopting the belief that the law can be built in steps. Let's get this version passed now and it will be revisited in the coming years and supplemented with the other desired provisions.
Tags: amendments, business lobby, Chamber of Commerce, David Yamada, Gary Namie, Healthy Workplace Bill, Unions, vicarious liability, workplace bullying, Workplace Bullying Institute
Posted in Employers Gone Wild: Doing Bad Things, Fairness & Social Justice Denied, Healthy Workplace Bill (U.S. campaign), Tutorials About Bullying, Unions, WBI Education, Workplace Bullying Laws | No Archived Comments | Post A Comment () »
Wednesday, July 9th, 2014
In this space we regularly call for greater employer accountability and the enactment of laws that make that accountability more likely than is currently done voluntarily. Our domain is the non-physical safety threat. U.S. workers are supposedly to be made safe from threats to their physical safety.
OSHA, a "regulatory" agency responsible for Occupational Safety and Health in the U.S. seems to have trouble accomplishing its mission. "OSHA's mission is to assure safe and healthful workplaces by setting and enforcing standards and by providing training, outreach, education and assistance." Wondering if by assistance, OSHA means delivering "waivers" to destructive employers who poison and take lives.
For example, the following two stories of injustice based on token punishment will curdle your blood.
Story 1.
A CSC Sugar plant in Fairless Hills, PA provides sugar for Snapple and Ben & Jerry's Ice Cream. The plant is staffed and managed entirely by temp workers. According to ProPublica statistics, temporary workers are most at risk for safety hazards at worksites in states where data exist.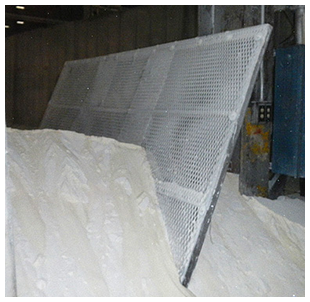 In February 2013, Peruvian New Jersey resident Janio Salinas was unclogging the machine from below. He was buried alive and asphyxiated. Coworkers found him after they returned from lunch. The onsite temp manager had complained about this potential hazard to a higher level manager until a safety platform was installed. However, the big boss instructed the temp manager to remove that platform because it had slowed the flow of sugar, had slowed down "production." That big boss lied about his order to investigators, claiming ignorance about the platform (picture on the left). His costly decision was made 13 days before Salinas was buried. Turns out the only cost was Salinas' life.
Next came the OSHA investigation. OSHA initially fined CSC $25,855 but after CSC installed a safety guard and started using a new procedure to break up sugar clumps, the fine was reduced to $18,098 (for good behavior???). Jean Kulp, director of OSHA's Allentown, PA, office, told Univision that her agency doesn't have the ability to shut down businesses, has limited criminal enforcement provisions, and found the CSC had not been "willfully in violation," which would have triggered bigger fines despite a record of repeated violations.
$18,098 for a man's life!
Kulp's ultimate insult to the Salinas' surviving family: CSC had not in her judgement shown "total disregard" for its workers.
Thanks to Daily Kos for the tip to the tale.
Tags: asphyxiation, CSC sugar, Elk River, Freedom Industries, Janio Salinas, Jean Kulp, MCHM, OSHA, West Virginia
Posted in Commentary by G. Namie, Employers Gone Wild: Doing Bad Things, Fairness & Social Justice Denied, The New America | No Archived Comments | Post A Comment () »
Thursday, April 24th, 2014
On April 25, 2005 at 9:19 am, a 7-car Japanese commuter rapid train 5418M derailed at high speed on a curved stretch of track and slammed into a parking garage of an apartment building. The train was operated by 11 month veteran driver 23-year old Ryūjirō Takami in front car. A second rail employee, the conductor, was in the rear car.
It was the second worst rail disaster in the country's history. 562 people were injured and 107 died, including Takami. 99 of the fatalities were in the front car. In all, four cars derailed.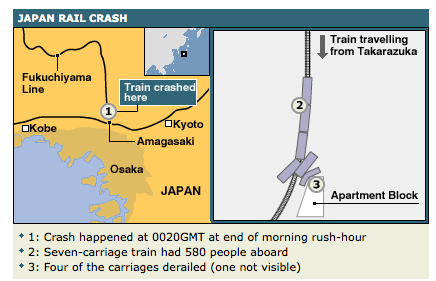 The morning commute to Osaka on the West Japan Railway Company (JR West), the end of the rail line, was over and the train was heading in the other direction. On the way to the Itami station, an alarm sounded that the train was over the speed limit, traveling at 120 km/hr. Takami was speeding. As the station approached, Takami applied the emergency brake. The train overshot the platform by three cars, about 30 meters. Takami reversed the train to align the cars with the platform.
The conductor warned Takami that he would have to immediately report the mistake to headquarters from the phone on the train. Takami asked him to lie, to minimize the distance overshot. The conductor said that he called in an 8-meter mistake. Mistakes of 5 meters bring company punishment.
Takami knew JR West punishment. When Takami was in his third week of driving a train ten months earlier, he was subjected to 13 days of Nikkin Kyoiku, re-education, for having overrun a platform by 100 meters. Overshooting the Itami platform had to have filled his mind with horror, anticipating another round of Nikkin Kyoiku.
Tags: accident, culture, death, disaster, Nikkin Kyoiku, Ryūjirō Takami, torture, West Japan Railway Company, workplace bullying
Posted in Bullying & Health, Employers Gone Wild: Doing Bad Things, Tutorials About Bullying, WBI Education | No Archived Comments | Post A Comment () »
Wednesday, April 23rd, 2014
The story below about the Olympia (WA) School District will enrage you for at least three reasons. First, the adult bus driver tormented a developmentally disabled 14 year old and encouraged other kids to join in. Second, the employing school district ignored a year of complaints about the man whose bullying record they knew very well. In fact, they have paid out $2.15 million in settlements to resolve previous lawsuits filed against the man. Third, the student and his mother were not believed for a year until there was video evidence to convince the district to act. Bullied targets are routinely not believed. However, this boy was a special needs student who deserved to have his voice given special attention! How out of touch must the Superintendent be?
###
Olympia school bus driver accused of verbally abusing developmentally-disabled student
By Jeremy Pawloski, The Olympian (WA), April 21, 2014 
The Olympia School District has placed one of its school bus drivers on leave after a developmentally-disabled 14-year-old middle school student and her mother complained that he was verbally abusing her while driving her to school.
The Washington Middle School student's mother, Louanne Bay, said that her daughter has been complaining about verbal abuse by the bus driver for more than a year.
However, the teen's complaints were not acted on by the district until recently, when school officials viewed footage from a school bus surveillance camera depicting the alleged verbal abuse by the bus driver, Bay said.
Tags: abusive conduct, Olympia School District, school bus driver, special needs students
Posted in Employers Gone Wild: Doing Bad Things, Media About Bullying, Print: News, Blogs, Magazines | 1 Archived Comment | Post A Comment () »
Thursday, April 17th, 2014
By Bernadette Starzee, Long Island (NY) Business News, April 16, 2014
The much-publicized investigation into alleged bullying on the Miami Dolphins football team has brought workplace bullying into the national spotlight.
More than a third of American workers say they've been bullied at work, according to a survey by the Workplace Bullying Institute, a national organization that defines workplace bullying as repeated, health-harming abusive conduct committed by bosses and/or co-workers. This may include verbal abuse, intimidation, humiliation and sabotage that prevents work from getting done.
While bullying is not healthy for the victim or the workplace, it's not necessarily unlawful. Though so-called "Healthy Workplace" bills have been introduced in 26 states since 2003, including New York, none of these anti-bullying bills have become law.
Tags: bullying scandal, Jonathan Martin, Miami Dolphins, NFL, workplace bullying, workplace bullying policies
Posted in Healthy Workplace Bill (U.S. campaign), Media About Bullying, NFL: Jonathan Martin, Print: News, Blogs, Magazines, WBI in the News, Workplace Bullying Laws | 1 Archived Comment | Post A Comment () »
Tuesday, April 15th, 2014
From our friends at Executive PayWatch …
In 2013 the CEO to average worker pay ($16.59) ratio was 331:1 and the CEO to minimum wage ($7.25) worker pay ratio was 774:1.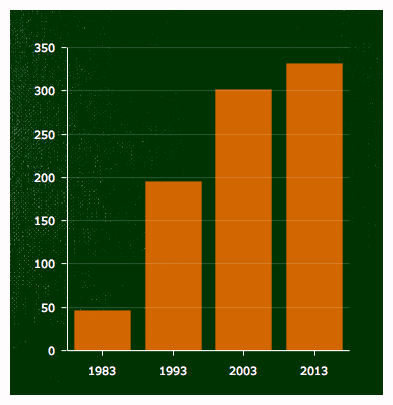 America is supposed to be the land of opportunity, a country where hard work and playing by the rules would provide working families a middle-class standard of living. But in recent decades, corporate CEOs have been taking a greater share of the economic pie while wages have stagnated and unemployment remains high.
High-paid CEOs of low-wage employers are fueling this growing economic inequality. In 2013, CEOs of the Standard & Poor's (S&P) 500 Index companies received, on average, $11.7 million in total compensation, according to the AFL-CIO's analysis of available data from 350 companies.
Today's ratio of CEO-to-worker pay is simply unconscionable. While CEO pay remains in the stratosphere, production and nonsupervisory workers took home only $35,239 on average in 2013, and a full-time worker making the federal minimum wage earned only $15,080.
Even as companies argue that they can't afford to raise wages, the nation's largest companies are earning higher profits per employee than they did five years ago. In 2013, the S&P 500 Index companies earned $41,249 in profits per employee, a 38% increase.
It doesn't have to be this way. Politicians should raise the minimum wage. Corporations should pay their employees a living wage. And workers should have a collective voice on the job to demand their fair share.
Scroll down on the page to see that a single hour of WalMart CEO pay is equivalent to 1,372 hours of minimum wage page pay! You can't make up stuff this outrageous.
Tags: AFL-CIO, CEO compensation, Executive Paywatch, labor, minimum wage, pay inequality
Posted in Employers Gone Wild: Doing Bad Things, Fairness & Social Justice Denied | No Archived Comments | Post A Comment () »