Archive for the 'Employers Gone Wild: Doing Bad Things' Category
Wednesday, March 22nd, 2017
A brash owner of a small marketing firm in Manchester, Connecticut is making news by describing his hiring interview strategy. Unapologetic about being comfortable leveling applicants with personal questions not related to performance — thus demonstrating his loathing of "political correctness" — he gives what he calls the "snowflake test."
"A snowflake is somebody who is going to whine and complain and come to the table with nothing but an entitled attitude and an inability to back their perspective," Kyle Reyes, owner of Silent Parner Marketing, told the Fox Business Network. "Snowflake is a mentality."
"Snowflakes" don't get hired. The company says this on its About Us page: "Political correctness be damned. We are who we are and have what we have because of a greater good. We might call that greater good by different names…but faith is an integral part of who we are."
Using Reyes' reasoning, victims of sexual harassment and bullying, who complain, would be "snowflakes." In other words, he won't hire anyone who if abused or harassed would complain.
Gee, with a boss like him, wondering what are the odds that something wrong, unlawful or unethical will happen????
There are surely alternative marketing companies in New England to work for. Good luck.
Tags: bullying, complainers, hiring interview, Kyle Reyes, Silent Partner, snowflakes, whiners
Posted in Broadcasts: Video, TV, radio, webinars, Commentary by G. Namie, Employers Gone Wild: Doing Bad Things, Media About Bullying, The New America | No Archived Comments | Post A Comment () »
Saturday, February 6th, 2016
Sam Harless and Texas State Rep. Patricia Harless, co-owners of Fred Fincher Motors, a used car sales lot is the place where former top salesman Bradley Jones was tortured by taser at the hands of coworkers.
Here's the Feb. 5, 2016 story on Inside Edition.
Tags: Bradley Jones, Fred Fincher Motors, Houston, Patricia Harless, Sam Harless, taser, torture, workplace bullying
Posted in Employers Gone Wild: Doing Bad Things, Humans abusing adult humans, Target Tale, WBI Education | 1 Archived Comment | Post A Comment () »
Monday, November 9th, 2015
Here in America, employers claim that loyal, engaged, hard-working employees have disappeared or are extremely rare. Work, like many social functions operates on the notion of an implicit contract between the parties. In exchange for compensation, workers lend their talent to employers. Employers, in turn, have the exclusive right to optimize profit from the relationship. The deal should be a mutually beneficial one to both sides.
History shows that contempt for workers was common in the bad old days.
Tags: distrust, employee monitoring, employer-employee relationships, exploitation, feudal, flexispy, Gary Namie, surveillance, workplace bullying
Posted in Commentary by G. Namie, Employers Gone Wild: Doing Bad Things, The New America | No Archived Comments | Post A Comment () »
Tuesday, October 20th, 2015
Bullying of Faculty Alleged at UMass
By Laura Krantz, Boston Globe, Oct. 18, 2015
Power struggle roils chemical engineering department
It began as minor personality clashes among professors, the type that can be common at any university. But what evolved at the University of Massachusetts Amherst chemical engineering department has proved far nastier.
Over three years, the dispute has turned into an ugly power struggle over an aggressive — one report said "bullying" — attempt by four members of the department to recruit others in a coup to oust their department head.
Documents and e-mails provided to the Globe paint a picture of the extended battle. Some involved in it describe screaming at faculty meetings, a rigged department election, vindictive annual reviews, and an attempt to block a professor from securing a full-time position.
Facts about who is ultimately to blame are harder to find. What is clear is that for the prestigious department in the state's flagship public university, with its renowned faculty, millions in funding, and promising research, the imbroglio created a poisonous atmosphere that has disrupted the scientists' work.
Beyond the department, it pulled in the faculty union and Chancellor Kumble Subbaswamy, who called the situation "quite serious."
On one side, professors accuse four colleagues of trying to bully other faculty into supporting a bid to undermine then-department head T.J. Mountziaris, who served for nine years.
On the other side, professors said Mountziaris, who lost his chairmanship last year and is on sabbatical, made life difficult for some faculty, going so far as to block one person's attempt to shift to become a full-time professor.
Tags: abusive conduct, bullying in the academe, Gary Namie, professors, UMass, workplace bullying, Workplace Bullying Institute
Posted in Employers Gone Wild: Doing Bad Things, WBI in the News | No Archived Comments | Post A Comment () »
Saturday, April 25th, 2015
On April 25, 2005 at 9:19 am, a 7-car Japanese commuter rapid train 5418M derailed at high speed on a curved stretch of track and slammed into a parking garage of an apartment building. The train was operated by 11 month veteran driver 23-year old Ryūjirō Takami in front car. A second rail employee, the conductor, was in the rear car.
It was the second worst rail disaster in the country's history. 562 people were injured and 107 died, including Takami. 99 of the fatalities were in the front car. In all, four cars derailed.
Click here for the full story and details.
National Geographic recreated the events in an episode of Seconds from Disaster.
Tags: accident, culture, death, disaster, Nikkin Kyoiku, Ryūjirō Takami, torture, West Japan Railway Company, workplace bullying
Posted in Bullying & Health, Employers Gone Wild: Doing Bad Things, Tutorials About Bullying, WBI Education | No Archived Comments | Post A Comment () »
Wednesday, April 22nd, 2015
Z & H Foods Inc. is a Houston-based company that owns and operates two restaurant franchises — Popeyes and Louisiana Kitchen. At a Popeyes location on March 31, a hooded thief brandishing a handgun at staff robbed the store of about $400 from the cash registers when the woman shift manager, Marissa Holcomb, told him she had no access to the safe. Marissa was subsequently fired for violating a Z & H policy. Yes, the HR person (who has yet to be identified) justified the firing of a pregnant mom who was just robbed at gunpoint. The basis? Repeated violations of leaving too much cash in the registers.
If Holcomb was responsible for transferring the cash, she would likely have to store it in the safe, as opposed to paper bags or her personal purse. For that to happen, she would have had access to the safe where the largest amount of cash was stored. But Holcomb protected the safe, and therefore the company from losing even more money, by telling the robber that she had no access. The HR rep who justified the firing has now leaked to the public the fact that managers of Z & H-owned restaurants on all shifts have access to their safes. Oops. She just endangered every manager.
Not only is the company ungrateful for Holcomb's minimizing company losses, the company is too dangerous to work for at any salary. Spread the word in Houston.
Here's the story from KHOU-TV.
Let Z & H know what you think: 281-988-5726 or give them hell on their google+ site
Z&H President is Shoukat Dhanani
Z&H Vice-President is Amin Dhanani
Note the restaurant is a Popeyes. Popeyes is a Georgia-based franchiser and deflects all responsibility for the actions of its franchisees like Z & H.
Tags: HR, Marissa Holcomb, Popeyes, workplace bullying, Z&H Foods
Posted in Employers Gone Wild: Doing Bad Things | No Archived Comments | Post A Comment () »
Friday, February 20th, 2015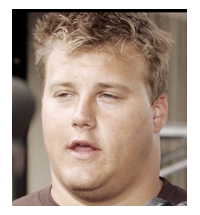 Richie Incognito, the most visible of the three perpetrators in the 2013-14 Miami Dolphins bullying scandal, was the only one to not play in the NFL during the 2014 season. He was probably considered a public relations liability. Even the violent NFL stayed away from the emotionally volatile veteran offensive lineman.
At the end of the season, Rex Ryan was fired as head coach of the NY Jets and hired by the Buffalo Bills. The bombastic boastful Ryan promised that he will "build a bully" that opponents will fear. Though Ryan is famously defense-minded, the Bills just signed the NFL's most visible "bully," Richie Incognito.
Read what Ted Wells, the NFL's investigator in the Dolphins scandal, had to say about Incognito.
Now if Ryan and the Bills want to build a "battering" team, they can always sign former Baltimore Raven Ray Rice. Heard he's still available.
Tags: bully, bully team, NFL, Rex Ryan, Richie Incognito, workplace bullying
Posted in NFL: Jonathan Martin, Print: News, Blogs, Magazines | No Archived Comments | Post A Comment () »
Saturday, December 20th, 2014
Poor (salary $44 million) NFL Commissioner Goodell. He has been castigated for his inconsistency of applying standards across teams and individual players, plagued by accusations that team owners interfered with criminal investigations, and hounded, and eventually reversed, by critics for overstepping his authority when leveling draconian punishment against domestic abuser Ray Rice. His incomplete response to the Miami Dolphins bullying scandal was to mandate a lame 1 hour "education session" held in each team's locker room about respect. Half-ass solutions seem to be the NFL's history.
In the aftermath of a spate of domestic violence incidents by NFL players and the assembly of a team of external experts in DV prevention comes a new NFL Personal Conduct Policy.
As the expert called in to assist Jonathan Martin's legal team and to advise Ted Wells, the NFL's investigator of the abuse levied by three of Martin's teammates, I heard repeatedly the NFL mantra of "Protect the Shield." The NFL logo is a shield of sorts and everyone affiliated with the NFL knows that the league of owners takes extraordinary steps to protect its commercial brand, often at the expense of its players without whom there would be no league.
Guided by the "Protect the Shield" principle, NFL commissioners and executives historically ignore player safety for the sake of the game. Witness tthe 2014 settlement of the lawsuit with thousands of former player-plaintiffs accusing the NFL of ignoring known neurological health hazards to which they were exposed causing them to suffer CTE. The settlement temporarily silenced complainants and allowed the NFL to roll into the 2014 season without the cloud of litigation overhead.
Tags: CTE, domestic violence, Jane Randel, Lisa Friel, NFL, policy, protect the shield, Rita Smith, Roger Goodell, workplace bullying
Posted in Employers Gone Wild: Doing Bad Things, Related Phenomena, WBI Education | No Archived Comments | Post A Comment () »
Saturday, December 20th, 2014
The NLRB (National Labor Relations Board) ruled that McDonald's, the corporation, acting through its franchisees, violated the rights of its workers who were protesting for higher wages, specifically a $15 hourly wage.
Fast food workers have increasingly and visibly been conducting protests for higher wages and better working conditions for the past two years. Local owners of McDonald's franchises have retaliated against those workers with punishment by reducing hours, threats, surveillance, interrogations and restrictions on talking with union organizers, and terminations.
Advocates for the workers filed 291 charges against corporate McDonald's. The NRLB found merit in 78 of them while others are still under investigation.
Corporate McDonald's claims it has no control over what local owners do. It wants to dodge responsibility for the denial of workers rights. However, the NLRB agreed with groups like Jobs With Justice that the corporation dictates to franchisees very detailed operating standards to maintain consistency across various McDonald's locations.
So, when a local McDonald's punishes workers for protesting peacefully and acting together to improve their work lives it is now assumed that the local owner is acting as an agent for the corporate McDonald's. The NLRB ruled that the franchisees are joint owners.
Regional hearings are set to begin in early 2015 with a settlement deadline of March 30, 2015.
You can find the list of actual cases here.
Tags: $15, franchisees, higher wages, Jobs With Justice, McDonalds, mistreatment, NLRB, retaliation
Posted in Employers Gone Wild: Doing Bad Things, Related Phenomena, WBI Education | No Archived Comments | Post A Comment () »
Monday, November 3rd, 2014
We have long said that mediation is the wrong tool to resolve workplace bullying problems. Mediators are inserting themselves into bullying in growing numbers as if the situations originated in traditional conflict. But bullying involves violence (non-physical varieties), an unequal level of power (real or perceived), and contempt by one person for the other. No serious problem solver believes a credible and fair middle ground can be found. Why further compromise the already compromised target? It is cruel.
A reporter tipped me off to the spring 2014 GitHub scandal. One of the former co-founders, Tom Preston-Werner, had given his CEO position to the other co-founder, Chris Wanstrath in January. GitHub engineer, Julie Ann Horvath, alleged sexual harassment by one of the company founders and his wife and quit. The wife's threats (of informing husband's decision making, of engaging spies at company, and intimidating and verbally attacking her) might have been more bullying than harassment, given its same-gender nature. The venture capitalist who invested $100 million in GitHub defended Preston-Werner. Preston-Werner resigned. Wanstrath cleared Preston-Werner of illegal harassment but did say "mistakes" were made.
Of interest to us here at WBI are the tweets Horvath sent recalling the actions of the GitHub-paid mediator who obviously was sent to protect GitHub.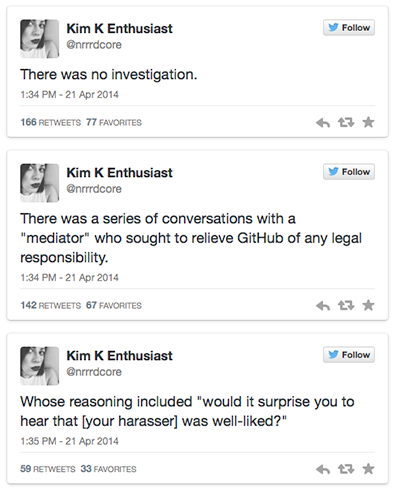 Tags: GitHub, intimidation, Julie Ann Horvath, sexual harassment, Theresa Preston-Werner, threats, Tom Preston-Werner, workplace bullying
Posted in Employers Gone Wild: Doing Bad Things, Tutorials About Bullying, WBI Education | 1 Archived Comment | Post A Comment () »