Archive for the 'Employers Gone Wild: Doing Bad Things' Category
Thursday, September 18th, 2014
WBI proudly participated in the Fifth Annual Sports Law and Ethics Symposium at Santa Clara University on Sept. 11 hosted by the Institute of Sports Law and Ethics. Planning for the event preceded the NFL inadequate handling of the multiple domestic violence incidents by player-employees. But the symposium was immersed in the headlines of the day.
Gary Namie, WBI Director, joined a panel exploring Bullying and the Locker Room Culture. My contribution was to educate the audience about adult bullying in the workplace and overlap with the Jonathan Martin/NFL case. Esteemed colleagues on the panel included
• Brandi Chastain, U.S. Olympic and World Cup women's soccer champion turned advocate for youth safety in soccer
• William Pollack, PhD, Harvard Medical School clinical psychologist and author of Real Boys: Rescuing Our Sons from the Myths of Boyhood
• Jim Thompson, founder of the Positive Coaching Alliance an organization dedicated to transforming all youth sports into positive, character-building experiences
Paraag Marathe, President of the 49ers of the NFL opened the Symposium. He refused to address the then-current domestic abuser Ray McDonald presented for the team. I was able to ask if the integrity and character of players was part of the recruitment and hiring process. He emphatically said that players with skills but no integrity had a place on the 49ers roster. He also cited the extensive psychological testing that all potential player-employees face. Hmm.
KPIX-TV San Francisco coverage of the Symposium
Tags: Brandi Chastain, ethics, Jim Thompson, Jonathan Martin, NFL, sports law, William Pollack, workplace bullying
Posted in Employers Gone Wild: Doing Bad Things, NFL: Jonathan Martin, Tutorials About Bullying, WBI Education, WBI in the News | No Archived Comments | Post A Comment () »
Saturday, September 13th, 2014
Listen to Dr. Gary Namie be interviewed by Larry Buhl on the Labor Pains Podcast. The program covers workplace issues of today and tomorrow. Here Gary and Larry talk about workplace bullying and the NFL.
Audio clip: Adobe Flash Player (version 9 or above) is required to play this audio clip. Download the latest version here. You also need to have JavaScript enabled in your browser.
See more Labor Pains Podcasts here.
Tags: Gary Namie, labor pains podcast, larry buhl, NFL, workplace bullying, Workplace Bullying Institute
Posted in NFL: Jonathan Martin, WBI in the News | No Archived Comments | Post A Comment () »
Wednesday, September 10th, 2014
The NFL — the No Effin' Liability league for the boys of football — has struck again. As a multi-billion dollar enterprise (owned by revered American entrepreneurs — celebrities themselves who own celebrity labor), the league of owners of American professional football has shown itself to be incredibly inept. Their mouthpiece, the "commish" Roger Goodell seems driven solely to protect the NFL brand. He certainly is not a competent CEO though paid $44.2 million per year to be incompetent. I'm not sure he could work the drive-thru at McDonalds — it's too fast moving and accuracy matters.
You see Roger got caught crafting corporate policy in a very public way, then revising it to be more punitive publicly, only to get caught acting unilaterally and reflexively, all the while completely ignoring his own stated "policy." The man doesn't know "strategery,"willing to act without thinking.
Ray Rice, star player for the Baltimore Ravens, was caught on a New Jersey casino hotel security video entering an elevator with this then-fiance, Janay Palmer. That same camera caught him dragging an unconscious Janay from the elevator minutes later.
Conclusion to be drawn by any reasonable person: Rice struck Palmer in the elevator. Local law enforcement, the district attorney and the judge seemed to believe an unknown third person must have assaulted her in the elevator. Charges were dismissed. The NFL also engaged in such magical thinking. Goodell was allowed to assume that if the courts didn't care to protect Palmer and jail Rice, the Ravens and NFL had little to worry about. And the only worry for the team and league is LEGAL liability. Just protect the shield, baby (tip to Al Davis).
Goodell decided that he had better punish Rice in some way. He grazed him with a 2-game suspension. Even within the NFL's hierarchy of punishments, the penalty was light as compared to a pot smoking 6-game suspension. The inequity was obvious to all immediately but not to Goodell. Weeks later, he publicly declared that a domestic violence first-time violation committed by a player (nothing said about the distinction between proof, accusation, arrest, indictment or conviction) would draw a 6-game penalty. What to do with Rice retroactively? Suddenly two new domestic violence cases emerged with San Francisco and Carolina players. What to do? Goodell waited.
Into the breach strode that paragon of journalism, TMZ, with the missing link — video from the elevator. At last, Goodell could see what had actually happened between the video sequences taken outside the elevator. He rapidly, within the day, compelled the Ravens team to fire Rice and the NFL suspended Rice indefinitely (which in the past has always been the route to redemption and restoral of playing privileges).
Goodell expected praise. Instead, there have been calls for his head. ESPN talking head, attorney, and former NFL quarterback Steve Young opined that the Ravens should have acted like a responsible corporate employer and sent Rice home without pay pending an investigation.
I'll let ESPN's Keith Olbermann explain why Goodell and the Ravens and county officials screwed up. He calls for mass resignations. Obermann says Goodell "comforted the violent and afflicted the victim" and is an "enabler of men who beat women."
As an institution, the NFL is screwy. The people in charge seem incapable of owning the responsibility for what they have done. It's all deflection and denial. Just protect the shield, baby.
It's corporate CYA!
Coming: Part II — The NFL's Personnel Problem
Tags: CEO, corporate irresponsibility, domestic violence, human resources, investigations, NFL, Roger Goodell, wullying
Posted in Commentary by G. Namie, Employers Gone Wild: Doing Bad Things, NFL: Domestic Violence, The New America | No Archived Comments | Post A Comment () »
Thursday, August 28th, 2014
Happy Labor Day. Two tales about unionism. Abraham Lincoln said it best:
Labor is the superior of capital and deserves much the higher consideration.
Good news in an unexpected place: Workers at the Chattanooga, Tennessee Volkswagen auto manufacturing plant have created UAW Local 42 to represent workers. The company is expected to recognize the union once a threshold number of workers join the union. The company favored the union in the Feb. 2014 election. Outside Tennessee politicians fought hard to defeat the union winning the support of workers to keep Tennessee hostile to unions. It is a "right to work" state.
Bad news where least expected: Amazon fights its workers' right to unionize in Germany, a union-friendly country. Along with GMO and fast food, another horrible American export — anti-unionism!
Audio clip: Adobe Flash Player (version 9 or above) is required to play this audio clip. Download the latest version here. You also need to have JavaScript enabled in your browser.
Remember without workers CEOs would have no income and investors would have no companies to push to their limits of productivity.
Tags: Amazon, Germany, Tennessee, UAW local 42, union, VW
Posted in Employers Gone Wild: Doing Bad Things, Unions | No Archived Comments | Post A Comment () »
Saturday, August 2nd, 2014
Tags: Gary Namie, got a minute, NFL, target, who gets bullied, workplace bullying, Workplace Bullying Institute
Posted in Commentary by G. Namie, Media About Bullying, NFL: Jonathan Martin, WBI Education | No Archived Comments | Post A Comment () »
Tuesday, July 29th, 2014
The President of the International Association of Machinists and Aerospace Workers (IAM) is calling on Boeing CEO Jim McNerney to apologize to Boeing's workforce for offensive remarks made during a quarterly earning call with reporters on July 23, 2014.
"The heart will still be beating, the employees will still be cowering, I'll be working hard," said McNerney in response to a reporter's question about whether he had plans to retire after he turns 65 next month. Boeing's policy is for executives to retire at age 65.
McNerney is ranked #126 on the Forbes list of CEO compensation earning $13.36 million per year.
"Boeing's CEO would have been far better served to give credit to the workforce that has driven the company's sales and profits to record levels," said IAM President Tom Buffenbarger. "Instead, his unfunny and unnecessary remarks serve as reminder that the Jack Welch style of anti-personnel management is still alive and well at Boeing. If he is able to get his foot out of his mouth, the very next thing we hear from Mr. McNerney should be a sincere apology to all employees at Boeing."
The IAM and Boeing have a contentious relationship with Boeing always threatening IAM with shutting down production plants and moving to anti-union states (as they did for one plant moving to South Carolina from Washington state).
On that same Friday, McNerney issued an apology distributed companywide. He said the comment made during a call about the company's quarterly results was a "joke gone bad."
Tags: Boeing, CEO, IAM, labor relations, Machinists, McNerney
Posted in Employers Gone Wild: Doing Bad Things, Unions | No Archived Comments | Post A Comment () »
Tuesday, July 22nd, 2014
"Suppose you were an idiot.
And suppose you were a member of Congress.
But I repeat myself."
Mark Twain
I'm starting to sound like my father and can't believe I question nearly every day "what is this world coming to?" Near the top of my "it's all going to hell" list is America's turning its back on science — unabashedly, proudly, defiantly — through legislation.
In the UK, the BBC has banned from their airwaves crackpot guests preaching that climate change is not real. The change is to bolster scientific integrity. Staff will receive training in science and scientific conferences will be attended by staff to stay abreast of developments.
Deniers get equivalence here in the US. One denier with one believer (proxy by Bill Nye, the "Science Guy"). Viewers ignorant of the facts could conclude that climate change is not really something to be concerned about. The fallacy of this false equivalence was never more clear than this demonstration by comedian John Oliver on his HBO show This Week Tonight.
And recently the British government extended its public school ban on teaching pseudoscience, creationism, to cover "academies" and "free schools," the equivalent of charter schools in the States. The government recognizes the religious bases of the founders of such schools. Thus creationism promotes religion and has no business in the teaching of science.
America is headed in the other direction, driving headfirst into ignorance. Creationists and advocates for "intelligent design" in the US seem to be gaining clout. The National Center for Science Education (NCSE) 2014 legislative scorecard identified states that are attempting to make their children science illiterates.
Tags: Healthy Workplace Bill, state legislators, state legislatures
Posted in Commentary by G. Namie, Employers Gone Wild: Doing Bad Things, Healthy Workplace Bill (U.S. campaign), The New America, WBI Surveys & Studies | No Archived Comments | Post A Comment () »
Wednesday, July 16th, 2014
If you are anywhere near Deerfield Beach, FL, you owe it to yourself to attend the Broward Crime Commission Workplace Bullying event. Come meet Dr. Gary Namie (WBI Director, co-author, The Bully At Work), Dr. Maureen Duffy (co-author, Overcoming Mobbing), law professor Kerri Stone, and Jonathan Martin attorney David Cornwell.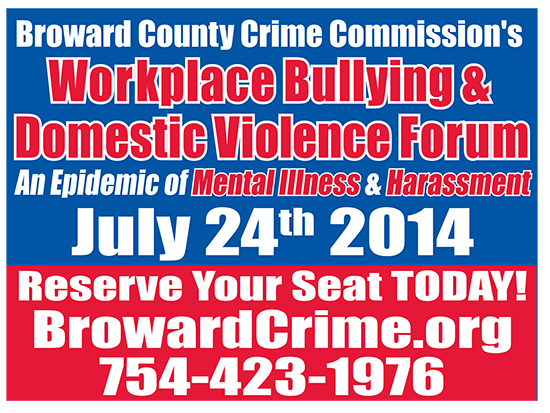 Tags: adult bullying, Broward Crime Commission, David Cornwell, Gary Namie, Kerri Stone, Maureen Duffy, workplace bullying
Posted in Hear Ye! Hear Ye! 2, NFL: Jonathan Martin | No Archived Comments | Post A Comment () »
Monday, July 14th, 2014
The Healthy Workplace Campaign is WBI's effort to enact anti-bullying legislation for the American workplace state by state. The model bill is called the Healthy Workplace Bill (HWB).

Features of the HWB
• Suffolk University Law Professor David C. Yamada, text author, used federal Title VII Civil Rights laws as basis
• Defines severe abusive conduct — does not use term workplace bullying
• Provides legal redress for anyone subjected to abusive conduct, whether or not the person is a member of a protected status group
• Requires that abusive conduct result in either demonstrable health or economic harm to plaintiff
• Plaintiffs who file lawsuits make public formerly hidden, confidential employer processes that hide and deny bullying
• Prohibits retaliation against any participant in procedures involved in dealing with the abusive conduct complaint
• Requires plaintiffs to hire private attorneys, no fiscal impact on state government
• Provides incentives (affirmative defenses) for employers who implement genuine corrective procedures
• Preserves managerial prerogative to discipline and terminate employees
• Does not interfere with state workers' compensation laws or union CBAs
We named the HWB in 2002. All other uses of the name HWB are unauthorized by us. California first introduced the HWB in 2003. It has been carried in over half of states and two territories since. The Workplace Bullying Institute trains and provides support to a national network of volunteer Sate Coordinators who lobby their respective state legislators to sponsor the HWB. You can track its status at the HWB website.
Botched Amendments & Unanticipated Consequences
As authors of the HWB, we naturally want the full and original version of the bill enacted into law. And we realize compromises will be made during the process. It is "sausage making," after all. We just wish all bill sponsors would refuse to allow major revisions that change the spirit of the bill from protecting abused workers to something else. Since the HWB was first introduced, different amendments have been proposed or made.
Often the well-intended sponsor, a pro-worker advocate, agrees to compromise adopting the belief that the law can be built in steps. Let's get this version passed now and it will be revisited in the coming years and supplemented with the other desired provisions.
Tags: amendments, business lobby, Chamber of Commerce, David Yamada, Gary Namie, Healthy Workplace Bill, Unions, vicarious liability, workplace bullying, Workplace Bullying Institute
Posted in Employers Gone Wild: Doing Bad Things, Fairness & Social Justice Denied, Healthy Workplace Bill (U.S. campaign), Tutorials About Bullying, Unions, WBI Education, Workplace Bullying Laws | No Archived Comments | Post A Comment () »
Wednesday, July 9th, 2014
In this space we regularly call for greater employer accountability and the enactment of laws that make that accountability more likely than is currently done voluntarily. Our domain is the non-physical safety threat. U.S. workers are supposedly to be made safe from threats to their physical safety.
OSHA, a "regulatory" agency responsible for Occupational Safety and Health in the U.S. seems to have trouble accomplishing its mission. "OSHA's mission is to assure safe and healthful workplaces by setting and enforcing standards and by providing training, outreach, education and assistance." Wondering if by assistance, OSHA means delivering "waivers" to destructive employers who poison and take lives.
For example, the following two stories of injustice based on token punishment will curdle your blood.
Story 1.
A CSC Sugar plant in Fairless Hills, PA provides sugar for Snapple and Ben & Jerry's Ice Cream. The plant is staffed and managed entirely by temp workers. According to ProPublica statistics, temporary workers are most at risk for safety hazards at worksites in states where data exist.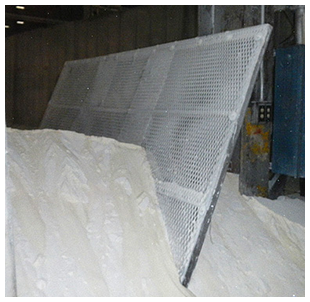 In February 2013, Peruvian New Jersey resident Janio Salinas was unclogging the machine from below. He was buried alive and asphyxiated. Coworkers found him after they returned from lunch. The onsite temp manager had complained about this potential hazard to a higher level manager until a safety platform was installed. However, the big boss instructed the temp manager to remove that platform because it had slowed the flow of sugar, had slowed down "production." That big boss lied about his order to investigators, claiming ignorance about the platform (picture on the left). His costly decision was made 13 days before Salinas was buried. Turns out the only cost was Salinas' life.
Next came the OSHA investigation. OSHA initially fined CSC $25,855 but after CSC installed a safety guard and started using a new procedure to break up sugar clumps, the fine was reduced to $18,098 (for good behavior???). Jean Kulp, director of OSHA's Allentown, PA, office, told Univision that her agency doesn't have the ability to shut down businesses, has limited criminal enforcement provisions, and found the CSC had not been "willfully in violation," which would have triggered bigger fines despite a record of repeated violations.
$18,098 for a man's life!
Kulp's ultimate insult to the Salinas' surviving family: CSC had not in her judgement shown "total disregard" for its workers.
Thanks to Daily Kos for the tip to the tale.
Tags: asphyxiation, CSC sugar, Elk River, Freedom Industries, Janio Salinas, Jean Kulp, MCHM, OSHA, West Virginia
Posted in Commentary by G. Namie, Employers Gone Wild: Doing Bad Things, Fairness & Social Justice Denied, The New America | No Archived Comments | Post A Comment () »