Archive for the 'Tutorials About Bullying' Category
Thursday, November 6th, 2014
ARE BULLIED TARGETS BELIEVED?
WBI Research/Instant Poll: 2014 – F
People who find themselves trapped in a bullying scenario can attest to the crazymaking, irrational nature of the mistreatment. Much of the harm caused by the abusive conduct stems from the shattering of targets' beliefs about fairness, fairness in the work world specifically. First, they are typically the high performers who unknowingly trigger the envy of perpetrators. Targets are aware of their work skill at a deep personal ontological level. Perpetrators come into their lives who determined to reject the agreed-upon perceptions of the targets' skills. There are objective truths, a reality.
When Bullies are Bosses
Perpetrators often use their formal (by organizational rank) or informal power to state the obviously opposite perception about technically skilled targets. Though this defies reality, they convince organizational allies to believe them and not targets.
In simplest form, it becomes a "he said, he said" deadlock. But most bullies who are bosses rely on support from higher up to add weight to their side.
The shrewdest perpetrators use ingratiation over many years to convince their executive sponsors (their enablers) that they, the bullies, are indispensable. Further, if and when they are described as abusive or destructive by one or more targets in the future, the executive will defend her or his "indispensable" perp by ignoring the target's portrayal of a friend and colleague.
Thus conditions are not favorable when targets report the facts about what they have experienced at the hands of the favored perpetrator. After all, targets do bring negative news about people who typically outrank them.
When Bullies are Coworkers
In situations where targets have multiple perpetrators, there are many individuals who can provide accounts of alleged bullying incidents that will be at odds with what targets say happened.
For targets bullied by a gang of coworkers (cliques and mobs also are apt descriptions), it is doubly negative. Not only do they outnumber the target, the target is deprived of the chance to have her or his story corroborated by coworkers. Though few coworkers ever step up to offer support to targets, some do. When coworkers are the bullies, the potential source of support is lost.
Gullible investigators (typically working inside the organization for another department) will have their judgement swayed by many against one, and believe the tale that many tell even if those versions are not true.
The Effects of Not Being Believed
For targets, it's a matter of honor and integrity. Repeated studies have shown that targets claim that their honesty is one of the major reasons for being targeted for abuse. They do seem to be very principled, non-political workers.
Tags: 2014 ip f, attribution error, believing targets, bullied targets, bullying research, credibility, Daniel Christensen, Gary Namie, instant poll, truth, workplace bullying, Workplace Bullying Institute
Posted in Tutorials About Bullying, WBI Education, WBI Surveys & Studies | No Archived Comments | Post A Comment () »
Monday, November 3rd, 2014
We have long said that mediation is the wrong tool to resolve workplace bullying problems. Mediators are inserting themselves into bullying in growing numbers as if the situations originated in traditional conflict. But bullying involves violence (non-physical varieties), an unequal level of power (real or perceived), and contempt by one person for the other. No serious problem solver believes a credible and fair middle ground can be found. Why further compromise the already compromised target? It is cruel.
A reporter tipped me off to the spring 2014 GitHub scandal. One of the former co-founders, Tom Preston-Werner, had given his CEO position to the other co-founder, Chris Wanstrath in January. GitHub engineer, Julie Ann Horvath, alleged sexual harassment by one of the company founders and his wife and quit. The wife's threats (of informing husband's decision making, of engaging spies at company, and intimidating and verbally attacking her) might have been more bullying than harassment, given its same-gender nature. The venture capitalist who invested $100 million in GitHub defended Preston-Werner. Preston-Werner resigned. Wanstrath cleared Preston-Werner of illegal harassment but did say "mistakes" were made.
Of interest to us here at WBI are the tweets Horvath sent recalling the actions of the GitHub-paid mediator who obviously was sent to protect GitHub.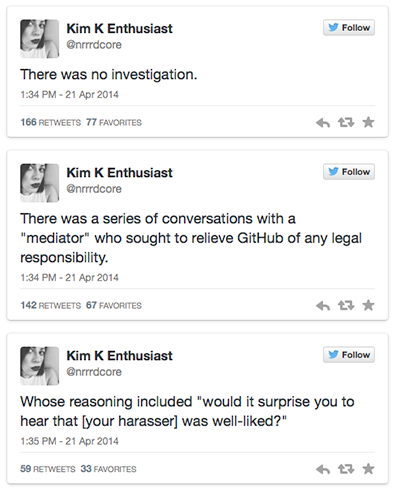 Tags: GitHub, intimidation, Julie Ann Horvath, sexual harassment, Theresa Preston-Werner, threats, Tom Preston-Werner, workplace bullying
Posted in Employers Gone Wild: Doing Bad Things, Tutorials About Bullying, WBI Education | No Archived Comments | Post A Comment () »
Monday, November 3rd, 2014
If you are a bullied social worker or anyone bullied at work in Alberta, Edmonton is the place to be. Help can be found at the Alberta Bullying Research, Resources and Recovery Centre. The Centre was established by Linda Crockett. We are proud to say that this extraordinary activist attended WBI's Workplace Bullying University Training for Professionals to supplement the relevant skills and qualifications she already possessed.
Here is Linda featured in two publications — a profile by her union HSAA (Health Sciences Association in Alberta) and an article by Linda. Linda is an outspoken advocate for the workplace bullying movement — saying all the right things and always pushing to break the silence.
You can reach Linda at the Centre at 780-965-7480. Call for help or call to volunteer to help other professionals.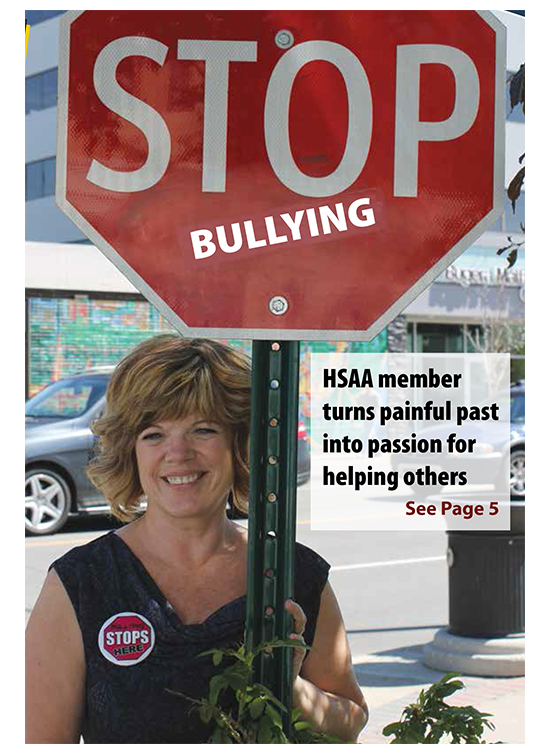 Tags: ABRC, Alberta Bullying Research Resources and Recovery Centre, Linda R. Crockett, mental health professionals, social workers, workplace bullying
Posted in Good News, Tutorials About Bullying, WBI Education, Workplace Bullying University | No Archived Comments | Post A Comment () »
Monday, November 3rd, 2014
Utah State Coordinator, Denise Halverson, chief advocate for the WBI anti-bullying Healthy Workplace Bill, and citizen lobbyist Travis Ackerman joined Feedback show host Abby Bonell on KNRS (Salt Lake City) to discuss workplace bullying and the HWB on October 30, 2014.
Audio clip: Adobe Flash Player (version 9 or above) is required to play this audio clip. Download the latest version here. You also need to have JavaScript enabled in your browser.
Tags: Abby Bonell, Denise Halverson, Healthy Workplace Bill, KNRS, Travis Ackerman, workplace bullying, Workplace Bullying Institute
Posted in Healthy Workplace Bill (U.S. campaign), Tutorials About Bullying, WBI Education, WBI in the News, Workplace Bullying Laws | No Archived Comments | Post A Comment () »
Thursday, October 30th, 2014
POLITICIANS AS BULLIES?
WBI Research/Instant Poll: 2014 – E
It is common knowledge that politics in 2014 America are quite polarized. No longer do politicians pretend to want to solve social problems with social policy. Interactions between politicians are characterized by ad hominem attacks. Politicians seem to be mimicking the personalized nature of bullying. The parallels between the political and workplace domains seemed obvious to us at WBI.
However, critics quickly pounce on our blog musings about the similarities. Commentators say "stick to workplace bullying and stay out of politics." They believe politics is a field of employment different than any other. The same failure to see equivalence occurred when NFL player Jonathan Martin walked away from his professional football team claiming he endured an "abusive work environment." The majority of society granted the NFL exemption from treatment as a workplace where employers bear responsibility for harm their employees suffer. It was said that the locker room is so unique it cannot be changed from its barbaric state.
Ironically, the NFL itself defined its locker room as a workplace. Discrimination laws apply. And the Martin case taught the NFL lessons about human responses to abusive conduct even when targets weigh 300 or more pounds.
In this survey, we asked 307 respondents (bullied targets and witnesses) to give their opinion about whether politics involves bullying or not. Question:


Is bullying by politicians of politicians or citizens as harmful as workplace bullying?
The percentages for each response option were:
.873 Yes, always
.094 Sometimes, only when the less powerful person suffers serious harm
.023 No, political harm is not the same as harm to non-politicians
.001 Never, bullying tactics define politics
The results show that the community of bullied targets does not grant exemptions easily. They conclude that bullying and abuse are the same regardless of venue. Apologists for politicians' outrageous anti-social behavior towards one another like to say that politics is a special type of workplace, immune from social codes and restrictions that apply to everyone else.
But bullied targets do not see the separation into distinct domains. Anti-abuse rules for everyone should apply everywhere — in families, in schools, in churches, in workplaces and among occupants of our legislative chambers.
© 2014 Workplace Bullying Institute. Do not use without proper citation of WBI as the source.

See the complete set of WBI Studies
Tags: 2014 IP e, bullying research, Gary Namie, instant poll, negative conduct, polarization, political behavior, politicians, Workplace Bullying Institute
Posted in Tutorials About Bullying, WBI Education, WBI Surveys & Studies | 1 Archived Comment | Post A Comment () »
Tuesday, October 28th, 2014
I've always had a negative reaction to positive psychology despite a sometimes unjustifiable optimism. The contrarian in me seeks the alternative path when the mainstream suggests we all get in line like sheep, think alike and go down the same road. As a psychologist, I saw positivism as my field's attempt to reinvent a history of its dark obsession with abnormality forged by European pioneers.
Related to my life immersed in bullying and injured bullied targets, I see newcomers and nitwits give targets bad advice. Some invoke positive thinking. Feel good affirmations cannot pierce the shroud under which bullied, anxious, and depressed targets find themselves. Can they? Of course, being told to "get real," and "just grow a thicker skin" are equally inane and ineffective admonitions. Where's the middle ground?
I found the realistic alternative to positivism in the work of German psychologist and researcher Gabriele Oettingen who teaches at New York University. Here are citations from an essay she recently wrote for the New York Times and the lengthier statements from her university webpage. Her approach seems best suited to targets seeking ways to overcome their adversity foisted upon them involuntarily.
Mental Contrasting
"Mental contrasting" has produced powerful results in laboratory experiments. When participants have performed mental contrasting with reasonable, potentially attainable wishes, they have come away more energized and achieved better results compared with participants who either positively fantasized or dwelt on the obstacles.

When participants have performed mental contrasting with wishes that are not reasonable or attainable, they have disengaged more from these wishes. Mental contrasting spurs us on when it makes sense to pursue a wish, and lets us abandon wishes more readily when it doesn't, so that we can go after other, more reasonable ambitions.
WBI: This approach seems to give permission to the person to let go of unattainable goals — e.g., convincing your employer to fire the bully — freeing the person to pursue wholeheartedly realistic goals — e.g., finding the next job, taking time off from work to heal or spending time with family and loved ones to repair strained relationships that matter more than work.
Tags: bullied targets, Gabriele Oettingen, goals, mental contrasting, positive thinking, positivism, workplace bullying
Posted in Bullying-Related Research, Social/Mgmt/Epid Sciences, Tutorials About Bullying, WBI Education | 2 Archived Comments | Post A Comment () »
Tuesday, October 28th, 2014
Posing this question on the internet is risky, certain to draw unsolicited government surveillance attention in paranoid America. You see, terror existed before America's Sept. 11, 2001. Just ask Britain. We should be able to use the word when it applies to a variety of situations. But after 9-11, the semantic gods yielded control of the term to western governments.
Here is Merriam-Webster's definition:

ter·ror noun \ˈter-ər, ˈte-rər\

1:  a state of intense fear
2 a :  one that inspires fear :  scourge b :  a frightening aspect c :  a cause of anxiety :  worry d :  an appalling person or thing; especially :  brat
3:  reign of terror
4:  violent or destructive acts (as bombing) committed by groups in order to intimidate a population or government into granting their demands

Origin of TERROR
Middle English, from Anglo-French terrour, from Latin terror, from terrēre to frighten; akin to Greek trein to be afraid, flee, tremein to tremble First Known Use: 14th century
Thus, a practitioner of terror, the terrorist, is a person who deliberately instills fear and anxiety in others in an intimidating fashion. Isn't that what a workplace bully does when she or he abuses others? From fear comes paralysis. Shocked and paralyzed targets and witnesses do not respond to aggression with aggression.
Look at the fourth term in the above definition. The goal of intimidation is have "a population or government," proxies for organizations, grant the bully's demands. Bullies get their way with their employers. Perpetrators are rarely punished. They abuse others with impunity, rarely facing consequences. American employers do next to nothing to stop bullies while innocent guileless targets lose their jobs, livelihoods and sanity at alarming rates.
Logically, workplace bullies are terrorists within organizations. They are organizational terrorists. Their actions fit the definition. We simply are applying a label appropriately.
Bullying is not simply eye rolling as bully apologists like to characterize it. It is workplace violence, albeit a non-physical form. It is a mistake to underestimate the effects verbal abuse, threats, intimidation, humiliation and domination have on human beings.
History is on our side. The founder of the international movement in Sweden, Heinz Leymann, titled one of his early English-language journal articles — "Mobbing and Psychological Terror at Workplaces." Of course, he chose the term mobbing to connote the interpersonal destruction of workplace victims by multiple perpetrators. To assess the extent to which a target was harmed, he developed his own instrument, the LIPT, the Leymann Interpersonal Psychological Terrorization scale. Leymann minced no words. He died in 1999 before other nations followed America's descent into paranoia about terrorism. I wonder how close he was to naming the phenomenon we know today as bullying, terrorization.
When Dr. Ruth and I made the commitment to begin the work which evolved into the Workplace Bullying Institute back in 1996-97, we had a choice of two reasonable terms. Mobbing was the Scandinavian and European term. Workplace Bullying was the British term. We deliberately chose to import "workplace bullying" for a variety of reasons. We originally did discuss "terrorization," but felt it would be considered too radical to be accepted by American media. A short four years later, Sept 11 happened. The movement would have been stopped in its tracks for adopting anything related to "terror."
Looking back after more than 17 years, in the spirit of realistically naming the destructive force that workplace bullying is, I now see "terrorization" as an entirely appropriate synonym to add to the list of acceptable terms. Invoking Leymann's courage to call it what it is, bullying is terrorism.
Which employers will launch a "war" against it within their walls? Call us. We'll help you do it right.
Tags: bullied targets, Gary Namie, Heinz Leymann, psychological terrorization, terror, terrorist, victims, workplace bullying
Posted in Commentary by G. Namie, The New America, Tutorials About Bullying, WBI Education | 3 Archived Comments | Post A Comment () »
Thursday, October 23rd, 2014
Why The Office Bully Is Getting Promoted
Your company culture may encourage bullies and you may not even know it.
By Lisa Evans, Fast Company, October 23, 2014
You may have thought you'd escaped bullying when you traded the school yard for the office, but according to the Workplace Bullying Institute, 27% of Americans are still experiencing bullying in the workplace.
Instead of being shoved in a locker or having your head dunked in the toilet, workplace bullying is non-physical, yet still as emotionally harmful. The Workplace Bullying Institute defines workplace bullying as any form of verbal abuse, job sabotage, intimidation, or humiliation.
Tags: 2014 WBI U.S. Workplace Bullying Survey, bullies, Gary Namie, perpetrators, reinforcement, reward, workplace bullying, Workplace Bullying Institute
Posted in Media About Bullying, Print: News, Blogs, Magazines, Tutorials About Bullying, WBI in the News | 1 Archived Comment | Post A Comment () »
Sunday, October 19th, 2014
Just in time for WBI's Freedom from Workplace Bullies Week, James Woodson, Tuscaloosa Senior Assistant City Attorney introduced and the city council passed its first-ever workplace bullying policy (Ordinance No. 8144, Oct. 14, 2014). As documented elsewhere at the WBI site, a policy is necessary but not sufficient to comprehensively prevent and correct bullying. But it is a good preliminary step by any employer. Tuscaloosa will follow with training for staff and managers. We commend Mr. Woodson and the council. Woodson told his local TV station
"It wasn't that many years ago that employers were adopting for the first time sexual harassment policies, then that became anti-harassment policies, and I think this is a natural extension to bullying, to essentially catch all of the inappropriate workplace behavior."
[Earlier in 2014, Tennessee became the first state to encourage government agencies as employers to adopt policies to address abusive conduct.]
Here are the policy's strengths and shortcomings.
Tags: abusive conduct, Alabama, HR, policy, Tuscaloosa, workplace bullying policy
Posted in Freedom Week, Good News, Tutorials About Bullying, WBI Education | No Archived Comments | Post A Comment () »
Friday, October 17th, 2014
I hate talking points (propaganda) for American-style capitalism. For example, some of the most loathsome soundbites are: All hail entrepreneurship (Shark Tank); Everyone can live the American Dream if they only try hard enough; Ignore gross inequality – having a tiny elite group of individuals owning a disproportionate share of all wealth is good for the country; and Support for our neediest (compassion) is a sign of weakness.
By extension, this mindset also espouses these lies about workplace bullying … People who claim to to be "abused" at work must have provoked their mistreatment … they (targets) undermine virtuous employers … and if, and only if, someone gets hurt at work, perpetrators never intended to harm, it was all a misunderstanding or misperception by the recipient.
The WBI 2014 IP-B study countered the myth about intentionality of bullies completely. We asked bullied targets — not the public, not managers, not bullies, not HR, not owners, not executives, not corporate defenders — and they overwhelmingly stated that their bullies acted with deliberateness (82%) and knew they were harming their victims. When we add in the perpetrators acting on behalf of others, an astonishing 91% were deliberate and malicious. Only 2% of bullies were "accidental" perpetrators.
To conclude that if targets are hurt by bullying, their hypersensitivity was to blame, is a damnable distortion of reality.
What matters most is that bullied targets are hurt by decisions made by perpetrators to behave negatively. Lies about bullies' stated intent matter not one whit. Effects and consequences trump intent. [Using the same logic, we at WBI also state that bullying is not simply based on whether or not negative behaviors occurred but if those acts happened AND they caused the targeted person adverse consequences. We allow for behaviors to have different effects on different recipients allowing for individual differences in the ability to cope and respond to negative actions. If there is genuinely no harm (immediate or latent) to the target, then bullying did not occur.]
Another arena in which the same blame-the-recipient scenario pops up is the modern political apology. Rather than say "I'm sorry," thus accepting personal responsibility, politicos say "I'm sorry if you felt hurt by anything I did," displacing blame on the victim of wrongdoing. And we blithely, through our inept media reporters, accept this sleight of hand by not challenging it.
Lawyer-cartoonist Ruben Bolling perfectly captured the shifting of responsibility for intentionality in the strip below — The "R" Word — with NFL overtones.
(more…)
Tags: bullies, bully, deliberate, intention, malice, perpetrator, workplace bullying
Posted in Tutorials About Bullying, WBI Education, WBI Surveys & Studies | 1 Archived Comment | Post A Comment () »