Archive for the 'Unions' Category
Tuesday, April 1st, 2014
The Workplace Bullying Institute and the New Workplace Institute are happy to announce the launch of a joint initiative, the U.S. Academy on Workplace Bullying, Mobbing, and Abuse, which will support and promote the multi-disciplinary work of leading and emerging educators, researchers, practitioners, writers, and advocates who are dedicated to understanding, preventing, stopping, and responding to workplace bullying and related forms of interpersonal mistreatment.
"For over a year, we've been contemplating how to bring together an American network of leading and emerging experts on workplace bullying and related topics. The Academy is our conduit for doing so. We look forward to highlighting the good works of these incredible people," says David Yamada, Suffolk University law professor and New Workplace Institute director.
The Academy has over 50 Fellows including leading psychological researchers, physicians, attorneys, occupational health experts, professors of management, nursing, and communications, counselors, union trainers, military leaders, advocates, and consultants. The complete list of Fellows can be seen at workplacebullyingacademy.com.
"When we started WBI there was one trade unionist and a couple of academic researchers with the courage to focus on workplace bullying. Since then the field exploded exponentially," says Gary Namie, PhD, Co-founder of the Workplace Bullying Institute, established in 1997. "We recognize the universality of these destructive behaviors, and this network focuses on the unique challenges posed by American employee relations, mental health, and legal systems."
Tags: abuse, bullying research, David Yamada, Gary Namie, Mobbing, new workplace institute, U.S. academy, workplace bullying, Workplace Bullying Institute
Posted in Bullying-Related Research, Good News, Healthy Workplace Bill (U.S. campaign), Hear Ye! Hear Ye! 2, Products & Services, Social/Mgmt/Epid Sciences, Tutorials About Bullying, Unions, WBI Education | 1 Archived Comment | Post A Comment () »
Sunday, January 5th, 2014
Update after Jan. 3 vote: 51% of Machinists accepted the final Boeing proposal under pressure from politicians and the IAM International. Read background story.
Statement of IAM Local 751:
Machinists Union members have voted to accept the Boeing Co.'s proposed eight-year contract with a 51 percent yes vote.
"Our members have spoken and this is the course we'll take," said Tom Wroblewski, the president of Machinists Union District Lodge 751, which represents more than 30,000 hourly workers at Boeing plants in Puget Sound.
The decision means Boeing will stop seeking alternate sites for its 777X aircraft program, the latest version of its best-selling widebody jet, and start preparations to start final assembly and wing fabrication in Puget Sound.
The union's goal in coming years will be to fight to ensure Boeing lives up to its commitment to its workforce and keeps jobs in Washington state, Wroblewski said.
The vote to accept the contract came even though Wroblewski and the District 751 leadership team had unanimously recommended that union members reject Boeing's offer, which included steep concessions on retirement and health care benefits and limits on future wage growth.
"All along we knew that our members wanted to build the 777X, and that it was in Boeing's best interest to have them do it," he said. "We recommended that our members reject the offer because we felt that the cost was too high, in terms of our lost pensions and the thousands of dollars in additional health care costs we'll have to pay each year.
"Now, it's up to all of us now to pull together to make this airplane program successful. I'm confident we will do that, because as we've said all along, this is the most-skilled aerospace workforce in the world."
Tags: Boeing, fixed pensions, IAM Local 751, Machinists, union
Posted in Employers Gone Wild: Doing Bad Things, Unions | No Archived Comments | Post A Comment () »
Thursday, January 2nd, 2014
Washington State Governor Jay Inslee was once a liberal democrat as Congressman. Now he fawns over one of the state's two large employers — Boeing — as if he was once an executive there. After McDonnell-Douglas merged in 1997, Boeing became the only surviving American aircraft manufacturer. Its 787 Dreamliner model was fraught with problems when launched. It's newest commercial project is to build the wide-body 777X model. Assembly is scheduled for the Seattle area. But before starting, Boeing decided to alter its contractual relationship with a big part of its laborforce — the machinists. The corporation is behaving as an unscrupulous monopoly.
Boeing moved its corporate headquarters from Seattle, its home since William Boeing bought his first airplane factory site in 1910. It settled contentious strikes, especially with its machinist employees (the IAM, Local 751 in Seattle) the most recent contract expires in 2016! However, negotiating for changing terms began in 2013. Boeing demanded more "givebacks," concessions, by the union.
Tags: Boeing, contracts, employer abuse, IAM, IAM Local 751, Machinists
Posted in Commentary by G. Namie, Employers Gone Wild: Doing Bad Things, Fairness & Social Justice Denied, Unions | No Archived Comments | Post A Comment () »
Monday, November 4th, 2013
American professional football is now recognized as a violent game, not only by critics, but by its own admission. The NFL (the team owners) settled a huge lawsuit for players who suffered concussions and committed funds to researching the effects of the sport on retired players' health. The fact that retired players chose to die by suicide, a decision driven in large part by the brain damage they suffered, speaks volumes about the sport.
Players privileged to play at the professional level have groomed their playing skills from childhood through high school and college and endured years of boys' locker room antics where social skills are honed. It's possibly the most masculine, aggressive environment of all workplaces (military as an equal). Do we expect respect to be part of that cutthroat competitive environment?
Tags: Gary Namie, Jonathan Martin, Miami Dolphins, NFL, NFLPA, Richie Icognito, workplace bullying
Posted in Commentary by G. Namie, Employers Gone Wild: Doing Bad Things, NFL: Jonathan Martin, The New America, Unions | No Archived Comments | Post A Comment () »
Friday, September 13th, 2013
UPDATED Sept. 16, 2013
Because school teachers comprise such a large group of targets bullied in the workplace, we at WBI care very much about the systemic government assaults on public schools in the name of education "reform." Elsewhere, we've shown readers how the U.S. "Common Core" curriculum is destructive to education rather than positive as advertised under the label of "reform."
The Mexican government under President Enrique Pena Nieto (PRI party) is conducting raids of the Mexican education system similar to those in the U.S. The Mexican Constitution was written after the revolution of 1910-1920.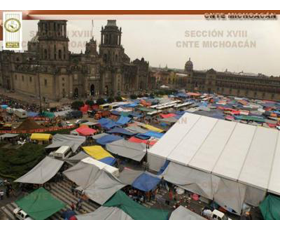 Article 3 established free, public, secular education. Nieto amended Article 3 to mandate teacher evaluation based on student test scores (sound familiar?). Changes included standardization of the responsibilities and salaries of school principals and other supervisors.
The Mexican Teachers Union (SNTE) has been run by a president (Elba Esther Gordillo) who has wielded power for 30 years. Within SNTE a militant caucus called the National Coordinating Committee (CNTE) has taken action on behalf of teacher members. CNTE organized protests in 13 states. Teachers have occupied public buildings, blocked the Mexico City international airport for several hours, and seized highway toll booths. For several days 30,000 have sat in at Mexico City's main square. Tens of thousands have camped out in Mexico City's main square (pictured here by CNTE).
Tags: CNTE, education reform, Mexico, Nieto, SNTE, teachers, workplace bullying
Posted in Employers Gone Wild: Doing Bad Things, Tutorials About Bullying, Unions | No Archived Comments | Post A Comment () »
Thursday, September 12th, 2013
Breaking the Silence about this Hidden Epidemic
Announcing the 2013 Workplace Bullying Institute Freedom from Workplace Bullies Week — October 20-26. Created to be a special time to try something different to stop workplace bullying for bullied targets, coworkers, family members, supervisors, managers, HR, executives, lawmakers, cities, counties and communities. Read our suggestions for activities.
Watch videos from the 2012 Washington DC event featuring union officials. Read the proclamations from cities and counties.
Tags: bullies, Freedom from workplace bullies week, Freedom Week, Unions, workplace bullying, Workplace Bullying Institute
Posted in Events & Appearances, Freedom Week, Unions, WBI Education | 1 Archived Comment | Post A Comment () »
Wednesday, September 11th, 2013
Several factors typically merge that exacerbate the misery that convinces individuals who choose to die by suicide to act. Research has found that in workplaces where bullying operates simultaneously with several other negative conditions, it is the bullying that has the greatest deleterious effect on people — bullied targets and witnesses. Given that many people's identities are centered around work and what one does for compensation, work can dominate home life factors.
Finally, to connect the dots, misery from work travels home readily. Bullying at work inevitably strains domestic relationships. Thus, for targets exposed to unremitting stress at work from bullying, a very personalized form of abuse, eventually it feels like the world is closing in on them. Taking one's life suddenly becomes an option when no alternatives are visible.
Such a case was reported in the Bassett Unified School District in southern California. Jennifer Lenihan was a Bassett High art teacher, known by students for personally buying class supplies, creativity and loving the art museum. According to press reports quoting her stepfather, Lenihan was driven to suicide by the school principal, Robert Reyes and assistant principal Jimmy Lima. There were reports of the two administrators shaming Lenihan in front of teachers and students. And she was assigned a class with which she was unfamiliar (a classic tactic used to destabilize good veteran teachers) and told to teach the class or lose another class she wanted to teach.
She took stress leave, receiving half her salary for a short time. Her claims for disability insurance and workers' compensation were both denied. She took out a personal loan to live. The district gave her two options: resign or apply for a waiting list for rehire. She was at the end of her rope. Her mother had given her rent money. The next day, July 1, she took her life.
Teachers union officers said the treatment Lenihan received is common at the district. Further, Reyes and Lima have a record of bullying teachers. The new district superintendent said there was no "written form" record of complaints from Lenihan. He said the district has no "morale" problem.
Tags: assistant principal, Bassett Teachers Association, Bassett Unified School District, disability, educator, Jennifer Lenihan, Jimmy Lima, principal, Robert Reyes, suicide, teacher, workers' compensation, workplace bullying
Posted in Employers Gone Wild: Doing Bad Things, Unions | No Archived Comments | Post A Comment () »
Thursday, September 5th, 2013
At the launching convention this past Labour Day weekend of a new Canadian union — Unifor — Naomi Klein, author of The Shock Doctrine: The Rise of Disaster Capitalism, spoke.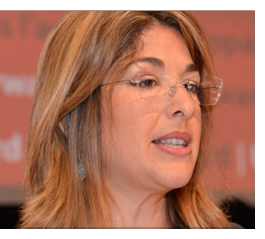 Her book describes the international conservative movement to privatize governments, to bust unions and to commodify natural resources for corporate profits. The Shock Doctrine is the impetus for removing public control of the city of Detroit and putting it in the hands of a financial manager prepared to sell off nearly all public assets and privatize all services. The Shock in her doctrine is the false claim that we are broke and cannot afford to help citizens anymore. [If only we weren't so busy making expensive wars that sap taxpayer funds.] Governments then impose austerity on the public and worsen their situations. Then, they make the argument that corporations know better how to run businesses so they should take over where government "failed."
Tags: Canada, extract, extractivism, mining industry, Naomi Klein, overburden, Shock Doctrine, Stephen Harper, Tar Sands, unifor, Unions
Posted in Employers Gone Wild: Doing Bad Things, Fairness & Social Justice Denied, Unions | No Archived Comments | Post A Comment () »
Thursday, September 5th, 2013

Leave it to Canada to lead the way to rejuvenate the labor movement. A new 300,000 member union, Unifor, was launched when the CAW (auto workers) and CEP (energy and paper workers) merged. The timing — "when our economy is being hollowed, our democracy eroded and when governments have abandoned social progress in the name of austerity" — is a warning shot to austerity-mongerers that this union will still stand for social justice.
The new union was created to be "a modern, inclusive approach to serve members better and participate more effectively in our workplaces and communities."
"As the largest private sector union in Canada, Unifor will advocate for and defend the rights of working people, in more than 20 economic sectors and in communities across Canada. We will stand for safer workplaces, secure employment, wages and benefits that provide a decent standard of living, and dignity and mutual respect in the workplace."
"We will be a union for workers, a union for the unemployed, a union for women, a union for new Canadians, a union for young workers and the precariously employed – a union for everyone."
In Unifor's Constitution, one of its founding Principles is to be Progressive.
Our goal is transformative. To reassert common interest over private interest. Our goal is to change our workplaces and our world. Our vision is compelling. It is to fundamentally change the economy, with equality and social justice, restore and strengthen our democracy and achieve an environmentally sustainable future. This is the basis of social unionism — a strong and progressive union culture and a commitment to work in common cause with other progressives in Canada and around the world.
Naomi Klein was a speaker at the launch. Read about her contributions.
Tags: austerity, Canadian auto workers, Canadian energy and paper workers, Fairness & Social Justice Denied, Naomi Klein, private sector unions, progressive, social unionism, Stephen Harper, unifor, union
Posted in Unions | No Archived Comments | Post A Comment () »
Sunday, September 1st, 2013
Throughout the years we at the WBI have covered Labor Day from the workers' rights perspective. The holiday is not just for shopping or camping. It's about honoring people who work. More specifically, as the historical accounts below make clear, it is about emancipating workers from horrific working conditions and doing so collectively, in an organized way. Yes, the union way.
Unions are demonized daily and growing extinct. The attacks are leveled without rebuttal by "journalists" or cowardly politicians who should represent everyone's interests rather than corporate employers. Media reps are afraid of losing ad dollars. Politicians fear bucking the pro-corporate PACs with the funds to pour into their opponents' campaign coffers. Unions can only muster 6% of all contributions to politicians. Corporatists control the system.
Income inequality grows in the U.S. The connection between declining unionization rates and inequality is not accidental. They are mutually determinative. That is, the richest among us want to make America a minimum wage nation, while unions ask nothing more than a living wage on which families can provide shelter, food, clothing and education for their children. Somehow, the most greedy have convinced the majority of us that those needs are excessive. That earning a $40,000 wage with benefits and a fixed pension is bankrupting America. Balderdash!!!
So, union-bashers take the weekend off, please. Let's see how many union folks are featured in media coverage during the one holiday that belongs to them — Labor Day.
For 2013, we're re-posting a favorite WBI podcast.
Podcast: Labor Day Message for Working Folks
Audio clip: Adobe Flash Player (version 9 or above) is required to play this audio clip. Download the latest version here. You also need to have JavaScript enabled in your browser.

Restoring dignity for the underclasses with help from Franklin Roosevelt, Mark Twain (Hal Holbrook), Andrew Cuomo, Harry Chapin.
Read the report cited in the podcast: No Rhyme or Reason: The 'Heads I Win, Tails You Lose' Bank Bonus Culture by Andrew Cuomo, then NY State Attorney General
Tags: economic royalists, FDR, Gary Namie, Reg Theriault, tired at work
Posted in Commentary by G. Namie, Employers Gone Wild: Doing Bad Things, Podcasts, The New America, Unions, WBI Education | No Archived Comments | Post A Comment () »