Archive for the 'WBI Education' Category
Monday, March 10th, 2014
Loading ...
Tags: instant poll, workplace bullying, workplace bullying survey
Posted in WBI Education, WBI Surveys & Studies | No Archived Comments | Post A Comment () »
Monday, March 10th, 2014
By Martha C. White, Time, March 10, 2014
You can take the bully out of the schoolyard, but it seems you can't take the playground mentality out of bullies even after they grow up. More than a quarter of Americans say they've been bullied at work, 7% within the last year alone, according to the Workplace Bullying Institute, which commissioned a new survey studying the prevalence and impact of bullying on the job.
Men make up about two-thirds of bullies, and their targets are women 57% of the time. Although women make up only 31% of bullies, their targets are overwhelmingly — more than two-thirds of the time — other women. Bullying by a boss is the most common kind of workplace bullying, making up more than half of all instances.
"Sadly, what stops bullying the most is requiring the target to lose her or his job," says Gary Namie, director of the Workplace Bullying Institute. According to the survey, in 61% of cases, the bullying only stops when the target quits, is fired or forced out.
But experts in office bullying say there's hope. There are steps you can take to stop office bullies. So if you've been the target of the office bully, read on.
Tags: target action plan, what to do, workplace bullying
Posted in Print: News, Blogs, Magazines, WBI Education, WBI in the News, WBI Surveys & Studies | 1 Archived Comment | Post A Comment () »
Friday, March 7th, 2014
Another piece of older audio from a radio program featuring Dr. Namie. Law Professor David Yamada joins the podcast with a history lesson to share. The topic is the origins of employment law in the U.S. that governs the workplace. Unfortunately, the relationship between Master and Servant is the starting point. And not much has changed since. The question for Prof. Yamada is whether assurances of dignity and equality for workers is possible given current laws. Yamada is the author of the anti-bullying Healthy Workplace Bill.
Audio clip: Adobe Flash Player (version 9 or above) is required to play this audio clip. Download the latest version here. You also need to have JavaScript enabled in your browser.
Tags: David Yamada, employment law, Gary Namie, Healthy Workplace Bill, Podcasts
Posted in Podcasts | No Archived Comments | Post A Comment () »
Friday, March 7th, 2014
US Congressman Darrell Issa, chair of the House Oversight Committee bullied fellow Congressman Elijah Cummings and below is the video record of it recorded by C-SPAN. Issa allowed no one to testify at this Wed. March 5 hearing held to humiliate former IRS worker Lois Lerner who invoked her 5th Amendment right to not give self-incriminating answers to Issa's questions. Rep. Cummings had something to say, but Rep. Issa turned off his microphone twice. Issa adjourned the hearing while the outraged Cummings attempted to speak.
Bullied targets have borne the brunt of a bully's contempt similar to that demonstrated by Issa.
Tags: bullying, contempt, Darrell Issa, disrespect, John Lewis, political bullying
Posted in Broadcasts: Video, TV, radio, webinars, Media About Bullying, Tutorials About Bullying, WBI Education | No Archived Comments | Post A Comment () »
Monday, March 3rd, 2014
By Scott Wooldridge, Benefits Pro, March 3, 2014
Public awareness of workplace bullying has never been higher, thanks to high-profile cases such as the one involving Miami Dolphins teammates Richie Incognito and Jonathan Martin. Yet none of the more than two dozen states that have taken up the issue has actually passed any legislation to tackle the problem.
A recent survey found that 93 percent of Americans support legislation that would offer protections against bullying at work. The survey, conducted by Zogby Analytics for the Workplace Bullying Institute, found that 27 percent of Americans report having experienced abusive conduct at work. Another 21 percent say they have witnessed such behavior. Overall, 72 percent of those surveyed said they were aware of the issue of workplace bullying.
"Everybody has a story," said Gary Namie, co-founder and director of the Workplace Bullying Institute. "It is an epidemic. When you count witnesses, 65 million people in the workforce know firsthand what (bullying) is about."
The Incognito-Martin case brought workplace bullying into the spotlight.
Martin accused Incognito of bullying him, and then left the team. A lawyer hired by the National Football League to investigate the matter recently released a report concluding that Incognito "engaged in a pattern of harassment" of Martin.
Namie and his Bellingham, Wash.-based institute have been working on the issue for more than 20 years, but he said that the Incognito-Martin case caused "a tectonic shift."
Tags: 2014 WBI U.S. Workplace Bullying Survey, anti-bullying legislation, bullying research, Gary Namie, Healthy Workplace Bill, SHRM, survey, workplace bullying, Workplace Bullying Institute
Posted in Employers Gone Wild: Doing Bad Things, Healthy Workplace Bill (U.S. campaign), NFL: Jonathan Martin, WBI Education, WBI in the News, WBI Surveys & Studies, Workplace Bullying Laws | No Archived Comments | Post A Comment () »
Friday, February 28th, 2014
Dear Kalola,

My bully boss enacted a posse of others to support her gossip and lies. She ran several major grants at a public university. I was her star employee, the go-to for all the hard tasks that she felt she did not want to do (or procrastinated on doing). She relied on me to support more than $8 million in grant-funded project activities. And, she never gave me credit or praise for any of my hard work or dedication. I remained behind the scenes as her "secret weapon." She called me on weekends, evenings—just about any time she pleased.  She gossiped, slandered and complained about everyone in the organization. I listened to her endless lies and complaints—all generated from her own insecurities—for nearly 7 years. I always knew, listening to her, that it was a matter of time before I became her next target.

After nearly two years of working for her, I had my first warning sign that I was under unusual stress. I went the the emergency room at my local hospital with stroke-like symptoms; they told me it was a TIA and sent me home with aspirin. That first warning should have been my last, but it only incited the bully to heap on more responsibilities and a little bit more monetary compensation to keep me in her grasp.

At year five, a fellow employee attempted to expose her bullying and discriminatory behavior. Courageous soul; the university backed her up because she brought in millions from government grants. He left distressed, distraught and demoralized. I knew that I was next—I had complained to several co-workers and one higher-up about her bad behavior. I had started to capture the outrageous lies, the slander, the falsified data she used to support her claims that she was "doing good" for students in need.

My second TIA was more dramatic. It happened nearly two years after the first one. I ended up in the hospital emergency room again, but this time the doctor issued a warning: Get rid of the stress. After that second TIA, her madness escalated. My productivity had plummeted. I scarcely realized that I was depressed and could not focus or function much. Thoughts of suicide were daily and normal. I dreaded each new day … even the weekends, because I knew that she would probably call me to continue her gossip and lies.

When she realized that I was planning on leaving, she resorted to keeping information away from me, using our shared social network to malign me and my good work; she even paid off several of my colleagues with "new" contracts and enlisting them in spreading lies about me, anything to keep me dis-empowered.

I did finally get up the courage to leave. My doctors helped me to make the decision. Medication also helped with my depression. It's been over a year and a half, and my health has rebounded in the most miraculous ways. My spirit has been set free from the tyrant and her posse. I only hope that I can help others to break free and claim their right to greatness and joy.

Joyce
(more…)
Tags: health harm, heart, Let's Talk with Kalola, stress, tia, workplace bullying
Posted in Let's Talk with Kalola | No Archived Comments | Post A Comment () »
Tuesday, February 25th, 2014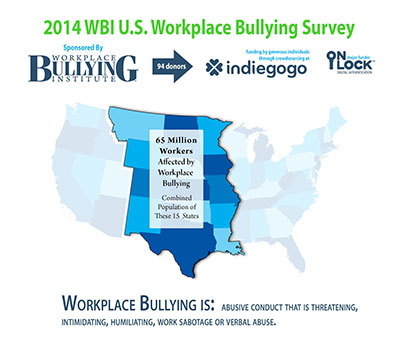 Infographic design by David Phillips, WBI


The results for our WBI 2014 U.S. Workplace Bullying Survey are in! Check out this infographic and please share.

Read the summary of the Survey results.

Or download the complete report.
Tags: David Phillips, infograhpic, survey, WBI 2014 U.S. Workplace Bullying Survey, workplace bullying
Posted in Bullying-Related Research, Media About Bullying, WBI Education, WBI Surveys & Studies | 1 Archived Comment | Post A Comment () »
Tuesday, February 25th, 2014
2014 WBI U.S. Workplace Bullying Survey
February 2014
National Prevalence & Awareness
Gender of Perpetrators & Targets
Perpetrator Rank
Race & Ideology
Employer Reactions
Coworker Actions
Stopping the Bullying
Support for a Law
Causal Factors
About Bullied Targets
Methodology

Funding by 93 Indiegogo Contributors and major support from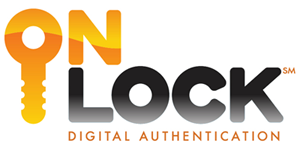 Gary Namie, PhD, Research Director
Assistance from Daniel Christensen & David Phillips
© 2014, Workplace Bullying Institute, All rights reserved.
360.656.6630
Key Findings
- 27% of adult Americans have directly experienced "repeated abusive conduct that is threatening, intimidating, humiliating, work sabotage or work abuse."
- Counting witnesses, 48% have been affected
- 72% of Americans are now aware of workplace bullying
- 93% of Americans want a law to protect them from abuse in addition to anti-discrimination laws
- Employers are lagging far behind and doing relatively nothing voluntarily to stop abusers on the payroll
- Women bullies still target women at a disproportional rate (68%)
- Women are still the majority of targets (60%)
Tags: 2014 U.S. Workplace Bullying Survey, Daniel Christensen, David Phillips, Gary Namie, research, surveys, Workplace Bullying Institute
Posted in Bullying-Related Research, Social/Mgmt/Epid Sciences, WBI Education, WBI Surveys & Studies | 2 Archived Comments | Post A Comment () »
Wednesday, February 19th, 2014
New from your friends in the legal-averse HR industry: a webinar for HR folks on how to avoid granting (un)paid leave or making federal law mandated accommodations for people with mental disabilities called depression.
Session title: "Depression in the Workplace"
A rational person would think the session would be led by a psychologist, but nooo, it's an attorney from the Eyres Law Group. Of course, if you or I non-attorneys professed to opine on subjects delving into the application of laws, we would be accused of an illegal act. But attorneys believe mental health and psychology are something not requiring any training or specialization.
The webinar topic list is upsetting, given what we know about the trauma that workplace bullying causes. And the fact that 49% of bullied individuals suffer clinical depression for the first time in their lives at the hands of an abuser at work!
Look at these webinar goals:
• How to tell if a depressed employee is "disabled" under the ADA's mental impairment definition (WBI: the only thing worse than attorneys playing psychologist is HR doing the same. Yikes!)
• Whether depression is generally a "covered" disability if it's the result of an underlying medical condition or due to an emotional trauma (WBI: which, of course, would never be caused BY the workplace)
• The medical inquires, limited examinations, and documentation you may legally request that the employee provide in support of a need for leave as accommodation (WBI: here's where employers hire their own hack shrink who conducts an "independent" medical exam guaranteed to conclude that the problem is not real, these medical professionals rarely practice outside employer panels)
• How to respond to erratic attendance and persistent tardiness, including when to raise potential FMLA leave as an option (WBI: FMLA, in most cases is unpaid leave forcing workers to stay on the job against their physicians' advice)
• How to successfully manage intermittent leave for chronic depression and curb potential FMLA abuse related to depressed workers (WBI: yes, abuse of unpaid leave is surely a chronic problem in the American laborforce that works more hours than workers in any other industrialized nation because there is no paid sick leave policies and leaves must be begged for. This smells like employer paranoia. Too bad employers don't have to answer yet for real abuse, abuse of employees!)
• When you may legally discipline or terminate an employee with depression without sparking liability under federal disability and leave laws (WBI: Ah yes, the real agenda — how to fire the harmed employee.)
Tags: ADA, clinical depression, disability, Health harm from bullying, HR, mental illness, workplace bullying
Posted in Employers Gone Wild: Doing Bad Things, Tutorials About Bullying, WBI Education | No Archived Comments | Post A Comment () »
Wednesday, February 12th, 2014
Now that more employers are learning about workplace bullying from the high visibility NFL case and more awareness in general, some are moving toward adopting policies. At WBI we take the news with a grain of skepticism.
We have been writing specific anti-bullying policies for organizations since 1998. Our process is to facilitate the Policy Writing Group composed of staff representing the various professions and ranks in the organization. The process produces policies and procedures. Equally important are the values of group members that surface when asking key questions enroute to finalizing provisions of the policy and procedures. For example, "How strongly committed eradicating bullying can we afford to declare?" "How many confirmed violations by offenders must be allowed before termination?" "How do we restore victims 'wholeness' and regain trust of coworker witnesses?"
The majority of C-suite dwellers believe workplace bullying is a "serious problem," but, in turn, they prefer to let HR handle complaints, are rarely involved, and don't believe it happens in their workplaces. Thus, bullying, to executives is a lower-level, HR-level issue. This is a false assumption.
Tags: Akron, Miami University, sexual assault policy, workplace bullying policy
Posted in Employers Gone Wild: Doing Bad Things, Tutorials About Bullying, WBI Education | No Archived Comments | Post A Comment () »