Archive for the 'Bullying & Health' Category
Sunday, April 12th, 2015
Minnesota leap frogs Tennessee with respect to having a state policy to thwart workplace bullying. First a bit of background. In 2014, Tennessee passed a law (Public Chapter 997) that assigned policy writing to a state commission (TACIR) comprised of elected officials with technical support from WBI-affiliated professionals. The group did produce a model policy. However, several lawmakers refused to allow the policy's implementation. The workplace psychological safety of public employees in that right-to-work state remains unresolved, treated as a political game.
Thus, the first state to implement a workplace bullying policy for all state workers is Minnesota. The successful story begins with the state employees union MAPE (Minnesota Association of Professional Employees) becoming aware of bullying-related problems for members in January 2012. Discussions of bullying surfaced in contract bargaining sessions. In February 2013, some bullying managers were removed in partnership with the union. Education accelerated in May 2013 when MAPE held a seminar for stewards with lessons gleaned from a public session sponsored by the Minneapolis Bar Association at which Dr. Gary Namie spoke.
Audio report:
Audio clip: Adobe Flash Player (version 9 or above) is required to play this audio clip. Download the latest version here. You also need to have JavaScript enabled in your browser.
By August 2013, MAPE had produced videos of their bullying experiences. In September, results of a membership survey revealed that 1 out of 4 members were either directly bullied or they had witnessed it. State. The state Department of Human Services Commissioner, Lucinda Jesson, signed an anti-bullying petition to ensure safe, retaliation-free reporting of bullying.
Tags: 2014 WBI U.S. Workplace Bullying Survey, abusive conduct, employee advocates, MAPE, Minnesota state, policy & procedures, Unions, workplace bullying policy
Posted in Bullying & Health, Good News, Unions, WBI Education | No Archived Comments | Post A Comment () »
Monday, January 5th, 2015
What doesn't kill you doesn't necessarily make you stronger
By Virgie Townsend, Washington Post, Jan. 2, 2015
WBI: In this frank and personally revealing essay, the author effectively counters the notion that all traumatic early experiences in life contribute to the construction of a stronger adult character. It's noteworthy that 44% of bullied targets admit experiencing prior familial abuse in their lives before their workplace experiences with abuse (WBI IP 2013-H).

When I was 15, I attended a writing workshop with a girl who had been sexually abused by a family member, trauma that she explored in her poetry. She said she was offended when people told her: "I'm really sorry that happened to you." She felt like they were saying they wanted to change her, so she'd reply: "Don't be. It made me who I am today."
I also grew up with violence, terrified of a parent who was verbally and physically abusive, and drove drunk with me and my siblings in the backseat. Sometimes this parent would threaten to choke me with a dog collar or would fire off shotgun rounds overhead for the fun of seeing the rest of the family cower. I am glad my classmate found a way to cope with her past, but I can't be grateful for mine.
I would have been better off without that dog collar, without those years of fear. After such episodes, I was so exhausted that I couldn't concentrate on my homework. I repeatedly failed state math exams. My immune system was weak. As a child, I had frequent, unexplained fevers, which baffled my pediatrician and led him to test me for cancer.
It was difficult for me to make friends because of the pressure I felt to keep my home life a secret. Between the abuse and my innate shyness, I mostly avoided other kids, which was easy because I was home-schooled until ninth grade. I tried to stay quiet around my peers; I didn't want to draw attention. And I constantly second-guessed how I acted around them, afraid that I might disgust or anger others, too.
Tags: abuse, child abuse, early life experience, illness, recovery, terror, trauma, verbal abuse
Posted in Bullying & Health, Media About Bullying, Print: News, Blogs, Magazines, Related Phenomena, WBI Education | No Archived Comments | Post A Comment () »
Sunday, December 21st, 2014
At WBI we consistently draw the analogy between domestic violence and abusive conduct at work (the most serious forms of workplace bullying). Our rationale is based on the following commonalities shared by these two forms of abusive relationships:
• The abuser has more power to wield over the abused person
• The abuser unilaterally controls when, where and what method
• Abusers objectify, dehumanize and show contempt for victims
• Society tends to blame victims for their fate
• Victims are expected to solve their problem themselves
• Witnesses rarely intervene
• Institutional responses are delayed, inadequate and not helpful
• Root causes, often embedded societal values, remain unexplored
Advocates working to end domestic, or partner, violence described the myriad of tactics used by abusers using the 8-factor Biderman "chart of coercion." Albert Biderman interviewed US Air Force pilots who had been captured and tortured during the Korean war. The Chinese taught interrogation techniques to the North Koreans. The piolots described their experiences and Biderman distilled the range of techniques to eight fundamental methods designed to break the will of, and brainwash, the pilots. In 1957, Biderman published his report "Communist Attempts to Elicit False Confessions From Air Force Prisoners of War." [Note that Biderman recognized that torture produces false confessions. The 8-factor report became the model for US torture of prisoners at Guantanamo.] That article was the origin of the Biderman Chart of Coercion.
Domestic violence and child abuse advocates use the Biderman Chart to describe abusers' tactics in their specialty domains.
Therefore, it is logical for us to apply Biderman's Chart to workplace bullying, given the parallels with domestic violence. In its most extreme forms, bullying is torture. See the chart below.
Tags: abuse victims, abusers, abusive conduct, abusive relationships, Biderman, Chart of Coercion, interrogation methods, torture, workplace bullying
Posted in Bullying & Health, Tutorials About Bullying, WBI Education | No Archived Comments | Post A Comment () »
Wednesday, June 4th, 2014
Video by Chris Wade, Slate magazine, explaining new study.
Neuro studies show that prolonged exposure to extreme stress atrophies (shrinks) the hippocampus and interferes with memory. Now comes this study suggesting that lost memory can be restored!
Tags: hippocampus, memory, neuroscience, PTSD, stress
Posted in Bullying & Health, Bullying-Related Research, Neuroscience & Genetics, Tutorials About Bullying, WBI Education | No Archived Comments | Post A Comment () »
Thursday, April 24th, 2014
On April 25, 2005 at 9:19 am, a 7-car Japanese commuter rapid train 5418M derailed at high speed on a curved stretch of track and slammed into a parking garage of an apartment building. The train was operated by 11 month veteran driver 23-year old Ryūjirō Takami in front car. A second rail employee, the conductor, was in the rear car.
It was the second worst rail disaster in the country's history. 562 people were injured and 107 died, including Takami. 99 of the fatalities were in the front car. In all, four cars derailed.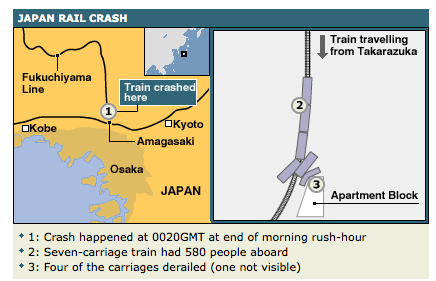 The morning commute to Osaka on the West Japan Railway Company (JR West), the end of the rail line, was over and the train was heading in the other direction. On the way to the Itami station, an alarm sounded that the train was over the speed limit, traveling at 120 km/hr. Takami was speeding. As the station approached, Takami applied the emergency brake. The train overshot the platform by three cars, about 30 meters. Takami reversed the train to align the cars with the platform.
The conductor warned Takami that he would have to immediately report the mistake to headquarters from the phone on the train. Takami asked him to lie, to minimize the distance overshot. The conductor said that he called in an 8-meter mistake. Mistakes of 5 meters bring company punishment.
Takami knew JR West punishment. When Takami was in his third week of driving a train ten months earlier, he was subjected to 13 days of Nikkin Kyoiku, re-education, for having overrun a platform by 100 meters. Overshooting the Itami platform had to have filled his mind with horror, anticipating another round of Nikkin Kyoiku.
Tags: accident, culture, death, disaster, Nikkin Kyoiku, Ryūjirō Takami, torture, West Japan Railway Company, workplace bullying
Posted in Bullying & Health, Employers Gone Wild: Doing Bad Things, Tutorials About Bullying, WBI Education | No Archived Comments | Post A Comment () »
Monday, April 21st, 2014
Impact on Family
Displacement, Withdrawal, Anxiety & Despondency
The most obvious and direct impact is displacement of the target's anger and shame about being bullied at work onto the family at home. This is akin to the coming home and "kicking the dog." When anger can't be leveled against the source of frustration and humiliation, the bully at work, especially when the bully is a boss, often the only outlet is outside work. The difficulty of confronting-stopping a boss is traced to the historical uphill battle to cross the "power gradient." Telling a boss to go to hell brings certain retaliation. It's part of our hierarchical world.
By the way, displacement could occur on the way home. Pity other drivers on the commute home or wait staff at restaurants at lunchtime who might be in harm's way. Nevertheless, most workers exposed to abusive supervision tend to bring it home. Violence at work begets violence at home.
Much more common is emotional withdrawal. Targets are overwhelmed by emotional abuse and exhausted at work. It takes all energy they can muster just to survive the 8 to 10 hours and commute to home. The stress strips away their appetite. So, they come home, skip dinner, and retire to bed seeking protection that sleep might provide. Sadly, sleep is disrupted by the distress caused by bullying. Solid REM sleep is rarely enjoyed. Sleep deficits make the targeted family member a non-participant, especially weekends. Traditions and family routines get postponed or abandoned completely. Everyone's schedules are changed to accommodate the wounded worker in the family. This builds resentment. But targets who do not seek counseling or have their bullying situations reversed are trapped in a sleepless withdrawal loop.
Bullied targets also bring home anxiety. This is a normal reaction to the personalized stressors that bullying poses — domination, intimidation and humiliation. Even for individuals who have never experienced abuse (33% of workplace bullying targets), bullying fosters anxiety, the forewarning of distress. Distress, in turn, causes many stress-related health problems for targets. The point is that the anxiety is seen and felt by all family members exposed directly to it.
The inability to stop the bullying by the targeted parent creates a sense of despondency. The unhelpful reactions of coworkers further worsens the feeling. Thus, coming home is the message that mother or father or lover or wife or husband, once an integrated adult, is falling apart, suddenly powerless.
The coupling of anxiety and despondency is a toxic stew that affects the mood at home. Prolonged exposure renders both adults and children vulnerable to long-term effects from situations over which no one at home can control.
Tags: anxiety, displacement, health, impact on family, neuroticism, vicarious trauma, workplace bullying
Posted in Bullying & Health, Tutorials About Bullying, WBI Education, WBI Surveys & Studies | 1 Archived Comment | Post A Comment () »
Thursday, March 21st, 2013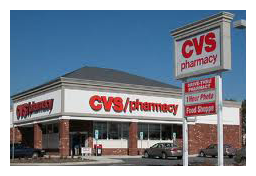 The pharmacy chain, CVS Chainmark, has taken employee wellness to new draconian levels. On the surface, they are a healthcare giant who can claim to care about employee health. Obesity is a national problem and strains the healthcare system.
So, the 200,000 employees were told that CVS will pay for health screening. By May 1, employees who use employer-provided health insurance (not sure if the premium is 100% borne by CVS) must provide their weight, height, body fat, blood pressure and glucose and fasting lipid levels — ostensibly to know their key health metrics in order to take action to improve their numbers, if necessary. CVS will pay for testing.
Coercion is involved. Employees must sign a form that the screening is "voluntary." Results are then sent to to WebMD Health Services Group who administers benefits for CVS. There are two consequences for those in poor health. If they refuse to submit to testing, they will pay a $50/month penalty, $600 annually added to their health insurance premium. Second, if they do submit health data, the company, WebMD on behalf of CVS, can limit the employee's choices of health care plans in the future. Fatties have limited choices.
Tags: bullying and health, CVS, Gary Namie, health insurance, health screening, hypertension, workplace bullying
Posted in Bullying & Health, Commentary by G. Namie, Employers Gone Wild: Doing Bad Things, The New America, WBI Education | No Archived Comments | Post A Comment () »
Tuesday, March 5th, 2013
Carrie Clark, California State Co-Coordinator, spoke on March 2, 2013 about workplace bullying and the need for the Healthy Workplace Bill in states.
The presentation was made at a forum on the epidemic of bullying against public workers in northern California sponsored by the Stop Workplace Bullying Group, the Injured Workers National Network IWNN and the United Public Workers for Action.
Tags: Carrie Clark, Gary Namie, Steve Zeltzer, United Public Workers for Action
Posted in Bullying & Health, Healthy Workplace Bill (U.S. campaign), Tutorials About Bullying, Unions, WBI Education, Workplace Bullying Laws | 1 Archived Comment | Post A Comment () »
Monday, February 11th, 2013
HALF OF WORKPLACE BULLIED TARGETS FORGO LEAVE
UNPAID LEAVE A REALITY FOR MANY
WBI 2013-A Instant Poll
Individuals who are bullied at work can suffer stress. With prolonged exposure, that stress can trigger stress-related diseases. Health complications follow. At some point, those individuals are adversely affected and work suffers. It becomes apparent to them, coworkers, and family members that leave from work should be taken to allow for health recovery.
Leave options for American workers include taking paid sick leave, filing for workers compensation, taking family medical leave or seeking disability insurance. Only 23% of private-sector employers offer at least one day of paid sick leave. There is no national mandate for employers to provide paid sick leave in the U.S.
Tags: bullied targets, Gary Namie, McGill Institute for Health and Social Policy, paid sick leave, targets of workplace bullying, WBI research, Workplace Bullying Institute
Posted in Bullying & Health, Laws Outside the U.S., WBI Education, WBI Surveys & Studies | No Archived Comments | Post A Comment () »
Thursday, February 7th, 2013
WBI introduced the British term "Workplace Bullying" to the U.S. back in 1997. We sometimes cringe when we see the bullying or bully terms tossed around glibly when people really mean to say "mean." Bullying is so much more.
WBI defines workplace bullying as repeated, health-harming mistreatment of one or more persons (the targets) by one or more perpetrators that takes one or more of the following forms:
Verbal abuse
Offensive conduct/behaviors (including nonverbal) which are threatening, humiliating, or intimidating
Work interference — sabotage — which prevents work from getting done

The public may focus on the acts themselves, for example, verbal abuse. The most popular measure of bullying used by academic researchers is called the Negative Acts Questionnaire. Most consider verbal abuse unilaterally delivered to be sufficient to call the act bullying and the actor a bully. But we have a contrarian view.

We believe acts alone do not constitute bullying. Some recipients of what we all would agree was verbal abuse are not negatively affected. They genuinely are not offended, hurt or damaged in any way. Individual differences in sensitivity and socialization can account for the very real result.

Bullying requires both a committed act (actually acts done on a chronic basis) AND a negative effect on the recipient, the target. Neither act nor harm alone defines bullying. Without tangible impact, when there is no harm, there is no foul. Caveat: The onset of harm may be delayed as is PTSD. The absence of immediate harm followed by a latent effect is still harm. If no harm ever manifests itself, then we can say the person was not harmed and, therefore, not bullied.

Tangible harm comes in at least four varieties.
Tags: economic harm, Gary Namie, health harm, occupational health, workplace bullying, workplace bullying definition
Posted in Bullying & Health, Tutorials About Bullying, WBI Education, WBI Surveys & Studies | 3 Archived Comments | Post A Comment () »