Archive for the 'Products & Services' Category
Thursday, February 12th, 2015
When the Bully is the Boss
A joint production of the Workplace Bullying Institute and Biz21 Publishing


Many companies assume they don't have a bullying problem. Employees get along. In meetings, team members respect each other. But look closer. You might find that the bully is the very person you would expect your employees to turn to if they are being bullied—the boss.
Some managerial bullying is unintentional — supervisors see themselves as "demanding results." Other times bosses know their behavior crosses the line, but don't care.
Not convinced? Consider the slew of new state laws protecting workers against bullying. And consider the number of companies that have rushed to adopt anti-bullying policies and procedures for investigating complaints.
The costs are real. The employee's health can suffer, causing missed work, higher healthcare costs and reduced productivity. Bullied employees are also a flight risk, as are those who witness bullying. And there's the threat of lawsuits against the company.
In this session, Dr. Gary Namie teaches you:
• How to recognize and respond to a bully boss
• What differentiates "bullying" from other conduct- both illegal (discrimination) and legal (non-abusive disagreements)
• Why the workplace climate may be allowing the bully to prosper
• Why owners and executives often tend to defend bullies
• How to build an abuse-intolerant, accountable culture for all employees, regardless of rank
• How to measure outcomes of anti-bullying activities that benefit both employees and the company.
Tags: Biz21 publishing, bully, bully boss, Gary Namie, webinar, workplace bullying
Posted in Products & Services | 2 Archived Comments | Post A Comment () »
Monday, January 5th, 2015
Attention California (& all other) Employers
California AB2053 extracted one paragraph from the WBI Healthy Workplace Bill — the definition of "abusive conduct" and made it mandatory to acquaint supervisors and managers with the phenomenon every two years beginning Jan. 1, 2015.
WBI is the source of the phrase and the U.S. movement. There is no better qualified vendor to provide the necessary information to augment your sexual harassment training than WBI.
WBI produced a brief 20 min. video introduction that can be streamed for intranet posting or run during in-person education sessions.
Only $499. Order today.
Products for HR and employers from the originators of the workplace bullying consulting specialization in America.
Order online or call 360-656-6630
Tags: AB2053, abusive conduct, Gary Namie, supervisors, training, workplace bullying
Posted in Products & Services, WBI Education | No Archived Comments | Post A Comment () »
Monday, December 8th, 2014
Click on the images to purchase.
Tags: buttons, magnets, merchandise, WBI
Posted in Products & Services | No Archived Comments | Post A Comment () »
Wednesday, October 1st, 2014
Workplace Bullying & Abusive Conduct:
The Other Harassment DVD
We know time is valuable. Educate all employees with this 20 min. training DVD. Distinguish abusive conduct from lesser forms of mistreatment that do not cause the same level of disruption in productivity.
This DVD video training is appropriate for non-supervisory employees or managers. Produced in August 2014.
It is the ideal video to accompany sexual harassment training. Can be streamed for online viewing by employees.
Complies with Section 12950.1, California Government Code required as of 1/1/2015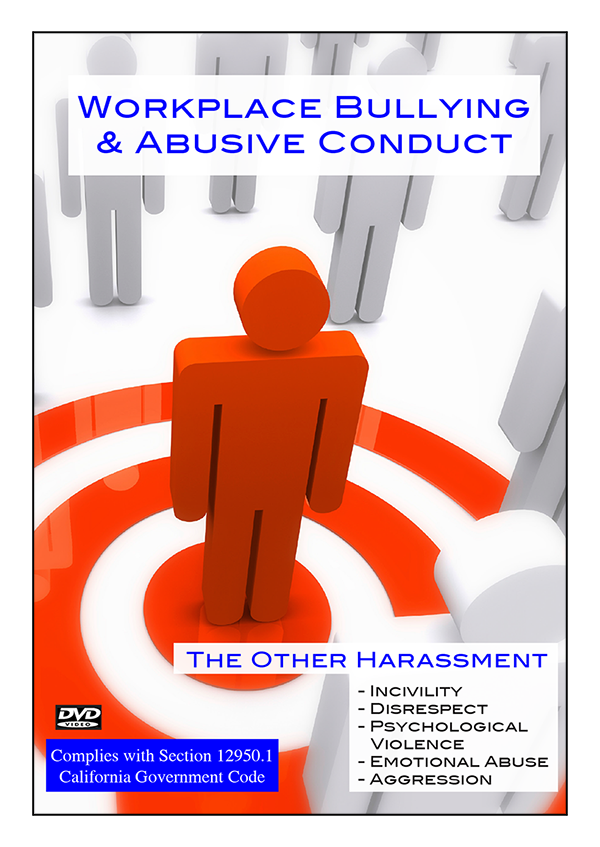 Twenty-seven percent of adult Americans report being bullied at work; an additional 21% witness it (an est. 65 million workers) and vicariously are made miserable (according to the scientific national 2014 WBI U.S. Workplace Bullying Survey). It's time to examine the real costs for employees (health consequences) and for employers (unwanted turnover, absenteeism, lawsuit or complaint settlements, workers comp and disability claims).
Dr. Gary Namie, recognized as North America's foremost authority on workplace bullying, personally introduces the topic, citing the latest prevalence statistics and the newest and most relevant research findings.
Program Topics
1. The Phenomenon
2. Examples
3. Perpetrators
4. Who Gets Bullied
5. Health Impact
6. Impact on Organizations
7. What Employers Can Do

DVD available for purchase now.
Tags: abusive conduct, California section 12950.1, compliance training, DVD, education, employer, Gary Namie, training, training DVD, Workplace Bullying Institute
Posted in Products & Services | No Archived Comments | Post A Comment () »
Wednesday, May 14th, 2014
It is a rare occurrence that bullies are the ones punished with negative consequences for their actions (targets report 2 to 11% rate, according to different WBI studies). Much more likely, bullied targets are punished with job loss (78% as reported by targets, 61% as the public believes) and transfers.
However, thanks to rising public awareness of workplace bullying, more bullies are being banished from sites where they caused incredible harm.
To those employers: Congratulations.
Just because the major stressor is gone does not mean the emotional distress will clear itself automatically with the passage of time. Recognize that both bullied targets, the direct recipients of the abuse, as well as witnessing coworkers were affected.
Remarkably, some managers now show concern for those still hurting (anxiety, depression, PTSD) after the bully is no longer around. The calls to us compelled us to create a service called — Workplace Bullying Recovery Day. Its goal is to validate affected work team members whose shared experience was painful, whether contact with the source of distress was direct or vicarious. Trust in a safe, secure workplace and loyalty to the employer were shattered. Recovery Day can help restore the sense of safety and trust in the employer.
The incredibly fee for the service is our way of thanking good employers for doing the right thing for workers who survived the bullying experience.
Read the details about the Workplace Bullying Recovery Day.

Tags: coworker, emotional distress, help for targets, Workplace Bullying Recovery Day
Posted in Hear Ye! Hear Ye! 2, Products & Services, WBI Education | No Archived Comments | Post A Comment () »
Tuesday, May 13th, 2014
According to the WBI 2014 U.S. Workplace Bullying Survey 72% of employers do nothing to mitigate workplace bullying. Most employers deny and discount that repeated abusive conduct occurs within their ranks. Bullying goes unrecognized and therefore unaddressed.
Work Doctor® consulting created the Toolkit Seminar to raise employee awareness of workplace bullying to reverse this trend.
The one day Seminar covers the phenomenon in depth and includes materials to allow employers to train staff. Companies may send participants to Bellingham, WA Seminars for $1,500 per person. This one day train-the-trainer Seminar is also deliverable on site for groups of any size. Fees are $5,000 for corporations, $4,000 for non-profit organizations, and $3,500 for unions.
"Employers do not know how to respond well to bullying and they are reluctant to spend money on a solution when bullying is still legal in the U.S.," said Dr. Gary Namie, senior consultant for Work Doctor. "The new program is so inexpensive that no employer can again use cost as an excuse to do nothing."
The new Toolkit Seminar complements the three-day Workplace Bullying University®, offered since 2008.

The Drs. Namie established the Work Doctor® consulting firm in 1985 and the Workplace Bullying Institute in 1997. Since then, the firm has worked only on employer solutions to correct and prevent Workplace Bullying. The Namies' professional background, consulting experience and unwavering focus on Workplace Bullying give them an unrivaled, comprehensive perspective of the phenomenon which they introduced to the U.S.
Tags: employer solutions, Gary Namie, training, workplace bullying, workplace bullying training
Posted in Hear Ye! Hear Ye! 2, Products & Services, WBI Education | No Archived Comments | Post A Comment () »
Friday, April 18th, 2014
We announce the first-ever healing workshop for bullied targets and their loved ones.

The inaugural Workplace Bullying Retreat will be Saturday May 31 in Bellingham, WA. The one-day Retreat is facilitated by WBI founders, Drs. Ruth and Gary Namie. Attendees will understand the storm that ripped through their lives, its impact on their health, and solutions when employers do nothing to stop it.
"Bullying is perplexing, leaving targeted workers with lingering questions such as 'Why me?'," said Dr. Gary Namie. "The retreat is designed to answer those questions so the person can move on with her or his life after bullying."
This new workshop differs from WBI's other programs that emphasize education alone. The Retreat is designed to create a validating, encouraging, emotionally positive, healing, and supportive, safe harbor for attendees who have endured emotional abuse.
"No one else has talked with over 10,000 bullied targets like we have," remarked Dr. Ruth Namie. "We're proud to create this first-ever, in-person experience just for targets after 17 years of advocacy on behalf of targets."
Family members are also encouraged to attend in order to learn how to best help their loved one move on toward an abuse-free working life.
The first three scheduled days in 2014 are May 31, July 19, August 23
Visit the Retreat page for details.
Tags: bullied targets, education, Gary Namie, healing, retreat, Ruth Namie, workplace bullying, Workplace Bullying Institute
Posted in Hear Ye! Hear Ye! 2, Products & Services, WBI Education | 2 Archived Comments | Post A Comment () »
Tuesday, April 1st, 2014
The Workplace Bullying Institute and the New Workplace Institute are happy to announce the launch of a joint initiative, the U.S. Academy on Workplace Bullying, Mobbing, and Abuse, which will support and promote the multi-disciplinary work of leading and emerging educators, researchers, practitioners, writers, and advocates who are dedicated to understanding, preventing, stopping, and responding to workplace bullying and related forms of interpersonal mistreatment.
"For over a year, we've been contemplating how to bring together an American network of leading and emerging experts on workplace bullying and related topics. The Academy is our conduit for doing so. We look forward to highlighting the good works of these incredible people," says David Yamada, Suffolk University law professor and New Workplace Institute director.
The Academy has over 50 Fellows including leading psychological researchers, physicians, attorneys, occupational health experts, professors of management, nursing, and communications, counselors, union trainers, military leaders, advocates, and consultants. The complete list of Fellows can be seen at workplacebullyingacademy.com.
"When we started WBI there was one trade unionist and a couple of academic researchers with the courage to focus on workplace bullying. Since then the field exploded exponentially," says Gary Namie, PhD, Co-founder of the Workplace Bullying Institute, established in 1997. "We recognize the universality of these destructive behaviors, and this network focuses on the unique challenges posed by American employee relations, mental health, and legal systems."
Tags: abuse, bullying research, David Yamada, Gary Namie, Mobbing, new workplace institute, U.S. academy, workplace bullying, Workplace Bullying Institute
Posted in Bullying-Related Research, Good News, Healthy Workplace Bill (U.S. campaign), Hear Ye! Hear Ye! 2, Products & Services, Social/Mgmt/Epid Sciences, Tutorials About Bullying, Unions, WBI Education | 1 Archived Comment | Post A Comment () »
Monday, February 10th, 2014
A great way to remember year-round that workplace bullying creates problems for bullied targets — not only are rosy expectations to be left alone to do their jobs shattered, bullying causes stress-related health diseases, namely cardiovascular diseases.
Purchase the pin button or magnet at the WBI Merchandise Store — BullyBusters.
Tags: Bullying Breaks Hearts, workplace bullying, Workplace Bullying Institute
Posted in Products & Services, WBI Education | No Archived Comments | Post A Comment () »
Tuesday, November 26th, 2013
Available on the BullyBusters Store!
Tags: BullyBusters, buttons, holidays, workplace bullying, Workplace Bullying Institute
Posted in Products & Services | No Archived Comments | Post A Comment () »