Archive for the 'Tutorials About Bullying' Category
Friday, December 6th, 2013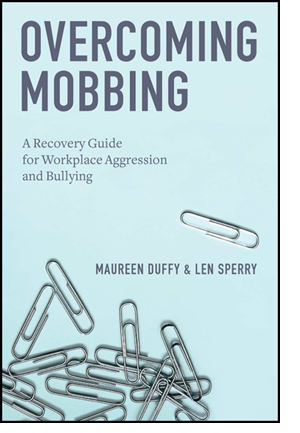 Overcoming Mobbing
A Recovery Guide for
Workplace Aggression
and Bullying
By Maureen Duffy & Len Sperry
A powerful, practical book that accurately reflects the entire bullying experience. These two clinicians, Duffy a clinical psychologist and Sperry a psychiatrist, demonstrate a deep understanding of bullied individuals and what it takes to heal them so life can be lived after bullying.The subtitle says it all — Recovery.
From the Foreword
Practical is the adjective to best describe this book. Though it is rich in citations and relies on science, applicability to real lives, real families and real organizations jumps off the pages. It tackles an admittedly complex subject with an accessible writing style that showcases illustrations and summary lists and tables. Points are driven home artfully with compassion for victims present throughout …
The blunt and truthful authors then describe how organizations create "shadow files" and do whatever it takes for administrators hide behind the myth that it is a "good and fair place to work." Hypocritically, those employers discard good employees as though they are dispensable resources using the tactics of mobbing fueled by the hurtful power of social exclusion, ostracism …
The authors do not leave the reader submerged in the dark side of the world of work. Ultimately, the book is about hope and inspiration. So, the seventh chapter signals the shift toward a discussion of recovery from mobbing. The valuable advice flows steadily and includes gems such as "don't make fighting the organization that mobbed you your next career." Their wisdom extends to selecting psychotherapists who practice "trauma-informed mental health care" by taking into account the organizational, cultural and power dynamics factors that instigated the mobbing experience rather than a focus on the victim's vulnerability …
The authors' defiantly critique the "bad apple," personality-dominated explanation for mobbing. They give the reader an introduction to work environments and their working parts. Personalities of perpetrators comprise only a small part …
Hooray for Duffy and Sperry's clarity in pronouncing that banishing bullies does not end the systemic problem. As the authors write "it takes an organization" to create it, and that's what it takes to stop it. ###
There is wisdom for organizational reps for those smart enough to apply the lessons contained inside. However, this book is primarily for bullied targets and the families who love them.
About the authors
Maureen Duffy, PhD, is a practicing family therapist and consultant specializing in workplace and school mobbing and bullying issues and an Affiliate with the Qualitative Research Graduate Program at Nova Southeastern University She provides trauma-informed psychotherapy to targets of mobbing and bullying and their families and consultation and training on workplace abuse to stakeholders including human resource managers and attorneys. She is the coauthor of Mobbing: Causes, Consequences, and Solutions.
Len Sperry, MD, PhD, is Professor of Mental Health Counseling at Florida Atlantic University and Clinical Professor of Psychiatry at the Medical College of Wisconsin. He has provided psychotherapy to mobbing victims and consulted with corporations on mobbing and bullying. He is the coauthor of Mobbing: Causes, Consequences, and Solutions.
Buy this book (along with the Lutgen-Sandvik book and, if they don't own it yet, our book, The Bully At Work) for those who need it most this Christmas season. They will be forever grateful.
Tags: bullied targets, Len Sperry, Maureen Duffy, Mobbing, organizational factors, self help, strategies, therapy, trauma, workplace bullying
Posted in Books, Bullying-Related Research, Good News, Hear Ye! Hear Ye! 2, Media About Bullying, Social/Mgmt/Epid Sciences, Tutorials About Bullying | No Archived Comments | Post A Comment () »
Thursday, December 5th, 2013
Check out this great 2-part interview for the program Executive Decisions. Host Tim Muma talks with Dr. Namie about bullying tactics and how to stop workplace bullying from costing your business money.
Listen to more Executive Decisions at localjobnetwork.com.
Part 1
Audio clip: Adobe Flash Player (version 9 or above) is required to play this audio clip. Download the latest version here. You also need to have JavaScript enabled in your browser.
Part 2
Audio clip: Adobe Flash Player (version 9 or above) is required to play this audio clip. Download the latest version here. You also need to have JavaScript enabled in your browser.
Tags: Executive Decisions, Gary Namie, HR, localjobnetwork.com, Tim Muma, workplace bullying
Posted in Tutorials About Bullying, WBI in the News | No Archived Comments | Post A Comment () »
Thursday, December 5th, 2013
By BCGEU – 12/4/13
How does the new Workers Compensation Board (WCB) language on workplace bullying and harassment affect BCGEU members?
Prevention and Compensation
There are two aspects to all health and safety matters. First, procedures and systems must be put into place to prevent workplace injuries. Secondly, workers who suffer workplace injuries have a right to compensation.
Bullying and Harassment
On July 1, 2012, the Workers Compensation legislation regarding bullying and harassment was changed to include:
Benefit coverage for mental disorder claims for workers who experience bullying and harassment in the workplace and are unable to work;
The provision for the WCB to define bullying and harassment and to develop policies and procedures requiring employers to prevent and address workplace bullying and harassment.
Members have asked:
How do the new WCB policies and procedures fit with the anti-bullying language the union has negotiated in many of our collective agreements?
If I am bullied in my workplace, what are my options to make it stop?
Should I be filing a complaint through the WCB process?
To answer these questions, it is important to review the union's response to bullying behavior. The union has spoken out loudly and clearly that bullying is not acceptable. Bullying in the workplace is wrong and should be addressed quickly and appropriately. Because all workers deserve a workplace that is free from harassment and bullying, we negotiated anti-bullying policies and protections in many of our agreements. We encourage employers to engage with us in developing and teaching respectful workplace practices.
Tags: BCGEU, British Columbia, Canada, compensation, policy, workers' compensation, workplace bullying
Posted in Tutorials About Bullying | No Archived Comments | Post A Comment () »
Tuesday, December 3rd, 2013

Film clip of Dr. Oren Amitay who describes workplace bullying very accurately.
Tags: Oren Amitay, registered psychologist, Toronto, workplace bullying
Posted in Broadcasts: Video, TV, radio, webinars, Media About Bullying, Tutorials About Bullying, WBI Education | No Archived Comments | Post A Comment () »
Wednesday, November 27th, 2013
Before the Blow-Up, Miami Dolphins' Jonathan Martin was Brainy, Brawny 'Nerd
By Linda Robertson, Miami Herald, Nov. 19, 2013
Everyone knew Jonathan Martin as "Moose" at Harvard-Westlake, an elite prep school for the children of Los Angeles' corporate and entertainment executives that is perched among the pines of Coldwater Canyon. Martin, a 6-foot-5 football star, reflexively bent over to hug classmates upon greeting them. When he wasn't flattening opponents with pancake blocks, he played the viola, which looked like a toy in his large hands.
"Jonathan was by far the biggest man on campus, but he was also a big puppy," said Dave Levy, offensive coordinator for the football team. "Not a jokester, and a bar fight wouldn't be his style. He was an achiever, as is each student here. He was a serious kid, but he always had a smile on his face and was a friend to all."
Martin, who attended a private elementary school in Bel-Air and was raised in a neighborhood known as the "Black Beverly Hills" by Harvard-educated parents, grew up in a lush world of privilege and propriety. The Miami Dolphins locker room, where Martin said he was bullied, insulted and harassed during his first two seasons as a pro, must have seemed like an inferno.
Martin majored in classics at Stanford, and his bulk belied the poetry in his soul, but he should not have been ostracized just because he didn't fit the NFL stereotype, his friends said.
"You can love literature and be a very tough football player," said Andrew Phillips, a Stanford teammate. "You can be a smart athlete. That doesn't have to be an oxymoron."
Tags: Harvard-Westlake, Jonathan Martin, Miami Dolphins, moral courage, NFL, non-violence, Stanford, viola, workplace bullying
Posted in Broadcasts: Video, TV, radio, webinars, Media About Bullying, NFL: Jonathan Martin, Tutorials About Bullying, WBI Education | No Archived Comments | Post A Comment () »
Wednesday, November 27th, 2013
In bullying cases, it is not shocking to read that targets are blamed for their fate — weak, thin-skinned, provocative. Victim blaming is societal, reflecting the commission of the fundamental attribution error.
To blame a woman for her own sexual assault or rape is especially hideous. Yet that is what U.S. military commanders do repeatedly. [Watch The Invisible War] Regarding the recent complaint brought by Marine Arianna Klay, her husband, Ben, tells that her commander said that she should have expected it (the attack by multiple rapists) because she was wearing shorts!!!
There are two proposed legislative solutions proffered in the U.S. Senate:
(1) Keep military unit commanders in charge of "investigations" to police themselves, and
(2) Remove commanders from the investigatory process. This is the Military Justice Improvement Act proposed by Sen. Kirsten Gillibrand (D-NY) and 57 co-sponsors.
Tags: Ariana Klay, Ben Klay, fundamental attribution error, military rape, military sexual assault, U.S. Marine Corps, victim blaming
Posted in Employers Gone Wild: Doing Bad Things, Tutorials About Bullying, WBI Education | 1 Archived Comment | Post A Comment () »
Friday, November 22nd, 2013
Review of Buckels, Jones & Paulhus (2013) Behavioral Confirmation of Everyday Sadism. This research was conducted at the University of British Columbia and the University of Texas at El Paso.
The phrase "workplace bullying" prompts most listeners to ponder deviant personality quirks of perpetrators. Though we at WBI believe work environment factors are better predictors of a bullying-prone workplace, it is the interaction of personality and work conditions that provide the fullest explanation. Bullied targets, when under assault, ruminate too long on the personality of their bully and the perp's motivation. So, we advise them to ignore the perp's personality so that they can act to get to safety. Given these forewarnings about the limited role of personality in bullying, here is a research article that addresses perhaps the most relevant of all personality traits related to bullying — sadism.
Tags: aggressors, Buckels, bullies, dark side of the world of work, dark triad, Paulhus, perpetrators, personality, sadism, workplace bullying
Posted in Bullying-Related Research, Social/Mgmt/Epid Sciences, Tutorials About Bullying, WBI Education | 2 Archived Comments | Post A Comment () »
Friday, November 22nd, 2013
By Efua Andoh, Psychology Benefits Society (American Psychological Association), Nov. 21, 2013
Richie Incognito's harassment of Miami Dolphins teammate Jonathan Martin raises many complex  questions about workplace bullying, jock culture and American culture overall especially regarding issues of power disparities, masculinity, and race.
As a 6 foot 5, 300-plus pound lineman on the National Football League's Miami Dolphins, Jonathan Martin doesn't exactly fit the stereotype of a bullying victim. But as has now come to light, Jonathan Martin was the target of persistent harassment by Richie Incognito, a fellow lineman with a reputation as one of the dirtiest players in the league. Incognito's lewd and threatening voicemails, some of which included racial slurs (Martin is African American and Incognito is white) have been made public. Reports have emerged that Dolphins coaches may have explicitly instructed Incognito to "toughen up" Martin and that some Dolphins teammates even participated in the abuse. The apparent straw that broke the camel's back was Incognito and others standing up and leaving a lunch table as soon as Martin joined them – a schoolyard tactic if there ever was one.  Martin abruptly left the team after that incident and checked into a hospital for treatment of emotional distress.
While the Dolphins initially downplayed Martin's departure, the team has indefinitely suspended Incognito, and the NFL has launched its own investigation. Yet, Martin's decision to seek help has met with a mixed reaction. While some players have been sympathetic there has been a collective shrug from a number of others who have dismissed Incognito's behavior as simply part of the "locker room culture." Some have said that Martin should have "been a man," implying he should have responded to aggression with aggression.  Sports Illustrated quoted one anonymous player "I might get my ass kicked, but I'm going to go down swinging if that happens to me, I can tell you that."
This story raises troubling and complex questions about workplace bullying, jock culture, and American culture overall regarding issues of power disparities, masculinity, and race. It isn't cut and dried; emerging research shows us that some of the things that many dismiss as simply "locker room" culture are antecedents to workplace bullying.   In fact, bullying targets – and bullies — come in all sizes, ages, and kinds.
Tags: Gary Namie, Jonathan Martin, locker room culture, Miami Dolphins, NFL, Samnani & Singh, workplace bullying, Workplace Bullying Institute
Posted in Bullying-Related Research, Media About Bullying, NFL: Jonathan Martin, Print: News, Blogs, Magazines, Social/Mgmt/Epid Sciences, Tutorials About Bullying, WBI Education, WBI in the News | No Archived Comments | Post A Comment () »
Monday, November 18th, 2013
Quitting the N.F.L.
For John Moffitt, the Money Wasn't Worth It
By Ken Belson,
New York Times,
Nov. 18, 2013
John Moffitt chugged mugs of black coffee and talked almost giddily about how, the week before, he called John Elway, the head of football operations for the Denver Broncos, to tell him he was quitting the National Football League, leaving behind the money and the fame, but also the constant pain and the danger.
In parts of three seasons as a guard with the Seattle Seahawks and the Broncos, Moffitt, 27, blew out his knee, had elbow surgery and hurt his shoulders. Sleep apnea left him exhausted. Floaters cross his vision from all the hits to the head he absorbed in his nearly 20 years of playing football.
"I don't want to risk health for money," said Moffitt, who walked away from about $1 million in salary, various benefits for retirees who play at least three seasons and quite possibly a trip to the Super Bowl with the 9-1 Broncos. "I'm happy, and I don't need the N.F.L."
Tags: career decision, health, John Moffitt, quit job
Posted in NFL: Jonathan Martin, Tutorials About Bullying, WBI Education | No Archived Comments | Post A Comment () »
Monday, November 18th, 2013
On Nov. 11, 2013, Gallup released results of its poll that asks workers' preference for a male or female boss, a finding tracked since 1953. The majority of both men and women workers have no preference (51% and 32%, respectively). Fewer men prefer a female boss than than women (18% vs. 27%). Women prefer a male boss more than men do (40% vs. 29%).
The relevance to workplace bullying is the reliable WBI research findings that when women are perpetrators of bullying, they target women in the vast majority of cases (80%). So it is interesting that only 27% of women in Gallup's sample preferred a woman boss. The figure jumps slightly higher if the current boss is a woman (32% prefer a woman boss).
Read the survey findings and see the declining preference for a male boss over the generations. Though males are still preferred over women.
It's a shame really that more women are not given the chance to be executives. Over time, the workplace could become more human, not because I believe in some naive stereotype of all woman as more nurturant leaders than men (the woman-on-woman bullying undermines that simplistic notion), but women would not have to manage like men when they outrank them. Sitting atop the hierarchy provides the freedom to be oneself. We can hope, can't we??
Tags: ABC This Week, bosses, Gallup, gender, women-on-women, workplace bullying
Posted in Bullying-Related Research, Social/Mgmt/Epid Sciences, Tutorials About Bullying, WBI Education | No Archived Comments | Post A Comment () »