Archive for the 'Tutorials About Bullying' Category
Thursday, April 24th, 2014
On April 25, 2005 at 9:19 am, a 7-car Japanese commuter rapid train 5418M derailed at high speed on a curved stretch of track and slammed into a parking garage of an apartment building. The train was operated by 11 month veteran driver 23-year old Ryūjirō Takami in front car. A second rail employee, the conductor, was in the rear car.
It was the second worst rail disaster in the country's history. 562 people were injured and 107 died, including Takami. 99 of the fatalities were in the front car. In all, four cars derailed.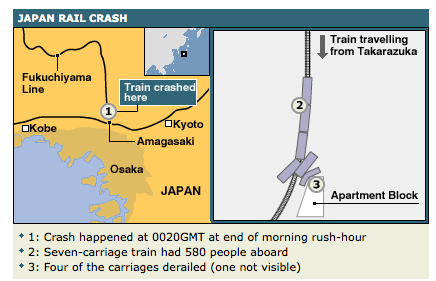 The morning commute to Osaka on the West Japan Railway Company (JR West), the end of the rail line, was over and the train was heading in the other direction. On the way to the Itami station, an alarm sounded that the train was over the speed limit, traveling at 120 km/hr. Takami was speeding. As the station approached, Takami applied the emergency brake. The train overshot the platform by three cars, about 30 meters. Takami reversed the train to align the cars with the platform.
The conductor warned Takami that he would have to immediately report the mistake to headquarters from the phone on the train. Takami asked him to lie, to minimize the distance overshot. The conductor said that he called in an 8-meter mistake. Mistakes of 5 meters bring company punishment.
Takami knew JR West punishment. When Takami was in his third week of driving a train ten months earlier, he was subjected to 13 days of Nikkin Kyoiku, re-education, for having overrun a platform by 100 meters. Overshooting the Itami platform had to have filled his mind with horror, anticipating another round of Nikkin Kyoiku.
Tags: accident, culture, death, disaster, Nikkin Kyoiku, Ryūjirō Takami, torture, West Japan Railway Company, workplace bullying
Posted in Bullying & Health, Employers Gone Wild: Doing Bad Things, Tutorials About Bullying, WBI Education | No Archived Comments | Post A Comment () »
Thursday, April 24th, 2014
This tutorial is for bullied targets who decide to fight back. Do not confront your bully. If you could have done that successfully, you would have. Waiting for months makes whatever you do ineffective. It's not your style. That's OK. Nor should you bother to explain to anyone who will listen (and the number of those people dwindles by the day) the emotional harm you suffer. That tale will scare people away and make you appear weak and psychologically frail. What can you do?
The best option is to spend time, while off on job-stress disability leave at home, researching the historical effect the bully has had on the organization. Below, we explain how to estimate the total costs associated with that one person or group of bullies. Make the impersonal, consultant-like, economic, bottom-line case rather than an emotional appeal.
Our approach is not idealistic, or utopic, as one commenter suggested. It is grounded in reality. Read our rationale for this approach, fully taking into account the fact that most employers would rather defend and retain the bully than the bullied target. It is an irrational decision to be sure by employers, but bullying itself is an irrational, indefensible act.
Here's the way calculate losses attributable to the bully.
Tags: absenteeism, costs, fiscal impact, litigation, turnover, workplace bullying
Posted in Tutorials About Bullying, WBI Education | No Archived Comments | Post A Comment () »
Monday, April 21st, 2014
Impact on Family
Displacement, Withdrawal, Anxiety & Despondency
The most obvious and direct impact is displacement of the target's anger and shame about being bullied at work onto the family at home. This is akin to the coming home and "kicking the dog." When anger can't be leveled against the source of frustration and humiliation, the bully at work, especially when the bully is a boss, often the only outlet is outside work. The difficulty of confronting-stopping a boss is traced to the historical uphill battle to cross the "power gradient." Telling a boss to go to hell brings certain retaliation. It's part of our hierarchical world.
By the way, displacement could occur on the way home. Pity other drivers on the commute home or wait staff at restaurants at lunchtime who might be in harm's way. Nevertheless, most workers exposed to abusive supervision tend to bring it home. Violence at work begets violence at home.
Much more common is emotional withdrawal. Targets are overwhelmed by emotional abuse and exhausted at work. It takes all energy they can muster just to survive the 8 to 10 hours and commute to home. The stress strips away their appetite. So, they come home, skip dinner, and retire to bed seeking protection that sleep might provide. Sadly, sleep is disrupted by the distress caused by bullying. Solid REM sleep is rarely enjoyed. Sleep deficits make the targeted family member a non-participant, especially weekends. Traditions and family routines get postponed or abandoned completely. Everyone's schedules are changed to accommodate the wounded worker in the family. This builds resentment. But targets who do not seek counseling or have their bullying situations reversed are trapped in a sleepless withdrawal loop.
Bullied targets also bring home anxiety. This is a normal reaction to the personalized stressors that bullying poses — domination, intimidation and humiliation. Even for individuals who have never experienced abuse (33% of workplace bullying targets), bullying fosters anxiety, the forewarning of distress. Distress, in turn, causes many stress-related health problems for targets. The point is that the anxiety is seen and felt by all family members exposed directly to it.
The inability to stop the bullying by the targeted parent creates a sense of despondency. The unhelpful reactions of coworkers further worsens the feeling. Thus, coming home is the message that mother or father or lover or wife or husband, once an integrated adult, is falling apart, suddenly powerless.
The coupling of anxiety and despondency is a toxic stew that affects the mood at home. Prolonged exposure renders both adults and children vulnerable to long-term effects from situations over which no one at home can control.
Tags: anxiety, displacement, health, impact on family, neuroticism, vicarious trauma, workplace bullying
Posted in Bullying & Health, Tutorials About Bullying, WBI Education, WBI Surveys & Studies | 1 Archived Comment | Post A Comment () »
Monday, April 14th, 2014
This news is really gonna upset bully apologists who worry so much about the tender sensibilities of offenders (and less about the harm inflicted by these creeps).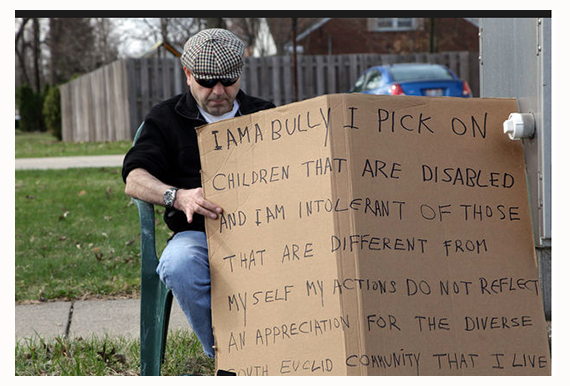 Northeast Ohio Media Group, April 13, 2014
SOUTH EUCLID, Ohio — The man accused of bullying his neighbors for 15 years, including children with developmental disabilities, carried out part of his punishment on Sunday by sitting at a busy intersection with a large sign that says he's a bully.
Edmond Aviv, 62, endured five hours of people yelling at him from passing cars while holding a sign that said: "I AM A BULLY! I pick on children that are disabled, and I am intolerant of those that are different from myself. My actions do not reflect an appreciation for the diverse South Euclid community that I live in."
Aviv, who ignored the comments and rarely looked up, said the judge's sentence and ensuing media coverage that garnered national and international attention ruined his life. He also denied he bullied the family.
"The judge destroyed me," said Aviv, who refused to answer other questions. "This isn't fair at all."
Tags: bully, bullying the disabled, Edmond Aviv, neighborhood bullying
Posted in Broadcasts: Video, TV, radio, webinars, Media About Bullying, Print: News, Blogs, Magazines, Tutorials About Bullying, WBI Education | No Archived Comments | Post A Comment () »
Tuesday, April 8th, 2014
By Carol Kinsey Goman, Forbes, April 6, 2014
I met Brenda when she managed a 2,000-person department for a Fortune 500 company. Brought in to help her with an upcoming change initiative, I was impressed by Brenda's intelligence, creativity, political savvy, and dedication to her job. She had all the qualities of a senior executive – which was her career goal.
But she was also a bully. One direct report described her as a "kiss-up and slap-down kind of manager." The targets of the bullying were especially demoralized, but even those on her staff who only witnessed the bad behavior began to devote more energy to protecting themselves than they did to helping the company. Brenda's dysfunctional management style eventually led to a decline in her department's performance and, as a result, the change initiative was abandoned. Eventually Brenda's career was derailed by the increasing number of enemies she made with every nasty glare and mean-spirited remark. She resigned when it became obvious that she would never get the promotion she coveted.
Stories about bullies don't always end with them resigning in disgrace. In fact, many bullies thrive. You may even be working for one.
Tags: 2010 WBI U.S. Workplace Bullying Survey, bully boss, bullying research, workplace bullying, Workplace Bullying Institute
Posted in Media About Bullying, Print: News, Blogs, Magazines, Tutorials About Bullying, WBI Education, WBI in the News | No Archived Comments | Post A Comment () »
Tuesday, April 1st, 2014
The Workplace Bullying Institute and the New Workplace Institute are happy to announce the launch of a joint initiative, the U.S. Academy on Workplace Bullying, Mobbing, and Abuse, which will support and promote the multi-disciplinary work of leading and emerging educators, researchers, practitioners, writers, and advocates who are dedicated to understanding, preventing, stopping, and responding to workplace bullying and related forms of interpersonal mistreatment.
"For over a year, we've been contemplating how to bring together an American network of leading and emerging experts on workplace bullying and related topics. The Academy is our conduit for doing so. We look forward to highlighting the good works of these incredible people," says David Yamada, Suffolk University law professor and New Workplace Institute director.
The Academy has over 50 Fellows including leading psychological researchers, physicians, attorneys, occupational health experts, professors of management, nursing, and communications, counselors, union trainers, military leaders, advocates, and consultants. The complete list of Fellows can be seen at workplacebullyingacademy.com.
"When we started WBI there was one trade unionist and a couple of academic researchers with the courage to focus on workplace bullying. Since then the field exploded exponentially," says Gary Namie, PhD, Co-founder of the Workplace Bullying Institute, established in 1997. "We recognize the universality of these destructive behaviors, and this network focuses on the unique challenges posed by American employee relations, mental health, and legal systems."
Tags: abuse, bullying research, David Yamada, Gary Namie, Mobbing, new workplace institute, U.S. academy, workplace bullying, Workplace Bullying Institute
Posted in Bullying-Related Research, Good News, Healthy Workplace Bill (U.S. campaign), Hear Ye! Hear Ye! 2, Products & Services, Social/Mgmt/Epid Sciences, Tutorials About Bullying, Unions, WBI Education | 1 Archived Comment | Post A Comment () »
Tuesday, March 25th, 2014
Executives dwell in the C-Suite. By rank, they are often referred to as "leaders," though leadership is a demonstrable skill instead of a position on an organization chart. Executive leaders in charge are the ones who set the operating the rules for their organizations. They establish the climate that can either foster and encourage bullying abusive conduct or they can act with indifference toward it (a laissez-faire management style) which allows bullies to run wild with impunity.
Given the clout executives have, they can stop bullying if they want to. Here are the steps they can take to make their organizations bullying free. [It's a good idea to have them read first The Bully-Free Workplace to understand the barriers that await implementation of any plan.]
Tags: 2014 U.S. Workplace Bullying Survey, C-suite, correction, executives, Gary Namie, prevention, workplace bullying
Posted in Tutorials About Bullying, WBI Education | No Archived Comments | Post A Comment () »
Thursday, March 13th, 2014
Kelly Greenberg has been coach of the women's basketball team at Boston University for 10 years, and at the University of Pennsylvania and Holy Cross for a total of 12 years before that. Her style has been described as "difficult," and bullying by the Boston Globe.
This season, four scholarship players walked away from the team, tired of the emotional abuse Greenberg directed at them. Without scholarships that BU might take back, staying in school there is an expensive proposition. From the Globe article, here are some statements by the women players.
"I arrived feeling very confident and motivated. Then I felt bullied, threatened, and emotionally abused by the coach. By the time I left, she had demolished me as a person. She didn't treat us like human beings at all" … Dana Theobald
"I discovered that when you play for Coach Greenberg, you don't play the game you love. You play her game, an emotional game that is not about basketball." … Melissa Gallo
And from the student who was taken to hospital when suicide was contemplated
"Basketball is a contact sport. We have all played for tough coaches. But I went to BU because I believed [Greenberg] was a great coach, and I was shocked by how it turned out. It was very scary. I was blaming everything on myself because of the way I had been treated. I knew deep inside that it wasn't me, but I was too afraid to say it was [Greenberg] because she didn't make me feel supported. Giving up a $60,000-a-year scholarship is the hardest thing I've ever done. I hate that I'm not in school, but it had to be done. My spirit was broken." … Dionna Joynes
These comments are completely consistent with the experiences of bullied targets. The bullying was not about the sport of basketball (the equivalent of work-related tasks) but about Greenberg's volatile emotionality. Finally, illustrating the perfect fit with the phenomenon of bullying, the targets lost their jobs (the sport) they loved because they were involuntarily emotionally abused.
It seems coach Greenberg had trouble with players who were injured. She assaulted them as "selfish" after suffering a concussion or ankle injury.
When two players quit previously and the university conducted its "investigation," Greenberg was made aware that she is difficult and that she had made regrettable mistakes.
Let's see if BU renews Greenberg's contract. Read the full story in the Globe.
Tags: Boston University, coach bullying, Dionna Joynes, emotional abuse, Kelly Greenberg, sports bullying, suicide, woman-on-woman, workplace bullying
Posted in Media About Bullying, Print: News, Blogs, Magazines, Tutorials About Bullying, WBI Education | No Archived Comments | Post A Comment () »
Thursday, March 13th, 2014
Our societal tendency to blame victims of all sorts undercuts our ability to make systemic changes. If individuals are responsible rather than schools, employers and man-made (sic) organizations, then nothing ever has to change.
This is one of the many forms of resistance we face in the workplace bullying movement.
An interesting case surfaced in which a Wisconsin high school principal, Jon Wiltzius, was upset with a story published in the student's monthly magazine. The editors bravely took on the topic of rape and blaming victims in their school. Three victims told their stories anonymously. Kudos for editors-in-chief Rachel Schneider and Tanvi Kumar.
The cover story ruffled the feathers of the principal responsible for the organizational (building) culture. His reaction — to cite case law that the District has control, not the student editors, over the publication — rather than hold an assembly to have all students discuss what may contribute to the normalization of sexual assault in high school and what his school could do about it. Oops. Guess the students are more adult about this serious topic than the principal who chooses to duck his responsibility.
Watch the WBAY-TV, ABC affiliate in Green Bay report
Read the well-written, truthful article on pages 11-16 of the student publication Cardinal Columns at Fond-du-Lac High School.
Tags: blaming the victim, Cardinal Columns, Fond-du-Lac, fundamental attribution error, high school, Jon Wiltzius, rape culture, WBAY-TV, Wisconsin
Posted in Broadcasts: Video, TV, radio, webinars, Commentary by G. Namie, Media About Bullying, The New America, Tutorials About Bullying, WBI Education | No Archived Comments | Post A Comment () »
Wednesday, March 12th, 2014
This may be the happy ending denied so many bullied targets. The most famous of all targets in recent times, Jonathan Martin, has landed a new job. He was traded by the Miami Dolphins, the team with the abusive work environment that compelled him to voluntarily leave, to the 49ers coached by Jim Harbaugh, his college coach at Stanford.
And he's happy. Read the press account.
WBI research with bullied targets found that after bullying, 29% made more money, 37% were not bullied again, 65% were not able to match their lost income, and 26% never found another job. So, Jonathan Martin is one of the lucky ones. Of course, he still has to win a job on the 53-man roster this summer, but at least he has been given the chance.
We wish him luck.
###
For now, it appears this story ends, you can follow the full NFL story from the start in the Category list in the sidebar: NFL: Jonathan Martin Read the NFL investigation report.
Tags: Jonathan Martin, locker room culture, Miami Dolphins, NFL, workplace bullying
Posted in Good News, NFL: Jonathan Martin, Tutorials About Bullying, WBI Education, WBI Surveys & Studies | No Archived Comments | Post A Comment () »