Archive for the 'Tutorials About Bullying' Category
Tuesday, March 10th, 2015
This is the stuff of science fiction that gives medical ethicists pause. Can we erase traumatizing memories stored in our brains? Can happier memories be planted as a substitute for painful ones?
Researchers are hard at work with the newest technologies allowing the substitution. Here is a new study done with laboratory mice. The news article describing the research appears below.
---
Rodent Recall: False but Happy Memories Implanted in Sleeping Mice
Researchers at CRNS in Paris create artificial positive feelings in mouse's memory for first time during sleep, highlighting possible new treatment for depression
By Hannah Devlin, The Guardian, March 9, 2015
Scientists have succeeded in creating false but happy memories in mice, in the first demonstration of memory manipulation during sleep.
In the study, positive feelings about a particular place were artificially written into the animal's memory, which caused them to seek out that place in search of a reward when they woke up.
The discovery that emotional memory can be readily manipulated has echoes of the the film, Eternal Sunshine of the Spotless Mind, in which Jim Carey's character has every recollection about his failed relationship wiped clean using a fictional mind-reading technology.
The scientists say that the findings could pave the way for new treatments that would allow patients to overcome depression or deeply entrenched painful memories.
Karim Benchenane, the neuroscientist who led the research at the CNRS (Centre national de la recherche scientifique) in Paris, said: "The idea is to use this as a tool for post-traumatic stress disorder."
Tags: creating memories, planted memories, PTSD, trauma treatment
Posted in Bullying-Related Research, Neuroscience & Genetics, Related Phenomena, Tutorials About Bullying, WBI Education | No Archived Comments | Post A Comment () »
Sunday, December 21st, 2014
At WBI we consistently draw the analogy between domestic violence and abusive conduct at work (the most serious forms of workplace bullying). Our rationale is based on the following commonalities shared by these two forms of abusive relationships:
• The abuser has more power to wield over the abused person
• The abuser unilaterally controls when, where and what method
• Abusers objectify, dehumanize and show contempt for victims
• Society tends to blame victims for their fate
• Victims are expected to solve their problem themselves
• Witnesses rarely intervene
• Institutional responses are delayed, inadequate and not helpful
• Root causes, often embedded societal values, remain unexplored
Advocates working to end domestic, or partner, violence described the myriad of tactics used by abusers using the 8-factor Biderman "chart of coercion." Albert Biderman interviewed US Air Force pilots who had been captured and tortured during the Korean war. The Chinese taught interrogation techniques to the North Koreans. The piolots described their experiences and Biderman distilled the range of techniques to eight fundamental methods designed to break the will of, and brainwash, the pilots. In 1957, Biderman published his report "Communist Attempts to Elicit False Confessions From Air Force Prisoners of War." [Note that Biderman recognized that torture produces false confessions. The 8-factor report became the model for US torture of prisoners at Guantanamo.] That article was the origin of the Biderman Chart of Coercion.
Domestic violence and child abuse advocates use the Biderman Chart to describe abusers' tactics in their specialty domains.
Therefore, it is logical for us to apply Biderman's Chart to workplace bullying, given the parallels with domestic violence. In its most extreme forms, bullying is torture. See the chart below.
Tags: abuse victims, abusers, abusive conduct, abusive relationships, Biderman, Chart of Coercion, interrogation methods, torture, workplace bullying
Posted in Bullying & Health, Tutorials About Bullying, WBI Education | No Archived Comments | Post A Comment () »
Monday, December 8th, 2014
Beef With Bullies
By Mariam Isa, Destiny Connect (UK), Dec 4, 2014
The prevalence of woman-on-woman bullying in the workplace is surprisingly high and, in many instances, is spiraling out of control in the absence of legislation or company policies to curb it. We look at what is behind this insidious trend
Lillian Karuri-Magero, Sourcing Executive for Africa at Barclays Absa, is successful, confident and assertive. She began her second job in the IT industry full of enthusiasm and energy, but ended up leaving prematurely after being bullied by a woman senior who deliberately alienated her from the office environment.
"She publicly humiliated me many times, using her rank to belittle my work. She deliberately withheld information that would have made my working life more efficient and my outputs quicker and better. She called meetings without including me and her behaviour towards me was blatantly rude – no 'good morning' or 'goodbye', barking orders and things like that – which, to me, are outright bullying. It made my ability to function almost impossible," Karuri-Magero says.
Eventually she decided to confront the bully, but it only made things worse: the woman began calling her into her office and behaving more belligerently than 
she would ever have dared to do in front of her own manager. So Karuri-Magero approached the company's HR department for help. That also failed, as the bully, who had been in the company much longer than she had, blatantly lied, making it her word against her victim's. At that point, Karuri-Magero resigned, feeling helpless.
Tags: bullied targets, it, tech industry, woman-on-woman bullying
Posted in Tutorials About Bullying, WBI in the News | 1 Archived Comment | Post A Comment () »
Monday, December 8th, 2014
By Deidra A. Sorrell Ed.D., NCC, LPC
Summarizing her newly completed doctoral dissertation …
The research examined the lived experiences of elementary school educators facing workplace bullying within public schools.
The researcher recruited six elementary school educator-participants from WBI volunteers. All participants were female and over forty-years-old. All of the participants experienced bullying after taking medical leave due to preexisting health issues, which caused more stress and anxiety. As a coping mechanism, all of the participants found the teachers union ineffective in solving their disputes. The educators were interviewed at length to gain extensive descriptions of their experiences.
Three major themes emerged from the data. The themes included: (a) experiences with workplace bullying, (b) coping, and (c) environmental factors contributing to workplace bullying.
Tags: Deidra A. Sorrell, dissertation, educators, teachers, workplace bullying
Posted in Fairness & Social Justice Denied, Guest Articles, Tutorials About Bullying, WBI Education | 2 Archived Comments | Post A Comment () »
Tuesday, November 25th, 2014
Grad and Professional Student Bullying Rises
By Christopher Aadland, Minnesota Daily, November 24, 2014
University of Minnesota surveys show peer-to-peer and faculty-to-student bullying has risen since 2007.
From verbal attacks to threats, graduate and professional students are increasingly experiencing harassment and bullying at the University of Minnesota, according to surveys.
"… I've lost all desire for research because of the continual harassment and hostile environment I've experienced," an anonymous student said in a recent survey. "I never thought I would give up on research, but I guess anything's possible. I've given up."
For the past decade, Jan Morse, director of the University of Minnesota's Student Conflict Resolution Center, has noticed an upsurge in graduate and professional students coming to her office looking for relief from bullies.
And despite work over the last six years by a group of school administrators, faculty members and students that aims to tackle bullying, this year's survey still shows graduate and professional students are increasingly experiencing harassment.
Tags: bullying, campus incivility, Gary Namie, grad student bullying, Jan Morse, Keaton Miller, prevalence, survey, University of Minnesota
Posted in Media About Bullying, Print: News, Blogs, Magazines, Tutorials About Bullying, WBI Education, WBI in the News | No Archived Comments | Post A Comment () »
Thursday, November 6th, 2014
ARE BULLIED TARGETS BELIEVED?
WBI Research/Instant Poll: 2014 – F
People who find themselves trapped in a bullying scenario can attest to the crazymaking, irrational nature of the mistreatment. Much of the harm caused by the abusive conduct stems from the shattering of targets' beliefs about fairness, fairness in the work world specifically. First, they are typically the high performers who unknowingly trigger the envy of perpetrators. Targets are aware of their work skill at a deep personal ontological level. Perpetrators come into their lives who determined to reject the agreed-upon perceptions of the targets' skills. There are objective truths, a reality.
When Bullies are Bosses
Perpetrators often use their formal (by organizational rank) or informal power to state the obviously opposite perception about technically skilled targets. Though this defies reality, they convince organizational allies to believe them and not targets.
In simplest form, it becomes a "he said, he said" deadlock. But most bullies who are bosses rely on support from higher up to add weight to their side.
The shrewdest perpetrators use ingratiation over many years to convince their executive sponsors (their enablers) that they, the bullies, are indispensable. Further, if and when they are described as abusive or destructive by one or more targets in the future, the executive will defend her or his "indispensable" perp by ignoring the target's portrayal of a friend and colleague.
Thus conditions are not favorable when targets report the facts about what they have experienced at the hands of the favored perpetrator. After all, targets do bring negative news about people who typically outrank them.
When Bullies are Coworkers
In situations where targets have multiple perpetrators, there are many individuals who can provide accounts of alleged bullying incidents that will be at odds with what targets say happened.
For targets bullied by a gang of coworkers (cliques and mobs also are apt descriptions), it is doubly negative. Not only do they outnumber the target, the target is deprived of the chance to have her or his story corroborated by coworkers. Though few coworkers ever step up to offer support to targets, some do. When coworkers are the bullies, the potential source of support is lost.
Gullible investigators (typically working inside the organization for another department) will have their judgement swayed by many against one, and believe the tale that many tell even if those versions are not true.
The Effects of Not Being Believed
For targets, it's a matter of honor and integrity. Repeated studies have shown that targets claim that their honesty is one of the major reasons for being targeted for abuse. They do seem to be very principled, non-political workers.
Tags: 2014 ip f, attribution error, believing targets, bullied targets, bullying research, credibility, Daniel Christensen, Gary Namie, instant poll, truth, workplace bullying, Workplace Bullying Institute
Posted in Tutorials About Bullying, WBI Education, WBI Surveys & Studies | 3 Archived Comments | Post A Comment () »
Monday, November 3rd, 2014
We have long said that mediation is the wrong tool to resolve workplace bullying problems. Mediators are inserting themselves into bullying in growing numbers as if the situations originated in traditional conflict. But bullying involves violence (non-physical varieties), an unequal level of power (real or perceived), and contempt by one person for the other. No serious problem solver believes a credible and fair middle ground can be found. Why further compromise the already compromised target? It is cruel.
A reporter tipped me off to the spring 2014 GitHub scandal. One of the former co-founders, Tom Preston-Werner, had given his CEO position to the other co-founder, Chris Wanstrath in January. GitHub engineer, Julie Ann Horvath, alleged sexual harassment by one of the company founders and his wife and quit. The wife's threats (of informing husband's decision making, of engaging spies at company, and intimidating and verbally attacking her) might have been more bullying than harassment, given its same-gender nature. The venture capitalist who invested $100 million in GitHub defended Preston-Werner. Preston-Werner resigned. Wanstrath cleared Preston-Werner of illegal harassment but did say "mistakes" were made.
Of interest to us here at WBI are the tweets Horvath sent recalling the actions of the GitHub-paid mediator who obviously was sent to protect GitHub.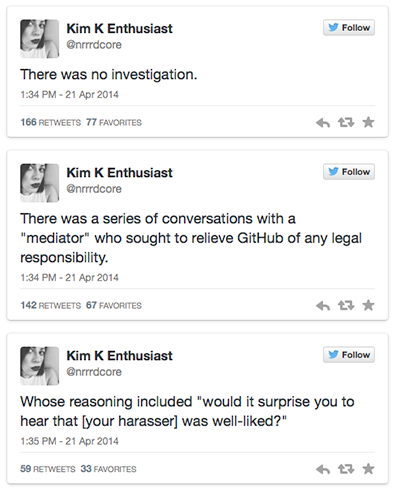 Tags: GitHub, intimidation, Julie Ann Horvath, sexual harassment, Theresa Preston-Werner, threats, Tom Preston-Werner, workplace bullying
Posted in Employers Gone Wild: Doing Bad Things, Tutorials About Bullying, WBI Education | 1 Archived Comment | Post A Comment () »
Monday, November 3rd, 2014
If you are a bullied social worker or anyone bullied at work in Alberta, Edmonton is the place to be. Help can be found at the Alberta Bullying Research, Resources and Recovery Centre. The Centre was established by Linda Crockett. We are proud to say that this extraordinary activist attended WBI's Workplace Bullying University Training for Professionals to supplement the relevant skills and qualifications she already possessed.
Here is Linda featured in two publications — a profile by her union HSAA (Health Sciences Association in Alberta) and an article by Linda. Linda is an outspoken advocate for the workplace bullying movement — saying all the right things and always pushing to break the silence.
You can reach Linda at the Centre at 780-965-7480. Call for help or call to volunteer to help other professionals.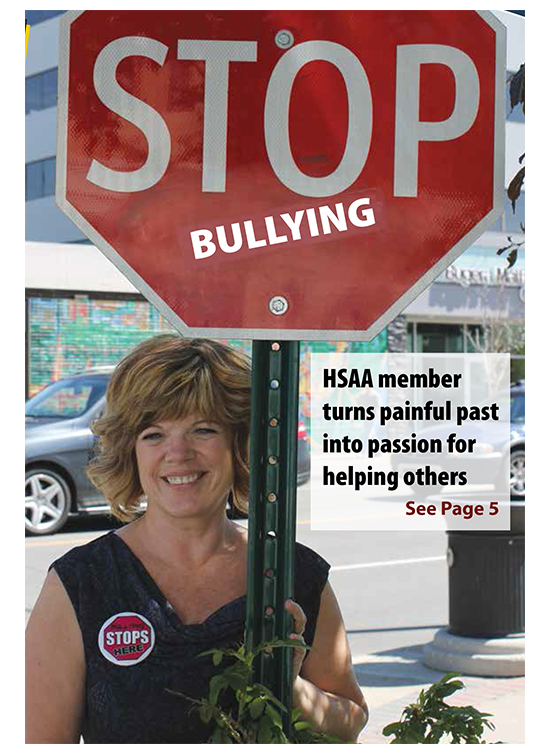 Tags: ABRC, Alberta Bullying Research Resources and Recovery Centre, Linda R. Crockett, mental health professionals, social workers, workplace bullying
Posted in Good News, Tutorials About Bullying, WBI Education, Workplace Bullying University | No Archived Comments | Post A Comment () »
Monday, November 3rd, 2014
Utah State Coordinator, Denise Halverson, chief advocate for the WBI anti-bullying Healthy Workplace Bill, and citizen lobbyist Travis Ackerman joined Feedback show host Abby Bonell on KNRS (Salt Lake City) to discuss workplace bullying and the HWB on October 30, 2014.
Audio clip: Adobe Flash Player (version 9 or above) is required to play this audio clip. Download the latest version here. You also need to have JavaScript enabled in your browser.
Tags: Abby Bonell, Denise Halverson, Healthy Workplace Bill, KNRS, Travis Ackerman, workplace bullying, Workplace Bullying Institute
Posted in Healthy Workplace Bill (U.S. campaign), Tutorials About Bullying, WBI Education, WBI in the News, Workplace Bullying Laws | No Archived Comments | Post A Comment () »
Thursday, October 30th, 2014
POLITICIANS AS BULLIES?
WBI Research/Instant Poll: 2014 – E
It is common knowledge that politics in 2014 America are quite polarized. No longer do politicians pretend to want to solve social problems with social policy. Interactions between politicians are characterized by ad hominem attacks. Politicians seem to be mimicking the personalized nature of bullying. The parallels between the political and workplace domains seemed obvious to us at WBI.
However, critics quickly pounce on our blog musings about the similarities. Commentators say "stick to workplace bullying and stay out of politics." They believe politics is a field of employment different than any other. The same failure to see equivalence occurred when NFL player Jonathan Martin walked away from his professional football team claiming he endured an "abusive work environment." The majority of society granted the NFL exemption from treatment as a workplace where employers bear responsibility for harm their employees suffer. It was said that the locker room is so unique it cannot be changed from its barbaric state.
Ironically, the NFL itself defined its locker room as a workplace. Discrimination laws apply. And the Martin case taught the NFL lessons about human responses to abusive conduct even when targets weigh 300 or more pounds.
In this survey, we asked 307 respondents (bullied targets and witnesses) to give their opinion about whether politics involves bullying or not. Question:


Is bullying by politicians of politicians or citizens as harmful as workplace bullying?
The percentages for each response option were:
.873 Yes, always
.094 Sometimes, only when the less powerful person suffers serious harm
.023 No, political harm is not the same as harm to non-politicians
.001 Never, bullying tactics define politics
The results show that the community of bullied targets does not grant exemptions easily. They conclude that bullying and abuse are the same regardless of venue. Apologists for politicians' outrageous anti-social behavior towards one another like to say that politics is a special type of workplace, immune from social codes and restrictions that apply to everyone else.
But bullied targets do not see the separation into distinct domains. Anti-abuse rules for everyone should apply everywhere — in families, in schools, in churches, in workplaces and among occupants of our legislative chambers.
© 2014 Workplace Bullying Institute. Do not use without proper citation of WBI as the source.

See the complete set of WBI Studies
Tags: 2014 IP e, bullying research, Gary Namie, instant poll, negative conduct, polarization, political behavior, politicians, Workplace Bullying Institute
Posted in Tutorials About Bullying, WBI Education, WBI Surveys & Studies | 1 Archived Comment | Post A Comment () »