Archive for the 'Workplace Bullying University' Category
Friday, November 27th, 2015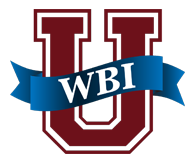 The nation's only comprehensive training in the phenomenon of workplace bullying designed for professionals — Workplace Bullying University®
An early registration discount is available until Friday Dec. 18 for the January 15-16-17 session in Boise, Idaho.
Call today to reserve your seat in the small group.
360-656-6630
Visit the WBI Workplace Bullying University website for program details. Taught personally by Dr. Gary Namie & Dr. Ruth Namie.
Designed for professionals in Healthcare, Mental Health, Counseling, Management, Higher Education, HR, Training, Consulting, and those in life & career transition.
Past graduates have said …
"Like that infernal whack-a-mole game in carnivals, bullies keep popping up in our organizations. Drs. Gary and Ruth Namie have blown the cover of off this game to show us exactly how bullying works, its devastating effects on employees and the negative impact it has to the bottom line. The Workplace Bullying Institute University program has given me the tools to protect our employees from bullying and to permanently disconnect the bully's power source. Definitely the most value-added program to organizational development I have attended in my 30-plus years in the business."-Greg H.
"I acquired a treasure trove of historical and current data on the subject, and detailed explanation of every term and dataset along with a substantial amount of supporting material for use in future presentations of my own. This is the first time in my 17 years as a professional that I attended training and walked away with a turn-key program. I highly recommend this program to any professional who wants to be on the leading edge of preventing, training, and correcting one of the leading detractors to workplace health and productivity."-D.I.G.
"I came away with an in-depth perspective that permeated my being. I received more information in 3 days than in the previous 2 years of research. Gary and Ruth Namie bring a perspective to organizational culture, leadership, and HR that can only be derived from personal experience coupled with scholarly research and study."-Richard H.
"This is more than a course, a class, or a training. It is truly an experience. I have been in HR for 20 years and I can tell you that attending WBU was one of the most fulfilling and gratifying experiences of my life. It even motivated me to seek my PhD and to write my dissertation on workplace bullying."-Nathalie D.
"This is the best training I have attended in my 22 years of being a union advocate." -Judy C.
Tags: education, Gary Namie, Ruth Namie, training, workplace bullying, Workplace Bullying Institute
Posted in WBI Education, Workplace Bullying University | No Archived Comments | Post A Comment () »
Thursday, October 22nd, 2015
Bullying in the workplace: How to recognize and address it
By Becky Parker, WDAZ-TV (Grand Forks, North Dakota), Oct. 22, 2015
Bullying is an issue people may think is reserved for the schoolyard, or even cyberspace.
But adult bullying in the workplace can have devastating effects on people's lives.
One in 10 U.S. workers say they are being bullied at their jobs.
Forty-five-percent say they've been bullied at some point during their career, and another 25% say they've witnessed workplace bullying.
We spoke to North Dakota State University professor and researcher Pam Lutgen-Sandvik, who has been studying workplace bullying for nearly 15 years. [Note: Dr. Lutgen-Sandvik is a WBI friend & colleague; her research is featured prominently in the WBI training for professionals, Workplace Bullying University.]
She defines bullying as persistent, hostile, aggressive behavior that can be verbal or non-verbal.
Research shows adult bullying can lead to depression, eating disorders, sleeping disorders, PTSD and physical ailments.
It also increases the person's stress levels and degrades their mental health by making them feel crazy, scared, and anxious.
"It also bleeds into families. When you're bullied and abused at work you go home and sometimes there's displaced aggression when you're screaming at your family members, sort of that, 'kick-the-dog' kind of thing. We do know for sure it reduces people's satisfaction with their personal lives," says Lutgen-Sandvik.
Here's what she says you should do if you are being bullied at work:
• Give it a name – define it as workplace bullying.
• Remember that it's not your fault – bullies often make the victim feel crazy.
• Get some social support – like a counselor – as bullying can degrade your mental health.
• Take some time off from work to regroup and figure out how to address the problem.
"Trying to make sense of it and figure out what you're going to do is really difficult when you're in the environment and you're constantly bombarded with this aggression and hostility. If it's possible, take some time off of work so you can kind of get your bearings and figure out, 'am I going to stay? If I'm not going to stay, what am I going to do here?'"
Many people in a bullying situation at work might want to fight back, but that can be risky.
Often, bullying situations at work involve an element of power. In the U.S., it's usually a manager, but can also be a peer.
If you do choose to fight back, Lutgen-Sandvik says the best way is to talk to someone who has power over the bully.
Bring specific examples of bullying, have other co-workers to back you up, and have a clear goal in mind.
Lutgen-Sandvik says it is not a good idea to confront the bully directly.
"They will escalate the abuse worse than it ever was before, and drive the people out of the workplace because now they've become serious threats to the perpetrator. So, directly confronting the perpetrator, it's really a very, I would say, dangerous thing to do."
###
This is Freedom from Workplace Bullies Week and October is Bullying Prevention Month and Domestic Violence Awareness Month.
Readers may click-to-purchase Adult Bullying, Pam's chronicle of her decade of research into workplace bullying, written in easy-to-understand prose.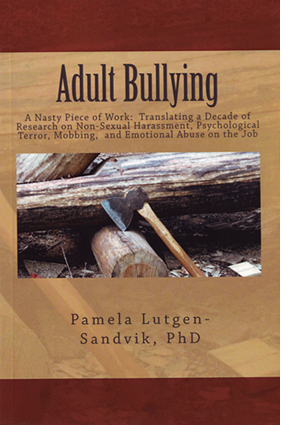 Tags: 2014 WBI U.S. Workplace Bullying Survey, abusive conduct, adult bullying, health harm, Lutgen-Sandvik, NDSU, professor, research, workplace bullying
Posted in Bullying & Health, Bullying-Related Research, Social/Mgmt/Epid Sciences, WBI Education, Workplace Bullying University | No Archived Comments | Post A Comment () »
Tuesday, October 20th, 2015
Unions are the only genuine advocates for workers worldwide. They all share the mission of protecting the safety and security of their members at work sites. European, Australian and Canadian unions keenly pay attention to members' "psychological safety." Some smart American unions are following suit (MAPE, UNAC-UHCP, IAM, NAGE). However, many are ambivalent about workplace bullying.
Here's the account of one Canadian union in Nova Scotia, the National Union of Public and General Employees (NUPGE) that developed an education program — Bully-Free Workplaces: Shifting Cultures. The union effort begins its fifth year this October and has spread to other provinces.
The program offerings include: 2-hour awareness sessions, 6-hour workshops, and 2-hour, four-module format which increases the options for employers and employees who want more information but with greater flexibility to schedule.
WBI respects this union's program because it does not stop at awareness raising.
The union also offers training for supervisors, managers, human resources, and occupational health professionals who are responsible for policies and procedures, investigations of workplace bullying, and progressive discipline.
The union also strives to heal afflicted work teams, guide bullies through self-reflection, and special assistance for bullied complainant-members.
Hats off to NUPGE/NSGEU which has reached, to date, over 14,000 participants! Read the press release presenting program facts.
###
All of the services NUPGE provides to its members and host employers can be made possible through the training of key American or Canadian Union leaders at the WBI Workplace Bullying University® by WBI founders, Drs. Ruth and Gary Namie.
Tags: education, NUPGE, shifting cultures, training, Unions, workplace bullying, Workplace Bullying University
Posted in Unions, Workplace Bullying University | No Archived Comments | Post A Comment () »
Friday, September 25th, 2015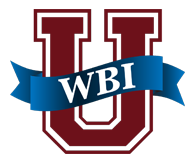 November 13-14-15
In Boise, Idaho
Workplace Bullying University® Training for Professionals
The only intensive, research-driven, comprehensive seminar in all aspects of the Workplace Bullying phenomenon in the world. Created in 2008 by the Drs. Namie, founders of the Workplace Bullying Institute. Three days of exceptional learning, an entirely unique experience.
For Leaders, Nurses, Physicians, Union advocates, Psychologists, Psychotherapists, Consultants, Trainers, HR
For a limited time, we offer an unprecedented tuition discount.
Read all the program details and testimonials at the Workplace Bullying University® website.
Tags: education, Gary Namie, Ruth Namie, seminar, training, Workplace Bullying University
Posted in Hear Ye! Hear Ye! 2, WBI Education, Workplace Bullying University | No Archived Comments | Post A Comment () »
Monday, June 29th, 2015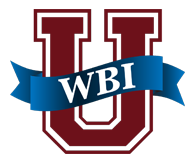 August 7-8-9 are the dates for the next public WBI Workplace Bullying University® Training for Professionals. The location is Boise, Idaho.
Since 2008, the Drs. Namie have delivered the only comprehensive research-driven training covering all aspects of the workplace bullying phenomenon. They are the pioneers and you can learn directly from them. Passed and pending legislation is part of their work. Graduates will understand the nuances of applicable laws.
This interactive, intensive 3-day session is life-changing.
It will enable professionals to add abusive conduct to their list of specializations with the take-home lessons learned.
Professionals who have attended past sessions:
– Attorneys
– Union officials
– Nurses
– Counselors/psychotherapists
– Academics
– HR professionals
– Physicians
– School bullying trainers
– Consultants to organizations
– Corporate trainers
– Former targets turned entrepreneurs
Tuition has been reduced and a deeper discount applies if registration is completed by June 30. Call today for — 360-656-6630. Visit the Workplace Bullying University website for program and registration details and testimonials from graduates.
Tags: abusive conduct training, Gary Namie, Workplace Bullying University
Posted in Workplace Bullying University | No Archived Comments | Post A Comment () »
Monday, November 3rd, 2014
If you are a bullied social worker or anyone bullied at work in Alberta, Edmonton is the place to be. Help can be found at the Alberta Bullying Research, Resources and Recovery Centre. The Centre was established by Linda Crockett. We are proud to say that this extraordinary activist attended WBI's Workplace Bullying University Training for Professionals to supplement the relevant skills and qualifications she already possessed.
Here is Linda featured in two publications — a profile by her union HSAA (Health Sciences Association in Alberta) and an article by Linda. Linda is an outspoken advocate for the workplace bullying movement — saying all the right things and always pushing to break the silence.
You can reach Linda at the Centre at 780-965-7480. Call for help or call to volunteer to help other professionals.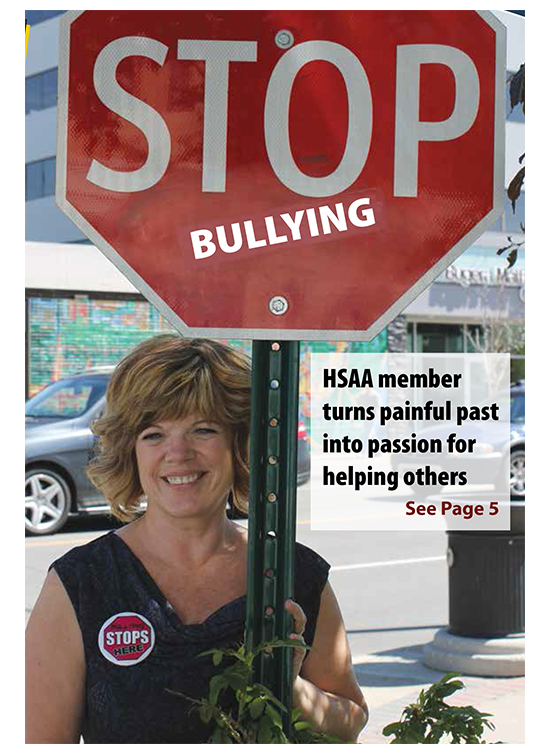 Tags: ABRC, Alberta Bullying Research Resources and Recovery Centre, Linda R. Crockett, mental health professionals, social workers, workplace bullying
Posted in Good News, Tutorials About Bullying, WBI Education, Workplace Bullying University | No Archived Comments | Post A Comment () »
Tuesday, April 15th, 2014
Here is a special piece featuring a graduate of Workplace Bullying University. Take a look.
Our team's golden boy gets a free pass for bad behaviour
Special to the Globe and Mail
4/13/14
THE QUESTION
I work at a fairly small company, and I get along fairly well with most of my colleagues – with one notable exception.
One of my team members is an extremely talented individual, but he's impossible to work with. He frequently makes inappropriate and insulting jokes about co-workers, and some of his work contains subtle digs at members of our team.
Whenever I gently try to tell him that his comments aren't appreciated, he sarcastically thanks me for my contribution as a "junior employee," and suggests it's not my place to take issue with his behaviour. However, our manager seems hesitant to discipline him because he's seen as irreplaceable. Whenever I raise an issue about his behaviour, our manager says he'll talk to my co-worker, but nothing ever changes.
Tags: heather mackenzie, The Globe and Mail, the integrity group, Workplace Bullying Institute, Workplace Bullying University
Posted in Media About Bullying, Print: News, Blogs, Magazines, Workplace Bullying University | No Archived Comments | Post A Comment () »