Archive for the 'WBI Surveys & Studies' Category
Wednesday, December 23rd, 2015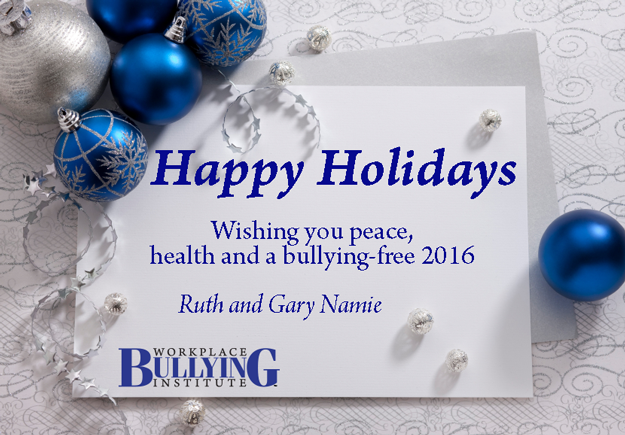 Please complete our new survey
Loading ...
Tags: Gary Namie, holiday wishes, Ruth Namie, workplace bullying, workplace bullying insitute
Posted in WBI Surveys & Studies | No Archived Comments | Post A Comment () »
Saturday, October 24th, 2015
On the heels of the WBI Freedom from Workplace Bullies Week, when we call for State lawmakers to introduce and aggressively support our anti-bullying Healthy Workplace Bill, we survey bullied individuals about their level of political activity.
Loading ...
Tags: bullied targets, political activity, workplace bullying
Posted in WBI Education, WBI Surveys & Studies | 2 Archived Comments | Post A Comment () »
Monday, February 9th, 2015
Proponents for social justice in the #BlackLivesMatter movement seek accountability. The unethical county prosecutor misled the grand jury so it would not hold officer Darren Wilson responsible for the death of Michael Brown. Hence, the hands-up gesture of surrender that Brown used that Wilson ignored as he gunned Brown down on that Ferguson, MO street. Both Wilson and the prosecutor got away without being held accountable.
The wife and surviving children of Eric Garner also seek accountability. NYPD officers Daniel Pantaleo and Justin Damico combined a chokehold and physical restraint to kill Garner on a Staten Island sidewalk while a witness filmed the episode. The grand jury there also let the officers walk away without facing consequences for taking a life.
Then, in Cleveland, 12-y.o. Tamir Rice was gunned down within seconds by Timothy Loehmann as his patrol car rushed to the public park scene where Tamir was playing by himself. Loehmann's employment record showed him to be too incompetent in handling firearms for a small city police squad before he found a job with the Cleveland PD. Rice is dead because the Cleveland PD ignored early career warning signs about Loehmann. He also failed his written entrance exam for Cleveland employment.
The headline-grabbing, media-saturation stories "surprised" white TV viewers who had no appreciation of the ongoing abuse black men face at the hands of police. They were Furthermore, because of implicit (unstated or attitudes possessed without explicit self-awareness) racism by whites, there was little sympathy for those murdered.
In fact, police violence apologists attempted to guide the public to make what is called the fundamental attribution error. Victims are degraded and treated as though they deserved their fate. The error is behind all "blame-the-victim" scenarios that we perpetuate in the aftermath of personal crimes: rape, campus sexual assault, and even murder victims.
It's a tug of war between two competing explanatory models: fixing responsibility on perpetrators of violence or seeking faults in victims that made them somehow provocative and deserving their fate.
The overlap with bullied targets is easy to see. When they inform management about their ordeal, they are not believed and retaliated against for tarnishing the perpetrators' image honed by years of ingratiating themselves to their executive sponsor. Management tends to "circle the wagons," to grow increasingly defensive. Management should care about the impact of bullying on finances as well as the impact on employee health. Instead, managers tend to deny, discount and rationalize bullying.

Another insult to bullied individuals is the sham investigation done by the employer. Organizations cannot conduct unbiased investigations of themselves. The pressures for individual survival and covering up are too great. Furthermore, HR is a management support function. Therefore, it is management investigating incidents of wrongdoing primarily by managers. Truth is sacrificed for the sake of political expediency.
When investigations conclude with an inability to assign responsibility (the infamous "she said/she said" tie) or the mischaracterization of the abuse as a "personality clash" between bully and target, targets are upset and frustrated. Their sense of justice was shattered by the bullying. A failure to find fault in perpetrators compounds the injustice.
Sadly, of the cases in which bullying has stopped, 77% of targets pay the price by losing the job they had no business losing or they transferred (11%) as if they had done something wrong. Perpetrators bully with impunity.
Bullied targets and witnesses simply want perpetrators to be held accountable.
Accountability is nearly impossible without a policy. It is also impossible when a policy exists but is not applied to all employees at all levels of the organization. Inconsistent or absent enforcement renders the policy ineffective. It is only a collection of positive words and thoughts.
Most policies are created in response to laws. Without laws that provide legal redress for bullied individuals, employers do not voluntarily address abusive conduct in comprehensive ways. They may engage in minimal training (as mandated in California starting in 2015) or be "encouraged" to adopt a policy (as suggested in TN law, effective in 2015). Strong laws will compel good policies, which in turn, make accountability more likely. Help enact the WBI anti-bullying Healthy Workplace Bill.
Tags: abusive conduct, accountability, American Psychological Association, bullied targets, Cleveland, Eric Garner, Ferguson, Gary Namie, Michael Brown, Staten Island, Tamir Rice, victims, violence, workplace bullying
Posted in Related Phenomena, WBI Education, WBI Surveys & Studies | No Archived Comments | Post A Comment () »
Monday, November 24th, 2014
Loading ...
Tags: holiday season, workplace bullying
Posted in WBI Education, WBI Surveys & Studies | No Archived Comments | Post A Comment () »
Monday, November 10th, 2014
A Nov. 7 KYW-TV, Philadelphia, segment on women bullying other women at work. Cites our 2014 WBI U.S. Workplace Bullying Survey. Several women provide good examples. Nice job on the topic by co-anchor Jessica Dean.
Tags: 2014 WBI U.S. Workplace Bullying Survey, gender, women bullied targets, women bullies, women-on-women, workplace bullying
Posted in Broadcasts: Video, TV, radio, webinars, Media About Bullying, WBI Education, WBI in the News, WBI Surveys & Studies | No Archived Comments | Post A Comment () »
Thursday, November 6th, 2014
ARE BULLIED TARGETS BELIEVED?
WBI Research/Instant Poll: 2014 – F
People who find themselves trapped in a bullying scenario can attest to the crazymaking, irrational nature of the mistreatment. Much of the harm caused by the abusive conduct stems from the shattering of targets' beliefs about fairness, fairness in the work world specifically. First, they are typically the high performers who unknowingly trigger the envy of perpetrators. Targets are aware of their work skill at a deep personal ontological level. Perpetrators come into their lives who determined to reject the agreed-upon perceptions of the targets' skills. There are objective truths, a reality.
When Bullies are Bosses
Perpetrators often use their formal (by organizational rank) or informal power to state the obviously opposite perception about technically skilled targets. Though this defies reality, they convince organizational allies to believe them and not targets.
In simplest form, it becomes a "he said, he said" deadlock. But most bullies who are bosses rely on support from higher up to add weight to their side.
The shrewdest perpetrators use ingratiation over many years to convince their executive sponsors (their enablers) that they, the bullies, are indispensable. Further, if and when they are described as abusive or destructive by one or more targets in the future, the executive will defend her or his "indispensable" perp by ignoring the target's portrayal of a friend and colleague.
Thus conditions are not favorable when targets report the facts about what they have experienced at the hands of the favored perpetrator. After all, targets do bring negative news about people who typically outrank them.
When Bullies are Coworkers
In situations where targets have multiple perpetrators, there are many individuals who can provide accounts of alleged bullying incidents that will be at odds with what targets say happened.
For targets bullied by a gang of coworkers (cliques and mobs also are apt descriptions), it is doubly negative. Not only do they outnumber the target, the target is deprived of the chance to have her or his story corroborated by coworkers. Though few coworkers ever step up to offer support to targets, some do. When coworkers are the bullies, the potential source of support is lost.
Gullible investigators (typically working inside the organization for another department) will have their judgement swayed by many against one, and believe the tale that many tell even if those versions are not true.
The Effects of Not Being Believed
For targets, it's a matter of honor and integrity. Repeated studies have shown that targets claim that their honesty is one of the major reasons for being targeted for abuse. They do seem to be very principled, non-political workers.
Tags: 2014 ip f, attribution error, believing targets, bullied targets, bullying research, credibility, Daniel Christensen, Gary Namie, instant poll, truth, workplace bullying, Workplace Bullying Institute
Posted in Tutorials About Bullying, WBI Education, WBI Surveys & Studies | 5 Archived Comments | Post A Comment () »
Thursday, October 30th, 2014
POLITICIANS AS BULLIES?
WBI Research/Instant Poll: 2014 – E
It is common knowledge that politics in 2014 America are quite polarized. No longer do politicians pretend to want to solve social problems with social policy. Interactions between politicians are characterized by ad hominem attacks. Politicians seem to be mimicking the personalized nature of bullying. The parallels between the political and workplace domains seemed obvious to us at WBI.
However, critics quickly pounce on our blog musings about the similarities. Commentators say "stick to workplace bullying and stay out of politics." They believe politics is a field of employment different than any other. The same failure to see equivalence occurred when NFL player Jonathan Martin walked away from his professional football team claiming he endured an "abusive work environment." The majority of society granted the NFL exemption from treatment as a workplace where employers bear responsibility for harm their employees suffer. It was said that the locker room is so unique it cannot be changed from its barbaric state.
Ironically, the NFL itself defined its locker room as a workplace. Discrimination laws apply. And the Martin case taught the NFL lessons about human responses to abusive conduct even when targets weigh 300 or more pounds.
In this survey, we asked 307 respondents (bullied targets and witnesses) to give their opinion about whether politics involves bullying or not. Question:


Is bullying by politicians of politicians or citizens as harmful as workplace bullying?
The percentages for each response option were:
.873 Yes, always
.094 Sometimes, only when the less powerful person suffers serious harm
.023 No, political harm is not the same as harm to non-politicians
.001 Never, bullying tactics define politics
The results show that the community of bullied targets does not grant exemptions easily. They conclude that bullying and abuse are the same regardless of venue. Apologists for politicians' outrageous anti-social behavior towards one another like to say that politics is a special type of workplace, immune from social codes and restrictions that apply to everyone else.
But bullied targets do not see the separation into distinct domains. Anti-abuse rules for everyone should apply everywhere — in families, in schools, in churches, in workplaces and among occupants of our legislative chambers.
© 2014 Workplace Bullying Institute. Do not use without proper citation of WBI as the source.

See the complete set of WBI Studies
Tags: 2014 IP e, bullying research, Gary Namie, instant poll, negative conduct, polarization, political behavior, politicians, Workplace Bullying Institute
Posted in Tutorials About Bullying, WBI Education, WBI Surveys & Studies | 1 Archived Comment | Post A Comment () »
Monday, October 27th, 2014
Loading ...
Posted in WBI Education, WBI Surveys & Studies | 3 Archived Comments | Post A Comment () »
Friday, October 17th, 2014
I hate talking points (propaganda) for American-style capitalism. For example, some of the most loathsome soundbites are: All hail entrepreneurship (Shark Tank); Everyone can live the American Dream if they only try hard enough; Ignore gross inequality – having a tiny elite group of individuals owning a disproportionate share of all wealth is good for the country; and Support for our neediest (compassion) is a sign of weakness.
By extension, this mindset also espouses these lies about workplace bullying … People who claim to to be "abused" at work must have provoked their mistreatment … they (targets) undermine virtuous employers … and if, and only if, someone gets hurt at work, perpetrators never intended to harm, it was all a misunderstanding or misperception by the recipient.
The WBI 2014 IP-B study countered the myth about intentionality of bullies completely. We asked bullied targets — not the public, not managers, not bullies, not HR, not owners, not executives, not corporate defenders — and they overwhelmingly stated that their bullies acted with deliberateness (82%) and knew they were harming their victims. When we add in the perpetrators acting on behalf of others, an astonishing 91% were deliberate and malicious. Only 2% of bullies were "accidental" perpetrators.
To conclude that if targets are hurt by bullying, their hypersensitivity was to blame, is a damnable distortion of reality.
What matters most is that bullied targets are hurt by decisions made by perpetrators to behave negatively. Lies about bullies' stated intent matter not one whit. Effects and consequences trump intent. [Using the same logic, we at WBI also state that bullying is not simply based on whether or not negative behaviors occurred but if those acts happened AND they caused the targeted person adverse consequences. We allow for behaviors to have different effects on different recipients allowing for individual differences in the ability to cope and respond to negative actions. If there is genuinely no harm (immediate or latent) to the target, then bullying did not occur.]
Another arena in which the same blame-the-recipient scenario pops up is the modern political apology. Rather than say "I'm sorry," thus accepting personal responsibility, politicos say "I'm sorry if you felt hurt by anything I did," displacing blame on the victim of wrongdoing. And we blithely, through our inept media reporters, accept this sleight of hand by not challenging it.
Lawyer-cartoonist Ruben Bolling perfectly captured the shifting of responsibility for intentionality in the strip below — The "R" Word — with NFL overtones.
(more…)
Tags: bullies, bully, deliberate, intention, malice, perpetrator, workplace bullying
Posted in Tutorials About Bullying, WBI Education, WBI Surveys & Studies | 1 Archived Comment | Post A Comment () »
Thursday, October 16th, 2014
REVERSING EMOTIONAL ABUSE
WBI Research/Instant Poll: 2014 – D
WBI credits friend and researcher Loraleigh Keashly for coining the term Emotional Abuse at Work as synonym for workplace bullying. Her 1998 review of the then-current scientific literature was aptly titled. Bullying always impacts the targeted person's emotional state. The effect is always negative, not positive. In most cases, individuals are either happy or emotionally neutral at work, content to do their jobs. Bullying comes unannounced and uninvited. It compels immediate attention. All of one's cognitive resources are deployed to cope with the psychological assault.
In worst cases, there is trauma that must be dealt with. In all cases, the target is stigmatized and social relations with coworkers strained. At the very least, the onset of bullying is a sad event. The once neutral or happy person is forced into negativity. At the outset, attempts to think "happy, positive thoughts" are overwhelmed by the negative reality imposed by the abuser.
Bullying triggers distress, the human stress response in reaction to the bully's tactics, the stressors. If left unabated, prolonged distress leads to stress-related diseases, all sorts of health complications.
The most effective stress mitigation factor is social support. Validating human support can reverse the deleterious effects of emotional abuse. Isolation exacerbates the distress. Sometimes learning about the first-time experience can alleviate distress. After all, bullying is rather ambiguous when first experienced.
WBI research (WBI IP 2013-H) found that for 33% of bullied targets, their bullying at work was the first abuse ever experienced in their lives. Those people will take the longest to recognize Only 19% were bullied in school; they may or may not recognize the bullying happening to them at work because they might have expected bullying to have ended with school ending. Sadly, 44% of targets have a prior history with abuse from family experiences. Prior history alone does not guarantee instant recognition and labeling of the emotional abuse happening to them, but their visceral reactions become cues to recognition. They have "been there before" with respect to the emotional negativity; they have known fear, apprehension and anxiety.
WBI Instant Polls are online single-question surveys that rely upon self-selected samples of individuals bullied at work (typically 98% of any sample). No demographic data are collected. Our non-scientific Instant Polls accurately depict the perceptions of workers targeted for bullying at work as contrasted with the views of all adult Americans in our scientific national surveys.
For this survey, we asked 820 respondents (bullied targets and witnesses) to describe sources of positivity for bullied targets shrouded in negative emotions.
Question: As a bullied target, who made you feel better, changed your negative emotions to positive or at least less negative?
(more…)
Tags: 2014 IP d, bullied targets, bullying research, coping strategies, coworkers, family, friends, Gary Namie, instant poll, social support, workplace bullying, Workplace Bullying Institute
Posted in Tutorials About Bullying, WBI Education, WBI Surveys & Studies | 2 Archived Comments | Post A Comment () »