Archive for the 'Workplace Bullying Laws' Category
Friday, July 29th, 2016
By Darrell Smith, Sacramento Bee, July 28, 2016
with WBI commentary inserted
Sacramento jurors, in a $1.1 million verdict Wednesday, sided with a state corrections employee who claimed her higher-ups did little or nothing to protect her from threats made by one of her subordinates, then retaliated against her when she complained of the threatening treatment.
The threat was a death threat, of bringing a gun to work, not a minor act.
Jurors awarded Onalis Giunta, a supervising dental assistant at Folsom State Prison when she filed the 2012 lawsuit against California Department of Corrections and Rehabilitation, $990,000 for noneconomic losses and mental suffering along with another $107,000 in past and future earnings, in their verdict, court documents showed.
It was not known Thursday whether there were plans to appeal the verdict.
Giunta in the lawsuit characterized the man identified in court documents as Serge Protsyuk, as a problem employee who often ran afoul of California Department of Corrections and Rehabilitation rules and regulations.
Protsyuk was a former coworker of the newly promoted supervisor, Giunta. He never respected her authority and was coddled by two male supervisors of hers who undermined her role. He aggressively disobeyed rules that he felt did not apply to him, daring her to discipline him.
Giunta alleged that the employee threatened to bring a gun to work after disciplinary action in November 2010. Protsyuk followed the alleged gun threat with months of more intimidation, the lawsuit alleged, forcing Giunta to take a yearlong, doctor-ordered stress leave.
Yes, you read that correctly. After he threatened revenge on her for an unfavorable evaluation by bringing a gun to work, the warden and security staff who had been told of the threat that night planned to search him the next morning when Protsyuk arrived for work. NO ONE ever called Giunta that night to warn her of the threat made against her. Protsyuk was frisked the next morning and allowed to go work as usual. Giunta was told about the threat AFTER she saw Protsyuk walk past her office window! No suspension. No punishment. And Giunta had to work with him for another six months without his removal.
Giunta was traumatized. All the while, the warden had decided that no violation of the strict zero-tolerance Violence Prevention Policy had occurred. No investigation of Giunta's complaint about the violation was undertaken.
Tags: bullying, California Department of Corrections & Rehabilitation, Folsom State Prison, Gary Namie, Lawrance Bohm, Onalis Giunta, Protsyuk, Robert Boucher, trial, violence policy
Posted in Expert Witness, Fairness & Social Justice Denied, Rulings by Courts, WBI in the News | No Archived Comments | Post A Comment () »
Wednesday, March 30th, 2016
On Jan. 1, 2015 California started mandating training in Abusive Conduct for supervisors (in employers with 50 or more workers). The definition was lifted verbatim from the WBI Healthy Workplace Bill (HWB) authored by Suffolk University Law Professor David Yamada.
WBI and its national network of volunteer State Coordinators has been lobbying for the complete HWB since 2001. Timid, business lobby-yoked state lawmakers are afraid to take a stand for workers who suffer health harm as the result of workplace bullying. Of course, the HWB does not include the phrase "workplace bullying." The term used is "abusive conduct."
California and Utah have mandated training. Utah's 2015 legislation is superior to California's, though it applies only to state agency employers. Utah requires that employers describe how they will provide protections to employees. California, at first, simply mandated the training. And the topic of abusive conduct, which is still legal until the full HWB is enacted into law in California, is to be added to mandated training on the employer's commitment to the prevention and resolution of illegal sexual harassment. Oops. This is confusing to nearly everyone. Many HR types hardly understand the power of having protected group status membership or not.
We worry that employees will conflate bullying (abusive conduct) with illegal forms of harassment, including exposure to a hostile work environment. They will falsely believe that abusive conduct is currently illegal because of the pairing with illegal forms of discrimination that violate state and federal laws.
Now comes an April 1 amendment to California Fair Employment and Housing Act Regulations. The section below shows the intended clarification regarding the content of the Abusive Conduct related to Government Code section 12950.1(g)(2).
The good news: the deleterious impact on the targets of abusive conduct must be discussed. Naturally, the negatives for the employer are to be included.
The bad news: the regulation lifts most of our HWB definition of abusive conduct but omits the critical element describing that personal health harm can be manifested. And time devoted to abusive conduct training should be "meaningful." Still vague.
Read the amended, clarifying regulation for yourself.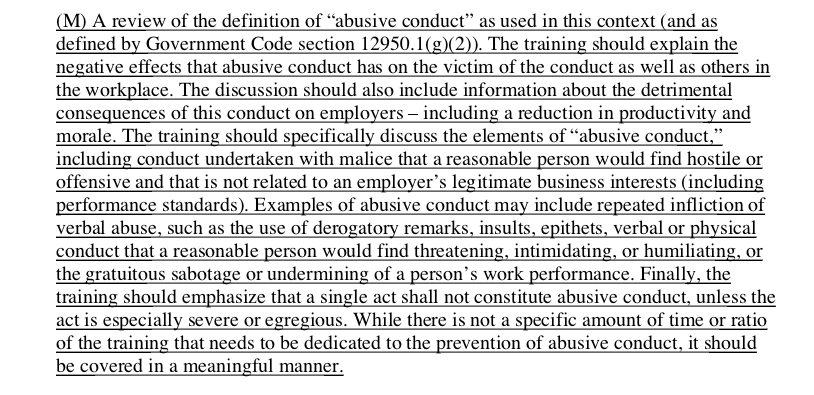 Tags: abusive, workplace bullying
Posted in Healthy Workplace Bill (U.S. campaign), Workplace Bullying Laws | No Archived Comments | Post A Comment () »
Tuesday, March 29th, 2016
Today, well ahead of the expected June decision, the U.S. Supreme Court split 4-4 in the decision regarding Friedrichs v. California Teachers Association.
The SCOTUS is short one member since the passing of Antonin Scalia. The tie vote allows previous appellate court verdicts to stand. As described in earlier posts — here and here, the cocky anti-union plaintiffs were so confident of using SCOTUS to bankrupt public sector unions that they asked both trial and appellate courts to rule against them so they could expedite the process to get to the Supreme Court.
Justice Scalia's death was unexpected. His vote would have delivered an anti-union majority vote. The tie, however, allows the lower court decision (made at plaintiffs' request with no evidence ever presented as in a real trial) to stand. The anti-union plaintiffs lose. Unions win (for now). Here is the entire SCOTUS decision.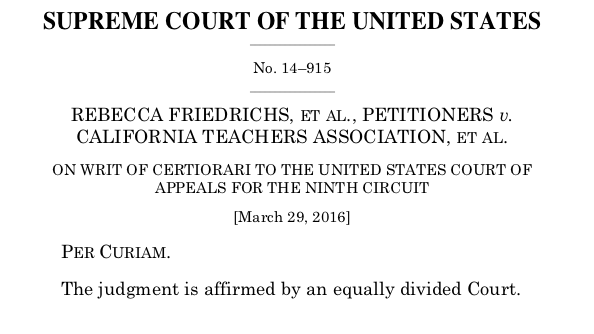 (more…)
Tags: bullying unions, Friedrichs, SCOTUS, Unions
Posted in Rulings by Courts, Unions | No Archived Comments | Post A Comment () »
Wednesday, February 24th, 2016
By Pam Raphael
Bullying has gotten a lot of attention . Most of the focus has been on children but we know that children learn from us, how we treat each other and how we use power in relationship.
It is urgent that we are taking bullying in school seriously. It is not a developmental stage or a phase of childhood it is a lack of better tools, understanding, accountability and developmental capability. It is not something to be ignored until they grow out of it.
Children who are targeted suffer terribly and the trauma can follow them for decades. Some turn their trauma inward leading to low self esteem, under-performance and depression. While others channel it outwardly and become bullies themselves.
When childhood bullies grow up without accountability meted by their peer groups, families or the criminal justice system they go to work and continue their pattern of abuse.
That is why American workplaces have a bullying problem.
According to a recent national survey conducted by the Workplace Bullying Institute, 72% of people polled reported knowledge that workplace bullying exists and 27% have current or past experience with it. That means one in four people have experienced it and three out of four of us have witnessed it.
It is not a surprise, then, that 93% of those same people polled would also support legislation that makes it unlawful.
When an adult has been abused so relentlessly that they have severe anxiety and can no longer work we assume they must have been weak willed, mentally ill or have a "victim mentality."
But that is looking in the wrong direction. The distorted thinking and mental illness of people who are emotionally undeveloped, unstable or disordered and who are inflicting abuse on others is the problem. People who lack the self awareness, emotional capability and communication skills resort to blame and scapegoating.
Because there is no law defining it or how to respond, most employers ignore the perpetrator to protect liability allowing workplace bullying to continue. It is a failure of will that we can and must demand be changed. Bullying is abuse.
Here is something you can do today to start change happening here in WA state:
There are two companion bills that were introduced this legislative session in Washington State that need your support:
Senate Bill 6532 and House Bill 2894 would "provide legal recourse for employees who have been harmed, psychologically, physically, or economically, by being deliberately subjected to abusive work environments; and provide legal incentives for employers to prevent and
respond to mistreatment of employees at work."
Please contact your legislators as well as the sponsors of the bills and let them know you appreciate their consideration of these bills because you see the urgency to do something to help employees and employers in WA State. Find a comprehensive list of legislators here – http://healthyworkplacebill.org/states/wa/
Let them know you believe this demands our attention now.
We need legislation to protect employees from the worst kinds of bullying and abuse the kind that ruins lives and protect the bottom line and liability of employers who do the right thing.
We have to change our belief that abuse is normal and inevitable. When someone is bullied on the job that is not correcting a problem it is the problem.
Washington is leading the nation in so many ways. Let's lead the nation in modeling healthy workplaces. The costs to everyone are too high to ignore it any longer.
BIO:
Pamela Raphael is a Mental Health Counselor in Seattle specializing in the effects of traumatic workplace and relationship abuse. She is a former board president of Real Change and is currently serving as the WA State Coordinator for the Healthy Workplace Bill, a national initiative of the Workplace Bullying Institute.
Tags: Healthy Workplace Bill, Pam Raphael, Washington State, workplace bullying, Workplace Bullying Institute
Posted in Healthy Workplace Bill (U.S. campaign), Workplace Bullying Laws | No Archived Comments | Post A Comment () »
Sunday, February 14th, 2016
Everyone bullied knows how the absence of any state laws to expressly prohibit bullying and abusive conduct has made it difficult to get justice from their employers. Without a law such as state and federal statutes that make discriminatory misconduct illegal, employers can and do nothing.
Does anyone believe American employers, government or private sector, would voluntarily stumble upon the mistreatment women routinely face in the contemporary workplace and create protections for those employees? Not likely. Only laws get employer attention and compel compliance. That's why employer policies are in place. In fact, most employers overreact to even a hint of harassment.
Try going to HR to simply clarify your experiences that may or may not be harassment. That's why you went down to HR to explore what happened to you and what can be done informally. Bam! HR opens a complaint on your behalf, though you greatly fear reprisals. HR is minimizing exposure to legal risks for them without regard to your safety.
Yet, when you claim to be "bullied," you are not believed or discounted or ignored or made to believe you caused your fate. Why? Bullying is still legal. Bullies can, and do, bully with impunity. And once you make the employer aware, the retaliation, often worse than the original sins, worsens your situation. Your health declines from a host of stress-related complications — cardiovascular, gastrointestinal, neurological changes that affect emotional regulation and memory, and mental health, often ending in trauma.
This is why having a law passed soon is essential for worker safety.
WBI thanks Rhode Island State Senator Frank Ciccone, a lifelong friend of labor, for sponsoring SB 2377 on Feb. 10, 2016. He and the other four co-sponsors deserve our thanks and praise.
SB 2377 also put Rhode Island on the map. It became the 30th state to ever introduce our anti-bullying Healthy Workplace Bill.
Now we pray for a public hearing in the Senate Labor Committee. May the Ocean State be the first to make the bill state law.
Bill details and contact information for all sponsors and committee chairs dwell on the Rhode Island State Page of the Healthy Workplace Bill website.
Tags: Frank Ciccone, Healthy Workplace Bill, Rhode Island, SB 2377, Workplace Bullying Institute
Posted in Healthy Workplace Bill (U.S. campaign) | 2 Archived Comments | Post A Comment () »
Thursday, January 28th, 2016
Eleven Washington State House Representatives have sponsored the anti-bullying Healthy Workplace Bill (HB 2894). Another 11 state Senators of both parties are sponsoring the Senate companion bill (SB 6532). The HWB defines health-harming abusive conduct and makes it unlawful for employers to allow it to happen.
This marks the return of the legislation to Washington, absent since 2012. Washington was the 4th state to ever introduce the legislation.
If you live in the state, please visit the WA State Page at the Healthy Workplace Bill website. Contact information for all bill sponsors and committee members can be found there. You can also volunteer to testify or help the State Coordinator get the bill through committees and floor votes in a very short legislative session.

Tags: abusive conduct, Healthy Workplace Bill, workplace bullying, workplace bullying insitute
Posted in Healthy Workplace Bill (U.S. campaign), Workplace Bullying Laws | No Archived Comments | Post A Comment () »
Thursday, January 21st, 2016
On January 11, SCOTUS heard oral arguments in a case designed to overturn a 39-yr. precedent involving public sector unions. Since the 1977 Abood decision, government workers had the right to enjoy all the benefits of union membership without paying all of the dues owed to unions. That is, Abood split dues into "fair share" fees and expenses ostensibly not related to collective bargaining and the mere protection of workers' rights. Non-members were to pay only the bargaining-related fees.
The Friedrichs case found 10 California teachers who wanted to claim the right to refuse to pay any dues, even costs associated with protecting their workplace rights. Right-wing, anti-union groups used the case to bring to the pro-corporate/pro-employer Roberts SCOTUS to put what might be the final nail in the coffin of the strongest unions left in the country, public-sector unions.
You can read the NY Times SCOTUS watcher, Linda Greenhouse, as she interprets the oral testimony.
Details of the case can be read here.
You can read the entire transcript here.
Or listen to the audio of the oral arguments.
Audio clip: Adobe Flash Player (version 9 or above) is required to play this audio clip. Download the latest version here. You also need to have JavaScript enabled in your browser.
Decision is expected in June.
Tags: agency fees, collective bargaining, fair share fees, freeriding, Friedrichs v. California Teachers Association, government workers, public sector, public sector unions, teachers, U.S. Supreme Court, Unions
Posted in Rulings by Courts | No Archived Comments | Post A Comment () »
Monday, January 11th, 2016
A most important 80 minutes of oral argument is heard today, Jan. 11 2015 by the nine justices of the U.S. Supreme Court. The case is Friedrichs v. California Teachers Association (CTA), Docket No. 14-915.
The case was brought by a group of California teachers who don't want to pay any fees to unions for anything. Essentially, they want to enjoy benefits of having a contract — wages and other work condition protections (alas, not full protection from bullying yet) that are negotiated — for free. The CTA represents teachers in public schools; public school districts are government employers.
There are 39 years of history dealing with this issue. A May 1977 unanimous U.S. Supreme Court (SCOTUS) decision, Abood v. Detroit Board of Education [431 U.S. 209 (97 S.Ct. 1782, 52 L.Ed.2d 261)] divided union dues into two parts. One part is costs associated with providing union workers with a contract, the collective bargaining agreement with the employer, and its administration, the subsequent services of representation at adversarial meetings with management, grievances and arbitrations. Fees for those services are called "fair use" or "agency" fees. In other words, Abood said that non-members who benefit from union services have to help cover costs.
The second part of union dues is "expenditures for ideological causes not germane to its duties as a collective-bargaining." This has been dubbed the political activity of the union, including overt politicking, lobbying lawmakers for specific legislation and financial support for political candidates. People who object to this part of union activity can refuse to pay that portion of dues to the union.
In the specific case before SCOTUS today, Friedrichs, plaintiffs are challenging California law. If a teacher wants to protest the political portion of the CTA dues, she or he can give the union a written objection — an "opt out" declaration. That portion of the contested fee is then refunded or a portion is reduced. The anti-union plaintiffs want that teacher to have to "opt in" and agree to the fees. Plaintiffs frame the issue as one of free choice and the First Amendment (whether or not the non-administrative fees constitute speech).
The Case's Strange Origin
The union-busting groups, typically with a libertarian or right-wing political bent, found this case in order to abolish the last bastion of unionization in America — in government. The private sector unionization rate is now under 7%. If government, public sector, unions can be further weakened, the U.S. labor movement will be effectively gutted.
According to Maryann Parker, SEIU Associate General Counsel, speaking at an American Constitution Society expert panel, Friedrichs v. California Teachers Association made it to the Supreme Court in two fast years without any facts associated with the case. The reason is that the plaintiffs filed the case in both District and Appellate courts and asked for a verdict against them just so they could take the case to the Supreme Court. Since the union-busting groups are well funded, the case raced to the Roberts pro-employer court. Unlike any other case, no facts have been argued in court before a judge or jury. No discovery of evidence on either side was completed.
The only facts have come via several amicus briefs written by advocates for both sides. The list of briefs filed before the Nov 6, 2015 deadline can be found here. On the anti-union side are organizations such as Pacific Legal Foundation
National Right to Work Legal Defense Fund, Mackinac Center for Public Policy, Goldwater Institute, Former California Governor Pete Wilson, Cato Institute and the NFIB. On the defense side, briefs were filed by Kamala Harris, California Attorney General (who also argued the case before SCOTUS today), California State Employees Association, and several California and New York cities that, as government employers, described the benefit of having a unionized workplace.
The other unusual aspect of the origin of the case is that the five majority justices in the 2014 Harris v. Quinn decision called for a reconsideration of Abood. In other words, the doctrine of stare decisis, of letting earlier case decisions stand, is betrayed by calling out for a case to challenge Abood.
The Anti-Union Argument
Here's the argument by the union busters in Friedrichs v. California Teachers Association. Collective bargaining in the government context is inherently political because government worker wages are public funds. Therefore, if the government compels "fair use" fees collection, it is a violation of a worker's First Amendment rights. It forces an association with a political cause (bargaining with the state) with which a worker might not agree.
Abood had separated the functions of the union, administrative work versus political activity. Fredrichs says that ALL activity of unions is political.
If the Supreme Court decision agrees with Friedrichs, it will overturn Abood. It will end the practice of a "union shop." The absence of any requirement to pay unions for services rendered will make it too easy to be a "free rider." In turn, unions will wither and die from not having a budget.
Remember, even with a negotiated union contract, employers — only governments in this case — are entitled to all rights over workers which are not covered in the contract. With this line of reasoning, without unions, employers will have unchallenged, unbridled control over workers with no ability to contest mistreatment or abuse.
The undermining of unions, the only organizations that advocate for rights of workers, will contribute to the Republican-led state legislatures' move to right to work laws. Currently 25 states have right to work provisions. The RTW advocates characterize states where unions represent government workers as "forced-unionism" states.
Advocates for "free bargaining" states label the right to work as the "right to work for less." The quality of life for workers in RTW states is lower than in public sector union states — lower wages, more low wage jobs, higher rates of workers without health insurance, higher poverty and infant mortality rates. And if working in a RTW state, you have a 54% higher chance of dying at work.
Finally, by gutting union budgets, opponents will also thwart overt political activity by unions. Unions support Democratic candidates. Union-busting groups are partisan. By reversing Abood, the law of the land since 1977, Republicans will be able to reduce funding for Democratic opponents. However, this is not a realistic fear by Republicans. It seems closer to a zero-sum game in which Republicans want to eliminate all opposition. According to the Center for Responsive Government, 2015-16 interest group donations to the upcoming elections finds that labor has given to date a total of $19.2 million compared to $839.6 given by donors other than unions. Non-labor groups outspend unions by 43.7 times. A successful Friedrichs SCOTUS decision would nearly eliminate the influence of unions on candidates. Rights of workers will be driven further underground buried in a corporate post-Citizens United deluge of cash.
If the Court does not overturn Abood, the plaintiffs could still win a partial victory. Its a nuanced part of the practice in California. Contained in the fees charged to non-members are other expenses not involved with the costs of collective bargaining. If a teacher wants to protest that portion of the fee, she or he can give the union written objection — an opt out declaration. That portion of the contested fee is refunded or a portion is reduced. The anti-union plaintiffs in the case also argue that an employee should have to "opt in" and agree to the fees.
Stay tuned. The decision should be announced in June.
###
You can listen to the oral arguments and read the transcript of Jan. 11 hearing here.
Tags: agency fees, collective bargaining, fair share, free-riding, Friedrichs v. California Teachers Association, right to work, U.S. Supreme Court, Unions
Posted in Fairness & Social Justice Denied, Rulings by Courts, Unions | No Archived Comments | Post A Comment () »
Friday, October 23rd, 2015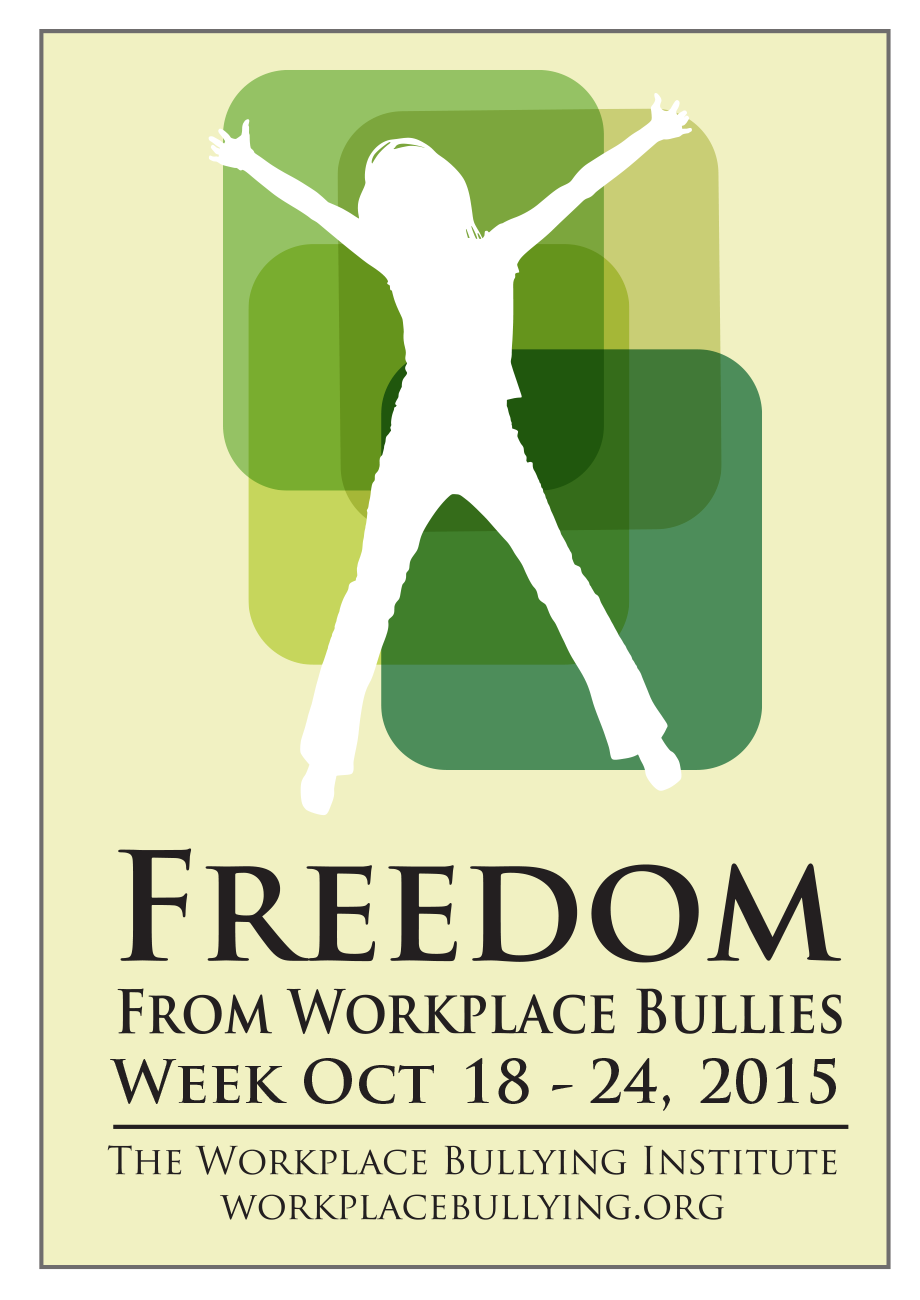 The Workplace Bullying Institute thanks the following West Virginia cities for acknowledging Freedom from Workplace Bullies Week and the necessity of caring for those subjected to abusive conduct at work.
It's a call to action for employers in those cities and the entire state.
Anmoore
Charleston
Elkins
St. Albans
Star City
Welch.
Click to view the Proclamations.
West Virginia has a history of introducing the WBI anti-bullying Healthy Workplace Bill. It has yet to be enacted into law.
The time has come. 2016 provides the state lawmakers a chance to show who they represent.
Tags: abusive conduct, Freedom from workplace bullies week, Healthy Workplace Bill, WBI, West Virginia, workplace bullying, Workplace Bullying Institute
Posted in Freedom Week, Healthy Workplace Bill (U.S. campaign), WBI Education | No Archived Comments | Post A Comment () »
Wednesday, October 21st, 2015

Gary Namie introduction

SEIU International President Mary Kay Henry

NAGE: Nat'l President David Holway & VP Greg Sorozan

AFGE: Local President Charletta McNeill


Tags: abusive conduct, AFGE, Freedom from workplace bullies week, Healthy Workplace Bill, NAGE, seiu, Unions, workplace bullying
Posted in Freedom Week, Healthy Workplace Bill (U.S. campaign), Unions, WBI Education, Workplace Bullying Laws | No Archived Comments | Post A Comment () »