Archive for the 'Workplace Bullying Laws' Category
Thursday, January 28th, 2016
Eleven Washington State House Representatives have sponsored the anti-bullying Healthy Workplace Bill (HB 2894). Another 11 state Senators of both parties are sponsoring the Senate companion bill (SB 6532). The HWB defines health-harming abusive conduct and makes it unlawful for employers to allow it to happen.
This marks the return of the legislation to Washington, absent since 2012. Washington was the 4th state to ever introduce the legislation.
If you live in the state, please visit the WA State Page at the Healthy Workplace Bill website. Contact information for all bill sponsors and committee members can be found there. You can also volunteer to testify or help the State Coordinator get the bill through committees and floor votes in a very short legislative session.

Tags: abusive conduct, Healthy Workplace Bill, workplace bullying, workplace bullying insitute
Posted in Healthy Workplace Bill (U.S. campaign), Workplace Bullying Laws | No Archived Comments | Post A Comment () »
Thursday, January 21st, 2016
On January 11, SCOTUS heard oral arguments in a case designed to overturn a 39-yr. precedent involving public sector unions. Since the 1977 Abood decision, government workers had the right to enjoy all the benefits of union membership without paying all of the dues owed to unions. That is, Abood split dues into "fair share" fees and expenses ostensibly not related to collective bargaining and the mere protection of workers' rights. Non-members were to pay only the bargaining-related fees.
The Friedrichs case found 10 California teachers who wanted to claim the right to refuse to pay any dues, even costs associated with protecting their workplace rights. Right-wing, anti-union groups used the case to bring to the pro-corporate/pro-employer Roberts SCOTUS to put what might be the final nail in the coffin of the strongest unions left in the country, public-sector unions.
You can read the NY Times SCOTUS watcher, Linda Greenhouse, as she interprets the oral testimony.
Details of the case can be read here.
You can read the entire transcript here.
Or listen to the audio of the oral arguments.
Audio clip: Adobe Flash Player (version 9 or above) is required to play this audio clip. Download the latest version here. You also need to have JavaScript enabled in your browser.
Decision is expected in June.
Tags: agency fees, collective bargaining, fair share fees, freeriding, Friedrichs v. California Teachers Association, government workers, public sector, public sector unions, teachers, U.S. Supreme Court, Unions
Posted in Rulings by Courts | No Archived Comments | Post A Comment () »
Monday, January 11th, 2016
A most important 80 minutes of oral argument is heard today, Jan. 11 2015 by the nine justices of the U.S. Supreme Court. The case is Friedrichs v. California Teachers Association (CTA), Docket No. 14-915.
The case was brought by a group of California teachers who don't want to pay any fees to unions for anything. Essentially, they want to enjoy benefits of having a contract — wages and other work condition protections (alas, not full protection from bullying yet) that are negotiated — for free. The CTA represents teachers in public schools; public school districts are government employers.
There are 39 years of history dealing with this issue. A May 1977 unanimous U.S. Supreme Court (SCOTUS) decision, Abood v. Detroit Board of Education [431 U.S. 209 (97 S.Ct. 1782, 52 L.Ed.2d 261)] divided union dues into two parts. One part is costs associated with providing union workers with a contract, the collective bargaining agreement with the employer, and its administration, the subsequent services of representation at adversarial meetings with management, grievances and arbitrations. Fees for those services are called "fair use" or "agency" fees. In other words, Abood said that non-members who benefit from union services have to help cover costs.
The second part of union dues is "expenditures for ideological causes not germane to its duties as a collective-bargaining." This has been dubbed the political activity of the union, including overt politicking, lobbying lawmakers for specific legislation and financial support for political candidates. People who object to this part of union activity can refuse to pay that portion of dues to the union.
In the specific case before SCOTUS today, Friedrichs, plaintiffs are challenging California law. If a teacher wants to protest the political portion of the CTA dues, she or he can give the union a written objection — an "opt out" declaration. That portion of the contested fee is then refunded or a portion is reduced. The anti-union plaintiffs want that teacher to have to "opt in" and agree to the fees. Plaintiffs frame the issue as one of free choice and the First Amendment (whether or not the non-administrative fees constitute speech).
The Case's Strange Origin
The union-busting groups, typically with a libertarian or right-wing political bent, found this case in order to abolish the last bastion of unionization in America — in government. The private sector unionization rate is now under 7%. If government, public sector, unions can be further weakened, the U.S. labor movement will be effectively gutted.
According to Maryann Parker, SEIU Associate General Counsel, speaking at an American Constitution Society expert panel, Friedrichs v. California Teachers Association made it to the Supreme Court in two fast years without any facts associated with the case. The reason is that the plaintiffs filed the case in both District and Appellate courts and asked for a verdict against them just so they could take the case to the Supreme Court. Since the union-busting groups are well funded, the case raced to the Roberts pro-employer court. Unlike any other case, no facts have been argued in court before a judge or jury. No discovery of evidence on either side was completed.
The only facts have come via several amicus briefs written by advocates for both sides. The list of briefs filed before the Nov 6, 2015 deadline can be found here. On the anti-union side are organizations such as Pacific Legal Foundation
National Right to Work Legal Defense Fund, Mackinac Center for Public Policy, Goldwater Institute, Former California Governor Pete Wilson, Cato Institute and the NFIB. On the defense side, briefs were filed by Kamala Harris, California Attorney General (who also argued the case before SCOTUS today), California State Employees Association, and several California and New York cities that, as government employers, described the benefit of having a unionized workplace.
The other unusual aspect of the origin of the case is that the five majority justices in the 2014 Harris v. Quinn decision called for a reconsideration of Abood. In other words, the doctrine of stare decisis, of letting earlier case decisions stand, is betrayed by calling out for a case to challenge Abood.
The Anti-Union Argument
Here's the argument by the union busters in Friedrichs v. California Teachers Association. Collective bargaining in the government context is inherently political because government worker wages are public funds. Therefore, if the government compels "fair use" fees collection, it is a violation of a worker's First Amendment rights. It forces an association with a political cause (bargaining with the state) with which a worker might not agree.
Abood had separated the functions of the union, administrative work versus political activity. Fredrichs says that ALL activity of unions is political.
If the Supreme Court decision agrees with Friedrichs, it will overturn Abood. It will end the practice of a "union shop." The absence of any requirement to pay unions for services rendered will make it too easy to be a "free rider." In turn, unions will wither and die from not having a budget.
Remember, even with a negotiated union contract, employers — only governments in this case — are entitled to all rights over workers which are not covered in the contract. With this line of reasoning, without unions, employers will have unchallenged, unbridled control over workers with no ability to contest mistreatment or abuse.
The undermining of unions, the only organizations that advocate for rights of workers, will contribute to the Republican-led state legislatures' move to right to work laws. Currently 25 states have right to work provisions. The RTW advocates characterize states where unions represent government workers as "forced-unionism" states.
Advocates for "free bargaining" states label the right to work as the "right to work for less." The quality of life for workers in RTW states is lower than in public sector union states — lower wages, more low wage jobs, higher rates of workers without health insurance, higher poverty and infant mortality rates. And if working in a RTW state, you have a 54% higher chance of dying at work.
Finally, by gutting union budgets, opponents will also thwart overt political activity by unions. Unions support Democratic candidates. Union-busting groups are partisan. By reversing Abood, the law of the land since 1977, Republicans will be able to reduce funding for Democratic opponents. However, this is not a realistic fear by Republicans. It seems closer to a zero-sum game in which Republicans want to eliminate all opposition. According to the Center for Responsive Government, 2015-16 interest group donations to the upcoming elections finds that labor has given to date a total of $19.2 million compared to $839.6 given by donors other than unions. Non-labor groups outspend unions by 43.7 times. A successful Friedrichs SCOTUS decision would nearly eliminate the influence of unions on candidates. Rights of workers will be driven further underground buried in a corporate post-Citizens United deluge of cash.
If the Court does not overturn Abood, the plaintiffs could still win a partial victory. Its a nuanced part of the practice in California. Contained in the fees charged to non-members are other expenses not involved with the costs of collective bargaining. If a teacher wants to protest that portion of the fee, she or he can give the union written objection — an opt out declaration. That portion of the contested fee is refunded or a portion is reduced. The anti-union plaintiffs in the case also argue that an employee should have to "opt in" and agree to the fees.
Stay tuned. The decision should be announced in June.
###
You can listen to the oral arguments and read the transcript of Jan. 11 hearing here.
Tags: agency fees, collective bargaining, fair share, free-riding, Friedrichs v. California Teachers Association, right to work, U.S. Supreme Court, Unions
Posted in Fairness & Social Justice Denied, Rulings by Courts, Unions | No Archived Comments | Post A Comment () »
Friday, October 23rd, 2015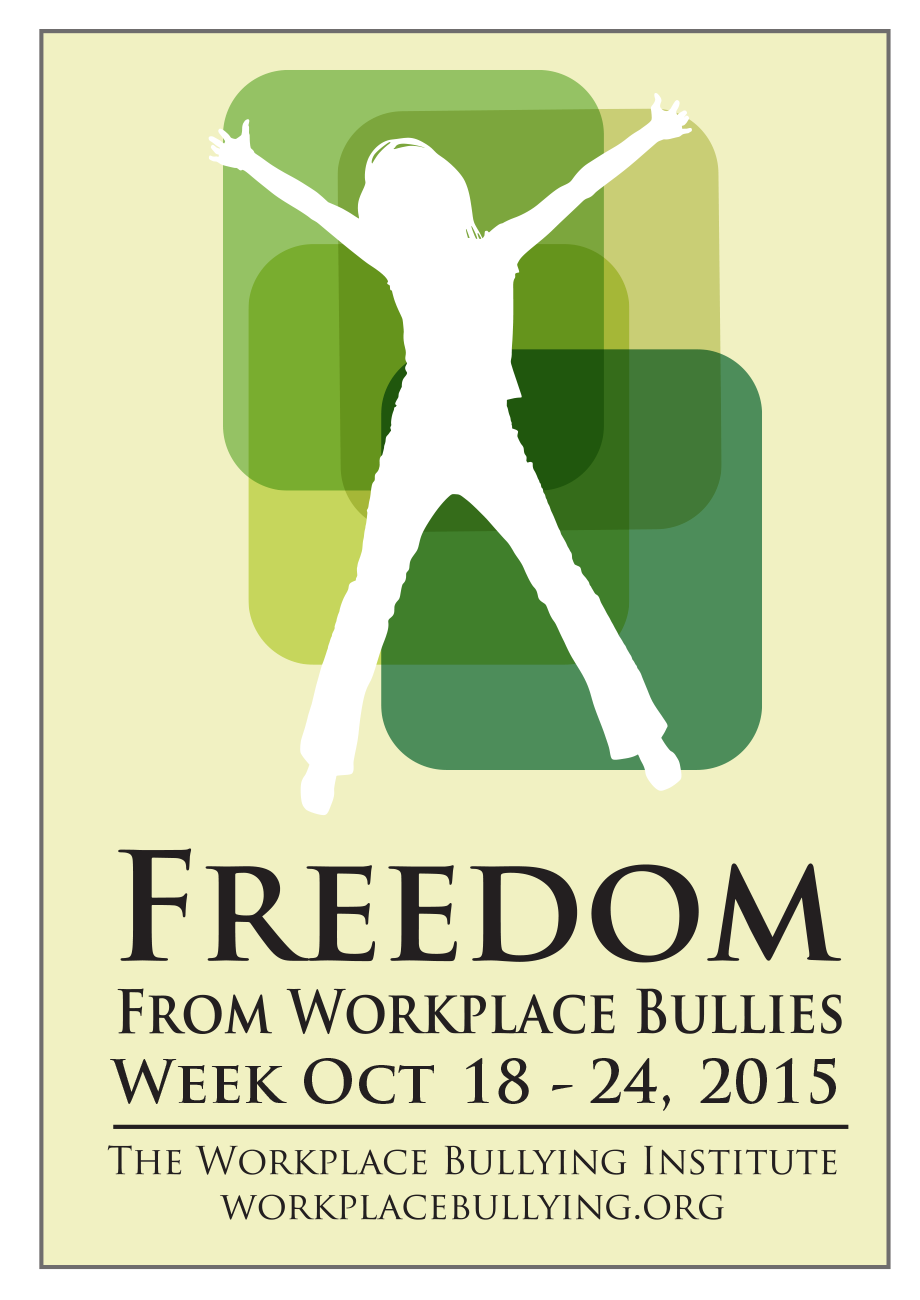 The Workplace Bullying Institute thanks the following West Virginia cities for acknowledging Freedom from Workplace Bullies Week and the necessity of caring for those subjected to abusive conduct at work.
It's a call to action for employers in those cities and the entire state.
Anmoore
Charleston
Elkins
St. Albans
Star City
Welch.
Click to view the Proclamations.
West Virginia has a history of introducing the WBI anti-bullying Healthy Workplace Bill. It has yet to be enacted into law.
The time has come. 2016 provides the state lawmakers a chance to show who they represent.
Tags: abusive conduct, Freedom from workplace bullies week, Healthy Workplace Bill, WBI, West Virginia, workplace bullying, Workplace Bullying Institute
Posted in Freedom Week, Healthy Workplace Bill (U.S. campaign), WBI Education | No Archived Comments | Post A Comment () »
Wednesday, October 21st, 2015

Gary Namie introduction

SEIU International President Mary Kay Henry

NAGE: Nat'l President David Holway & VP Greg Sorozan

AFGE: Local President Charletta McNeill


Tags: abusive conduct, AFGE, Freedom from workplace bullies week, Healthy Workplace Bill, NAGE, seiu, Unions, workplace bullying
Posted in Freedom Week, Healthy Workplace Bill (U.S. campaign), Unions, WBI Education, Workplace Bullying Laws | No Archived Comments | Post A Comment () »
Monday, October 19th, 2015
An Op-Ed essay by a Maine advocate for the WBI Healthy Workplace Bill published during Freedom From Workplace Bullies Week 2015.
By Deborah B. Mason, Bangor (ME) Daily News, Oct. 19, 2015,
Why do we need a healthy workplace law? I know. I am a teacher. I worked in a public school in Maine. And I experienced bullying in my workplace. I know from personal experience that there are no protections from bullies and no legal rights for victims of bullying.
Today the respect for the profession of teaching is at the lowest point I have ever seen. I have been an educator for nearly 30 years, including 19 years as a classroom teacher. I am one of hundreds of Maine teachers with stories of abuse. I know the fear and pain of not having a safe place to go in the workplace. I know how prolonged stress affects a person's physical health. I know the frustration and pain of realizing that human, labor and civil rights laws do not apply to teachers who are bullied in their workplace. I know the pain of contemplating suicide as a way to stop the pain.
Studies from the Workplace Bullying Institute show that 49 percent of working American adults report having been bullied or witnessed bullying at work. This can include verbal abuse, offensive conduct (including nonverbal conduct) that is threatening, humiliation, intimidation or work interference – sabotage – that prevents work from getting done.
In 72 percent of the cases, the bully outranks the person he or she is bullying. The bullying of teachers is pervasive in schools, yet the law of sovereign immunity protects public employers and sets up a barrier to equal rights for public employees.
In 2013, state Rep. Sara Gideon sponsored LD 1201, "An Act To Protect Employees From Abusive Work Environments." The Legislature converted the bill into and passed a resolve, "Directing the Worker's Compensation Board to Study the Issue of Addressing Psychological and Physical Harm to Employees Due to Abusive Work Environments."
But Gov. Paul LePage vetoed the bill, stating that the worker's compensation program already provides benefits to injured employees, and he didn't understand what such a study would accomplish.
Yet, the bullying of teachers continues. There are too many stories of teachers who have been bullied and who are still being bullied, but have no recourse. Many teachers are not able to come forward: They are teachers who are trying to save their jobs and careers, or have found out they were not allowed a worker's compensation claim and had to take a disability retirement or early retirement. They are teachers who cannot risk a review of their status or more abuse.
I am able to sign my name to this OpEd because I no longer have anything to lose because I am no longer a teacher. I hope to see another healthy workplace bill in Augusta soon. And this time, I hope we will not see "dead" printed across the bill.

All Maine employees deserve freedom from workplace bullying.
###
Deborah B. Mason of Albany Township is certified as a Maine professional teacher for grades 7-12 and is currently employed by the United States Postal Service.
WBI thanks Deborah B. Mason
Tags: Deborah B. Mason, Freedom from workplace bullies week, Healthy Workplace Bill, workplace bullying, Workplace Bullying Institute
Posted in Freedom Week, Healthy Workplace Bill (U.S. campaign), WBI Education, Workplace Bullying Laws | No Archived Comments | Post A Comment () »
Monday, August 3rd, 2015
Workplace bullying is endemic in healthcare and education, including higher education, for reasons discussed elsewhere at the WBI website.
Now comes a story of an inept community college administration, at Weatherford College, unwilling to even consider complaints from a long-time faculty member. Professor Karen Lopez Austen about the abusive conduct she faced in the Athletics Department.
The WBI 2014 U.S. Workplace Bullying Survey revealed that most employers deny complaints or justify them. In Austen's case, they never considered the evidence she had assembled for the Board. An outsider can easily infer that the Administration, led by Kevin Eaton, had decided to not renew Dr. Austen's contract, despite the legitimacy of her complaint.
So, as was her right, Dr. Austen filed a civil suit claiming sex and ethnicity discrimination along with retaliation for daring to hold the college accountable to operate lawfully and according to internal policies. She probably, like most bullied targets, especially highly educated individuals, expected to find justice in court. We constantly warn targets that justice is rarely found and almost never in court.
Remember, the college administrators refused to hear her complaint. The trial court judge did not allow Dr. Austen her day in court. Judges possess ultimate authority to grant access to their courts.
Judges have two avenues to end cases before they start — dismissal or summary judgement. Targets are typically plaintiffs who sue their employers, the defense. The defense files the motion to dismiss. Dismissal is based on technical details of the case that have not been addressed ensuring that the law cannot relieve the problem — e.g., "including lack of subject matter jurisdiction, lack of personal jurisdiction, improper venue, insufficiency of process, insufficiency of service of process, failure to state a claim upon which relief can be granted, or failure to join a necessary party."
When the defense files a motion for summary judgement, it is saying that if the parties don't dispute the material facts of the case, then the judge can determine whether the defendant is liable based simply on the pre-trial evidence assembled, if any exists. In the case Austen v. Weatherford College, there was no such agreement. The civil case was all about the disputed facts. The college said nothing happened. Dr. Austen said otherwise. Guess what. The judge in Federal District Court agreed with the college and threw out the case based on summary judgement.
In most cases, financially strapped terminated and unemployed targets go no further. But Dr. Austen filed an appeal with the federal Fifth Circuit. It was no surprise that the Appellate Court upheld (agreed with) the pro-administration ruling of summary judgement. Remember, no entity had yet considered the evidence that plaintiff Austen had put together to prove her complaint of discrimination.
Austen's attorney, Mark Robinett, at the Austin Texas firm of Brim, Arnett & Robinett. P.C., was shocked by the 5th Circuit Court's ruling of a 3-judge panel (Judges Smith, DeMoss and Higginson). What he found appalling was that his client's evidence did not matter. In a general letter to the public, attorney Robinett wrote:
… the Court of Appeals held that her evidence did not matter, that she had failed to present a "prima facie" case or "rebut the legitimate reasons for termination (sic nonrenewal) offered by the college. The court also holds, as if it has some basis for making a fact finding (which is a "no-no" for an appellate court) that "(t)he six serious, documented instances of misconduct from the semester after the settlement agreement were the primary reasons for termination (sic nonrenewal).
Robinett, quoting the appellate court's ruling stated
What matters is not the truth of the underlying complaints and reports, however, but rather whether the college could legitimately have relied on them in deciding to terminate Austen. The college could do so.
In fact, the college president, Eaton, mis-characterized Dr. Austen's complaint to the Board. The Board never heard Austen's perspective.
The injustices Austen faced was compounded by the 5th Circuit with its pro-institutional bias that claimed evidence did not matter. Robinett concluded that the court was doing a trial jury's job without the benefit of live testimony or assessing the credibility of the Weatherford College administrators.
Read Attorney Robinett's letter countering the assertion that Dr. Austen was not renewed for just reasons. She never got to tell her side of the story to an impartial court.
Read the ruling by the three judges that back legal scholarship and justice by decades.
Justice in America?
Tags: 5th Circuit Court of Appeals, abusive conduct, dismissal, justice, Karen Lopez Austen, summary judgement, Weatherford College, workplace bullying
Posted in Fairness & Social Justice Denied, Related Phenomena, Rulings by Courts, WBI Education, Workplace Bullying Laws | 1 Archived Comment | Post A Comment () »
Monday, April 27th, 2015
Pennsylvania state Rep. Mark Cohen, along with seven co-sponsors, introduced HB 1041 on April 21, 2015.
PA joins other states — Texas, New York, Massachusetts, and Minnesota — with versions of the WBI anti-bullying Healthy Workplace Bill (HWB) that include employer liability for enabling a health-harming abusive work environment.
In 2015 alone 11 bills have been introduced in 10 states. Since 2003, 29 states and two territories have introduced some version of the HWB.
If you are a Pennsylvanian, go to the State Page for all contact information for lawmakers — co-sponsors and the key members of the House Labor and Industry Committee. Thank sponsors and encourage committee leaders to hold a public hearing for the bill, HB 1041.
Tags: abusive conduct, HB 1041, Healthy Workplace Bill, law, legislation, Pennsylvania, Rep. Mark Cohen
Posted in Healthy Workplace Bill (U.S. campaign), Workplace Bullying Laws | 6 Archived Comments | Post A Comment () »
Sunday, April 12th, 2015
For some reason, Vermont lawmakers sponsoring a paid sick leave bill appropriated our the WBI bill name – Healthy Workplace Bill – in 2015. We support paid sick leave, but care most about ending health-harming abuse in the workplace.
Now comes Vermont Senate bill S 143 –An act relating to protecting employees from abuse at work. WBI thanks sponsor Sen. Anthony Pollina. Tenacious Vermont State Coordinator, Sherrill Gilbert, has worked for several sessions to have the HWB not only introduced but heard in committee. Despite the formation of a task force in past years, the historically progressive state has failed to take definitive action against this scourge.
The bill has been referred to a Senate committee on which a former sponsor sits. We await scheduling of a public hearing at which Vermonters can testify about the need for a state law.
In 2015, VT S 143 is the 9th bill to be introduced across the states. Vermont joins Texas, New York, Massachusetts and Minnesota with complete versions (with employer liability) of the Healthy Workplace Bill.
Details of the bill can be found at the VT State Page of the Healthy Workplace Bill website.
Tags: Anthony Pollina, Gary Namie, Healthy Workplace Bill, S 143, Sherrill Gilbert, Vermont, workplace abusive conduct, workplace bullying
Posted in Healthy Workplace Bill (U.S. campaign), Hear Ye! Hear Ye! 2, Workplace Bullying Laws | No Archived Comments | Post A Comment () »
Thursday, April 2nd, 2015
WBI: Justice is about to be meted out in Madison Wisconsin three years after Philip Otto took his own life though he was close to retirement from the WI Department of Corrections. Otto had transferred from one facility to another. The climate at Oakhill represented by the actions of several coworkers and led by one supervisor was extremely toxic and unwelcoming. After his death, investigations were conducted leading to terminations of key coworkers. The supervisor was allowed to retire. One captain was reinstated. Other workers filed an appeal with the Wisconsin Employment Relations Commission asking for reinstatement. The hearing examiner Stuart Levitan heard testimony during 16 days in 2013. I reviewed the record and testified on behalf of the State concluding that the fired employees (Rachel Koester, Matthew Seiler and Justyn Witscheber) had demeaned, harassed, bullied and disgraced their peer, Mr. Otto, who had transferred recently to their facility — new to the place, but a veteran corrections officer. Progress in the case reported below is that the hearing examiner ruled Rachel Koester was justly terminated, according to a pending decision released on March 4. … Gary Namie
###
Examiner: Firing of Oakhill Guard Following Suicide Was Proper
By Dee J. Hall, Wisconsin State Journal, March 31, 2015
A hearing examiner has determined that the state Department of Corrections properly fired a guard who allegedly shunned and belittled a fellow officer who later committed suicide.
Philip Otto, 52, killed himself in March 2012 after what his wife, daughter and co-workers described as a pattern of bullying by fellow employees at Oakhill Correctional Institution.
The 20-year DOC veteran's death came just months before he planned to retire with full benefits, his wife, Peggy Otto, told the State Journal in 2012.
In the proposed decision dated March 4, Wisconsin Employment Relations Commission examiner Stuart Levitan found the firing of correctional officer Rachel Koester was justified. He cited an internal investigation launched after Otto's death in which dozens of Oakhill staffers were interviewed.
Tags: bullying, coworkers, Oakhill, Philip Otto, Rachel Koester, suicide, Wisconsin Dept of Corrections
Posted in Rulings by Courts, Target Tale, WBI Education | 1 Archived Comment | Post A Comment () »