Archive for the 'Workplace Bullying Laws' Category
Wednesday, December 4th, 2013
By Mike Schlicht – The Buffalo (NY) News – Opinion – Dec. 3, 2013
Workplace Bullying Imposes on High Costs in New York
This past October, 32 villages, towns, cities and counties across New York State issued proclamations recognizing "Freedom From Workplace Bullies Week" and acknowledging that protection from abusive work environments should apply to every worker and not be limited to legally protected class status based only on race, color, national origin, age, sex or disability.
Workplace bullying is four times more prevalent than sexual harassment and employees have no recourse in law but to quit their jobs. In today's jobless recovery, that is not possible. Employees will stay as long as they can in abusive work environments, incurring mental and physical health ailments to provide for their families until they become disabled, take their own lives or strike out in acts of workplace violence. Targets of workplace bullying can incur severe depression, anxiety, increased risk of strokes and heart attacks, and symptoms consistent with post-traumatic stress disorder.
Employers also incur costs from workplace bullying. Studies continually show that workplace bullying reduces productivity, incurs higher sick leave and health insurance costs, turnover and talent flight. Sadly, most employers do not understand these costs. Even if they wanted to reprimand, transfer or fire a bully for these specific actions, they face a wrongful termination suit.
Employees often seek out the services of human resources, believing that this department will help them address workplace bullying only to find that in most cases it does nothing or makes the situation worse. A recent survey found that 31 percent of human resources personnel are also bullied in the workplace. If they can't help themselves, it is assured nothing can be done about it in current law.
Workplace bullying is defined as repeated, health-harming mistreatment in the form of verbal abuse, threats, intimidation, humiliation and work sabotage that undermines business and services. Targets of workplace bullying are employees who are bullied because they bring positive attributes to their employer and work environment. They are employees who are productive, talented, educated and team players. Workplace bullies are threatened by these traits so they make the workplace environment abusive and toxic in hope that the person will leave. When this doesn't happen, the stakes rise and more egregious and aggressive tactics are used to impair the employee's effectiveness that will assure the employee develops health issues.
For the lucky ones, an early retirement may be a way out, but at substantial cost. The unlucky may become partially or permanently disabled, under-employed or unemployable due to health impairments. Thirty-two communities have spoken. It is time to be free from workplace bullies.
Mike Schlicht is co-director of the New York Healthy Workplace Advocates and co-coordinator for the Healthy Workplace Bill Campaign in New York State.
Tags: a 4965, buffalo news, Healthy Workplace Bill, Mike Schlicht, New York, NYHWA, s 3863, workplace bullying
Posted in Healthy Workplace Bill (U.S. campaign) | No Archived Comments | Post A Comment () »
Friday, November 29th, 2013
By Linda K. Greaves, Tulsa World Business Viewpoint, November 28, 2013
In a time when senseless and random acts of physical violence are occurring in our schools, the workplace, our shopping malls, airports and other public places, a more insidious and pervasive intentional violence is coming to the forefront — bullying.
In recent days, the NFL has been in the spotlight because of workplace bullying. Richie Incognito, a nine-year veteran of the Miami Dolphins was suspended for "conduct detrimental to the team" in a flurry of accusations that he bullied teammate Jonathan Martin, using racial slurs and making threats of violence against him. Martin left the team, seeking medical relief from the alleged bullying.
Bullying is defined by the Equal Employment Opportunity Commission as repeated and unwanted actions by an individual or group intending to intimidate, harass, degrade or offend. It is also an abuse or misuse of power. Bullying is psychological violence.
Legal remedies for bullying in the workplace are limited. If bullying is predicated on a protected class such as Race/Color, Religion, Sex (Gender, Pregnancy, and Sexual) National Origin/Ethnicity, Equal Pay/Compensation, Genetic information, Disability and/or Age, as defined by Title VII and the Oklahoma Anti-Discrimination Act, the victim may have a cause of action against the bully or against the employer who knowingly allows or perpetuates bullying. Other torts such as Intentional Infliction of Emotional Distress may be available to the victim, as well.
Twenty-five states, including Oklahoma, have attempted to pass some version of the model Healthy Workplace Bill since 2003, but to date, none have passed. This year, 11 states are actively considering enacting the bill, with 16 bills pending in 2013. Depending on each state's proposed version, it generally gives a cause of action to an individual whose health is harmed by "health-harming cruelty" at work against the individual bully and/or the employer.
Bullying in the workplace not only has the potential for affecting a business through litigation, but it most certainly affects the productivity and bottom lines of companies on a daily basis. Employees who are bullied report stress, lower self-esteem, depression, anxiety, digestive upsets, high blood pressure, insomnia and post-traumatic stress disorder. As a result of these physical and psychological symptoms, absenteeism goes up; some employees cut back on work; some consider quitting; some take it out on innocent bystanders; others will steal from the job, sabotage work, damage equipment, damage the personal property of the bully or even contemplate or carry out a violent act.
Employers should be proactive. There are preventive measures that an employer can take. The employer should (1) immediately adopt and enforce a zero tolerance policy, (2) address the bullying behavior ASAP, (3) hold an awareness campaign, (4) stop and seek help if you are the bully, (5) model effective professional behavior, and (6) use facilitation, mediation or design a group for intervention/team building.
###
Linda K. Greaves serves as of counsel for the Tulsa office of Crowe & Dunlevy in the firm's Labor & Employment Practice Group.
Follow the full NFL story in the Category list in the sidebar: NFL: Jonathan Martin
Tags: Healthy Workplace Bill, legislation, workplace bullying
Posted in Healthy Workplace Bill (U.S. campaign), Media About Bullying, NFL: Jonathan Martin, Print: News, Blogs, Magazines, WBI in the News, Workplace Bullying Laws | No Archived Comments | Post A Comment () »
Monday, November 25th, 2013
By Kerri L. Stone, Associate Professor of Law, Florida International University, Huffington Post, Nov. 16, 2013
In the wake of the Richie Incognito suspension, a big question that we need to ask is…why? With bullying so rampant in society, why has this story captivated the public imagination? And why did the Dolphins decide to suspend him that Sunday afternoon after initially defending him in a statement released just that morning?
The first question is easy. Bullying is linked in the public imagination to juvenile, perhaps inconsequential schoolyard behavior that "strong" adults should be able to tolerate, especially when they are large, famous professional football players. No one has cared much about workplace bullying among adults, and this has been a mistake. Until now. In the NFL.
The harm that workplace bullying does to organizations' morale, productivity, and efficiency is well-documented. It erodes employees' feelings of wellbeing and dignity in the workplace. Each day in this country, untold numbers of people falter and/or leave their employment because of corrosive workplace bullying. But until a famous football player took a stand and walked away from fame and success, no headlines screamed to us about this phenomenon.
Tags: adult, bullying, Healthy Workplace Bill, incognito, kerri l. stone, workplace bullying
Posted in Healthy Workplace Bill (U.S. campaign), Media About Bullying, NFL: Jonathan Martin, Print: News, Blogs, Magazines, WBI in the News | No Archived Comments | Post A Comment () »
Monday, November 25th, 2013
By Ellen Pinkos Cobb, Isoceles Group, Nov. 18, 2013
With alleged harassment on the Miami Dolphins football team, there is increased discussion of workplace bullying. It's about time. The United States lags behind many countries in this area.
As a start: think about sexual harassment. It's not done. And yet, it was done, flagrantly, constantly, with a wink and a nod, until not that long ago. It still happens, but less, and public perception has changed. In the United States, workplace bullying has been found to be four times more prevalent than sexual harassment.
A 2010 Zogby International survey of adult Americans (commissioned by the Workplace Bullying Institute) showed that 35% reported personally being bullied at work. Of the respondents, 64% supported having laws to protect workers from "malicious, health-harming abusive conduct" committed by bosses and co-workers.
Despite these findings, an employee can still be a target of bullying in the workplace in the US and have no legal recourse. State and federal laws do not cover acts of harassment unless based on characteristics covered by law, such as race, religion, gender, or disability. Numerous states have introduced anti-bullying legislation drafted by Suffolk Law School Professor David Yamada. None have been enacted. Yet.
The US would do well to look around the world. Numerous countries have legislation to protect workers from bullying. Canada, Australia, and nine European countries have enacted anti-bullying laws, including Sweden, France, and Denmark, and Serbia. As of January 1, 2014, an Australian worker who believes he or she has been bullied may apply to the Fair Work Commission for an investigation and if cause is found, have an order issued to the employer to stop the bullying.
Costs to workplaces in which bullying is allowed to occur include loss of skill and experience when a worker leaves due to being bullied, lowered employee morale, medical and insurance costs, and harm to a company's reputation. Research has shown that workers who witness bullying can have a stronger urge to quit than those who experience it firsthand.
Under workplace health and safety laws, employers have a duty of care to provide a safe work environment for employees. This requirement is often interpreted to require ensuring persons in the workplace are both mentally and physically safe at work and increasingly interpreted to require a workplace free from bullying.
It is time for public perception on workplace bullying to change. Maybe, with attention focused on the complexities of the Dolphins situation, it will.
Ellen Pinkos Cobb, Esq.is Senior Regulatory & Legal Analyst for the The Isosceles Group.
###
Follow the full NFL story in the Category list in the sidebar: NFL: Jonathan Martin
Tags: David Yamada, ellen pinkos cobb, Healthy Workplace Bill, Miami Dolphins, NFL, The Isosceles Group, workplace bullying, Workplace Bullying Institute
Posted in Healthy Workplace Bill (U.S. campaign), Media About Bullying, NFL: Jonathan Martin, Print: News, Blogs, Magazines, WBI in the News | 1 Archived Comment | Post A Comment () »
Wednesday, November 20th, 2013
By Torii Bottomley, Cambridge (MA) Chronicle, Nov. 19, 2013
Workplace bullying has become rampant because it is driven by a buyer's market in jobs.
In my professional practice of teaching English as a Second Language in a public school, not only was I bullied and removed from my position in front of my hysterical students without reason, but I am increasingly experiencing highly qualified colleagues and students who talk about bullying scenarios. When I ask whether they are referring to sexual harassment, age discrimination or cause-based performance issues, they more frequently refer to being abused by not having access to shared information, harassment, intimidation and threats of poor evaluations and isolation.
I have highly performing colleagues who have lost their jobs or have been forced to quit due to a narcissistic manager who has enjoyed virtually unrestricted rein in threatening job loss or career damage.
Tags: Healthy Workplace Bill, legislation, Massachusetts
Posted in Healthy Workplace Bill (U.S. campaign), Media About Bullying, Print: News, Blogs, Magazines, Workplace Bullying Laws | No Archived Comments | Post A Comment () »
Monday, November 11th, 2013
By Lindsey Allen, WDRB-TV, Louisville, Kentucky, Nov. 11, 2013
Are laws needed to protect workers from bullying in the workplace? 25 states have filed legislation pushing for a "Healthy Workplace Law". Should Kentucky be next?
Andrea Deacon describes herself as a successful business woman but while employed by a fortune 100 company in Louisville, she claims she became a victim, of workplace bullying. The Workplace Bullying Institute defines it as: "Repeated health harming abusive conduct committed by bosses or co-workers"
Deacon said, "When it has an impact on your health mentally and emotionally that's how you know it goes above and beyond what is, or should be considered acceptable in the workplace."
Deacon says she climbed her way to the top through hard work but her career came to a screeching halt when the bullying started.
"Underhanded threats about removing you from the team…It made you feel helpless because when I reached out for help there was none given," she said.
She says the human resources department couldn't help because she wasn't harassed because of her gender, religion, race or sexual orientation.
Tags: Andrea Deacon, Healthy Workplace Bill, workplace bullying, Workplace Bullying Institute
Posted in Broadcasts: Video, TV, radio, webinars, Healthy Workplace Bill (U.S. campaign), Media About Bullying, WBI in the News, Workplace Bullying Laws | No Archived Comments | Post A Comment () »
Monday, November 11th, 2013
By Jim Smith, WCBS-AM 880, New York City, Nov. 10, 2013
Bill Would Give Workplace Victims Legal Recourse
Audio clip: Adobe Flash Player (version 9 or above) is required to play this audio clip. Download the latest version here. You also need to have JavaScript enabled in your browser.
In the wake of the alleged harassment on the Miami Dolphins football team, the spotlight has returned to workplace bullying.
As WCBS 880's Jim Smith reported, an effort has been under way for years to pass legislation on the subject in Albany.
The Healthy Workplace Bill has been lobbied for by Mike Schlicht of New York Healthy Workplace Advocates for seven years. He hopes to give victims legal recourse from bullying.
"It's verbal abuse, work sabotage, and work interference, so it can be one or any combination of the three," Schlicht said.
Schlicht said he was a victim personally, and said the effort was also designed to have companies put forth clear policies to prevent bullying.
"We don't need to tolerate this environment, and certainly there's no good reason for it," Schlict said. "There's better ways to manage and allow people to do their job."
Schlicht said half the New York State Assembly is onboard with the bill, but more votes are needed in the state Senate.
Suffolk University law professor David Yamada first drafted the bill in 2001. A similar bill was advanced in California the following year, and New York organized next.
The bill has since been introduced in more than half the U.S. states, according to a news release. Healthy Workplace bills have already passed committee votes in New York, as well as Connecticut, Illinois and Washington, and has passed the House in New York for a study-only bill, the release said.
Follow the full story in the Category list in the sidebar: NFL: Jonathan Martin
Tags: Healthy Workplace Bill, Jonathan Martin, Mike Schlicht, New York Healthy workplace Advoactes
Posted in Healthy Workplace Bill (U.S. campaign), NFL: Jonathan Martin, WBI in the News, Workplace Bullying Laws | No Archived Comments | Post A Comment () »
Tuesday, October 29th, 2013
By Gary T. Clarke and Gloria Moore, Stikeman Elliott LLP, Mondaq.com, October 27, 2013.
British Columbia Workers' Compensation Act (the WCA) has been amended to specifically to address bullying and harassment in the workplace. The amendments became effective July 1, 2012, and broadened the circumstances in which an employee may be entitled to compensation for a mental disorder (see our previous blog post here).
The amendments provide that a worker may be entitled to compensation under the WCA if the mental disorder is predominantly caused by a significant work-related stressor, including bullying or harassment, or a cumulative series of significant work-related stressors, arising out of and in the course of the worker's employment. Previously, a worker was only entitled to compensation for a workplace stress-related illness if the mental stress arose from an "acute reaction to a sudden and traumatic event".
In addition to broadening the definition of mental disorder, WorkSafeBC's Board of Directors has approved three Occupational Health and Safety Policies (the Policies) that clarify the role of employers, supervisors and workers in the prevention of workplace bullying and harassment in Sections 115, 116 and 117 of the WCA. The Policies take effect on November 1, 2013 and WorkSafeBC expects that all parties – employers, supervisors and workers – will be compliant with them by this date.
Tags: Bill 14, British Columbia, workers' compensation, workplace bullying
Posted in Laws Outside the U.S., Workplace Bullying Laws | No Archived Comments | Post A Comment () »
Monday, October 21st, 2013
Victoria stood up for her bullied coworkers. As a result, she put herself in the line of fire. But instead of retreating, Victoria is now part of a growing movement to end workplace bullying, the Healthy Workplace Bill Campaign.
From Executive Producer Irshad Manji, Moral Courage TV tells the stories of people who are fighting corruption in their workplace, faith, or culture. Whether they are standing up to a bully, breaking up a gang, or simply seeking truth, the heroes of our stories refuse to fail.
For other inspiring stories, subscribe to their YouTube Channel: http://www.youtube.com/MoralCourageChannel
Tags: Healthy Workplace Bill, irshad manji, moral courage project, moral courage TV, workplace bullying
Posted in Broadcasts: Video, TV, radio, webinars, Good News, Healthy Workplace Bill (U.S. campaign) | No Archived Comments | Post A Comment () »
Tuesday, October 1st, 2013
We certainly agree with WBI supporter Cindy Waitt who drew the analogy between the Congressional shutdown of the U.S. Government on October 1 and the exercise of workplace bullying.
More important is the damage lawmaker dysfunction creates for prospects of legislation to improve the lives of working people. At the federal level, a group representing approximately one-fifth of the House of Representatives refuses to do the pro forma act of funding existing services. And that group wants to actually deprive food stamp recipients (SNAP program enrollees) of the ability to fend off hunger (now euphemistically called "food insecurity").
In states with legislatures under Republican party control, the agenda matches exactly ALEC's pro-business/anti-government privatization, voting restrictions, union-breaking, reversals in women's rights, and anti-poor austerity laws.
You may consider the Congressional minority akin to the proud principled revolutionary hero Thomas Paine or see them as self-aggrandizing radicals abdicating their responsibility to serve the American people.
Regardless, the following facts are true:
• only saboteurs seek jobs with the sole purpose of dismantling the institutions they work for
• given the success of federal and state lawmakers at reversing progressive laws that expanded individuals' rights and once regulated businesses, the trend is clearly harmful to individual workers
• liars deliberately confuse bills with laws to suggest something final is still in draft form. Bills are introduced, debated, voted on and sent to the executive's desk (governor or president) for affirmation or veto. With the executive's signature a bill becomes law. The Affordable Care Act (aka, Obamacare) is law. It stopped being a bill when the president signed it on March 23, 2010. In fact, some laws face constitutional challenges. The U.S. Supreme Court affirmed the law's legality in 2012. It is not a "bill" as the radical minority derisively refers to it. Implementation began Oct. 1, 2013.
• the contempt for colleagues and president shown by radical lawmakers in the core group that insisted on the shutdown models a level of disrespect and intimidation previously reserved for the abusive relationships, schools and workplaces — there no longer is the pretense of civility and decency
• those arguing against expanding health care insurance to millions who could not qualify beforehand evidently have never suffered ill health without access to doctors, clinics or hospitals — shame on them
• denial of health care, food, unemployment insurance to the neediest in our society is cruel and sadistic — again, a shame for America the world cannot understand
• leaders of the federal shutdown have admirers in state houses and those state radicals will never support, and probably will work hard to kill, adult anti-bullying legislation, our Healthy Workplace Bill.
The political climate has become even chillier for hopes of passing our innovative attempt to restore a modicum of justice to American workplaces where abuse thrives. Small groups of legislators who are dedicated to depriving citizens of existing rights loathe extending any rights.
The fact that our bill has not yet passed into law depends on many factors, the least of which is the terminology of the bill itself. The HWB is a workers' rights bill. The appetite for bills like the HWB will now be at an all time low.
Reasonable lawmakers outnumber the destructive radicals. Brave lawmakers must call out their obstructing peers. The brave can make miracles happen. Sadly, bravery is in short supply.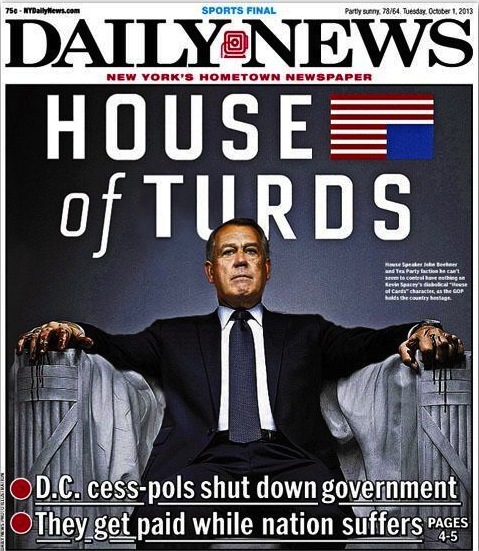 Tags: Congress, government shutdown, incivility, workplace bullying
Posted in Commentary by G. Namie, Fairness & Social Justice Denied, Healthy Workplace Bill (U.S. campaign), Workplace Bullying Laws | 1 Archived Comment | Post A Comment () »