September 20th, 2013
Research: Gun ownership and firearm-related deaths
For those who still value empirical science …
Two physician-researchers from the NY Univ School of Medicine and Columbia University College of Physicians and Surgeons analyzed data from the U.S. Small Arms Survey, World Health Organization, the National Center for Health Statistics, and the United Nations Surveys of Crime Trends.
Their findings:
• number of guns & firearm-related deaths, significant (p<.0001) positive correlation (more guns, more gun deaths) • number of guns is the significant predictor of firearm-related deaths, not mental illness • number of guns & crime rate, weak, non-significant positive correlation (nation not safer with more guns) • mental illness & crime rate, weak, non-significant correlation
The variables and their values appear in the table below from the Bangalore & Messerli study.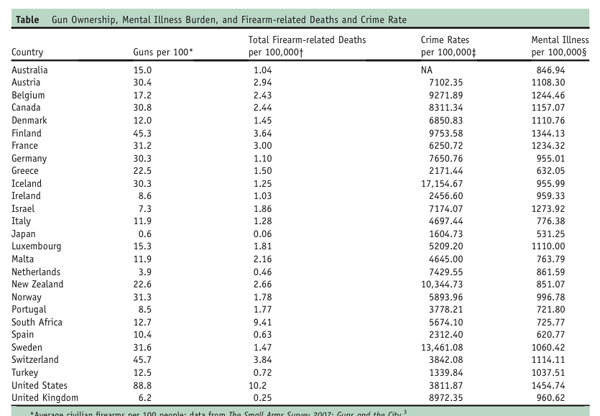 Bangalore, S. & Messerli, F.H. (2013) Gun ownership and firearm-related deaths. American Journal of Medicine, 126 (10), 873-876.

Tags: American gun massacres, crime rate, firearm-related deaths, gun deaths, gun-related deaths, guns, mental illness
This entry was posted on Friday, September 20th, 2013 at 5:48 am and is filed under Commentary by G. Namie, The New America. You can follow any responses to this entry through the RSS 2.0 feed. You can leave a response, or trackback from your own site.