October 2nd, 2015
A first in the aftermath of an American massacre
In our decades-long fight at WBI to enact simple, common-sense legislation to require employers to take seriously health-harming abusive mistreatment of employees by employees, we are accustomed to disappointment with lawmakers who reflexively agree with business lobbyists' arguments that a law like the Healthy Workplace Bill is unnecessary. We get exasperated at contemporary lawmakers who shirk their responsibility to protect public safety.
Nowhere is this negligence and abdication of responsibility more apparent than the failure to pass even modest regulations of guns in America. Lawmakers are cowed by the powerful gun lobby. Approval for background checks for new gun buyers at gun shows is high among public respondents completing polls as well as among gun owners.
In the aftermath of the frequent mass murders (more than four killed as per the FBI definition) by gun, there is a call for state or federal laws to restrain unbridled gun sales. Family survivors of the gunshot victims make emotional pleas in the media and testify before hastily called legislative committees with few new laws to show for it.
The most disgraceful episode of legislative dereliction followed the Jan. 13, 2013 slaying of 20 young school children and six adult staff at the Sandy Hook Elementary School in Newtown, CT. Rational people felt that FINALLY, the NRA argument would not sway members of Congress, but it did. No legislation followed (though the State did pass some new laws). The President held a press conference in the aftermath of that embarrassing defeat of proposed legislation to call for background checks. He found the failure inexcusable, incredulous.
This week, in the evening of the day that another 10 people died on a school campus, the President repeated his thinly veiled disgust that America stands alone among industrialized nations with so many massacres by gun, so common as to be routine. He called out opponents of "common sense" regulation of gun ownership as not being believable any more. He spoke frankly, not delicately. He also inoculated the public to the NRA counterarguments to come by stating them as part of his message — that he would be criticized as making the tragedy political, that there would be diversions to problems with mental illness, and a call for more guns by the NRA.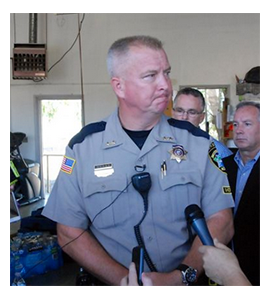 The media began saturation coverage of Umpqua Community College massacre as they normally do. But details were not as forthcoming as they usually were. The numbers of those murdered and wounded were based on speculation, not official reports. The governor spoke very briefly to press and gave no information. The press were prevented from entering the campus long after students and staff were escorted away. Only a few first-person accounts were available to fill the hours of broadcast time.
The shooter's name was released by federal law enforcement to the national networks about 8 hours after the incident.
The Douglas County Sheriff John Hanlin (pictured on the left) was tight lipped with an early press gaggle. After the shooter's name was known to reporters, Hanlin spoke to the media in a beligerent tone insisting that he would never name the shooter lest the shooter be glorified. This new tactic may be reasonable since so many loners believe the only way to gain notoriety is to become a mass slayer. I've noticed that this is the one way to get your infrequently used middle name spoken by strangers in the media who never knew you.
Back to Hanlin. His oddly terse statement to the media hungry for any facts about the case who he had kept in the dark all day was followed by the interim campus president whose focus was solely on the "good news" about help given by the community. Apparently she was referring the quick response of nearby law enforcement. Other help to which she referred was not backed by illustrations. She took no questions. Ending the press conference was an underling in the sherriff's department that stated information from the department would be tweeted, including when and if additional press conferences would follow.
Information blackout in this era of media saturation coverage is jarring. It cannot go unnoticed. Though not a fan of saturation coverage, I wondered if the aftermath of this massacre would break the mold. The media certainly are not focusing on it. They seem to forgive local law enforcement for maintaining silence. Why?
The answer may lie with Sheriff Hanlin. This post-massacre narrative is in the hands of a full-blown NRA spokesperson willing to repeat their nonsensical memes. Thanks to the Associated Press, we know that Hanlin wrote to Vice President Joe Biden only a month after the Sandy Hook massacre. He threatened to obstruct federal agents if they attempted to enforce new gun laws in his jurisdiction.
At a time the nation supported the slain children's parents' attempts to get federal laws passed, Hanlin was taking the exact opposite stand. He wrote:
Gun control is NOT the answer to preventing heinous crimes like school shootings," Hanlin wrote. "Any actions against, or in disregard for our U.S. Constitution and 2nd Amendment rights by the current administration would be irresponsible and an indisputable insult to the American people … Any federal regulation enacted by Congress or by executive order of the President offending the Constitutional rights of my citizens shall not be enforced by me or by my deputies, nor will I permit the enforcement of any unconstitutional regulations or orders by federal officers within the borders of Douglas County Oregon
The letter: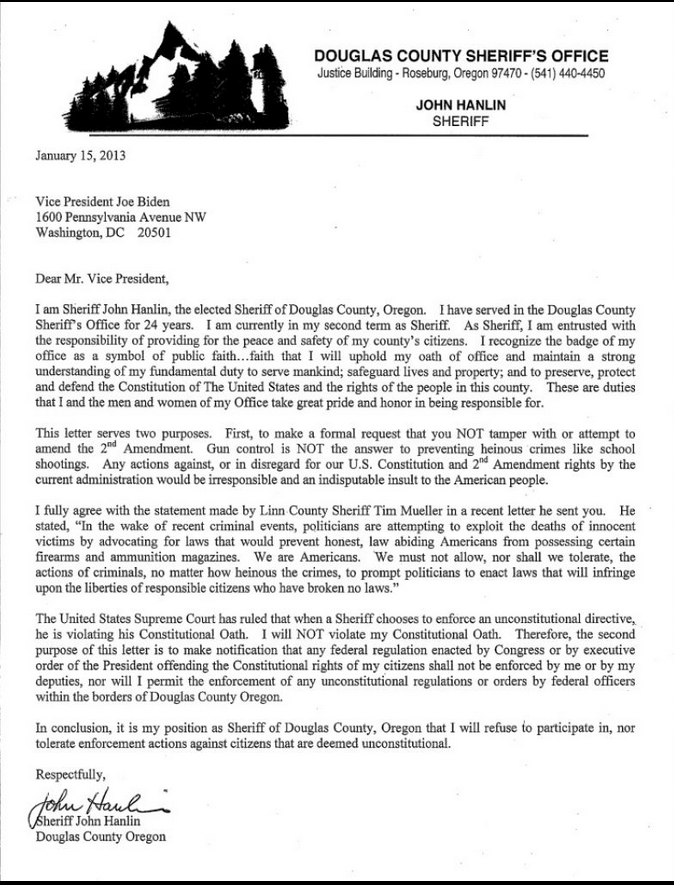 So, this is the person who stepped up as the chief spokesperson for this massacre. Watch for a much different post-carnage treatment of this story. I predict he will try to mute the call for increased gun control measures in Oregon and nationally.
Watch for stories of
• personal heroism (which are good on their own)
• the courage of first responders (thankfully many were nearby)
• calls for prayers and donations
• endless tape of survivors-turned-advocates from prior massacres, and
• now is not the time for politics.
All of these ways to fill TV air time are deflections away from seriously discussing the underlying cause of the tragedy — a hate-driven guy with guns.
Hanlin should be seen as the obstacle to, rather than knowledge about a credible source of information about the Umpqua tragedy. Maybe this time (as we always say in these cases), Hanlin and the NRA arguments will be rebuffed for the silliness they represent.
It's time for America to join the league of civilized nations and control its guns.
Further, it's time for America to join the league of civilized nations

Tags: campus shooting, mass murder, massacre, NRA, school shooting, Sheriff John Hanlin
This entry was posted on Friday, October 2nd, 2015 at 10:23 am and is filed under Commentary by G. Namie. You can follow any responses to this entry through the RSS 2.0 feed. You can leave a response, or trackback from your own site.