February 13th, 2013
Research: Impact of abusive supervision — direct and vicarious
A new academic study is added to the burgeoning research literature related to workplace bullying. It explores the impact of both direct and indirect (vicarious) exposure to bullying bosses.
Kenneth J. Harris , Paul Harvey , Ranida B. Harris & Melissa Cast (2013): An Investigation of Abusive Supervision, Vicarious Abusive Supervision, and Their Joint Impacts, The Journal of Social Psychology, 153:1, 38-50.
The most impressive aspect of the study was a credible and clever technique to recruit survey respondents. Rather than rely on the opinions of young college students with very limited real world work experience, the researchers asked employed students taking a management course to ask fellow employees to complete the survey as long as respondents worked in organizations with more than 10 workers and who worked full-time. The resulting sample included 233 individuals with an average age of 42.61 years, a group capable of evaluating real workplace incidents.
Abusive supervision was operationally defined by 6 items form a survey created by Ben Tepper at the University of Kentucky. Tepper defines it as "subordinates' perceptions of the extent to which super- visors engage in the sustained display of hostile verbal and nonverbal behaviors, excluding physical contact." The authors claim investigating vicarious abusive supervision is novel. They define it as abuse of others heard about (e.g., rumors, gossip) or experienced second-hand (witnessed). [The only novelty is to call it something other than witnesses' experiences with abusive conduct.]
Results begin with a positive correlation between abusive supervision and its vicarious cousin (r=.62). Researchers statistically stripped out the effects of respondent gender, age and tenure before exploring how abusive supervision affected people.
The principal effects of direct abuse were to increase job frustration (a 3-item scale) and coworker abuse (the same 6 abusive supervision items but worded to reflect abuse/mistreatment of coworkers) and decrease perceived organizational support (a 9-item scale measuring how employees rate how much the employer cares for them).
The same pattern of effects resulted from vicarious abusive supervision.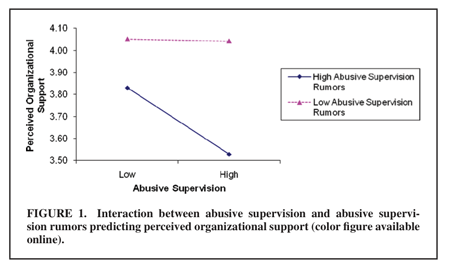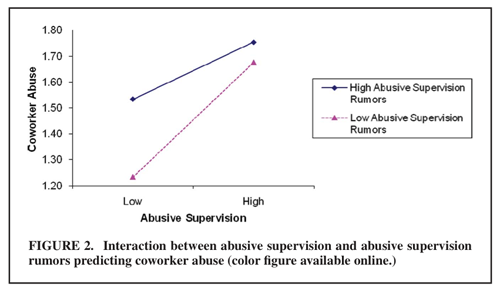 The worst outcomes for employees — high coworker abuse and low perceived organizational support — occurred when both direct abuse and vicarious abusive supervision were high.
Thus, when abuse occurs, the work environment is more negative for employees when that abuse is either seen or rumored. In other words, everyone's knowledge about bullying magnifies the negative effects on workers. In this simple study, negative outcomes were only job frustration, coworker abuse and perception of support from the employer.
Perhaps fearing that too much negativity surrounding abusive supervision might be the message from this research conducted by academics in schools of business [K. Harris in Dept. of Management & R. Harris in Management Information Systems, Indiana University Southeast; P. Harvey in College of Business and Economics, University of New Hampshire; M. Cast, grad student in the College of Business, New Mexico State University], they warn:
While it is often the case that "perception is reality" and subordinates presumably feel their perceptions of abuse are accurate, it could be that subordinate ratings of abuse are distorted by rumor and myth, or that very minor incidents of abuse become larger and more exaggerated with each retelling.
One compelling fact about workplace bullying is that targets are not believed. The above researchers seem to not believe that abusive supervision is terrible or terrifying. In their conclusion, they state
Top management needs further education regarding the potential impacts of vicarious abusive supervision on employees to prevent and/or mitigate the effects of such abuse.
You may download the article for free.
###
Many well-intentioned academics seem to think executives have no idea of the impact on workers of their indifference to complaints about bullying/abusive supervision. Where is the academician bold enough to investigate the impact of executives actively modeling, rewarding and sustaining abusers?
To learn about more dramatic and career-relevant impacts of abusive supervision, scroll down the results of this WBI Survey to see that 77% of abused workers lose their jobs — a much stronger effect than "job frustration" or "perceived organizational support."
To learn about the deleterious health impact on abused individuals.

Tags: abusive supervision, Gary Namie, impact on bullied targets, job frustration, Kenneth Harris, Paul Harvey, perceived organizational support, vicarious abusive supervision, workplace bullying
This entry was posted on Wednesday, February 13th, 2013 at 3:41 pm and is filed under Bullying-Related Research, Social/Mgmt/Epid Sciences, Tutorials About Bullying, WBI Education, WBI Surveys & Studies. You can follow any responses to this entry through the RSS 2.0 feed. You can leave a response, or trackback from your own site.