November 3rd, 2011
New national British Survey sheds light on workplace bullying and violence
The British Workplace Behaviour Survey released this week at the Festival of Social Sciences in London is a 21-question instrument designed to cover a 2-year period in respondents' lives. It was administered to 3,979 employees in home, face-to-face interviews. The representative (and thus scientific) survey explored prevalence of a wide range of behaviors that comprise "ill treatment" in the UK workplace. This is a major study with several significant findings, including conclusions about why employers do so little to eliminate it.
"Ill treatment" included: unreasonable treatment (reported by 47%), denigration and disrespect (40%), 33% experienced both unreasonable treatment and denigration and disrespect, and 6% experienced violence.
The news headline was that "one million UK workers have experienced violence at work." Using the prevalence estimates from this new study and Office of National Statistics' number of private and public sectors workers (29.1 million in July), we arrive at the numbers of people experiencing:
– Unreasonable treatment: 13.6 million
– Denigration and disrespect: 11.6 million
– Violence: 1.7 million
– Both unreasonable and denigrating and disrespectful treatment: 9.6 million
– All three categories: 1.4 million
– Denigration & disrespect and violence: 291,000
The questions which appear below included a modified list of items from the Negative Acts Questionnaire which is a checklist of behaviors that academics use to operationally define bullying. In other words, rather than ask people if they think they were bullied (which actually leads to an underreporting because research shows that people do not want to admit it happens to them), the surveyers relied on the behaviors checked to determine if the respondents were bullied.
With respect to individual survey items, 29% of the sample were given unmanageable workloads or impossible deadlines and 27% had their opinions and views ignored. Employers, managers or supervisors were responsible in over two-thirds of incidents. Coworkers were the primary culprits when withholding information which affected performance.
The two most frequent denigration and disrespect experiences were to be shouted at or having someone lose their temper (24%) and being treated in a disrespectful or rude way (23%). More than 20% of people experienced three or more types of misconduct in this category. Regarding sources, managers were responsible in 40% of cases, in 27% of cases clients, customers or the public were perpetrators, while coworkers were 22% of the sample.
In this British study, men in the middle of their careers were the most likely targets. Disrespect rose as the size of organizations rose.
Targets of disrespect were likely to have psychological disabilities. Of course, the researchers made clear in the report that whether the psychological problems were the cause of the disrespect or the result of it could not be determined. Disrespect for this group of targets came from the public in half of the cases and from coworkers in the other half.
Gay, lesbian and bisexual employees were as likely to be disrespected at the same rate as for people with disabilities. In addition, LGBT workers were the workers subjected to the most violence.
The combination of unreasonableness and disrespect (reported by 33% of the sample) is the closest approximation to workplace bullying. The antisocial behaviors depicted by items in those two categories, derived from the NAQ, exclude physical violence. Bullying necessarily stops short of battery — physical violence. The UK prevalence is nearly identical to the US prevalence (35% in the 2010 WBI US Survey and 37% in the 2007 WBI Survey). Both studies were scientific national samples from their respective nations.
Four case studies of organizations are included in the Report. One: a large financial services company; Two: a large National Health Service public agency; Three: a logistics and communication company; and Four: a global engineering company. Each of these anonymous employers offer examples of how and why having policies to address bullying is inadequate.
The final section of the Report focuses on prevention and intervention strategies. In this regard, the authors show remarkable insight that is all too rare among academic researchers. First, they rightly conclude that the notion that employers can find an easy "one size fits all" methodology is wrong. An over-emphasis on policies and enforcement, the HR-led solution, overlooks informal solution opportunities. We heartily concur. Policies, the "lines in the sand," are necessary, but insufficient if not supplemented by true organizational commitment.
The second major conclusion is that ill treatment thrives when managers in the trenches fail to intervene or to manage properly. Managers can and must stop it. When management abdicates responsibility, ill treatment flourishes. This is the same conclusion we draw in our book, The Bully-Free Workplace (Wiley, 2011).
We are proud to count Prof. Duncan Lewis, co-author of the study, from the Business School at the University of Plymouth, as a WBI colleague.
Below is a result table showing the results for each of the 21 questions in the British Workplace Behaviour Survey.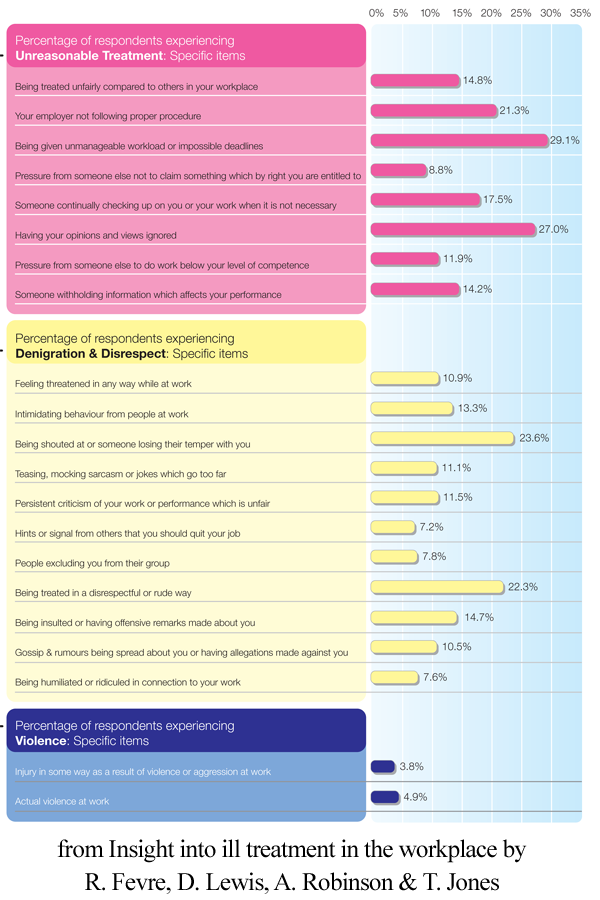 Tags: British Workplace Behaviour Survey, disrespect, Duncan Lewis, ill treatment, unreasonable treatment, workplace bullying, workplace violence
This entry was posted on Thursday, November 3rd, 2011 at 1:25 pm and is filed under Bullying-Related Research, Employers Gone Wild: Doing Bad Things, Tutorials About Bullying. You can follow any responses to this entry through the RSS 2.0 feed. You can leave a response, or trackback from your own site.