October 17th, 2014
About the bully's intent to harm
I hate talking points (propaganda) for American-style capitalism. For example, some of the most loathsome soundbites are: All hail entrepreneurship (Shark Tank); Everyone can live the American Dream if they only try hard enough; Ignore gross inequality – having a tiny elite group of individuals owning a disproportionate share of all wealth is good for the country; and Support for our neediest (compassion) is a sign of weakness.
By extension, this mindset also espouses these lies about workplace bullying … People who claim to to be "abused" at work must have provoked their mistreatment … they (targets) undermine virtuous employers … and if, and only if, someone gets hurt at work, perpetrators never intended to harm, it was all a misunderstanding or misperception by the recipient.
The WBI 2014 IP-B study countered the myth about intentionality of bullies completely. We asked bullied targets — not the public, not managers, not bullies, not HR, not owners, not executives, not corporate defenders — and they overwhelmingly stated that their bullies acted with deliberateness (82%) and knew they were harming their victims. When we add in the perpetrators acting on behalf of others, an astonishing 91% were deliberate and malicious. Only 2% of bullies were "accidental" perpetrators.
To conclude that if targets are hurt by bullying, their hypersensitivity was to blame, is a damnable distortion of reality.
What matters most is that bullied targets are hurt by decisions made by perpetrators to behave negatively. Lies about bullies' stated intent matter not one whit. Effects and consequences trump intent. [Using the same logic, we at WBI also state that bullying is not simply based on whether or not negative behaviors occurred but if those acts happened AND they caused the targeted person adverse consequences. We allow for behaviors to have different effects on different recipients allowing for individual differences in the ability to cope and respond to negative actions. If there is genuinely no harm (immediate or latent) to the target, then bullying did not occur.]
Another arena in which the same blame-the-recipient scenario pops up is the modern political apology. Rather than say "I'm sorry," thus accepting personal responsibility, politicos say "I'm sorry if you felt hurt by anything I did," displacing blame on the victim of wrongdoing. And we blithely, through our inept media reporters, accept this sleight of hand by not challenging it.
Lawyer-cartoonist Ruben Bolling perfectly captured the shifting of responsibility for intentionality in the strip below — The "R" Word — with NFL overtones.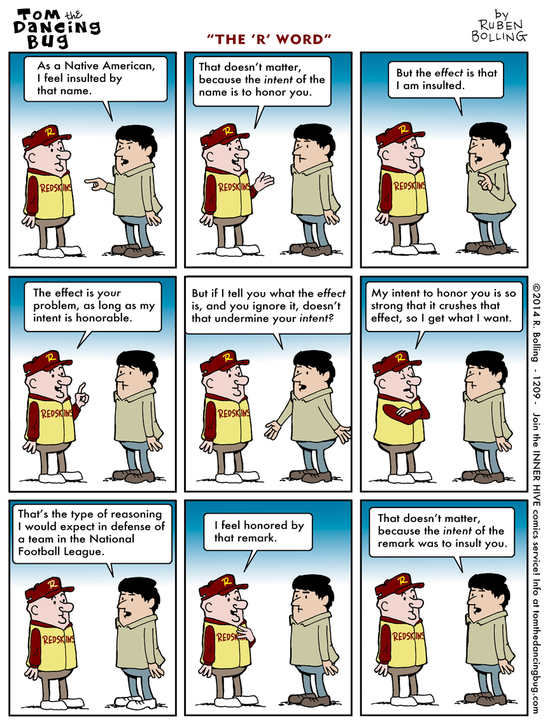 Tags: bullies, bully, deliberate, intention, malice, perpetrator, workplace bullying
This entry was posted on Friday, October 17th, 2014 at 9:47 am and is filed under Tutorials About Bullying, WBI Education, WBI Surveys & Studies. You can follow any responses to this entry through the RSS 2.0 feed. You can leave a response, or trackback from your own site.