August 1st, 2013
Workplace Bullying Trumped Peace at Spiritual Retreat: Hunger Strike Ensued
People bullied at work tend to be principled and ethical. People practicing peaceful Buddhist principles certainly never expected to work in a bullying-prone workplace. The juxtaposition of peaceful people helping others find peace, tranquility and purpose to make the world a better place in which to live with the psychological violence and pain caused by workplace bullying is jarring. It's a major clash between Peace and Violence in a single workplace.
The Vallecitos Mountain Ranch in rural New Mexico outside of Taos is a place founded with the goal of helping people find peace, rediscover their humanity and personal purpose — a self-described "wilderness learning and retreat center." A married couple started the Ranch. After a divorce, Grove Burnett, was the sole leader. The staff included an executive director, a ranch manager, retreat coordinator, and cooks for retreats staged at the tranquil site. Burnett is recognized as a spiritual leader and meditation teacher. He scheduled a return from sabbatical on Sat. July 13, 2013.
Over the years, Burnett had a record of bullying staff, Board members, and others in the spiritual movement. A staff survey in Nov. 2012 revealed the scope of problems he caused. He had created an "unsafe and tyrannical" place.
During his absence, the 10-person staff appealed to the Board to demand resignations from Burnett and several of his supporters on the Board, to demand new employment contracts with an anti-retaliation clause, and to demand Burnett never teach or participate in any future Vallecitos programs. The Board was indifferent to the complaints. Sound familiar?
On Friday July 12 the day prior to Burnett's return, the staff served the Board a letter threatening mass resignations if his return was not blocked. On Saturday, Board member Melissa Morman criticized the staff. Burnett returned.
Nine of the 10 staff resigned en masse, including Exec. Director Leigh Lauck, Carl Roberts, Ranch Manager, and Mary Reed, Retreat Coordinator.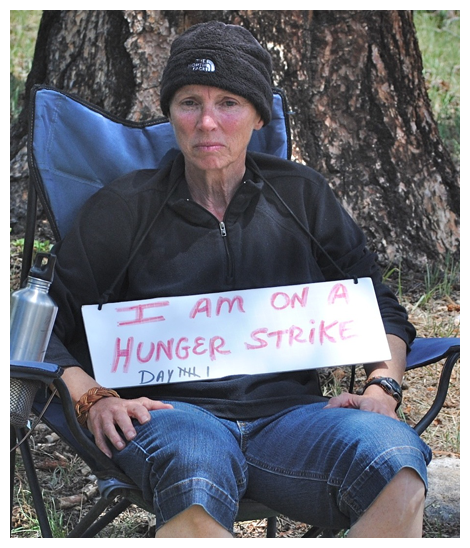 Remarkably, Mary Reed camped outside the Ranch's entry gate staging a week-long HUNGER STRIKE to bring sunshine to Burnett's outrageous misconduct and sycophantic members of the Vallecitos Board. How did the spiritual leader Burnett respond? By calling the police, falsely claiming that Reed was "harassing guests and obstructing access to the ranch." The responding officer called an ambulance. Mary's health was declining. After several days, Leigh and friends convinced Mary to cease her strike. She had made her point.
Those who resigned, and especially Mary Reed, sacrificed much to draw attention to the problem at Vallecitos. The Board ignored calls for justice at the Ranch.
Mary Reed's courageous act is the first-ever hunger strike prompted by workplace bullying known by the Workplace Bullying Institute.
Burnett has to be removed from a position of leadership. Other major spiritual leaders have called for his disengagement from Vallecitos because he undermines the noble mission of the place of peace.
Watch this space for updates on the former staffers fight for justice in the wilderness of New Mexico.
***
Here is Burnett on video praising volunteers, ignoring regular staff.
Tags: Buddhist, Carl Roberts, Grove Burnett, hunger strike, Leigh Lauck, Mary Reed, peace, spiritual movement, Vallecitos Mountain Ranch, violence, workplace bullying
This entry was posted on Thursday, August 1st, 2013 at 11:21 am and is filed under Employers Gone Wild: Doing Bad Things, Tutorials About Bullying, WBI Education. You can follow any responses to this entry through the RSS 2.0 feed. You can leave a response, or trackback from your own site.