September 12th, 2013
Matt Spencer book: Bad school boards exploit children
WBI colleague Dr. Matt Spencer has written his first book. He's applied his 32 years experience as a Superintendent, Associate Superintendent, teacher and coach in public schools to expose the problem of School Boards run amok. Here's a description.
Exploiting Children: School Board Members Who Cross the Line
By Matthew Spencer, Ed.D.
Published Sept. 22, 2013 by Rowman & Littlefeld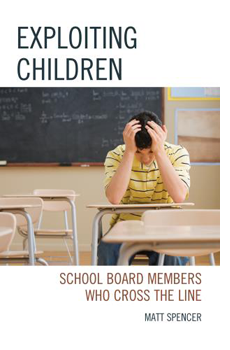 From the Foreword
Hold onto your hats, dear reader. This book is not for the faint of heart. Defenders of the status quo will be rattled. Similarly offended will be the apologists for scheming citizens who occupy seats on local school boards merely to have a pulpit for propagating their mix of anti-public school ideology and a naked desire for personal aggrandizement.
This book comes from the heart of a man with an indefatigable commitment to educating children. He has worked in districts that became the hell he describes in these pages. Authenticity and integrity leap off of every page.
Description
America's citizens want children to receive a high-quality education in clean, orderly and safe schools staffed with quality teachers, support staff and courageous educational leaders. In many communities, such a school experience is something the students will never have.
Why? One or more members of the governing board desire to use their elected position for personal gain. They are Exploiters. Some desire to exploit a little. Others crave total domination of the school system and become the petty tyrants of education.
Whether the exploitation is minimal or extreme, exploitative board members are highly detrimental to the effectiveness of the local school system. They destroy teamwork, morale, careers and many times entire school systems. They steal a high-quality education from children.
The predominant governance structure of public education dictated by law is seriously flawed. What thousands of citizens and educators strongly desire for their schools can be discarded and replaced with the unscrupulous will of one individual. Exploitive school board members must be understood and stopped. The governance structure of public education must be changed.
The author
Dr. Matt Spencer is a veteran educational leader who has served in public education in Missouri and California for thirty-four years. As the Senior Consultant with the Workplace Bullying Institute of Bellingham, Washington, Dr. Spencer champions efforts to ensure the schoolhouse is a safe, productive and abuse-free environment for students to learn and employees to serve.
Reviews
Dr. Spencer's book shines a spotlight on a serious threat to quality education and effective leadership and management of public schools today; exploitive school board members. While most school board members are good public servants with a commitment to quality schools and quality education, exploitive board members undermine the leadership and management of school superintendents and are a threat to the quality of America's schools. This book clearly outlines the problem, discusses the impact on schools, children and community and presents ideas to help solve the problem. This is a must read for school administrators, school board members, parents and citizens interested in quality governance and quality education.
— John Oldani, Ed. D., former superintendent of schools in two of Missouri's largest suburban school districts, vice-president for student development, Lindenwood University, St. Charles, MO
From my position, I see firsthand the devastation created by the bully on the governing board. In public education, we have identified the problem with student on student bullying, and are attempting to find solutions. Not so with members of the Board and other adults who engage in improper, abusive and destructive conduct. Kudos to Dr. Spencer for stripping off the veil of denial by exposing and offering solutions for this real threat to public education.
— George Cole, executive director, California School Personnel Commissioners Association
Mark Twain once said, "In the first place, God made idiots. That was for practice. Then he made school boards." Many have echoed this sentiment over the years, because so often these well-intentioned individuals make very big mistakes in their zeal to govern schools. Matt Spencer knows first hand that many honorable people become school board members, but more often than not, the perceived power of the position results in their governing their self-interest and not the interest of the children whose interests they were selected to serve. Most people will never know this in their lifetime. Matt Spencer boldly and gratefully goes where few have tread, save for Twain.
— Jeanne Allen, president, Center for Education Reform
The idea of public education governed by locally-elected boards is a good one, but the outcome in too many cases is just what Dr. Spencer's title suggests — a field of opportunistic and power-driven politicos who exploit our children. To fix this as Spencer suggests, we must see America's children as "our children," to step up on their behalf in the same way we would if they were our own blood. Because children, especially those entrusted to our public education system, represent the life blood of our social and economic future. As citizens, we need to heed Dr. Spencer's call to action. Yes, be enraged by what you learn. But then become engaged as an effective part of the solution.
— Julie Davis Salisbury, co-founder of Step Up or Step Down, a citizen movement formed to monitor governance crises facing Atlanta's public school system
America's 14,000 odd school boards rarely police their own ranks; nor do they as a rule get more than superficial scrutiny from the press or the public. The results are predictable, as Matt Spencer details in Exploiting Children: School Board Members Who Cross The Line. This is a must-read for anyone who still thinks that school boards represent the best of American democracy. In this passionate book, Spencer reminds us that when officials say they are in it for the children, it's time to watch your wallet. Too many school boards combine the non-transparency of bureaucracy with the demagoguery of democracy—the worst of both worlds.
— Robert Maranto, 21st Century Chair in Leadership, University of Arkansas
Contents
Section One: Motivations, Methods, Strategies and Tactics
1. What Is Exploitation?
2. Degrees of Exploitation
3. Motivations and Mentality
4. The Exploiter's Essential Skillset
5. Getting On The Inside: Winning the Election
6. Achieving Total Domination of the School System
7. The Tactics and Weapons of War
8. Torture and Death of the Educational Leaders
9. Cultivating the Spies and Snitches
10. The Veil Of Silence
11. Judgment Day Will Surely Come
12. Thy Kingdom Has Come
Section Two: Understanding the Devastation To The School System
13. The Deterioration Begins
14. Purging The Community Values From The School System
15. Purging The Quality From The Workforce
16. Promoting and Perpetuating Incompetence
17. The Bad Reputation
18. Life At The Schoolhouse For Those Left Behind
19. The Impact On The Community
20. The Death Of The School System
Section Three: The Flawed Governance Structure Of Public Education
21. Who Is At Fault?
22. What Is Governance And Governance Structure?
23. Enhancing Governance: The Governance Subcommittee
24. How Could The Governance Subcommittee Make A Difference?
25. Role And Function Of The Governance Subcommittee More Clearly Defined
26. The Members Of The Governance Subcommittee
27. Legislative Action Is Essential
28. Which Will It Be: The DC-3 Or The Dreamliner?

Tags: board of education, exploiting children, Gary Namie, Matt Spencer, public schools, school boards, workplace bullying
This entry was posted on Thursday, September 12th, 2013 at 12:43 pm and is filed under Books, Events & Appearances, Media About Bullying. You can follow any responses to this entry through the RSS 2.0 feed. You can leave a response, or trackback from your own site.