February 26th, 2014
NYT: Other bullies in NFL scandal lovingly profiled

The report by Ted Wells, the investigator in the NFL bullying scandal, introduced to the public for the first time two bully accomplices of Richie Incognito — Mike Pouncey and John Jerry. With Pouncey and Jerry, the harassment became same-race bullying, neither is white.
The New York Times did a long article profiling the two. Inside the article are statements of denial by friends of Pouncey and Jerry.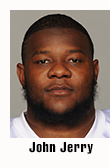 An unnamed friend commenting on the reactions of the two
they were upset at how the report characterized what they saw as harmless banter among friends and teammates. Neither had a sense that Martin was feeling bullied
Note how the bullies' version of the target's right to feel what he felt is given credibility.
A college coach saying
That's part of the culture of playing football.
A former teammate saying
Pouncey was not the type to harass teammates.
The article ends with Pouncey's "father figure" saying:
He'll be back to playing football. That's what he needs, and that's what he'll do.
Yes. Let's just move on … so we can forget! Wrong! Lessons must be learned and changes made. If not, this is another example of bully apologists at work to restore the offenders' image.
Read the entire article for yourself. Two Dolphins' Path to a Bullying Scandal by Steve Eder and Ben Shpigel, New York Times, Feb. 24, 2014
###
Follow the full NFL story in the Category list in the sidebar: NFL: Jonathan Martin

Tags: football culture, John Jerry, Jonathan Martin, locker room bullying, Miami Dolphins, Mike Pouncey, NFL, Richie Incognito, workplace bullying
This entry was posted on Wednesday, February 26th, 2014 at 10:48 am and is filed under Employers Gone Wild: Doing Bad Things, NFL: Jonathan Martin. You can follow any responses to this entry through the RSS 2.0 feed. You can leave a response, or trackback from your own site.