January 25th, 2013
NLRB invalidated by Federal Court: Obama appointments "unconstitutional"
Steven Greenhouse, New York Times Labor Reporter, writes that a 3-judge panel from the US court of appeals for the DC circuit just ruled unconstitutional President Obama's Jan. 2012 recess appointments to the National Labor Relations Board (NLRB). A full year of NLRB decisions, including some that restored balance to the employer-employee relationship, will be invalidated.
Only one NLRB member, Mark Pearce, will be left standing and the agency cannot rule without at least 3 members. Therefore, there will be no NLRB — it's the employers' dream. Sharon Block and Richard Griffin will be cut.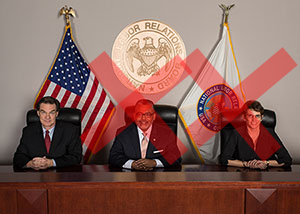 For years the 5-member NLRB was under Republican control and did not rule in favor of unions. They worked in concert with lawmakers stripping unions of parity with employers. Obama sought Senate confirmation for his appointments, including a union lawyer Richard Griffin. Senate Republicans blocked the nominations. Seats went unfilled. So, when the Senate was on holiday recess at year's end in 2011 spanning new years 2012, Obama made the appointments.
All presidents use recess appointments (recall that George W Bush installed UN-basher John Bolton as US ambassador to the UN).
A Pepsi bottler, Noel Canning in Yakima, Washington, was the petitioner (akin to a plaintiff in a civil lawsuit) with an amicus brief written by Sen. Mitch McConnell and 41 U.S. Senators. The U.S. Chamber of Commerce tried to enter the case but was kept out. It had no standing.
The case began as a routine NLRB case in which the union, Teamsters Local 760, and employer, Noel Canning, disputed the terms of a final negotiated contract agreement related to how much money was to be invested in the workers' pension fund (10 vs. 40 cents/hour) that were shared with rank-in-file union membership.
Sen. McConnell used the fact that the 5-member NLRB was incomplete (vacancies caused by McConnell's orchestrated opposition to the president's nomination that must be confirmed by the Senate) and that the recess was technically on recess.
You can download the ruling and read the details.
The NLRB was created in 1935 by the Wagner Act and gave workers the right to unionize. Unions could not strike during WWII, but they launched several strikes in the short 1945-46 period. Republicans used their majorities in the US House and Senate to severely restrict union activity with the 1947 Taft-Hartley Act. President Truman vetoed the bill, but Republicans overrode him and it became the law of the land.
The Administration would have to appeal to the most pro-corporate US Supreme Court in history to restore the decisions.

Tags: Gary Namie, labor relations, NLRB, Obama, recess appointment, Republicans, Richard Griffin, Sharon Block, Unions
This entry was posted on Friday, January 25th, 2013 at 4:16 pm and is filed under Unions. You can follow any responses to this entry through the RSS 2.0 feed. You can leave a response, or trackback from your own site.