November 11th, 2011
Bullied targets support 'Occupy'
WBI recently ran an Instant Poll (n=230) asking if respondents "support the Occupy movement that is expressing outrage over economic inequity?" 74% said Yes. We broke support and disagreement into sub-categories. See the results below.

Response options and their corresponding percentages were:

Yes I support and I agree with the tactics .50
Yes I support but I don't agree with the tactics .173
Yes and I have participated in the protest .082
Yes: = .757

No, disagree with message and tactics used .213
No – don't support message – but no problem with the tactics .030
No: .243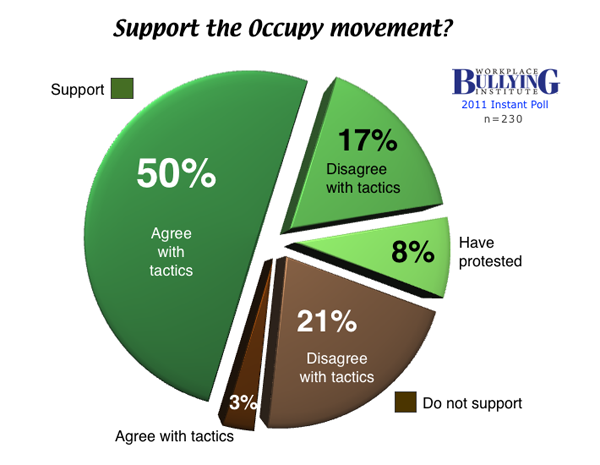 Tags: bullied targets, occupy, Workplace Bullying Institute
This entry was posted on Friday, November 11th, 2011 at 9:44 am and is filed under Bullying-Related Research, Fairness & Social Justice Denied, Tutorials About Bullying. You can follow any responses to this entry through the RSS 2.0 feed. You can leave a response, or trackback from your own site.