September 17th, 2013
Guns make gunshot wounds: It has to end – trauma doc's plea
Again advocates of stopping psychological violence at work must face the reality that organizational life is part of societal life. It is all connected. Massacres remind us of the American brand of violence that is all too frequent. Bullying pales in comparison, but it is a form of violence. When we demand that it stop, we have to acknowledge the societal context.
Moral decency trumps NRA distorted rationales for availability of military combat weapons for citizens. Buried in the saturation media coverage of the Sept. 16 Washington Navy Yard massacre was a press conference by Med Star Washington Hospital Center CEO and Chief Medical Officer, Janis Orlowski, M.D.
I first heard her comments on the radio. She was remarkable in that her voice wavered as she spoke eloquently about "evil" visited upon families when death and injuries of the innocents in the typical American massacres. She said that we all have to "work together" to stop it. The "it" was unclear. Then, in response to a question, she began the statement captured in the Associated Press video below. As soon as she said that we used to fight with fists, then knives, then guns, the networks cut away from her.
She had uttered the forbidden 4-letter word: GUNS. As a trauma expert, she called massacres "senseless trauma," and hoped that her trauma center could someday be put out of business because massacres (i.e., gunshot wounds) might be stopped. Emergency physicians have long lobbied for gun control because they see the wholesale slaughter of humans that guns allow.
Dr. Orlowski's full statement about guns is captured in the video below. We should all listen and dive into the "gun control debate."
A timeline showing how it took only 6 recent years to kill as many Americans in major gun massacres as in the prior 50 years that began with a New Jersey massacre in 1949. Described by Rachel Maddow on MSNBC Sept. 16.
The original chart created by University of Maryland, Baltimore County Emeritus Professor Charles Catania that inspired Maddow's timeline above.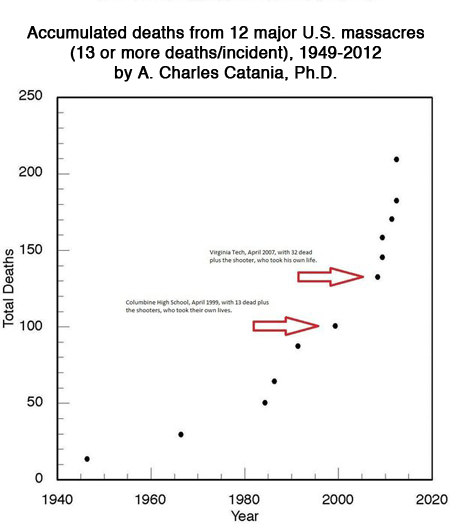 Tags: gun control, guns, gunshot wounds, Janis Orlowski, Med Star Washington Hospital Center, trauma, Washington & Lee, Washington Navy Yard
This entry was posted on Tuesday, September 17th, 2013 at 10:07 am and is filed under Commentary by G. Namie, Guest Articles, The New America. You can follow any responses to this entry through the RSS 2.0 feed. You can leave a response, or trackback from your own site.