March 18th, 2013
Abused domestic workers may get champion at Obama's Dept of Labor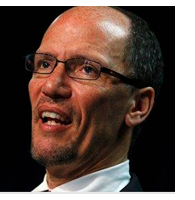 Just when it looked like President Obama knew no one to add to his cabinet that spoke the language of working folks, he has decided to use the nomination to Department of Labor Secretary to hoist Thomas Perez on his shoulders. Said the President today
"He's the son of Dominican immigrants. He helped pay his way through college as a garbage collector and working at a warehouse. He went on to become the first lawyer in his family. So his story reminds us of this country's promise"
According to reports, Perez, currently working in the Civil Rights Division of the federal Justice Department, was the second person of color to ever be elected to the Montgomery County (MD) Council. While on the Council, Perez pushed a "bill of rights" for domestic workers, tried to toughen county laws against predatory lending and supported the expansion of medical clinics to serve the uninsured. He also fought to import cheaper prescription drugs for county employees — a plan blocked by the Food and Drug Administration.
The industry of domestic workers and home health aides are among the fastest-growing jobs in America. The injustices are meticulously documented in a report by the National Domestic Workers Alliance (NDWA). Based on their survey of 2,086 nannies, caregivers and housecleaners, problems and abuses include: low pay (67% paid less than state minimum wage); rare benefits (only 4% receive employer-provided health insurance, less than 9% have employers who pay into Social Security); acute financial hardships (20% report no food in their homes to eat, 60% spend more than half their income to rent or pay mortgage); no regulatory protections (25% of live-in workers cannot get at least 5 hours of uninterrupted sleep, 23% are fired for complaining about working conditions); work is hazardous (38% suffer wrist, shoulder, elbow, back and hip injuries); and abuse and disrespect is rampant (91% did not complain out of fear of retaliation, 85% of undocumented immigrants did not complain lest their immigration status be threatened). Read the full report.
Perez was first hired by the civil rights division at Justice as a career attorney under President George H.W. Bush. Obama promoted Perez to head the Civil Rights Division at Justice (the Senate confirmed him by a vote of 72-22). At the Justice Department, Perez played a leading role in the agency's decision to challenge voter ID laws in Texas and South Carolina that could restrict minority voting rights. A federal court later struck down the Texas law and delayed implementation of the law in South Carolina until after the 2012 election.
Unions support the Perez nomination. "At a time when our politics tilts so heavily toward corporations and the very wealthy, our country needs leaders like Tom Perez to champion the cause of ordinary working people," said Richard L. Trumka, president of the AFL-CIO.
Republican opponents characterize him as "a radical legal activist who has presided over a politically charged division and has tried to help illegal immigrants avoid detection and receive public benefits." Jeff Sessions and Lamar Alexander want the Dept of Labor to be tasked with creating jobs, not representing the needs of workers.
Thomas Perez received his undergraduate degree from Brown University in 1983, and four years later received law and public policy degrees from Harvard University. His wife, Ann Marie Staudenmaier, has been an attorney since 1996 for the Washington Legal Clinic for the Homeless. Care for the poor seems to be a family commitment. The couple are rare public servants.

Tags: abuse of domestic workers, Barrack Obama, caregivers, domestic workers, GOP, home health aides, housecleaners, nannies, Thomas Perez, U.S. Department of Labor, Unions, workers' rights
This entry was posted on Monday, March 18th, 2013 at 2:16 pm and is filed under Commentary by G. Namie, Good News, Media About Bullying, Print: News, Blogs, Magazines, The New America, Unions. You can follow any responses to this entry through the RSS 2.0 feed. You can leave a response, or trackback from your own site.