January 28th, 2014
Pete Seeger, requiescat in pace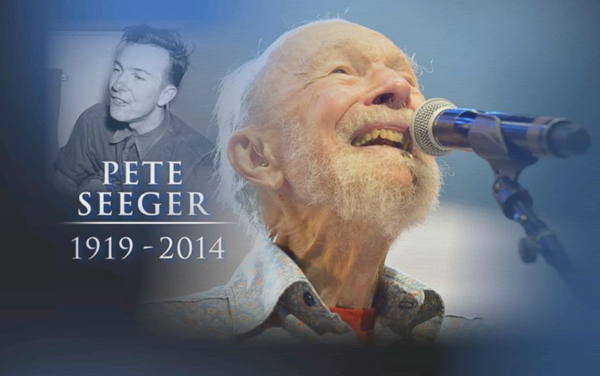 January 27, 2014 a great flame went dark … the good don't always die young
For Pete
he's a sailor
a bumbling, crafty, thoughtful, dreaming
chopstick drummer
a lover
a brightly colored creature
a root that knuckles through the soil
to reach you
a sculptured banjo body
shedding humane thoughts
on careless scraps of paper leaves
a voice of fiber bark
tender as an April bud
a raging, flaming, autumn fire
Tall
Strong
bending in the breeze, but growing
natural as wood
a shady place
for all these children of the son
Don McLean
(From Songs and Sketches of the First Clearwater Crew; North River Press, 1970)
More relevant than ever…WWII vet Pete on the Vietnam-era Smothers Brothers shut down by timid CBS executives …Pete sings Waist Deep in the Big Muddy…warning to not follow the Big Fool who commands us to push on…sage advice to all of us in contemporary America…let's remember when we recognized the power of singing together with one voice…Pete would like that
Audio clip: Adobe Flash Player (version 9 or above) is required to play this audio clip. Download the latest version here. You also need to have JavaScript enabled in your browser.
Pete Seeger testified before the kangaroo court known as Congress' House Unamerican Activities Committee in 1955 during another time of intense fear replacing leadership in this country. Then, it was communists, now it's terrorists. Read how bravely Pete stood up and proclaimed his love of country, not the HUAC-crazed country that turned friends against friends, but the USA to which we and Pete aspire.

Tags: activist, champion of causes, Fairness & Social Justice Denied, folk singer, Pete Seeger
This entry was posted on Tuesday, January 28th, 2014 at 2:53 pm and is filed under Fairness & Social Justice Denied. You can follow any responses to this entry through the RSS 2.0 feed. You can leave a response, or trackback from your own site.