November 6th, 2012
The PITs: Broke states give your income taxes to employers!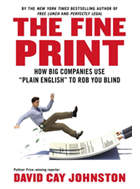 Just when you thought government couldn't cower more in servility to corporations … economist David Cay Johnston included in his blog and new book, The Fine Print: How Big Companies Use "Plain English" to Rob You Blind, a report called Paying Taxes to the Boss from the nonprofit organization, Good Jobs First.
If the practice of allowing employers to withhold state income taxes from workers and to KEEP the funds for themselves doesn't outrage you about your state government, nothing will. Here's the story as told in the report written by Philip Mattera, Kasia Tarczynska, Leigh McIlvaine, Thomas Cafcas and Greg LeRoy at Good Jobs First.
States offer corporations inducements to do business in their state. Land use without taxes is common. Southern states boast about their "right to work" status, luring employers with low non-union wages considered sufficient for their sons and daughters. Sports teams enjoy stadiums built with taxpayer money despite owners being billionaires. Cities allow corporations to run their parking meter business in exchange for pennies on the dollars earned into the infinite future. But this latest tack is a doozy by comparison.

It is called Private Income Tax (PIT) diversion. Sixteen states have a total of 22 laws they have enacted to allow EMPLOYERS — not the broke, insolvent state government — to withhold state income taxes from employee paychecks and to keep all or some portion of the funds for many many years into the future.
These PITs steal $684 million annually from state coffers at a time when there is no money to sustain state services. Most of the laws have been enacted since 2009.
– Colorado: Job Growth Incentive Tax Credit
– Connecticut: Job Creation Tax Credit
– Georgia: Job Tax Credits
– Georgia: Research and Development Tax Credit
– Illinois: Economic Development for a Growing Economy (EDGE) Tax Credit – 100%
– Indiana: Economic Development for a Growing Economy (EDGE) Tax Credit – 100%
– Kansas: Promoting Employment Across Kansas (PEAK) Program — 95%
– Kentucky: Kentucky Business Investment (KBI) Program
– Kentucky: Kentucky Industrial Revitalization Act (KIRA)
– Maine: Employment TIF (ETIF) Maine: Shipbuilding Facility Credit
– Mississippi: Impact Withholding Rebate Program/Existing Industry Withholding Rebate Program (100% diversion for 25 years)
– Mississippi: Mississippi Advantage Jobs Incentive Program — 90%
– Missouri: Quality Jobs Program — 100%
– Missouri: The Missouri Automotive Manufacturing Jobs Act — 100%
– New Jersey: Business Employment Incentive Program (BEIP) ($73 M in FY2011, $178 M for prior years, making this program the most expensive)
– New Mexico: High Wage Jobs Tax Credit
– North Carolina: Job Development Investment Grants (JDIG)
– Ohio: Job Creation Tax Credit
– Ohio: Job Retention Tax Credit
– South Carolina: Job Development Credits
– Utah: Economic Development TIF (EDTIF)
PITs wage economic war between states. Kansas gave the movie chain AMC $47 M to move its headquarters out of Kansas City, MO. Chiquita received $16 M to move to Charlotte, NC. Motorola Mobility got $100 M from Illinois EDGE tax credits to keep headquarters in a Chicago suburb. Sears got a 10-yr. $150 M deal from Illinois. Illinois also gave Boeing $56 M in 2001 to move its headquarters from Seattle to Chicago, of which $17 M came from EDGE funds, workers in the state.
The Good Jobs First organization documented that Wal-Mart has received more than $1 billion in subsidies.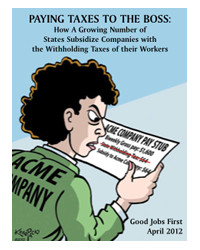 The first PIT was created by Kentucky in 1985 to lure a Toyota assembly plant. The total giveaway was $325 M. The man who created the plan, and later governor of the state, was Paul Patton who called the diversion of an employee's personal income tax to employers "the atomic bomb of economic development incentives."
Good Jobs First estimates that 2,700 companies benefit from PITs. The states with the largest number of current recipient companies are: Ohio (567), Kentucky (509), Illinois (315), New Jersey (306) and Indiana (283).
Here are some corporations that receive PITs in three or more states:
‐ BAE Systems: Illinois, Kentucky, New Jersey, North Carolina and South Carolina
‐ Caterpillar: Illinois, Indiana, North Carolina and Ohio
‐ Ford Motor: Illinois, Missouri and Ohio
‐ General Electric: Kentucky, North Carolina and Ohio
‐ General Motors: Kentucky, Missouri and Ohio
‐ Siemens: Illinois, Indiana, New Jersey, North Carolina and South Carolina
‐ Target: Illinois, North Carolina and Ohio
‐ United Parcel Service: Illinois, Kentucky and South Carolina
As the Paying Taxes to the Boss report declares, many states do not require employers to notify employees that their "taxes" are not going to state government but directly back into their employer's general fund.
Keep in mind that while these corporations demand and blackmail fealty from states desperate to claim they brought business to their states, the same corporations are hoarding cash reserves outside the U.S. — $187 billion according to a Bloomberg March 2012 report.

Tags: David Cay Johnston, Good Jobs First, Paying Taxes to the Boss, Personal Income Tax diversion, PIT, stealing employee wages
This entry was posted on Tuesday, November 6th, 2012 at 5:03 pm and is filed under Commentary by G. Namie, Employers Gone Wild: Doing Bad Things, Fairness & Social Justice Denied. You can follow any responses to this entry through the RSS 2.0 feed. You can leave a response, or trackback from your own site.