December 3rd, 2012
Workplace bullying drives Annette Prada, NM gov't worker, to suicide
If exposed long enough to severe workplace bullying, two outcomes become likely. First, the target's health is jeopardized. Second, unremitting stress can cause loss of the ability to discern and make choices to get oneself to safety due to physiological changes in the brain. The second outcome can lead to suicide. One WBI 2012 study found that 29% of bullied targets considered suicide; 16% actually had a plan to execute.
Annette Prada worked 23 years for a New Mexico state agency, the Public Regulation Commission (PRC) in the Corporations bureau. Her daughter told The New Mexican reporter Staci Matlock that her mother had been dealing with "bullying and stress there for years." Andre Prada claimed the abuse was verbal, in e-mails and in the form of demotions.
Annette's daughter repeated the phrase we too often hear here at WBI, that her mother was "only two years away from retirement. She tried to stay strong." The family confirmed that Annette also had health problems.
Annette disappeared on Thursday Nov. 29. Police told her family that she was found dead.
Bullied targets are not weak. They are incredibly strong and stubborn to their own detriment. They stay in abusive situations too long. Their health suffers (stress-related diseases start rather quickly) but the symptoms are negligible and are ignored until medical crises surface.
Further, we hear from targets, especially government workers, their hope that they can survive bullying long enough to retire the next year, two years from now, or even five years away. The trouble is that severe stress shortens lives.
Besides the suicide victim's family confirming the history of Annette's mistreatment and providing the causal link between bullying and suicide, The New Mexican article quotes Annette's best friend from work, Mercie Roybal (pictured here).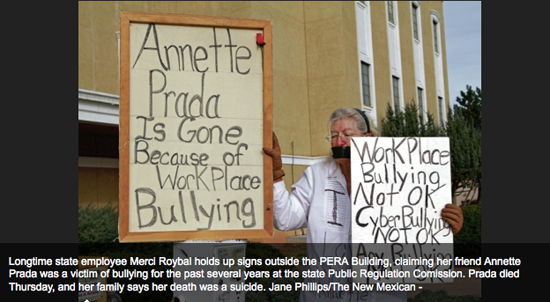 Mercie worked at the PRC for 33 years. It's safe to say that she has seen it all. Mercie, the caring coworker said that Prada had complained she had been bullied at the workplace for at least the last five years.
Former staff told reporter Matlock that they claimed in letters and in lawsuits that the PRC has a pattern of harassment and bullying.
Contrast the perspectives of family, a dear friend and ex-employees (who were probably bullied and banished as 77% of bullied targets are) with the state agency managers and legal counsel.
As reported by Staci Matlock, Johnny Montoya, PRC Chief of Staff, was unaware of any complaints from Prada. He would not comment on allegations of bullying. "We do have personnel issues, like any other place," Montoya told Matlock, "We handle them on a case-by-case basis."
Montoya is the operational chief of the agency with responsibility for all divisions. He counts on division chiefs handling issues. If he legitimately never heard of complaints from Prada, it is either because they never bubbled up to his level, squelched by in the Corporations division by that boss. Or it could be that Prada never formally complained. Clearly she was close to her retirement goal, at age 50, and worried that a complaint would bring certain retaliation, threatening her path to a pension.
Montoya's "case-by-case" resolution strategy allows the PRC to play favorites. For some cases, serious investigations ensue. In those cases, the alleged perpetrators are not part of the inner circle and they are dispensable. For insiders, a different set of rules exist. It matters little what policies say. There is sufficient ambiguity to allow Montoya to make exceptions for high-ranking managers and personal friends. Always be wary when you hear management claim the right to be "flexible" using the "case-by-case" excuse.
Stacy Marie Starr-Garcia, Corporations Bureau Chief, would not even comment. Prada worked in her unit. With five years of bullying, she either is the perpetrator or knew who was. She is guilty of either direct aggression or reckless indifference for enabling it under her watch. Her silence speaks volumes.
PRC Deputy Chief of Staff for Legal Affairs, Bob Parker, told Matlock that he doesn't believe there is a pattern of employee bullying at the agency. Parker is an attorney. He knows well the risks from illegal discrimination. Matlock, the reporter, found one sexual harassment case that was settled last year and another pending. However, Parker also knows that bullying claims have no legal standing. They pose no threats to the agency. He could justify saying that no pattern exists when no legal cases were filed. Finally, Parker is defense counsel. His job is to villify those who dare complain about mistreatment by the state. There is no pattern to him because no complaint is legitimate. All complainants are to be disparaged, discouraged and banished — that's his job.
The only cynical statement missing from the quoted PRC managers was that Annette Prada was known to be emotionally unstable and disgruntled. It might come in the future to assassinate her character.
Who you gonna believe? Family, friends and coworkers or PRC officials? Be skeptical of all that management says.
If those who loved Annette Prada made the connection between bullying and suicide, then we stand with them. Facts will most likely support our advocacy for the dear woman who could no longer consider living as her best alternative. Peace to surviving family members and friends.
###
Bullying is always the institution's responsibility. You may want to urge the following individuals to step up and rid the PRC in Sante Fe, NM of bullying to honor the legacy of veteran employee Annette Prada.
Patrick Lyons, Chairman, PRC Commissioners
patrick.lyons@state.nm.us
505-827-4531
Johnny Montoya, Chief of Staff
john.montoya@state.nm.us
505-827-4433
Stacy Marie Starr-Garcia, Corporations Bureau Chief
stacy.starr-garcia@state.nm.us
505-827-4559

Tags: Annette Prada, Johnny Montoya, Mercie Roybal, NM Public Regulations Commission, Patrick Lyons, Staci Matlock, Stacy Marie Starr-Garcia, suicide, workplace bullying
This entry was posted on Monday, December 3rd, 2012 at 2:12 pm and is filed under Media About Bullying, Print: News, Blogs, Magazines, WBI Education, WBI Surveys & Studies. You can follow any responses to this entry through the RSS 2.0 feed. You can leave a response, or trackback from your own site.