November 2nd, 2012
Hyatt Andaz treats housekeepers like dogs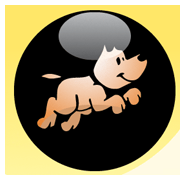 According to its website: "Andaz West Hollywood is more than a hip boutique hotel in Los Angeles. It's a lifestyle. Meaning "personal style" in Hindi, Andaz West Hollywood adds the latest style, service, and high-touch innovation to your West Hollywood hotel experience."
The Hyatt's latest innovation seems to be tethering their housekeepers, members of UNITE HERE Local 11, using two high tech innovations — iPod Touch and REX software. REX stands for Room Expeditor, a product sold by M-Tech to the hotel industry. Its logo (you decide if it's clever or downright insulting) is the little doggie ready to "go fetch" on the master's command pictured here.
Most of us use our iPods to play music. But M-Tech created REX to allow housekeeping supervisors to listen to music while their staff who push hundred pound carts around all morning long use their company-provided iPods to get their assignment of the next room to clean. And when in the room, they must log both start and finish times. The union UNITE HERE has filed a complaint about the surveillance tool with the National Labor Relations Board because the system was not installed with union consultation or approval. A hearing is set for Nov. 26.
Rex, the dog logo, is actually animated and wags its tail on the iPod screen. In the article by Sarah Jaffe, writing for In These Times, that tipped us off to this practice, housekeeper Cathy Youngblood is quoted as saying "If you're a housekeeper you're not thought of as highly intelligent. This is American society. You're in a low position anyway. Now the dog has become our symbol at my Hyatt Andaz. We do run around like dogs, but still, we're not dogs."
The software was developed by the Miami-based global company that features four of its five male executives with IT backgrounds. None seems to have been former housekeepers. And the product reflects it.
Room cleaning priorities before REX were handled by the housekeepers themselves who knew well how to prioritize. Further, they knew not to constantly have to return to mid-floor to elevators to change floors. They conserved their energy because the work is exhausting by itself. To add unnecessary runs adds misery to pain.
Also in the old paper and worker-driven system, supervisors and housekeepers could adjust to demand for ready rooms on the spot. Now, software does the supervisors' work. They are free to use iPods for uses they were originally designed. They are free to sit around and have coffee. The operative word is that management is FREE and workers are ENSLAVED, thanks to Apple and M-Tech technology.
A testimonial on the REX website boasts:
REX has taken the need to man the systems out of the equation. With all the systems communicating to one another, it has allowed us to let REX deploy our staff to the appropriate rooms, which frees up our management to perform inspections, work closer with the staff for training purposes, and conduct administrative work.
Before REX, there was already time pressure, too. REX adds the insulting stop watch pressure of entering times work begins and ends in each room. The strain from psychological stress compounds the pain from years of hard physical labor.
Hyatt Andaz guests are among the 1% in Hollywood. A severe guest complaint can result in immediate termination, even if the room standards are objectively met.
Hyatt's dedication to its guest is laudable. Hyatt's treatment of its workers is also becoming legend — legendarily terrible. The chain has been boycotted because of its lousy record of employer-employee relations. In fact UNITE HERE Local 11 calls for a boycott of the Hyatt chain.
###
It seems unthinkable how long it took to gain respect for service staff in the "hospitality" industry which is only focused on customers. Unionization of staff is a recent occurrence. Seems Hyatt has not made peace with having unions on board. They ignored them when purchasing and installing REX, the surveillance system.
Employee surveillance itself connotes disrespect, an assumption that workers are thieves. Of course technology makes surveillance and abuse much easier. Hard to believe as 2012 winds down, we regress as a society. Employers, like Hyatt, really must despise their employees, at least one particular class of employees.
When you choose a hotel, think NO HYATT. Help the housekeepers.

Tags: distrust, housekeepers, Hyatt Andaz, M-Tech, NLRB, REX, UNITE HERE Local 11
This entry was posted on Friday, November 2nd, 2012 at 1:04 pm and is filed under Employers Gone Wild: Doing Bad Things, Tutorials About Bullying, WBI Education. You can follow any responses to this entry through the RSS 2.0 feed. You can leave a response, or trackback from your own site.