December 13th, 2012
Humbug Republicans steal workers' rights while gifting corporations
Ever notice that it takes social justice pioneers generations to create positive change here in America, the land of the "brave and free"? Civil rights, labor rights, criminalizing child abuse and domestic violence are strongly opposed in Congress and state legislatures.
Snuffing out hard-won social gains, sadly, comes easily and quickly when mean-spirited lawmakers are in charge. The halcyon days for American trade unions was in the 1930's through WWII. Many strikes were called in the year after the war. An angry Republican Congress reacted in 1947 with union-curbing tools via the Taft-Hartley Act carried with enough votes to overcome President Harry Truman's veto.
One effect of the T-HA was that states could enact so-called "right-to-work" laws. RTW is a union-busting tool. It drains scarce union resources until unions crumble. Here's how it works. In RTW states, employees cannot be made to join a union to work at a particular employer (closed union shops). Sadly, Michigan has just become a RTW state.
Instead, if a union exists and has a bargaining agreement with the employer (and they are rarer in RTW states), a worker gets a free ride by not having to pay union dues for services rendered. That is, union money is used when no revenue is collected. They are forced to operate under different rules than employers in the marketplace. In non-RTW states, unions can require employees who don't pay dues to pay a service fee that equals the amount of used collective bargaining services and contract maintenance services costs in order to receive services (U.S. Supreme Court, Locke v. Karass, Jan. 21, 2009).
In one short week this December, the state of Michigan became the 24th state with a "right-to-work" law in the U.S.. Hurried law crafted by a Republican majority in both houses that will still be the case in 2013. Why the hurry by the lame ducks?
It was remarkable because of the state's once-proud history as a bastion of organized labor, the home of U.S. autoworkers and auto manufacturing. And it was a legislative tactic considered too "divisive" by Gov. Rick Snyder from 2009 through 2011 until he actually signed RTW into law for public sector workers with House Bill 4003 and for private sector workers with Senate Bill 116 on Dec. 11, 2012. Snyder signed the bills in private while 10,000 protestors filled the Capitol grounds and 2,500 protesters crowded into the building.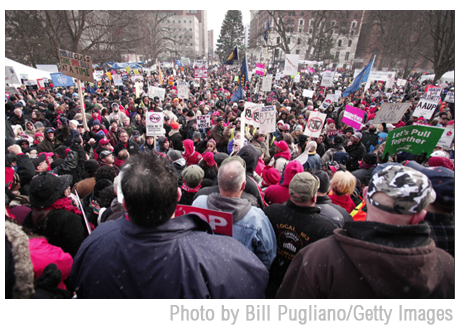 To hell with the people. To hell with workers. We have the majority and are cashing in. Unions attempted to pass Proposal 2 to make collective bargaining rights part of the state constitution in the Nov. 2012 election. It was defeated. ALEC-inspired, corporate backed Republicans went for the jugular.
The Republicans from generations ago labeled these so-called "right to work" laws as if they granted "freedom" to workers to reject unions while bleeding them dry by demanding services. George Lakoff gives us an alternative perspective-spin. It's more truthful to consider the laws "Corporate Servitude Laws."
As America's bullybusters, we know better than most the powerlessness of workers when management is hell-bent on persecuting selected workers. Abused and bullied workers cannot stop the harm deliberately inflicted on them. Without unions to slow down the process, these workers are isolated individuals facing corporations with limitless resources.
RTW proponents like to say that any worker having trouble with management is free to use the "open door" to settle disputes themselves. To all of those blissful, pollyannish idiots, we wish that they experience bullying like the targets they so despise and blame.

See the accompanying post debunking some myths-lies uttered by RTW proponents.

Tags: employee slavery, Michigan, right to work, workplace bullying
This entry was posted on Thursday, December 13th, 2012 at 2:19 pm and is filed under Commentary by G. Namie, Fairness & Social Justice Denied, The New America, Unions. You can follow any responses to this entry through the RSS 2.0 feed. You can leave a response, or trackback from your own site.