March 28th, 2013
Oops: 56 percent of US employers do NOT have workplace bullying policies
UPDATE: To write a great workplace bullying policy and enforcement procedures, go here.
When fuzzy facts (first generation distortion) are allowed to pass for actual data and circulated widely by media (2nd gen distortion) they used by critics to undermine the anti-bullying campaign. Let's clear the air about current American employer engagement in stopping workplace bullying.
SHRM (the HR trade association) conducted a 2011 study about workplace bullying and reported results in Feb. 2012. The non-scientific survey of members had a low response rate of 15% (the final 401 respondents meant SHRM randomly polled 2,673 members). The results shed light on HR's view about the prevalence of workplace bullying policies in the U.S. When asked if respondents' organizations had specific anti-bullying policies in place, 44% of HR respondents defiantly stated their organization has "no policy and has no plans to put a workplace bullying policy in place." The answer, "No, but we plan to put a formal policy in place in the next 12 months," was chosen by 13%. Another 40% said, "Yes, our workplace bullying policy is part of another workplace policy." Only 3% of SHRM members said "Yes. We have a separate workplace bullying policy" in our organization.

Actual slide from 2012 SHRM survey results from which 56% statistic was plucked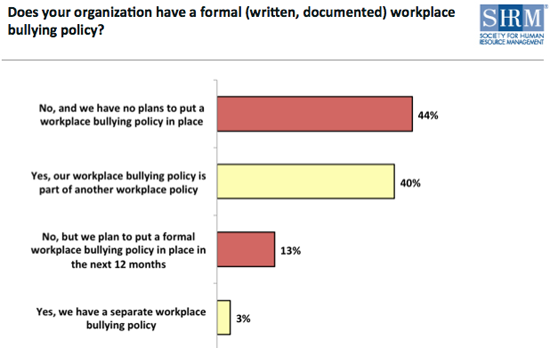 You can download the slide show from here.
Also in 2012, WBI surveyed HR's customers, employees desperate to have protective policies enforced by HR when they needed them. And those bullied target-customers told us that indeed 3% of employers have adequate anti-bullying policies, perfectly matching the HR view. Targets even credit some "Respect" policies as effective deterrents to bullying (an additional 2.5% of employers). So, bullied targets say, at most, 5.5% of employers are doing the right thing [WBI 2012-IP-B].
Based on their survey results, SHRM should have said that clearly 3% of employers are directly addressing bullying and stopped there. Those in the 40% group were most likely referring to protections against a "hostile work environment," which is part of anti-discrimination laws and policies compliant with those laws. But sophisticated HR types know that most bullying has no basis in protected group status even though "hostile work environment" sounds like a good description of bullying. Those policies apply in only 20% of bullying cases [2007 WBI US Workplace Bullying Survey]. Common, but ill-formed, "wisdom" posits that anti-discrimination laws and policies are adequate to stop bullying. They are mostly inapplicable (we could estimate 8% of employers correctly adding bullying to discrimination policies (40% x 20% of cases). Accuracy demands that HR know better the limits of the civil rights laws.
The overestimation of policy prevalence begins with inclusion of the 40% rather than 8%. Then, SHRM also counts the 13% of respondents who said they did NOT have a policy, but were thinking about it. Really? So, the falsehood grows. 53% of so-called policies probably do not exist at all. When the 3% of employers with real and effective policies, as confirmed by users of HR systems, are added to the imaginary, wished-for 53% of employers, SHRM arrived at the mind-boggling statistic that 56% of U.S. employers already have anti-bullying policies. At most, using SHRM's data, a maximum of 11% of employers have bullying policies.
This whopping 56% distortion comes directly from SHRM's deliberate misinterpretation of their own 2012 study results. You can download the study results here. It's the first generation version of the lie.
Then, SHRM repeated the fantasy 56% prevalence number to Associated Press for a story on workplace bullying (March 1, 2013) that was picked up nationwide. The AP spread the lie, making it a 2nd generation distortion.
That AP article also featured our work to enact anti-bullying legislation in the states, to pass the Healthy Workplace Bill (HWB). We need a law to incentivize employers to stop bullying because they are not doing it voluntarily. HR's recklessly indifferent treatment of bullied targets prevents adequate employer responses to bullying.
Opponents to our proposed legislation in the states have whined that employers should be given a chance to act voluntarily and rationally. After all, bullying is costly and counterproductive. Despite this reality, employers mostly ignore bullying. Corporate defense firms are the staunchest critics of the bill, but do advise their clients to create policies and stop bullying nevertheless.
When critics read the SHRM-provided 56% of all employers have policies, they might conclude that laws really are unnecessary. Historically, SHRM opposes the HWB. Their deliberate distortion of their own survey results further clarifies their support for management in case there ever was ambiguity about the role of HR.

Tags: Gary Namie, HR, human resources, SHRM, surveys, WBI research, workplace bullying, workplace bullying policies
This entry was posted on Thursday, March 28th, 2013 at 2:59 pm and is filed under Employers Gone Wild: Doing Bad Things, Media About Bullying, Print: News, Blogs, Magazines, WBI Education, WBI Surveys & Studies. You can follow any responses to this entry through the RSS 2.0 feed. You can leave a response, or trackback from your own site.