March 21st, 2012
HR says workplace bullying declining
SHRM, the Human Resources professional trade association, released results of a non-scientific workplace bullying survey based responses from 400 members on Feb. 28, 2012. Remember, the phenomenon is seen through the lens of HR staff. Here are the major findings to compare and contrast with the national scientific survey conducted of adult Americans, last done in 2010 by WBI.
Denial that bullying happens has stopped since our founding of the U.S. movement 15 years ago. In the SHRM survey, bullying was reported by 51% of respondents. They have seen incidents. It is most prevalent in large organizations (>500 employees) at 71%; reported by 42% of respondents in firms with 100-199 employees; and the lowest in small organizations (1 to 99 employees) at 38%.
A remarkable 34% of respondents answered that bullying has decreased in frequency over the last two years. Only 18% believe it has increased.
Three (3) percent of organizations claim to have a separate workplace bullying policy. Others (40%) say workplace bullying is combined with another workplace policy. Nearly half (44%) defiantly said their organization has no policy and has no plans to put one in place.
The SHRM 3% matches one of our online 2011 Instant Poll surveys of WBI website visitors (who are primarily bullied individuals) that asked what employers have in place. Bullied targets reported that 3% of employers have a workplace bullying policy and faithfully enforce it. Targets say that 46% of employers are resistant. This matches the SHRM 44% of employers who have no intention of addressing bullying through a policy.
Prevention and/or awareness training is provided in 28% of organizations according to the SHRM 2012 survey. It looks like HR staff receive the majority of training (35%), with managers coming in second at 34%.
SHRM asked a question about how organizations respond to alleged perpetrators of bullying. The most frequent response chosen (76%) was "depends on specific circumstances." This means that HR prefers to deal with bullying on a "case-by-case" basis. Unfortunately, this allows HR staff to ignore bullying when committed by perpetrators they are powerless to stop, and hammer lowly employees who themselves are powerless to stop a bullying manager. Specific circumstances and case-by-case are troublesome for bullied targets because there is rarely consistency, fairness, or justice.
SHRM members say most bullying is between coworkers or peers (82%) with 56% being top-down with supervisors as perpetrators. This finding contradicts the large national surveys in the U.S. Whereas according to the WBI U.S. survey, 72% of perpetrators are bosses, 18% are coworkers.
Finally, a quarter (27%) of HR survey respondents said they were bullied themselves.
You can download a copy of the SHRM slide show depicting results of the survey conducted in May 2011.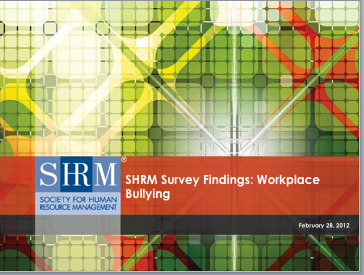 Tags: HR, SHRM, workplace bullying
This entry was posted on Wednesday, March 21st, 2012 at 3:51 pm and is filed under Employers Gone Wild: Doing Bad Things, Tutorials About Bullying. You can follow any responses to this entry through the RSS 2.0 feed. You can leave a response, or trackback from your own site.