Posts Tagged '2014 WBI U.S. Workplace Bullying Survey'
Monday, March 3rd, 2014
By Scott Wooldridge, Benefits Pro, March 3, 2014
Public awareness of workplace bullying has never been higher, thanks to high-profile cases such as the one involving Miami Dolphins teammates Richie Incognito and Jonathan Martin. Yet none of the more than two dozen states that have taken up the issue has actually passed any legislation to tackle the problem.
A recent survey found that 93 percent of Americans support legislation that would offer protections against bullying at work. The survey, conducted by Zogby Analytics for the Workplace Bullying Institute, found that 27 percent of Americans report having experienced abusive conduct at work. Another 21 percent say they have witnessed such behavior. Overall, 72 percent of those surveyed said they were aware of the issue of workplace bullying.
"Everybody has a story," said Gary Namie, co-founder and director of the Workplace Bullying Institute. "It is an epidemic. When you count witnesses, 65 million people in the workforce know firsthand what (bullying) is about."
The Incognito-Martin case brought workplace bullying into the spotlight.
Martin accused Incognito of bullying him, and then left the team. A lawyer hired by the National Football League to investigate the matter recently released a report concluding that Incognito "engaged in a pattern of harassment" of Martin.
Namie and his Bellingham, Wash.-based institute have been working on the issue for more than 20 years, but he said that the Incognito-Martin case caused "a tectonic shift."
Tags: 2014 WBI U.S. Workplace Bullying Survey, anti-bullying legislation, bullying research, Gary Namie, Healthy Workplace Bill, SHRM, survey, workplace bullying, Workplace Bullying Institute
Posted in Employers Gone Wild: Doing Bad Things, Healthy Workplace Bill (U.S. campaign), NFL: Jonathan Martin, WBI Education, WBI in the News, WBI Surveys & Studies, Workplace Bullying Laws | No Archived Comments | Post A Comment () »
Monday, January 13th, 2014
The WBI Indiegogo crowd funding campaign raised $7,026 (goal was 6,000).
This ensures that the 2014 WBI U.S. Workplace Bullying Survey will happen!!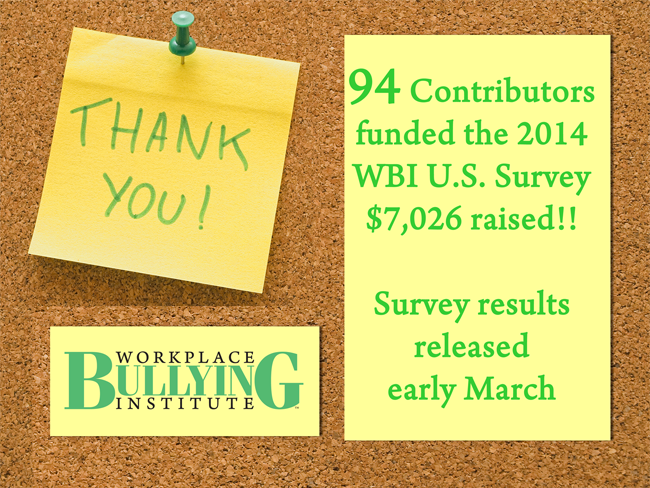 with Major Funding from An Anonymous Donor and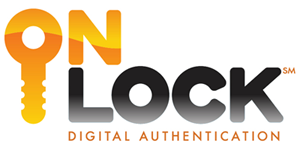 Tags: 2014 WBI U.S. Workplace Bullying Survey, indiegogo, thank you, WBI research
Posted in Good News, Hear Ye! Hear Ye! 2, WBI Surveys & Studies | No Archived Comments | Post A Comment () »