Posts Tagged 'abuse'
Monday, January 5th, 2015
What doesn't kill you doesn't necessarily make you stronger
By Virgie Townsend, Washington Post, Jan. 2, 2015
WBI: In this frank and personally revealing essay, the author effectively counters the notion that all traumatic early experiences in life contribute to the construction of a stronger adult character. It's noteworthy that 44% of bullied targets admit experiencing prior familial abuse in their lives before their workplace experiences with abuse (WBI IP 2013-H).

When I was 15, I attended a writing workshop with a girl who had been sexually abused by a family member, trauma that she explored in her poetry. She said she was offended when people told her: "I'm really sorry that happened to you." She felt like they were saying they wanted to change her, so she'd reply: "Don't be. It made me who I am today."
I also grew up with violence, terrified of a parent who was verbally and physically abusive, and drove drunk with me and my siblings in the backseat. Sometimes this parent would threaten to choke me with a dog collar or would fire off shotgun rounds overhead for the fun of seeing the rest of the family cower. I am glad my classmate found a way to cope with her past, but I can't be grateful for mine.
I would have been better off without that dog collar, without those years of fear. After such episodes, I was so exhausted that I couldn't concentrate on my homework. I repeatedly failed state math exams. My immune system was weak. As a child, I had frequent, unexplained fevers, which baffled my pediatrician and led him to test me for cancer.
It was difficult for me to make friends because of the pressure I felt to keep my home life a secret. Between the abuse and my innate shyness, I mostly avoided other kids, which was easy because I was home-schooled until ninth grade. I tried to stay quiet around my peers; I didn't want to draw attention. And I constantly second-guessed how I acted around them, afraid that I might disgust or anger others, too.

Tags: abuse, child abuse, early life experience, illness, recovery, terror, trauma, verbal abuse
Posted in Bullying & Health, Media About Bullying, Print: News, Blogs, Magazines, Related Phenomena, WBI Education | 1 Archived Comment | Post A Comment () »
Tuesday, April 1st, 2014
The Workplace Bullying Institute and the New Workplace Institute are happy to announce the launch of a joint initiative, the U.S. Academy on Workplace Bullying, Mobbing, and Abuse, which will support and promote the multi-disciplinary work of leading and emerging educators, researchers, practitioners, writers, and advocates who are dedicated to understanding, preventing, stopping, and responding to workplace bullying and related forms of interpersonal mistreatment.
"For over a year, we've been contemplating how to bring together an American network of leading and emerging experts on workplace bullying and related topics. The Academy is our conduit for doing so. We look forward to highlighting the good works of these incredible people," says David Yamada, Suffolk University law professor and New Workplace Institute director.
The Academy has over 50 Fellows including leading psychological researchers, physicians, attorneys, occupational health experts, professors of management, nursing, and communications, counselors, union trainers, military leaders, advocates, and consultants. The complete list of Fellows can be seen at workplacebullyingacademy.com.
"When we started WBI there was one trade unionist and a couple of academic researchers with the courage to focus on workplace bullying. Since then the field exploded exponentially," says Gary Namie, PhD, Co-founder of the Workplace Bullying Institute, established in 1997. "We recognize the universality of these destructive behaviors, and this network focuses on the unique challenges posed by American employee relations, mental health, and legal systems."

Tags: abuse, bullying research, David Yamada, Gary Namie, Mobbing, new workplace institute, U.S. academy, workplace bullying, Workplace Bullying Institute
Posted in Bullying-Related Research, Good News, Healthy Workplace Bill (U.S. campaign), Hear Ye! Hear Ye! 2, Products & Services, Social/Mgmt/Epid Sciences, Tutorials About Bullying, Unions, WBI Education | 4 Archived Comments | Post A Comment () »
Friday, January 31st, 2014
The Miami Dolphins bullying scandal mirrors in so many ways what happens to bullied targets in corporate and government jobs.
Follow the full NFL story in the Category list in the sidebar: NFL: Jonathan Martin
Now that the target, Jonathan Martin, has finally spoken, the bully ratchets up his defense.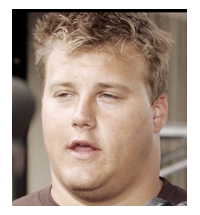 Richie Incognito, alleged bully (pictured on the left), who lost pay for only 2 football games and was paid to not play for the Dolphins or any other team for the remainder of the season, is going on offense.
Since most of his public behavior is indefensible — racial slurs in text messages and drunken rants caught on camera — his PR advisers are attacking Martin. Always blame/attack the victim. He claims Martin gave as good as he got. Remember bullies are believed; bullied targets are not believed.
The Big Lie: the relationship between Martin and Incognito was "friendship." Friends are equals. Friends care about each other. Friends respect one another. Friends don't abuse. Friends don't exploit.

Tags: abuse, bullying, Jonathan Martin, Miami Dolphins, NFL, Richard Sherman, Richie Incognito, Tony Dungy, violence
Posted in NFL: Jonathan Martin, Tutorials About Bullying, WBI Education | No Archived Comments | Post A Comment () »
Thursday, January 30th, 2014
Jonathan Martin, Miami Dolphins offensive lineman, left the team in October, 2013. His voluntary decision to leave an "abusive environment" caused a firestorm of controversy in the sports world. On January 29, 2014, Martin spoke publicly for the first time about his ordeal with former NFL coach, now NBC sports broadcaster Tony Dungy.
The short 3:43 min. version of the interview

The full 25 min. interview
Listen for his distinction between cruelty required on the field and character off the field. Exactly what Richard Sherman described as his "switch."
Follow the full NFL story in the Category list in the sidebar: NFL: Jonathan Martin

Tags: abuse, bullying, Jonathan Martin, Miami Dolphins, NFL, target, Tony Dungy
Posted in Broadcasts: Video, TV, radio, webinars, Employers Gone Wild: Doing Bad Things, Media About Bullying, NFL: Jonathan Martin, Target Tale, WBI Education | No Archived Comments | Post A Comment () »
Tuesday, October 22nd, 2013
By Michael De Groote
10/21/13
Deseret News
Ron McMillan must have seemed like the perfect target to the three workers on an assembly line in Clearfield, Utah. McMillian had just finished his first year at college in the summer of 1971 and looked clean-cut, nice and perhaps naïve. So they bullied him.
"They'd do things like when I sat down at lunch — while I was eating, they would distract me," he says. "Then they'd pour motor oil on my sandwich."
They were relentless. They mocked him. They put him down.
"Words do hurt," he says. "They do damage."
That was when McMillan was, as he says, "quite young." The experience helped stir an interest in workplace bullying. Now, at 61, he is the co-author of the national best-seller "Crucial Conversations: Tools for Talking When Stakes are High" and cofounder of VitalSmarts, an organizational consulting firm based in Provo, Utah. He is also part of a large demographic. Various studies place the percentage of people who have been bullied at work between 30 and 37 percent.

Tags: abuse, deseret news, horn, Lutgen-Sandvik, Namie, target, workplace bullying
Posted in WBI in the News | No Archived Comments | Post A Comment () »
Friday, October 4th, 2013
The Federal Shutdown is hurting the middle class and the working poor the most.
A co-coordinator for the California Healthy Workplace Bill Advocate group gave us some more news about the shutdown's effects on the EEOC and whistleblower protections.
(more…)

Tags: abuse, bullying, EEOC, federal shutdown, whistleblower
Posted in Fairness & Social Justice Denied, Related Phenomena, The New America | No Archived Comments | Post A Comment () »
Saturday, September 28th, 2013
Dear Kalola,

Two months will mark the year anniversary of my disillusionment from employment. I continue to have many sleepless nights, suffer from depression and am frankly scared to even look for work. For anyone who thinks bullying is a playground taunting toward the weak or society's outcasts – think again. It can be a subversive, calculating and cruel breakdown of a good person/employee's belief in themselves and their abilities.

For a bit over eight years I worked in a large corporation as an Executive Assistant. For the greater part of that time I was considered one of the best – independent and proactive with unquestionable integrity. Then my organizational structure changed/grew and 4 other Assistants joined the department.

Over the course of the next two years one of these Assistants (peer) lied, set up "failure traps", twisted my best traits into weaknesses and effectively gained the support of the other Assistants and her Executive. The mob grew fast. It was shockingly evil and efficient. And I was shockingly naive for far too long! Not until it snowballed into my PIP (performance improvement program) did I fight back. Defending myself at this point fueled the bully's fire. Speaking with my boss put him in a difficult position with his own peers (the bully's bosses). Bringing in HR not only was ineffective, but strengthened my reputation as a liability to the company.

After living under these circumstances for months (some incidents got quite ridiculous: one involved Ms. Bully writing an email to HR and my boss because I hadn't put an envelope in a travel packet, breaking some unknown, unspoken and un-requested protocol; Ms. Bully actually gave my name and phone number to a police officer as a possible suspect in a crime!) I put in my resignation. My boss and I worked out a 6-week transition period so I could train a replacement and find another job within the company. By this point I was a broken, anxious, emotional wreck but I still had the hope to stay within the company. I had multiple interviews during those six weeks and for the month following my official last day that went very well, and then mysteriously disappeared.

I know there can only be two or three people in my life who actually believe this blow by blow and those are the select few of my closest friends whom I worked with and confided in at the time. My poor, dear husband and family have only seen it's devastating affect on me.

Society will only start believing and understanding when stories like mine combine with other types of workplace bullying – education must include types, prevention, interference techniques and recovery.

Companies will only start taking workplace bullying seriously when a potentially large monetary penalty is involved – if discrimination is illegal, workplace bullying should be illegal.

Teri
(more…)

Tags: abuse, Let's Talk with Kalola, story, workplace bullying, Workplace Bullying Institute
Posted in Let's Talk with Kalola | 2 Archived Comments | Post A Comment () »
Thursday, August 22nd, 2013
Wheaton, Illinois city officials, embarrassed by the recent disclosure of a culture of bullying and harassment that some say has lurked in a specific city department for years, say the city and department have rebounded in the months since the incidents were reported to council members.
A recent investigative report by the Chicago Tribune uncovered a city employee who is believed to have endured years of "crude pranks, improper touching and taunts about sensitive personal issues" and the discipline meted out against the two co-workers responsible and their supervisors.

Mayor Michael Gresk said Monday that, back in February, one of the "primary tormentors" was suspended without pay for one week while another was moved to a different division. Supervisors, he said, were also disciplined "for letting it go on," but he did not disclose their punishment.
"This is a situation that we address in regular training so if this behavior was going on, it was under the radar. Once senior management became aware of it they jumped on it and launched an investigation," Gresk said, noting the discipline was handed down in February and the council made aware of the situation in April. "We are not taking this lightly as a city. Once we were made aware, there was a police investigation and hours and hours of meetings with human resources officials with all of the parties involved.

Tags: abuse, coworkers, Evelyn Pacino Sanguinetti, Illinois, John Rutledge, Michael Gresk, Todd Scalzo, Wheaton, workplace bullying, workplace violence
Posted in Employers Gone Wild: Doing Bad Things, Media About Bullying, Print: News, Blogs, Magazines | 2 Archived Comments | Post A Comment () »
Wednesday, July 24th, 2013
Bullying at the workplace creates a toxic 'divide and conquer' environ that prevents positive teamwork and collaboration
By Skaku Selvakumar, Financial Chronicle, July 19, 2013
Dig a little deep. Go back a few years, or maybe some decades. Remember that bully who made your life miserable at school? And you thought, "hey thank goodness, I am not in school any more." Well, not so fast, my friend. You just might be bullied at work. According to Workplace Bullying Institute, 35 per cent of the adult workforce has experienced bullying first hand and an additional 15 per cent witness it and are vicariously made miserable. Bullying ranges from verbal abuse, to conduct that is threatening and humiliating. It can also include intimidation, exploiting a psychological or physical vulnerability, and at its worst, actual sabotage of the victims' work.
Bullying affects the bottom line and creates a toxic "divide and conquer" environment, which prevents positive teamwork and collaboration.
Dr Gary Namie who heads the Workplace Bullying Institute, shares some alarming facts and the impact to organisations where bullies are allowed to thrive.
Q. You mention that bullying is four times more prevalent than illegal harassment. Can you elaborate on this?
Bullying goes beyond illegal harassment and ignores gender, ethnicity and race. We have identified that it occurs alone in 80 per cent of the cases and the remaining 20 per cent is a compound of other factors. As there are no state laws yet, in the vast majority of the cases there is no illegality. The individuals have nothing to fall back on as there is nothing that can be done about it with a legal umbrella. This also allows employers to ignore it and the bully continues to act with impunity.

Tags: abuse, financial chronicle, Gary Namie, shaku selvakumar, workplace bullying
Posted in WBI in the News | 1 Archived Comment | Post A Comment () »
Tuesday, April 9th, 2013
Let's Talk with Kalola, where targets can share their experiences with WBI's blog readers. Here we go!
(more…)

Tags: abuse, Let's Talk with Kalola, PTSD, workplace bullying
Posted in Let's Talk with Kalola | No Archived Comments | Post A Comment () »